How to Compare a Bath Tub Shower Door, Bath Screen or Shower Curtain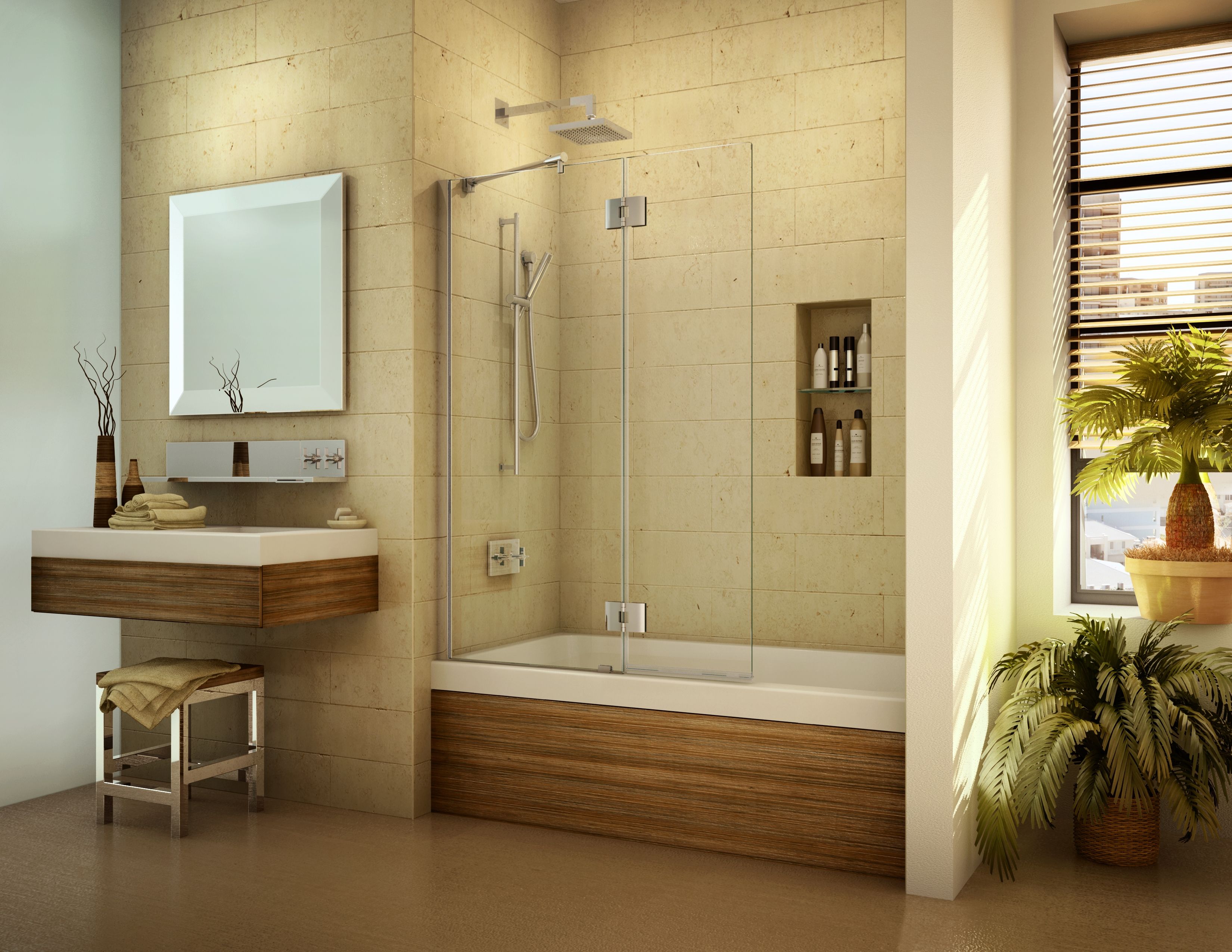 If you're struggling to figure out an attractive, cost effective and functional way to enclose and keep water inside a tub shower space you're not alone. This article will outline the advantages and disadvantages of 3 options – (1) a bath tub shower door, (2) a bath screen (also called a tub shield) pivoting door and (3) a shower curtain.
Option 1 – Bathtub Shower Door – These doors are made in many finishes in framed and frameless designs and slide inside tracks which sit on the tub rail.
Advantages
Since the bypass

bathtub doors

overlap they do a good job keeping the water in
Are safer because they provide greater structural stability than shower curtains
Easy to clean
Provide more light into the tub area than a fabric or vinyl curtain system
Disadvantages
Bottom rails of the

tub doors

can collect mold and soap scum and are hard to clean
Can create a closed in feeling – not the best for someone who suffers with claustrophobia
Ability to get in and accessibility are low since tub doors only provide 50% opening space
More expensive than shower curtains
Option 2 – Bath screen pivoting door – These doors (which are also called tub shields) swing into the tub space to create a walk in type design and are available in frameless and semi-frameless type designs.
Advantages
Have a more open feel than a typical sliding shower door with a larger opening for improved accessibility.
Easy to clean because there is no bottom track to collect mold or soap scum
Doors swing 90 degrees to the inside to minimize water getting out
Clean, contemporary European design
Are a safe option since they provide the maximum light into the tub/shower area
Long lasting
Disadvantages
More expensive than shower curtains
Leaves an open space at the end of the tub (although the swinging doors keep water into the space)
Option 3 – Shower curtains – Curtains are available in many colors, styles and textures in both straight and curved designs.
Advantages
Least expensive option to keep water inside a tub/shower area.
Curtains provide the widest possible opening to get into the tub.
Very easy to replace vs. shower doors and tub shields.
Can be purchased with a

curved shower rod

which increases the space inside the bathtub.
Disadvantages
Provides no structure to grab onto in the case of a fall.
Maintenance can be difficult and mold and mildew can grow pretty easily.
Flimsy nature of the material can cause a good amount of water to get out of the tub and damage the surrounding bathroom floor and trim.
Vinyl curtains can be a health problem and cause headaches from the release of volatile organic compounds
Which of these 3 options do you think is best? Please comment below.
If you're looking for more information or an estimate to install a bath tub shower door, bath screen or curved shower rod call or visit The Bath Doctor of Cleveland and Columbus, Cleveland Design & Remodeling (216-658-1270) and Innovate Building Solutions for nationwide supply (877-668-5888).
---
Mike Foti
President of Innovate Building Solutions a nationwide supplier and regional (Cleveland and Columbus) remodeling contractors. Some of our product lines include glass counters, floors, backsplashes, glass blocks and grout free shower and tub wall panels
---