How to Select a Steel Security Storm Door for the Front, Back, Side or Garage Entrance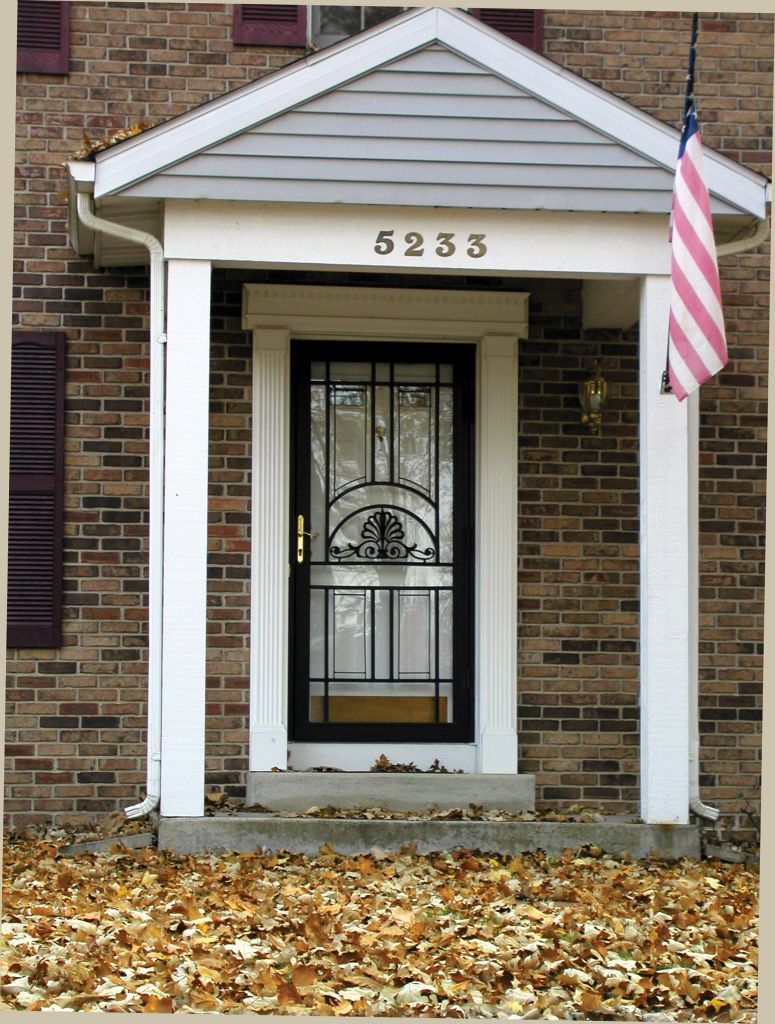 It's been reported that 80% of all burglaries come through a single locked door and 67% of burglars enter through some other area than a front door. With alarming statistics like this it could make good economic sense to add an extra layer of protection to a front, side, back or garage area by adding a steel security door. In this article you'll learn the definition, advantages and disadvantages, and options in various security storm doors and styles to help you in your selection process.
Definition – Steel security storm doors are heavy duty (made out of a 3" tubular steel frame) units that are placed in front of entry doors to provide an additional layer of home safety, increase ventilation, and protect the primary door.
Advantages of Security Storm Door  
Adds safety and reduces the chances of burglaries – Given the solid construction of these units and durable lock sets they greatly reduce the chance of intruders entering a home.
Less maintenance – The storm door provides protection to the main door against the elements – reducing the need to paint or stain the entry door.
Less costly than replacing a front door – Steel and fiberglass entry doors can get quite expensive – especially if you add design options with decorative glass or door styles. A security storm door can improve the front of the home at a fraction of the cost.
Cut energy costs– These units provide another layer of protection from the elements – especially helping to reduce the use of the air conditioners in the summer and furnace in the winter.
More natural light – If you're currently keeping your door locked for safety during the day the security storm door will allow light to come in during the day while still providing safety.
Disadvantages of a Security Storm Door     
More costly than a traditional aluminum storm door– Since these units are made with thick tubular steel they will cost more than a standard storm door you could buy at a home center store.
Looks – Although there are many decorative door styles to choose from some people do not like the looks of these doors.
Popular Options
Add more style, security and function with these more popular options:
Decorative door styles – There are 62 different styles available to compliment any exterior décor.
Heavy duty lockset options to protect a home – There are 4 lockset options ranging from a universal lock (with a double cylinder deadbolt and keyed knob set) to a Slimline European style lever set with a solid brass escutcheon plate.
Paint choices – all doors are pre-treated with a five stage wash system and then top coated with a high quality baked on polyester powdercoat finish.
Do you have any questions or advice about steel security storm doors? If so please comment below.
To learn more about steel doors or to get free consultation contact Cleveland Window Company (216-531-4118) or Clear Choice Window & Door in Columbus (614-545-6886) or in Cincinnati (513-744-2184) (divisions of Innovate Building Solutions).
Related Articles
---
Mike Foti
President of Innovate Building Solutions a nationwide supplier and regional (Cleveland and Columbus) remodeling contractors. Some of our product lines include glass counters, floors, backsplashes, glass blocks and grout free shower and tub wall panels
---