Project Spotlight: A Bathroom Remodeling Project that added Comfort, Space & Style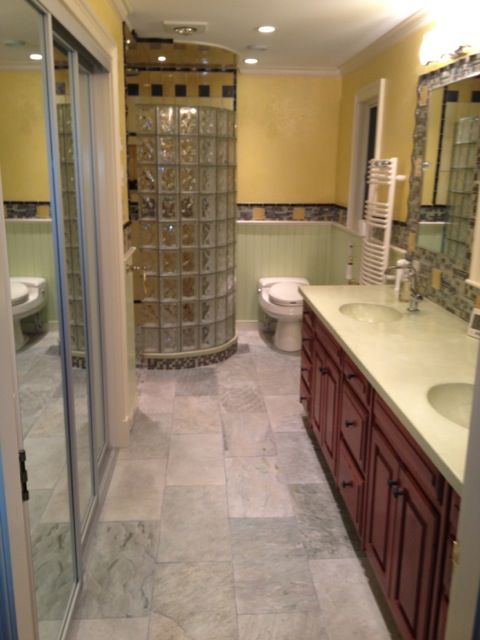 When the Goldblatt family used their old bathroom everything felt tight (starting with the old 3 foot by 3 foot shower), not very comfortable, and lacking in style. So when the shower door finally broke off the hinges they had enough and decided it was time to rethink this space. Since they lived in a smaller town in New Hampshire Mr. Goldblatt did not want to limit his options to only those products that were readily available so he used extensive Internet research to find unique, stylish and functional items to add a wow factor. Learn more below about the specific products used in this project:
Curved barrier free

glass block shower

wall – Mr. Goldblatt was determined to make the old 3' by 3' shower a thing of the past in the new design. He chose to use a unique serpentine walk in glass block wall and waterproof, curbless (barrier free) expanded polystyrene shower base that was shipped to them by Columbus Glass Block (a division of Innovate Building Solutions). The glass block walls were premade into easy to install sections. The base was designed to fit the curvature of the wall which made it easier and saved time for the tile contractor to install. As Mr. Goldblatt said, "The shower is now spacious and brightly lit with both overhead lights and natural lighting coming through the window and through the shower block wall. We were originally concerned we might get cold after the shower with a lack of a door and opening above the wall. This turned out not to be true."
Hydronic radiant heat in floor heating – Winters inNew Hampshire can lead to pretty cold tile floors so a radiant heat system was used throughout the space for added comfort.
Multiple shower heads for convenience and comfort – Included in the shower space is a rain shower head, 2 body sprays and a hand held unit. The hand held unit is nice to use to be able to shower without having to always get hair wet. The body sprays are a bonus after a stressful day.
A heat lamp at the entrance of the shower – To stay warm after the shower a heat lamp was positioned at the entrance.
Colored concrete countertops and sinks – For a more contemporary look custom concrete countertops where used for the double bowl sink vanity and even for a small shelf in a shower niche. The concrete is durable and compliments the space.
Larger tiles to create the feeling of more space – 12" x 24" tiles where laid in a running bond pattern for a more open look (and it also reduces the number of joints for a lower maintenance project).
Runtal towel heater – For additional comfort a towel warmer was also added.
What do you think of the various bathroom remodeling products used in the project above? Do you have any items you might have included in this project or additional questions? Please comment below.
If you need help with a bathroom remodeling project contact Cleveland Design & Remodeling (216-658-1270) or Cincinnati Design & Remodeling (513-744-2172). If you're intrigued by the curved glass block shower wall and base call Innovate Building Solutions (877-668-5888).
---
Mike Foti
President of Innovate Building Solutions a nationwide supplier and regional (Cleveland and Columbus) remodeling contractors. Some of our product lines include glass counters, floors, backsplashes, glass blocks and grout free shower and tub wall panels
---