How to Compare a Fiberglass Bathtub to an Acrylic Tub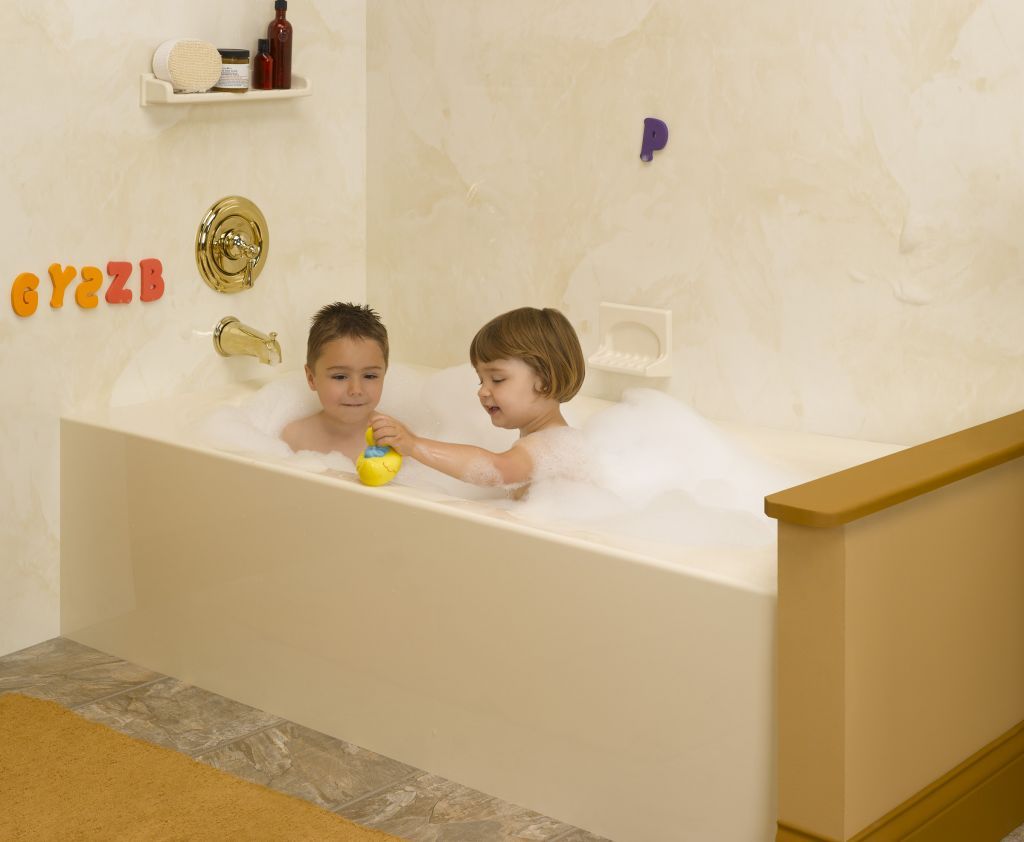 When most people look at a fiberglass or acrylic tub it may be hard at first glance to tell the difference between the two – or to know which one may be the better choice for a bath remodeling project. In the article below you'll get a brief description of how both tub types are made and the advantages and disadvantages of both product types.
Fiberglass Tub – A fiberglass gelcoat tub is polyester resin that is sprayed into a mold and then reinforced with fine glass particles. The material is then hardened to the desired shape.
Advantages
Low price – since fiberglass tubs are made in large quantities with relatively low cost materials they are usually the cheapest priced tubs available.
Easy to clean.
Lightweight material makes them easier to install.
Widely available.
Disadvantages
If the top gelcoat is damaged the fibers of the fiberglass can show through.
This type of tub doesn't last as long as acrylic and its removal can lead to an expensive bathroom remodeling project.
Since this material is porous it can absorb moisture, grime and lead to mildew problems.
Since the topcoat finish doesn't last as long the tub can discolor and turn yellow.
Acrylic tub – These tubs are created by heating and molding (vacuum forming) sheets of acrylic which are reinforced underneath with fiberglass.
Advantages
Since the material is non-porous it will not allow mold and mildew to build up.
Color is solid through the acrylic so it won't yellow like a fiberglass bathtub.
This long lasting material will minimize the need for frequent replacements.
Acrylic retains its gloss and shine over the life span of the material.
The material is warm to the touch.
Disadvantages
More expensive than a fiberglass tub.
You can't use abrasive cleaner on the bathtub because they will cause scratches.
Tubs can bend or flex if not properly installed.
After looking at the advantages and disadvantages of both of these products they both have their uses. Which of these 2 options do you think is best? Do you have any experience with either a fiberglass or acrylic bathtub you'd like to share?
If you're looking for more information or a free consultation for a tub or a bath remodeling project call the Bath Doctor of Columbus (614-252-7294) Cleveland Design & Remodeling (216-658-1270) and Cincinnati Design and Remodeling (513-744-2184) – divisions of Innovate Building Solutions.
---
Mike Foti
President of Innovate Building Solutions a nationwide supplier and regional (Cleveland and Columbus) remodeling contractors. Some of our product lines include glass counters, floors, backsplashes, glass blocks and grout free shower and tub wall panels
---