7 Basement Design & Remodeling Room Ideas – Cleveland, Columbus, Cincinnati Ohio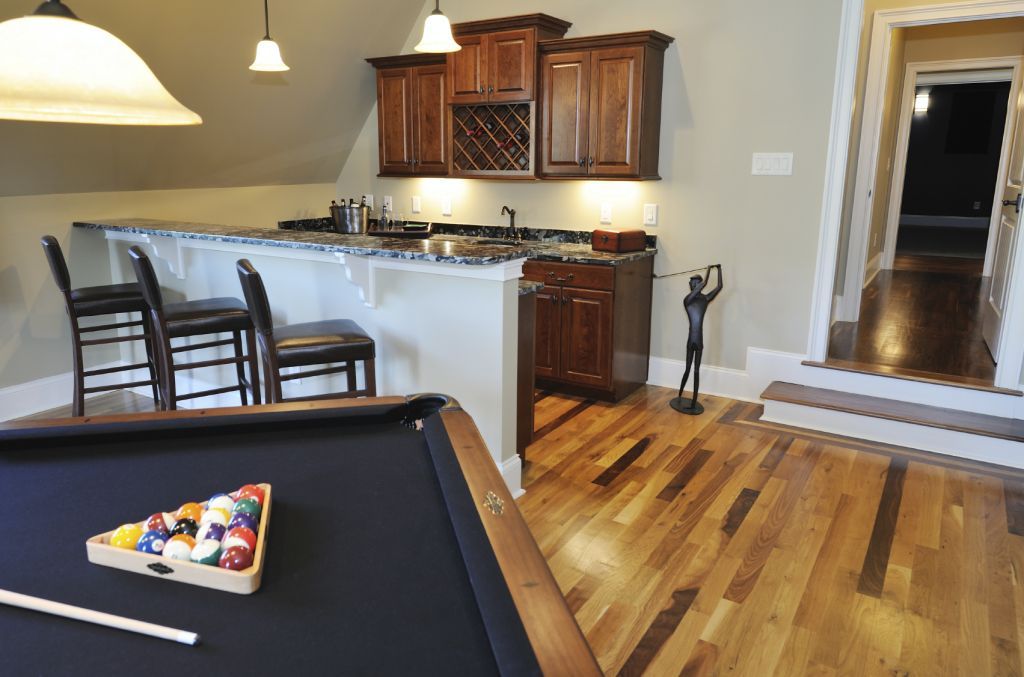 In the old days when you decided to remodel a basement it usually was remodeled into what most people called a rec room with a wide open space with a drop ceiling with 2' x 4' lay in lights resembling what you see in an office. Well make room for the exciting (and multi-purpose) ways basements are being redone today. Learn below 7 distinctive rooms you can create in your home to make it more stylish, functional and fun!
Room 1 – The man cave – Fun is in the basement. Lower level living spaces filled with pool tables, big screen TV's, arcade and video games, poker tables and other entertainment amenities are growing quickly. While the "man cave" may initially be designed for "the guys" to hang out don't be surprised when women begin to use this fun space as well!
Room 2 – Media Rooms and Home Theaters – Spending more time with the family is certainly something to be cherished and watching movies in the home is a great way to accomplish this. Converting the basement space into a home theater can make for memorable times. Maybe the most important remodeling consideration will be to consider ideas to improve the acoustics to make sound replicate a movie theater while minimizing things getting loud in the upper levels of the home.
Room 3 – Kids play room– Dreary winter and fall days can be tough if there is not a safe and fun area for the kids to play in – remodeled basements can provide that type of space. Consider using softer flooring materials in this area for safety (like rubber, bamboo or carpet) and paint the area in some bright colors or develop a theme around the kids interests.
Room 4 – Wine cellar– Parties around wine tasting are all the rage – what cooler (no pun intended) a way to do this than to have a custom designed wine cellar in the basement. It will be important to work with someone who has experience in this area because the temperature and humidity of the space will be critical.
Room 5- Additional bedroom or guest room – Maybe your family has outgrown the upper levels of the home and selling is just not practical – if this is so creating a bedroom in the basement (for guests or family members) may be the ticket. A key point to remember is most municipalities will require an emergency egress window for such a space to provide a safe way to get out in case of a fire. Also to make the space look larger you may want to add mirrors and paint with neutral colors.
Room 6 – Exercise or workout room – It would be easier if we all magically stayed in shaped – but that is just not reality! Maybe the easiest way to stay in shape is to have the equipment readily accessible in your home. Since treadmills and exercise equipment can be loud and heavy a great place to create this type of room is in the lower level. To make this area work best add a ceiling fan, mirrors to create an open feeling and a TV for entertainment (it will make the drudgery of exercising hopefully go a little faster).
Room 7 – Home office or computer area for the kids – Being able to concentrate is important in the design of a home office or homework area for the kids. Consider separating this room into a distinct space for privacy (or make partial walls). If possible locate the home office close to a window to get the maximum amount of natural light (or create a larger egress window in this area). Think through the electrical service to make sure it's adequate for current and future needs.
What do you think about these 7 basement remodel ideas? Please comment below.
###
Learn more about basement remodeling by visiting or calling Cleveland Design & Remodeling (216-658-1270) and Cincinnati Design and Remodeling (513-744-2172) – divisions of Innovate Building Solutions.
---
Mike Foti
President of Innovate Building Solutions a nationwide supplier and regional (Cleveland and Columbus) remodeling contractors. Some of our product lines include glass counters, floors, backsplashes, glass blocks and grout free shower and tub wall panels
---