7 Bathroom Remodeling Design Trends & Ideas for 2012 for the Cleveland & Cincinnati Ohio markets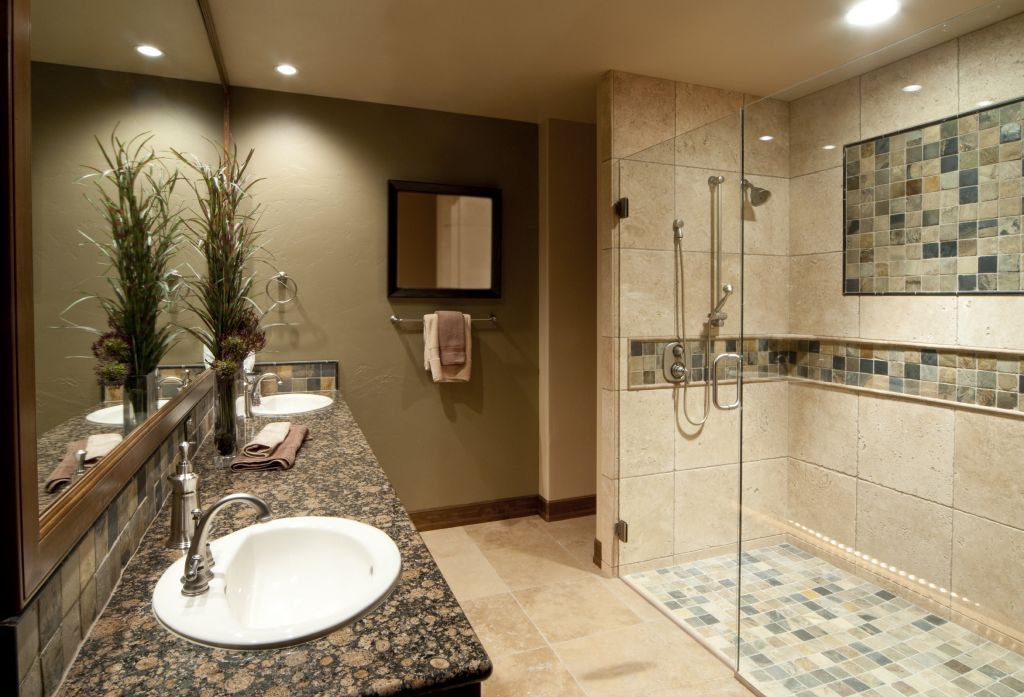 Can a newly remodeled bathroom be both stylish and functional? Incorporating the 2012 trends being seen in bath remodeling both are possible. Apply the trends below to turn a tired old bath area into a luxurious and safer room:
Trend 1 – Clean contemporary lines – Even if you have a traditional home a more contemporary look is in. Consider using features like wall mounted cabinetry (which can also be a positive factor for a more universal design), low profile linear drains, chrome plumbing fixtures and larger tiles.
Trend 2 – Kill the soaking/jetted tub & make room for the walk in shower – Get rid of your dusty soaking tub that all of the builders saw as a "must have" when building homes in the 1980's and 1990's. The reality is these tubs are just taking up room and are not getting used. Instead a key trend is converting this tub into a walk in shower. You can even get fancy by using multiple shower sprays and a rain shower head.
Trend 3 – Granite, quartz and marble countertops will lead the way – These durable materials continue to grow in usage for bathroom cabinet countertops vs. the laminates and tile tops that were used previously.
Trend 4 – High tech is in – The bathrooms of today are not your grandmother's space. Digital programmable showers that can be pre-adjusted to the setting you like and even lighted mirrors and medicine cabinets with TV's incorporated in them are creating the wow factor in the remodeled bathroom. After putting these in you'll feel like you're in a fancy hotel.
Trend 5 – Safety is in and it can be stylish – The population of the United States is aging and has the desire to stay in the home (but there is a need for safer wet room spaces which have nice designs as well). Fortunately there has been an explosion in products and technologies that are useable for people of all abilities. Some features of these universal designs can include roll under sinks, linear drains, decorative grab bars and comfort height toilets.
Trend 6 – Green is good – Sustainable eco-friendly materials that conserve water and provide longer lasting products are in. Some features you'll see in newly remodeled bathrooms include low flush per gallon toilets, water saving plumbing fixtures and natural flooring materials. You'll even see the color green being used on the walls to create a more relaxing space is well.
Trend 7 – Floors and walls with larger tiles – Bigger is better when it comes to the bath floors. Larger tiles (12" x 12" tiles are becoming more popular) create a sleek contemporary look and also make smaller joints to minimize maintenance down the road. Make grout maintenance even easier by using urethane grout vs. standard sanded grout.
What do you think about these 7 bathroom design trends and ideas? Please comment below.
###
Learn more about bathroom remodeling by visiting Cleveland Design & Remodeling, Cincinnati Design and Remodeling or The Bath Doctor ofColumbusOhio web sites.
---
Mike Foti
President of Innovate Building Solutions a nationwide supplier and regional (Cleveland and Columbus) remodeling contractors. Some of our product lines include glass counters, floors, backsplashes, glass blocks and grout free shower and tub wall panels
---