Small Remodeling & New Homes – the Trend is Clear!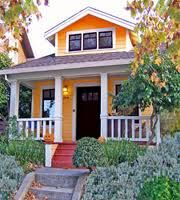 For many years home sizes and remodeling projects just kept getting bigger and bigger –well that trend is over! In the article below learn why small remodeling and small homes are all the rage now:
Small Remodeling
When money was freely flowing and the economy was bustling (remember those days?) room additions and major renovation projects were keeping remodeling contractors hopping – but the world has changed dramatically. Remodeling projects now are focused on style and function on a budget (within the same "footprint" of the home).
Given this focus on cost-effective remodeling and efficient use of space the type of projects being done has changed as well. The larger full kitchen remodel is giving way to updating the space. These updates are including new coverings – like flooring, countertops and cabinets instead of a complete overhaul. Energy efficient appliances that will save money are also growing in popularity.
Since bathroom projects are less costly they are being done in greater proportion than kitchens and basements. People are choosing to redo many small 5' x 7' bathrooms and working to gain space and function by converting alcove type tubs into showers (or even walk in showers using products like glass block curved walls or shower shields).
Small Homes
The movement to small building is not just limited to remodeling – this trend is prevalent in new home construction as well. According to an annual survey from the National Association of Home Builders in 2012 three times more home builders are planning to build smaller homes than larger homes.
Gayle Butler, editor in chief of Better Homes & Gardens says, "For many homeowners it's not as much a matter of downsizing as "right-sizing" – giving up big homes with unused space and buying a home that better fits their needs." Consumers are getting more practical with their choices of appliances, energy efficient heating and cooling elements and organization systems.
Does this trend toward smaller homes and remodeling projects make sense for you? What kind of luxuries are you still looking to including in a new home or remodeling project?
###
Do you need any help or advice with a remodeling project? If so contact Cleveland Design & Remodeling (216-658-1270) or The Bath Doctor of Columbus (614-252-7294) and Cleveland (216-531-6085).
---
Mike Foti
President of Innovate Building Solutions a nationwide supplier and regional (Cleveland and Columbus) remodeling contractors. Some of our product lines include glass counters, floors, backsplashes, glass blocks and grout free shower and tub wall panels
---