3 Steps to Create a Handicapped Roll in Shower with Style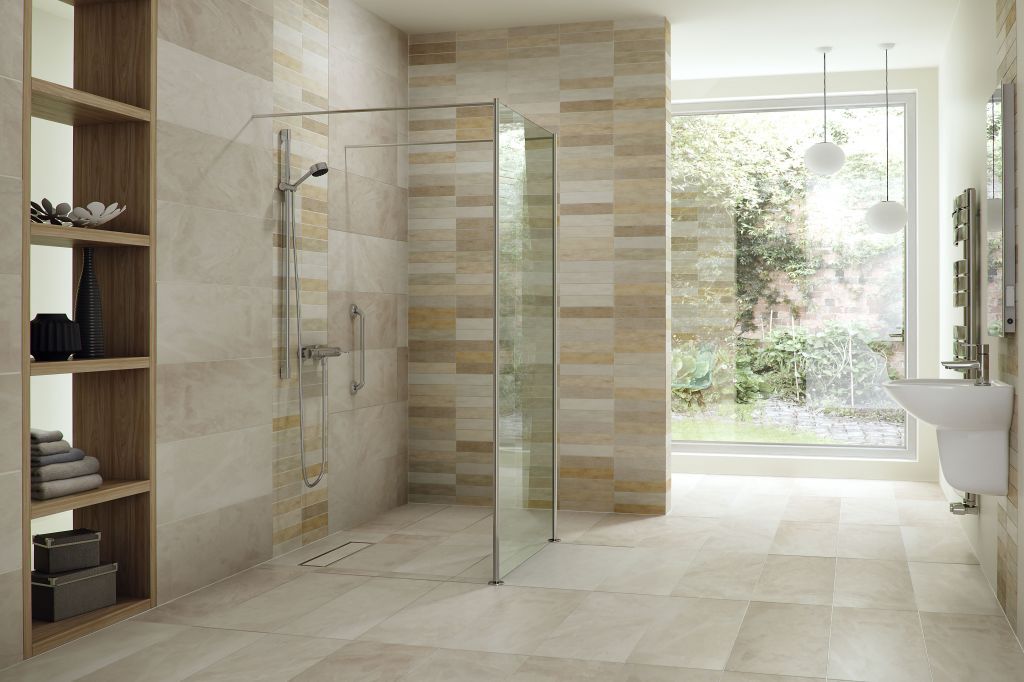 Luxury roll in shower with a stationary shower screen
Physical mobility challenges should not prevent someone from having a stylish bathroom – no matter how big your bathroom is! If you, or a loved one, is in a wheelchair it is now possible to remodel a bathroom and design a roll in shower which is both stylish and functional. Learn below 3 steps to make a roll in shower really look sharp.
Step 1 – Choose the right shower base – When many people think of a roll in shower (or ADA shower) they envision a white institutional looking acrylic or fiberglass base like you would see in a hospital. With the development of glass reinforced plastic bases (which are made of the same materials which are used in aircrafts) a tile or stone roll in shower can now provide a zero threshold entry for easy access with the high style of a spa shower. These base systems (which are usually tiled over) actually sit on the floor joists, can support heavy loads, can be cut to different sizes and shapes, and can even be used in conjunction with floor heating systems – so you'll get the spa experience even with the functionality for wheelchair access!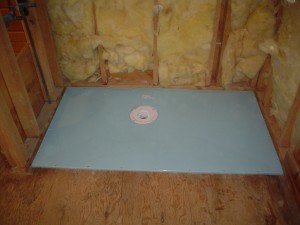 Step 2 – Select the right glass enclosure or choose to design a one level "wet room" – If you're more traditional you'll probably want to choose a glass enclosure for the roll in shower while still providing an open entry of 32" to 36". Three options to consider would be (1) a stationary shower screen, (2) a pivoting shower screen or (3) a curved glass block shower wall. Make sure to work with your bathroom contractor or designer to ensure there is enough space not only to get into the shower but to maneuver once you're inside the space.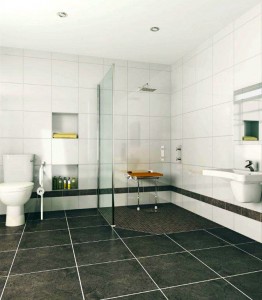 For a more open feeling another option is a single level "wet room." A wet room is created by waterproofing the entire bathroom floor and partially up the walls to make one open space. Wet rooms have been used extensively in Europe and Asia where bathroom spaces are smaller. This concept can be an excellent way to create a roll in shower in small 5' x 7' bathrooms you find in many United States homes.
Step 3 – Use stylish accessories in the right places – In many handicapped showers accessories are not really options – but can be necessities to provide a safe and functioning shower for someone in a wheelchair and/or their caregiver. Today's modern roll in shower can be equipped with items like decorative grab bars, body dryers, high end hand held showers, brazilian walnut or teak fold down seats and recessed soap and shampoo niches. It can be beneficial to consult with a Certified Aging in Place Specialist (these are people who have specialized training in accessible and universal design) or an Occupational Therapist on both the selection and placement of these accessories.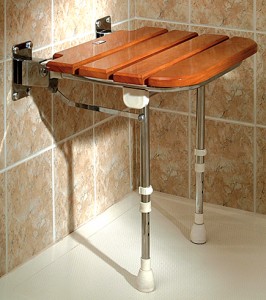 What experience do you have with roll in showers? What do you think of these 3 steps? Do you have any other questions, tips or thought to add?
If you're looking for more information or an estimate to install or supply a luxury roll in shower contact The Bath Doctor of Cleveland (216-531-6085) or Columbus (614-252-7294).For nationwide direct product sales call Innovate Building Solutions (877-668-5888). For complete bathroom remodeling contact Cleveland Design & Remodeling (216-658-1270).  The article was authored by Mike Foti, a Certified Aging in Place Specialist.
---
Mike Foti
President of Innovate Building Solutions a nationwide supplier and regional (Cleveland and Columbus) remodeling contractors. Some of our product lines include glass counters, floors, backsplashes, glass blocks and grout free shower and tub wall panels
---