Curbless & Doorless Curved Glass Block Shower just one of many features highlighting a Room Addition in Simi Valley California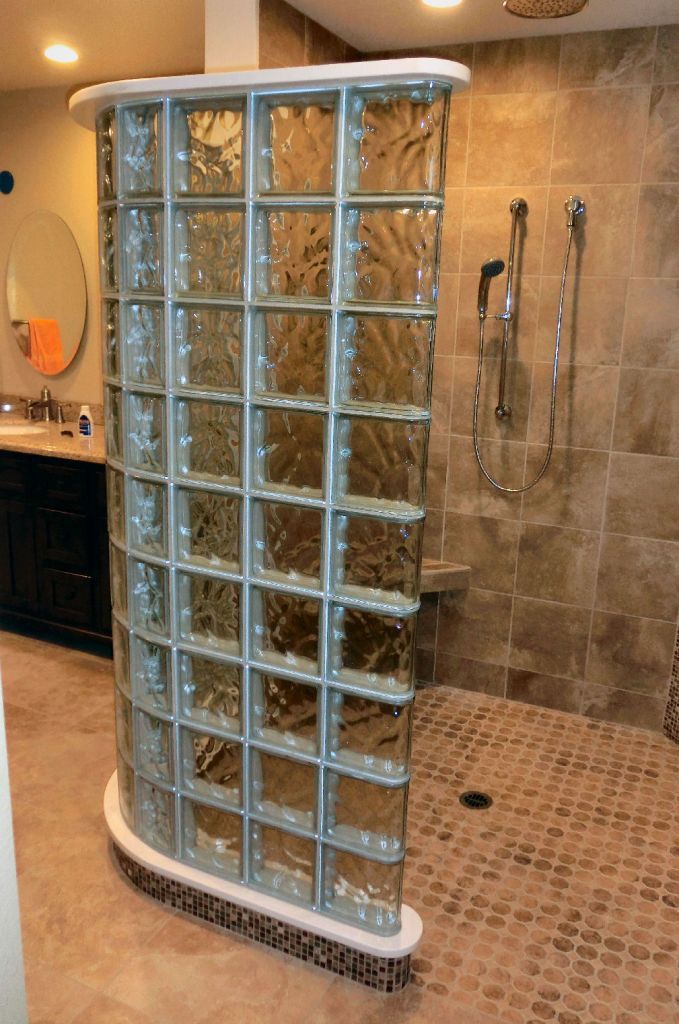 Curved glass block shower with a curbless entrance in Simi Valley California
If you live in California being thoughtful about space is essential whether you're remodeling or adding a room addition. John W. of Simi Valley California used careful planning and a high level of construction skills to add a 357 square foot addition which included a new master bathroom, hallway, and office/laundry room. In the article below learn about some of the features (both seen and unseen) that John included that not only works efficiently and effectively – but also looks great as well.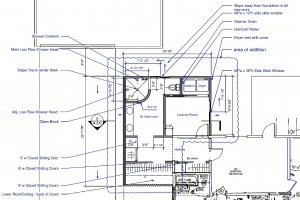 The Master Bathroom featuring a Curved and Curbless Glass Block Walk in Shower  
One of the most visually dramatic spaces in the new addition has to be the master bathroom. As John said, "We had to go without a master bathroom because we made the old master bath into a walk in closet a number of years ago. With our new addition we wanted to create a large shower with no door and no curb to step over. We liked the idea of a curved glass block shower but did not like the idea of big mortar joints. We were able to purchase a prefabricated glass block shower wall from Innovate Building Solutions that used both a vinyl stacking system and curved blocks which made a wall with consistent 1/8" joints."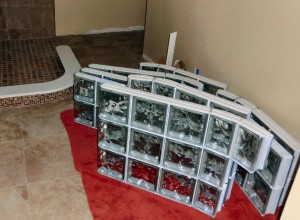 The no curb entry was made using a hot mop installation process. One the elements of the shower that took some extra thought process was the curb for the glass block wall. John ended up pouring a concrete curb that matched the curvature of the block units (although another way to do this would be to use an expanded polystyrene curb). On 3 surfaces (on top of the curb, on top of the wall and at the side of the wall) John used white Corian as a finishing material to provide a nice look (and for the top piece a place to possibly put plants in the future).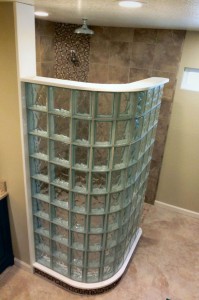 Some other interesting features in the master bathroom included:
A stainless steel corner bench seat that was bolted to the wall and tiled over.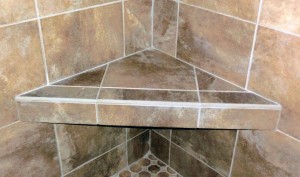 Three different shower heads including a hand held shower, a rain shower head and also a stationary head. The stationary head was actually placed in a wall on a 45 degree angle for an improved design.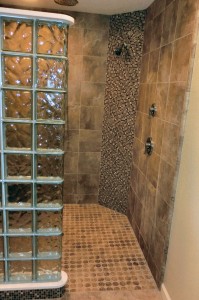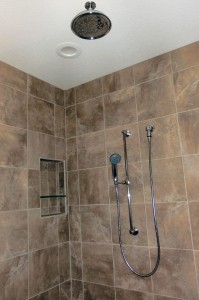 A shampoo and soap nook was created on the inside with a decorative glass shelf.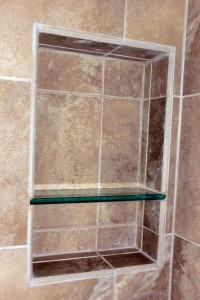 A Toto brand toilet was used where the water does not go down the toilet but directionally goes around the toilet.
Some unique features you don't see!
Although the master bathroom has dramatic style which is readily seen when you walk in the space, there are some other interesting features in this room addition which are not as easy to see. They include:
An emergency escape hatch – It's always important to feel safe in a home. Behind one mirrored closet door John designed an escape hatch that opens to the outside. There are no handles on the outside for someone to be able to identify this safety feature.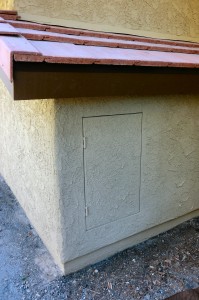 Hidden washer and dryer– Hiding behind two mirrored closet pocket doors are a washer and dryer in the office/laundry room. This not only makes the office space look nicer – but it also conceals the functional laundry room. The pocket doors open and close in the same direction – when open, one door is behind the other. This wall had to be thicker to accommodate the pocket doors.
What do you think about John's design, ingenuity and products chosen in this Simi Valley room addition project? Please comment below.
###
To learn more about a curved glass block shower kit or get a free estimate visit or call Innovate Building Solutions on a nationwide basis (877-668-5888) or for a local project their divisions including Columbus Glass Block (614-252-5888), Cleveland Glass Block (216-531-6363), West Side Glass Block (216-398-1020) Mid America Glass Block (513-742-5900) of Cincinnati or Dayton and Akron (330-633-2900), Cleveland Design & Remodeling (216-658-1270) or The Bath Doctor of Columbus (614-252-7294).
This article was authored by Mike Foti
---
Mike Foti
President of Innovate Building Solutions a nationwide supplier and regional (Cleveland and Columbus) remodeling contractors. Some of our product lines include glass counters, floors, backsplashes, glass blocks and grout free shower and tub wall panels
---