5 New Options in Acrylic Shower Bases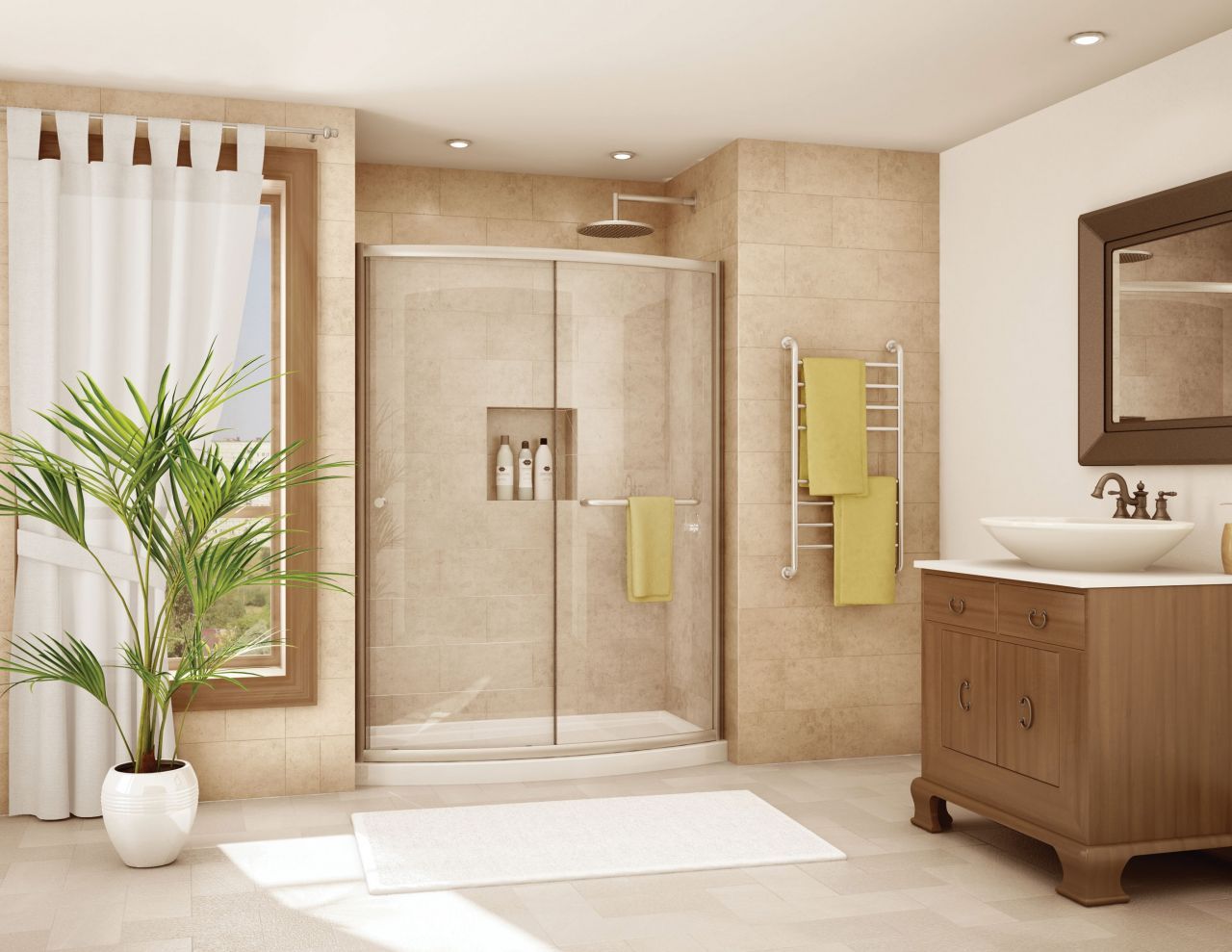 Round acrylic "arc" base with sliding glass doors
The advantages of acrylic shower bases are many. They don't yellow (like fiberglass), are warm to the touch and cost effective, easy to clean and non-porous to name a few. With all of these advantages though acrylic bases have not traditionally been thought of as an exciting choice…until now.
In the video and article below see how the Fleurco line offers a broad range of options, styles, and increased functionality for a new construction or bathroom remodeling project.
Multiple Shapes and Enclosures create a Winning Formula
One size does not fit all spaces or family budgets. The Fleurco line provides 9 different shapes of acrylic bases in various sizes for cool design, function and stylistic possibilities. What is also nice is there are matching glass enclosures to pair up with these bases for almost any budget (for a basic or luxury shower).
5 New Acrylic Shower Base Options
 While a standard square or rectangular shower base will work, the function and style of a master, kid's or guest bathroom can be enhanced with the 5 new options discussed below. All of the base options are available in white and biscuit colors.
Option 1 – "Bowfront" – a gem for bath to shower conversions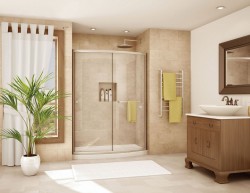 Just like a curved shower rod a "bowfront" base curves (or bows) out in the middle (note this base is 30" at the 2 sides but is 36" deep in the center). This makes this base a preferred choice where additional showering space is desired. In addition the sliding glass doors don't have any tracks at the bottom which makes cleaning easier than a standard glass enclosure system.
Option 2 – "Arc" – making the most of a small corner shower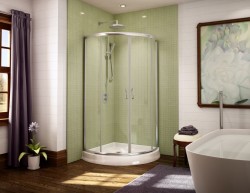 If you have a small 32" to 40" space for a corner shower the Arc will maximize the inside space of the stall while adding style.
Options 3 – "Slice" – a unique shape for a walk in or curved sliding glass enclosure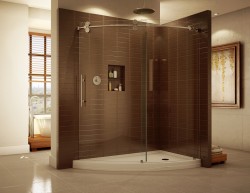 While a "slice" is not desired in golf, it is a winning and stunning choice in a shower base. This dramatic 66" x 38" shaped base (called a Slice) adds graceful lines in a bathroom. Combining this unit with a high end Kinetic, Novaro, Evolution or Banyo Fleurco glass enclosure creates a truly unique high-end look.
Option 4 – "Roman half curved" – providing a flexible walk in or pivoting glass door design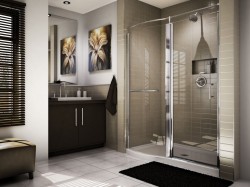 Having a standard 60" wide showering space does not have to equate with a boring base and glass enclosure system. The Roman half curved base can be used in an alcove space, corner or for a smaller walk in shower. The glass on this system can be on either one side or two sides of the opening.
Option 5 – "Wedge" quarter round base – for roomier corner stalls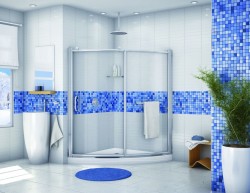 This curved base not only provides ample showering space (the 2 sides of the base are 54" x 54") – but the curved glass adds sophistication to the room as well.
What questions do you have about these 5 new acrylic shower base options? Please comment below.
If you're looking for more information or an estimate on remodeling a bathroom or nationwide supply of our acrylic shower bases call The Bath Doctor in Cleveland (216-531-6085), Columbus (614-252-7294), nationwide (877-668-5888) or Cleveland Design & Remodeling (216-658-1270). Qualified Certified Aging in Place Specialists are available to help.
---
Mike Foti
President of Innovate Building Solutions a nationwide supplier and regional (Cleveland and Columbus) remodeling contractors. Some of our product lines include glass counters, floors, backsplashes, glass blocks and grout free shower and tub wall panels
---