Introducing a Luxury Acrylic Shower Base Line with an Innovative Bench Seat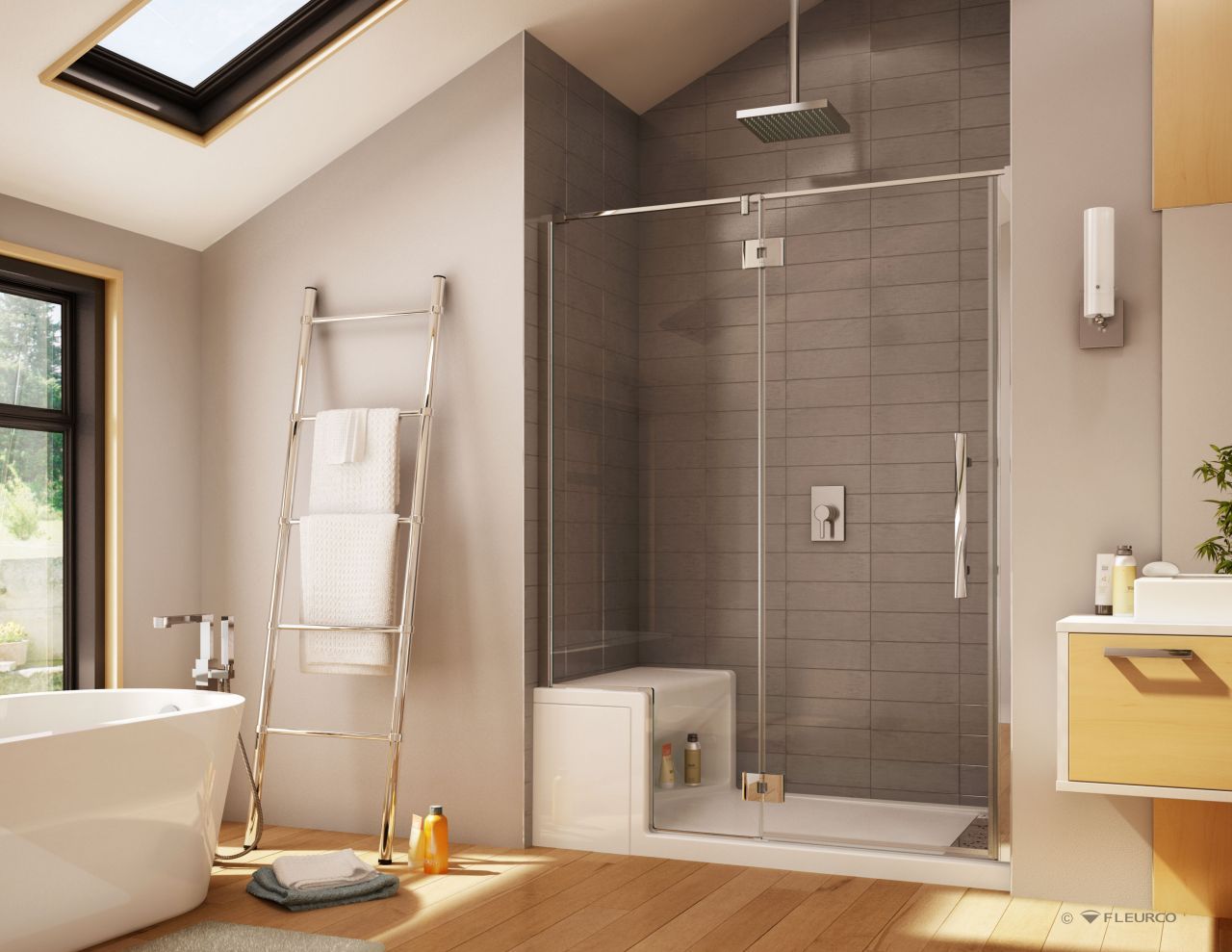 Allessa 60 x 32 luxury acrylic shower base with a bench seat built in
Updated March 2, 2019
If you're looking for an innovative, space-saving and function-enhancing acrylic shower base you need to look no further. The new line of Alessa and Urbana shower bases combine the benefits of using 1, 2 or 3 wall glass enclosures with a bench seat which adds safety and function. Learn more about the benefits and features of this new line below.
Benefits of the Alessa and Urbana seated acrylic shower base lines
 Most people are familiar with fiberglass one piece shower base systems which have historically been plagued by cracking and discoloration problems (they also have few glass shower door options – other than using a one-wall glass enclosure system). This new acrylic shower base system offers many of the following exciting benefits not available in most one piece fiberglass systems:
3 storage compartments both inside and outside of the shower for extra soap, shampoo and towel compartments.
Easy cleaning and scratch resistant cast acrylic base surface.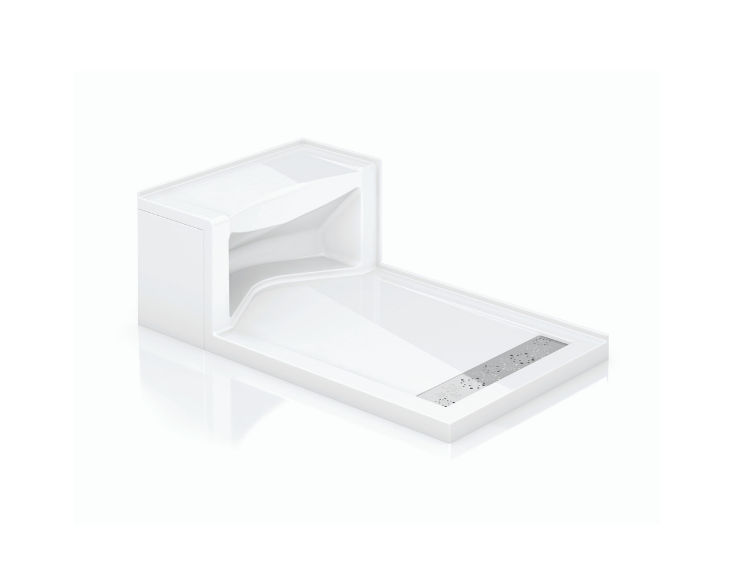 This material is warm to the touch which makes the base more comfortable to sit on than a tile surface.
The Alessa and Urbana bases are designed to work with shower enclosure which can accomodate one wall (for an in-line type shower), 2 walls (for a corner shower), or 3 walls (for an open shower concept) showers.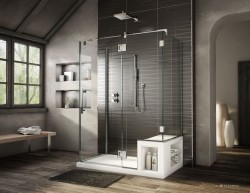 Glass enclosures are available in multiple price points to work specifically with these bases. From the highest priced luxury "Titan" line to the mid priced "Platinum" line to the most cost effective "Banyo" line).
Provides a higher level of safety with lower threshold curbs.
Features of these acrylic shower bases
 Flexibility and options are very important when choosing a shower base and enclosure system that provides a consistent look with the surrounding bathroom – "one size fits all" just does not work in new or remodeled bathroom any more! Here are some of the features which make this new  shower base with bench seat system really stand out:
Features a 60" x 36" shower base with 3 bench seat compartments for extra storage or to be used as a footrest.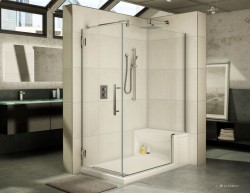 A selection of 4 different types of linear drain covers are available.
Door hardware finishes include brushed stainless, ultra chrome, bright brass, bright chrome, brushed nickel and oil rubbed bronze.
Glass enclosures are available for in line, corner and 3 sided showers in glass thicknesses ranging from ¼" to ½" glass thicknesses.
What do you think about this unique acrylic shower base and bench seat with matching enclosure system? Do you have any questions about them? Please comment below or call.
If you're looking for more information or an estimate to install an acrylic shower base with bench seat system visit The Bath Doctor of Cleveland (216-531-6085) or Columbus (614-252-7294).For nationwide direct product sales call Innovate Building Solutions (877-668-5888). For complete bathroom remodeling contact Cleveland Design & Remodeling (216-658-1270).
If you're a remodeler or builder and want practical advice on remodeling products, industry trends, marketing and sales tips to grow your business (and cut day to day hassles), start reading my newest blog – Innovate Builders Blog. It's packed with ideas you can use now. Click here to Sign Up for the Innovate Builders Blog.
---
Mike Foti
President of Innovate Building Solutions a nationwide supplier and regional (Cleveland and Columbus) remodeling contractors. Some of our product lines include glass counters, floors, backsplashes, glass blocks and grout free shower and tub wall panels
---