Is this bathroom in the Caribbean or Wisconsin?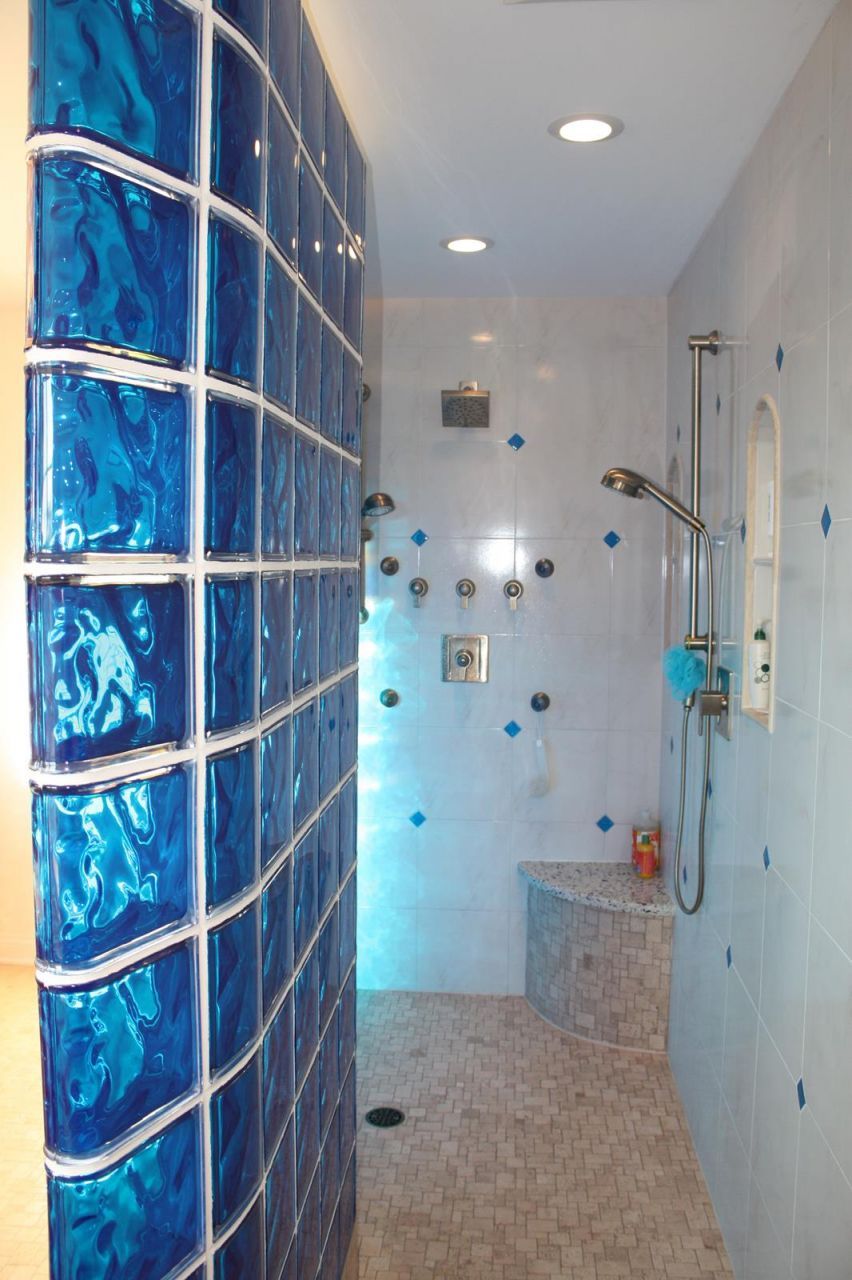 Caribbean themed blue colored glass block and tile shower
When Tony Brummel was designing his master bathroom he wanted the space to transcend where the home is physically located (which is in Middleton Wisconsin –not the warmest place in the world) and create the feeling of a Caribbean island. As Tony said, "I like the pretty colors and the sparkle of light created in our bathroom – it provides the feeling of being in the islands while still being in Wisconsin!"
Learn below how Tony combined features like a no barrier (zero threshold) blue colored curved glass block shower and recycled glass countertops to achieve a distinctive look and island feel.
The shower – Instead of including the seldom used tub in the master bathroom Tony opted for a spacious shower – but not just any shower! Using a unique sapphire colored glass blocks from Innovate Building Solutions in a wave pattern creates a calming blue light streaming into the shower. When I asked Tony about the unique shape of the shower he said, "My goal was to make a shower big, but not too big. The shower is largest in the main wet area and then curves back in to allow more bathroom space and then gently curves out for more room at the entrance."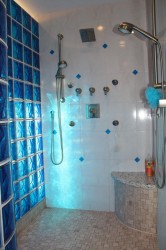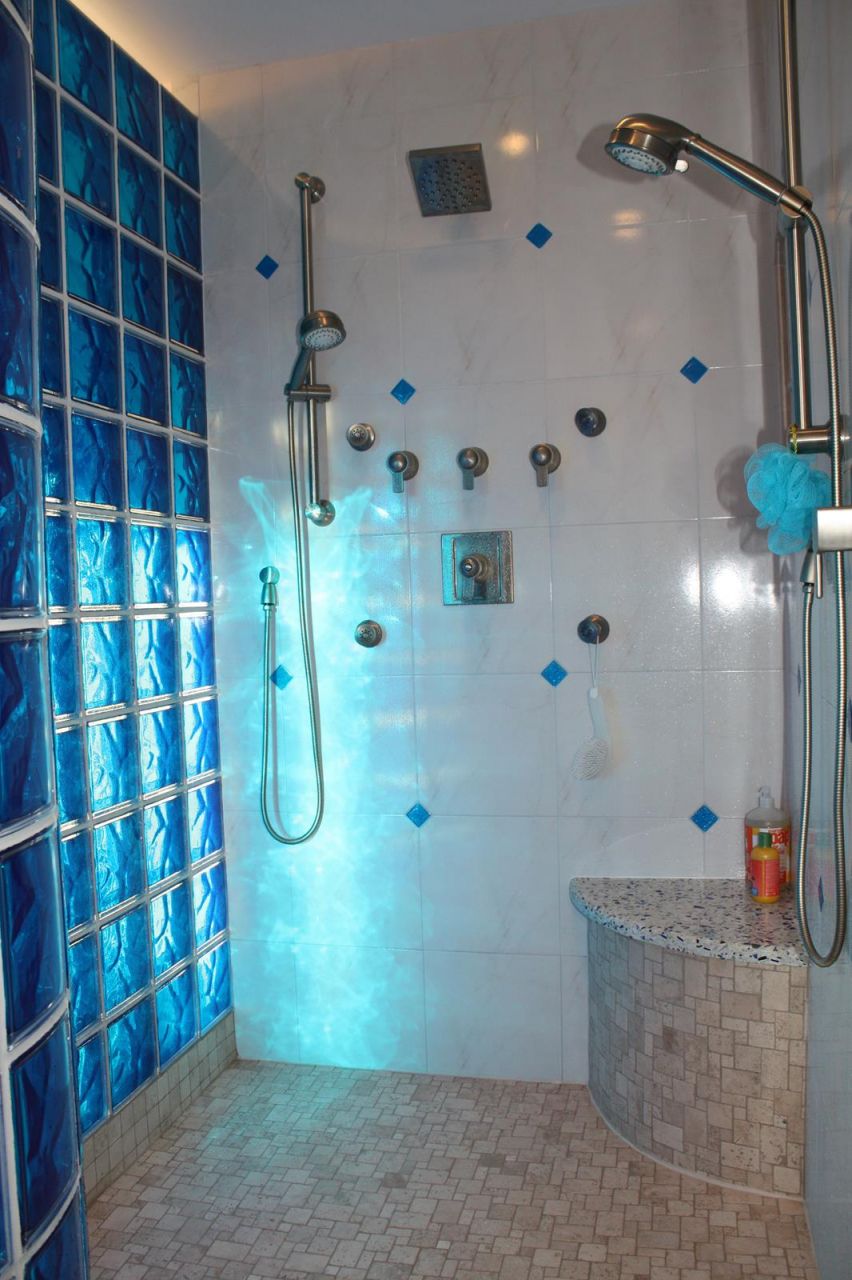 To make the space even more comfortable Tony incorporated the following elements:
 ·         Heated floor – Let's face it – Wisconsin can be cold! Tony wanted to use radiant heated floors to keep the island theme going even on the coldest winter days.
 ·         Fun, relaxing and functional fixtures – Tony went all out to create a spa experience (with the right amount of function). He incorporated 4 body sprays, 2 hand held showers and one decorative stationary rain head from Moen into the shower. The hand held makes it easier to clean yourself and also the shower – and the body sprays provide the relaxation feature anyone would love to have.
 ·         Curved bench seat – Having a space to sit and relax is essential for a luxury spa shower.   This curved bench seat (with a recycled glass top) adds style to this practical feature.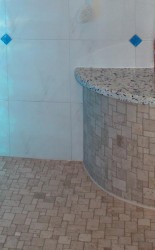 ·         Easy to enter no curb design – Tony built his own custom concrete base which was sloped in to allow entering the shower without having to step over a curb – an excellent design and a contemporary look.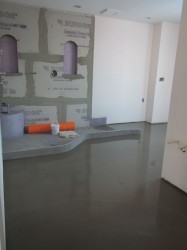 The bathroom- The shower was not the only area of this master bathroom to leverage the light, color and Island theme – let's look at a few of the bathroom features:
 ·         Recycled glass countertops – Not only does this countertop from Vertrazzo provide sparkle and pop to the master bathroom – it is environmentally friendly and sustainable as well.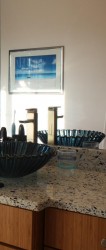 ·         Blue vessel shell sink – Nothing says the islands more than shells (this sink was purchased through The Home Depot).
 ·         Heated towel warmer – Once again – another feature with the warm theme.
 ·         Purple privacy glass blocks for colored light into the toilet room – Continuing with the "open, yet private" theme this "iceberg" pattern high privacy glass blocks provide colored light into the toilet room.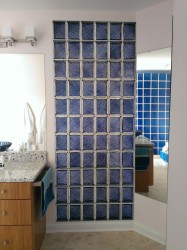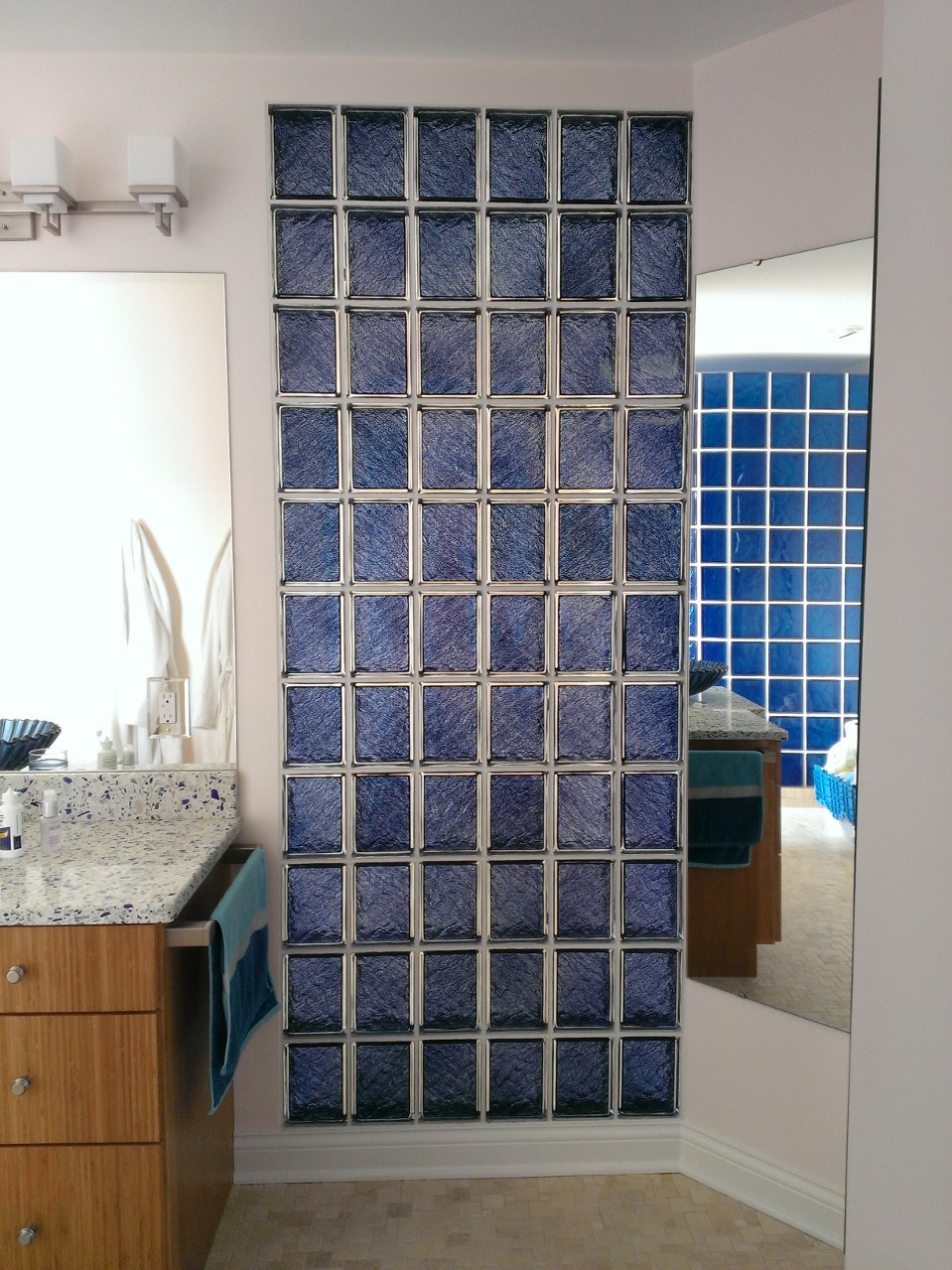 What do you think about Tony turning his Wisconsin master bathroom into a Caribbean themed room? Please comment below.
 ###
 To learn more or get a free estimate on a glass block showers or ready for tile barrier free bases call Innovate Building Solutions on a nationwide basis (877-668-5888) or for a local project their divisions including Columbus Glass Block (614-252-5888), Cleveland Glass Block (216-531-6363), West Side Glass Block (216-398-1020) or Mid America Glass Block (513-742-5900) of Cincinnati or Dayton and Akron (330-633-2900).
---
Mike Foti
President of Innovate Building Solutions a nationwide supplier and regional (Cleveland and Columbus) remodeling contractors. Some of our product lines include glass counters, floors, backsplashes, glass blocks and grout free shower and tub wall panels
---