How to compare back painted color coated glass to high gloss acrylic & glossy laminated wall panels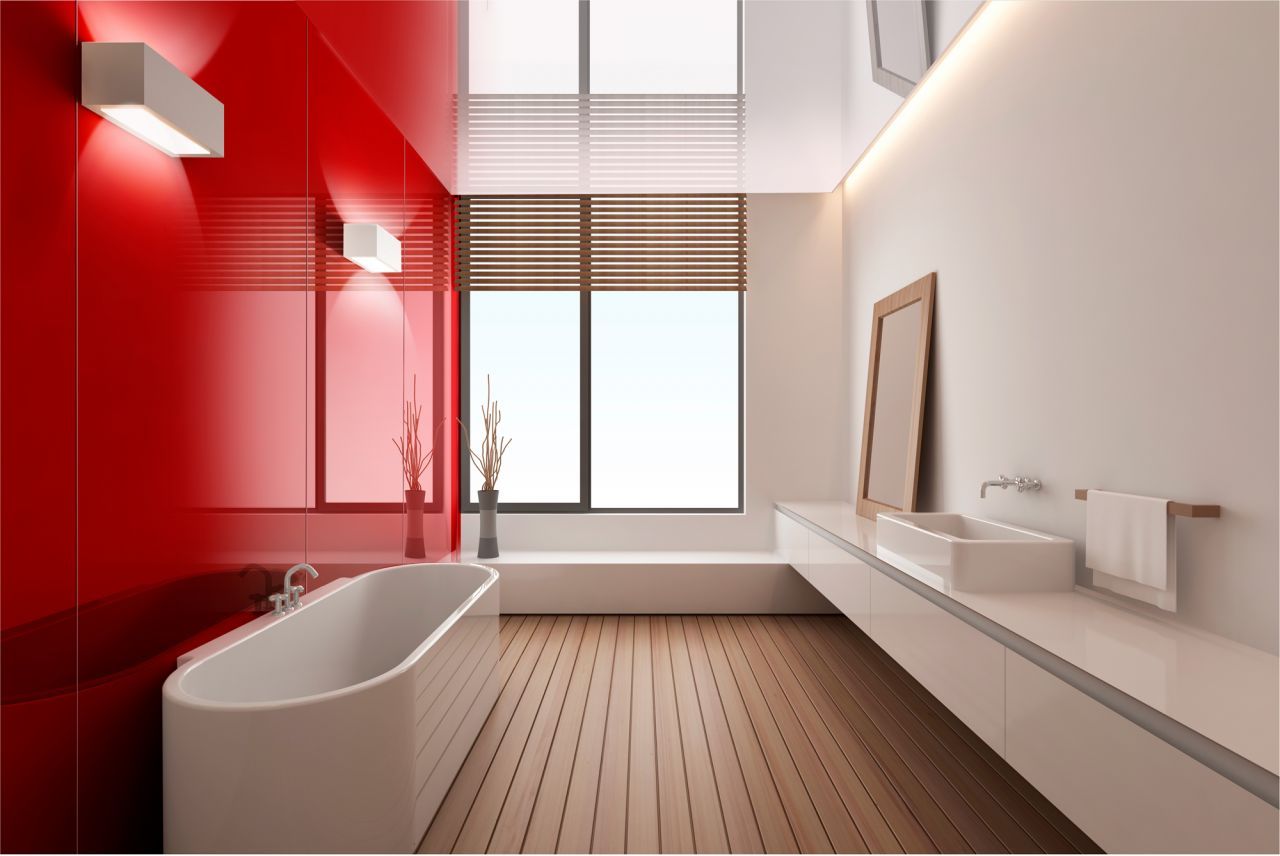 Fire engine red high gloss bathroom wall panels
Updated February 10, 2019
If you're an architect, designer, custom builder or homeowner you may be familiar with the concept of coloring the reverse side of a piece of glass to get a clean, contemporary and easy to clean wall surface, but you may not have heard about two alternative (and less expensive) products high gloss acrylic walls (see the cool red pic above) and glossy laminated shower wall panels (see the fun blue pic below).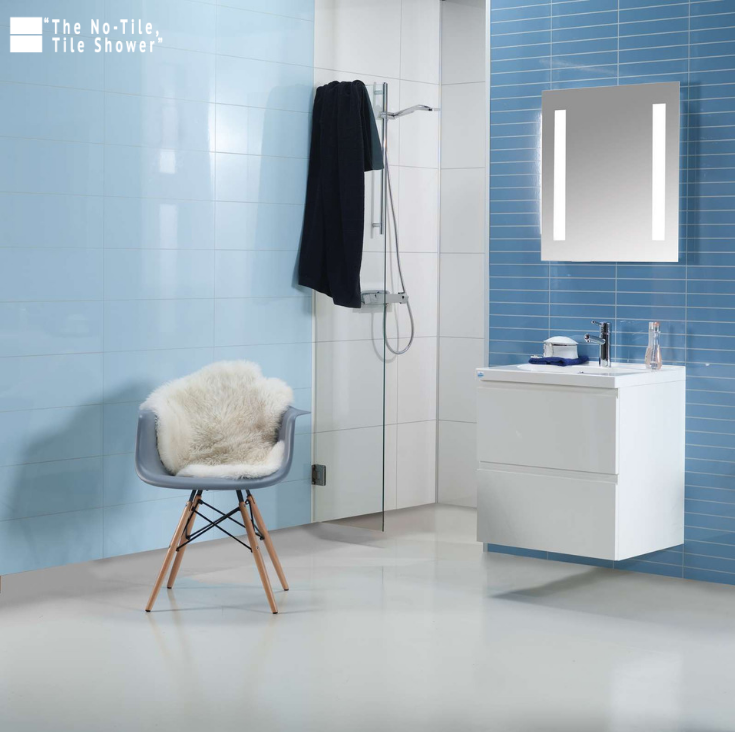 While all of these materials can make a dramatic impact for a backsplash or shower in a home (or feature wall or boardroom application in an office) they each have distinct advantages which drive your decision on which is best for your home. In this article we'll dig into all 3 option so you can sift through and find the best one for you. 
Let's take a peak at these materials and get the 'low-down' on their relative advantages and disadvantages. 
What is back painted glass?
Back painted glass is simply glass (which can be standard, low iron or tempered) which has been painted on the reverse side to create color. It can be heavy and fragile – but is very cool to look at.
What are high gloss acrylic wall panels?
– These panels are 5/32" thick material is an optical grade acrylic with a mirror like finish with an integrated fused layer on the back surface. They are made in Australia (yes – that is a long way to go before they hit the United States). They can be cut and worked at on the job site and come in 8 different patterns and colors 
What are laminated wall panels? 
Laminated wall panels are 3/8″ thick and are made in 2′ x 8′ x 3/8″ sections which click, lock and seal together. They come in various patterns (both with and without joints) and can be installed by one person.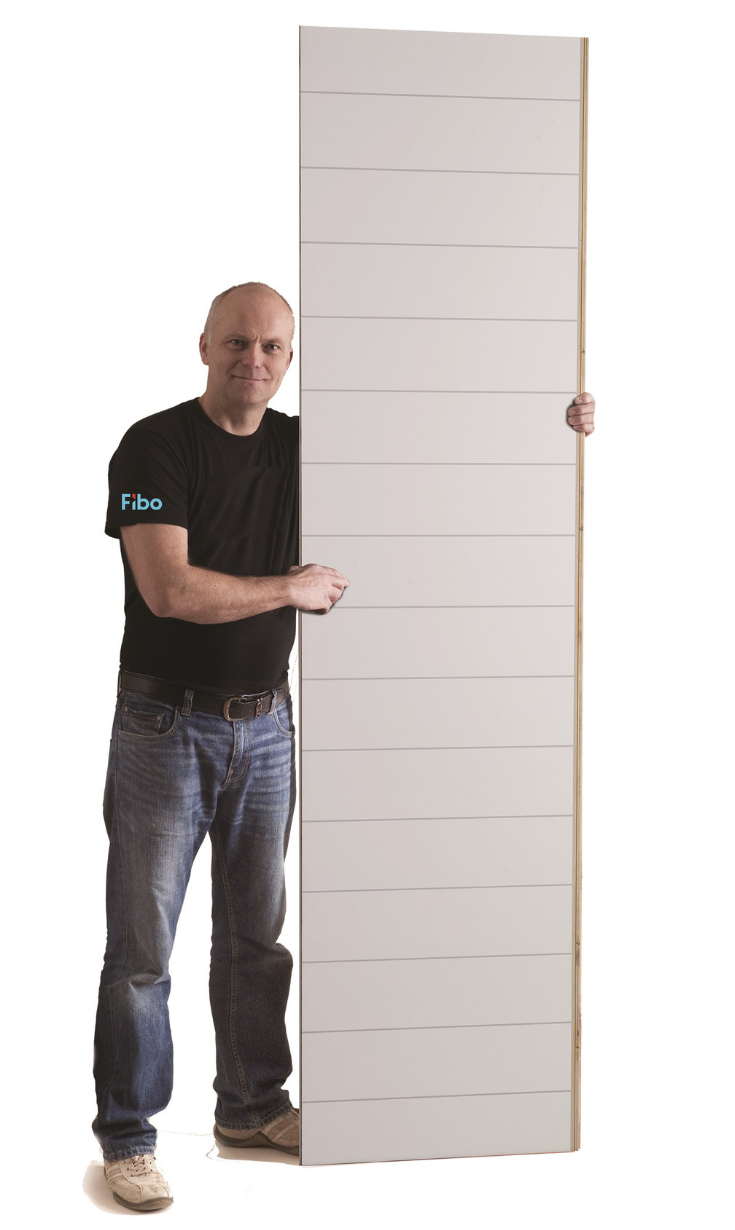 Advantages of back painted glass vs. high gloss panels or laminated wall panels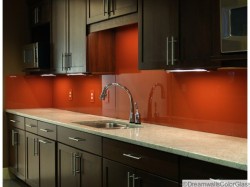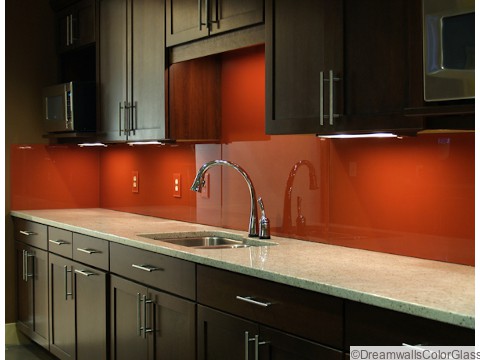 Although all 3 products provide an exciting modern look, here is where color coated glass may be best used vs. high gloss panels or the laminated wall panels:  
1 – Matching a specific color choice – This product can be color coordinated to match a specific décor and is also available in metalized paint options.  The options can be important in a custom-matching project.   
2 – Laminated glass can create a different look on 2 sides of a wall – With a laminated back painted glass you can have a color on one side and an etched or patterned glass on the other side.
3 – Tempered for high temperature areas – If you're looking for a backsplash behind a stove or a fireplace tempered back painted glass will meet the need.
Advantages of high gloss walls vs. back painted glass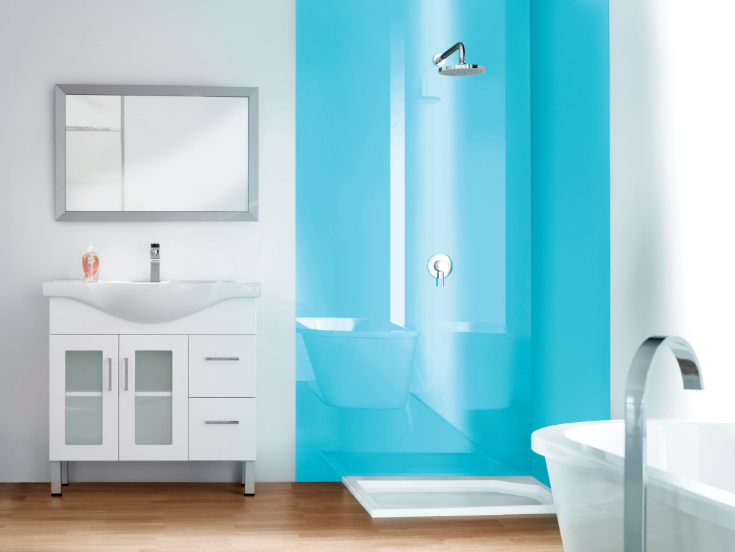 High gloss acrylic panels – while not as well known as back painted glass – have some very strong advantages.
1 – Lower cost – High gloss panels are usually less expensive than tempered back painted glass for shower/bath walls or backsplashes in kitchens, bathrooms or laundry rooms. With that being said they are still aren't a 'cheap date.' So – if you're looking for low-cost you may end up with another option 
2 – Easier to work with and install –This material can be cut or drilled with common woodworking tools and is lighter than back painted glass – making it easier to install by a DIY'er or professional contractor.
3 – Higher strength – High gloss acrylic panels are 25 times stronger than glass and safer to work with.
4 – Flexibility – If you have a slightly curved wall these panels can be formed over this surface.

Advantages of glossy laminated wall panels vs. back painted glass
1 – MUCH lower cost – Laminated wall panels are about 1/2 the cost of the high gloss acrylic panels mentioned above and 1/3 of the cost of back painted glass. From a cost standpoint they blow the other 2 options away!
2 – Easier to work with an install – Since these panels come in 2′ x 8′ sections and only weigh 26 pounds they can be installed with one person (which neither of the 2 other options can touch) and are far simpler to install (they simply click, lock and seal together).
3 – Design options – Unlike the other 2 products which have smooth and flat surfaces – laminated wall panels can have gloss 'tile looks.' However they are still simple to clean because these 'faux-grout joints are made of laminate, not grout.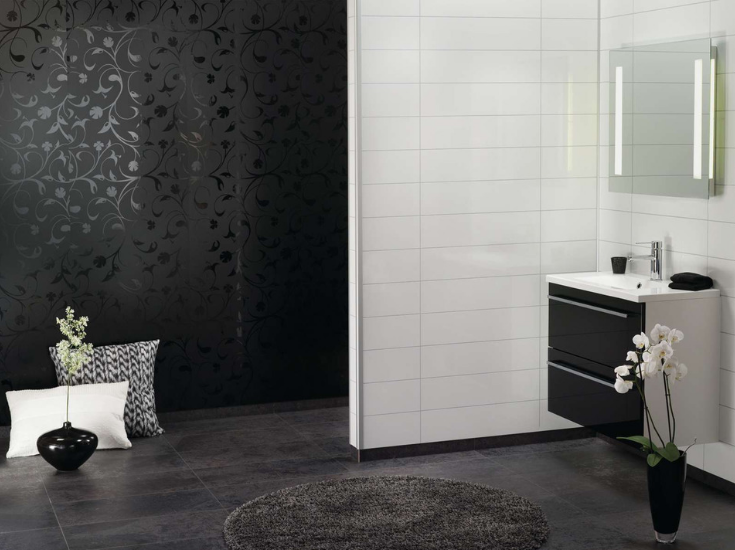 4 – Sizing flexibility – Since the panels can be cut with common woodworking equipment you can do either a standard or custom sized shower or backsplash without needing special cuts being done at the factory.
Which of these materials would be best for your project? Please comment below with your questions or call us at the numbers below if you'd like wholesale direct pricing .
If you're looking for more information or an estimate on high gloss walls call The Bath Doctor of Cleveland (216-531-6085) or Columbus (614-252-7294).For nationwide direct product sales on these (and other) shower wall surrounds, bases and more Innovate Building Solutions (877-668-5888). For complete bathroom remodeling contact Cleveland Design & Remodeling (216-658-1270).  
If you're a remodeler or builder and want practical advice on remodeling products, industry trends, marketing and sales tips to grow your business (and cut day to day hassles), start reading my newest blog – Innovate Builders Blog. It's packed with ideas you can use now. Click here to Sign Up for the Innovate Builders Blog.
If you're in the building business, click here if you'd like to learn how to become a shower wall panel dealer or call and ask for Mike at 877-668-5888.
---
Mike Foti
President of Innovate Building Solutions a nationwide supplier and regional (Cleveland and Columbus) remodeling contractors. Some of our product lines include glass counters, floors, backsplashes, glass blocks and grout free shower and tub wall panels
---