Project Spotlight: New Fiberglass French Doors add more than just improved function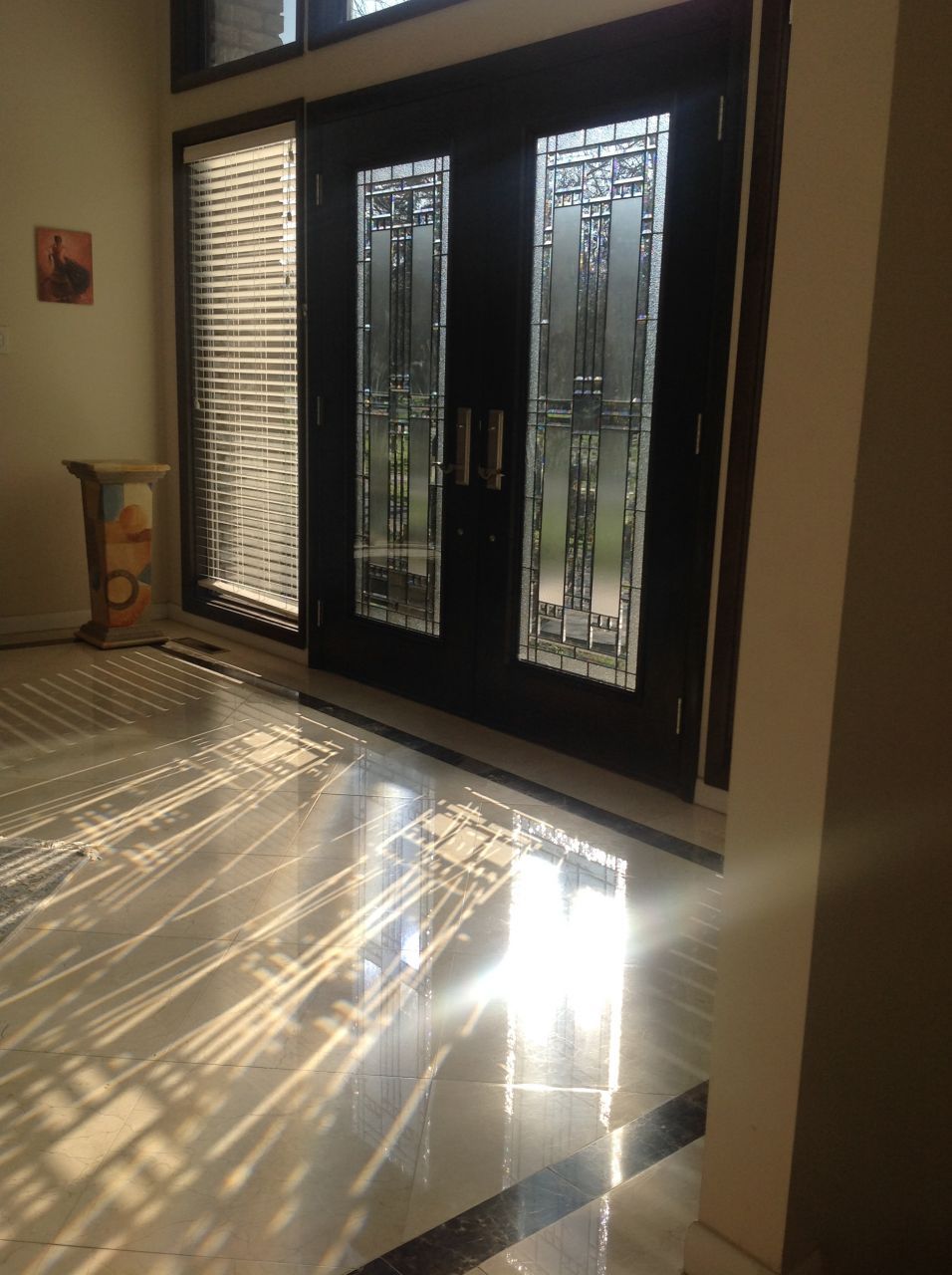 Fiberglass french doors in a Pepper Pike Ohio home
When Drs. Mona and Walid Saliba decided to replace their existing front entry doors their main purpose was purely functional – to get rid of drafts. Using a fiberglass door from Provia the Saliba's were able to transform the entrance of their home. In the article below I'll highlight why door replacements make good economic sense and some of the key features and benefits of the french doors used in this project.
Door Economics
According to the 2014 Cost/Value study the #1 return on investment for home improvement projects is a front door replacement (with a steel entry door replacement retaining 96.6% of its value and a fiberglass door 70.8%). You might ask why? The reason front doors are a focal point of the home which improves curb appeal – this translates into a strong return on investment.
Project Features and Benefits
Some of the key features and benefits which make the Saliba's product interesting include:
·         Eye-popping designer glass for style, unique light patterns and architectural flair– This project incorporated the"Lehigh" pattern door (which used clear beveled, ribber and "granite" pattern glass) to not only provide privacy but also cool looking light patterns. The patina caming provides a Frank Lloyd Wright architectural feel.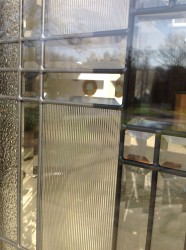 ·         Decorative, long lasting color-coordinated staining – The "espresso" colored stain in this project is certainly beautiful but the beauty of this door is not just skin deep. A 6 step finishing process was used with multiple layers of stain and UV resistant clear coats. For other wood looks the doors also come in cherry, mahogany, oak and fir options.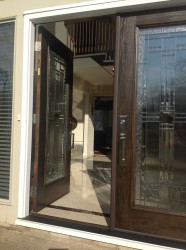 ·         Elegant and durable handlesets – Ever go to a front door and the handles were tarnished and pitted? A heavy duty handleset by Emteck (called Melrose) with a satin nickel finish was chosen. This product has lifetime mechanical and anti-tarnish finish warranty.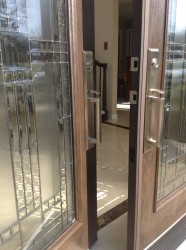 ·         Save money with energy efficient solid construction – Let's not forget the reason the Saliba's wanted the new doors in the first place which is to reduce drafts. This door is not only energy star rated but the door's construction far outpaces other fiberglass doors because it is foam filled for energy efficiency and strength.
 What questions or experience have you had with fiberglass entry doors? Please comment below.
 If you need help front door replacement project visit or call Cleveland Window (216-531-4118) or Clear Choice Window & Door in Columbus (614-545-6885) – divisions of Innovate Building Solutions.  
---
Mike Foti
President of Innovate Building Solutions a nationwide supplier and regional (Cleveland and Columbus) remodeling contractors. Some of our product lines include glass counters, floors, backsplashes, glass blocks and grout free shower and tub wall panels
---