Fall 2014 Trend Report from Innovate: High Gloss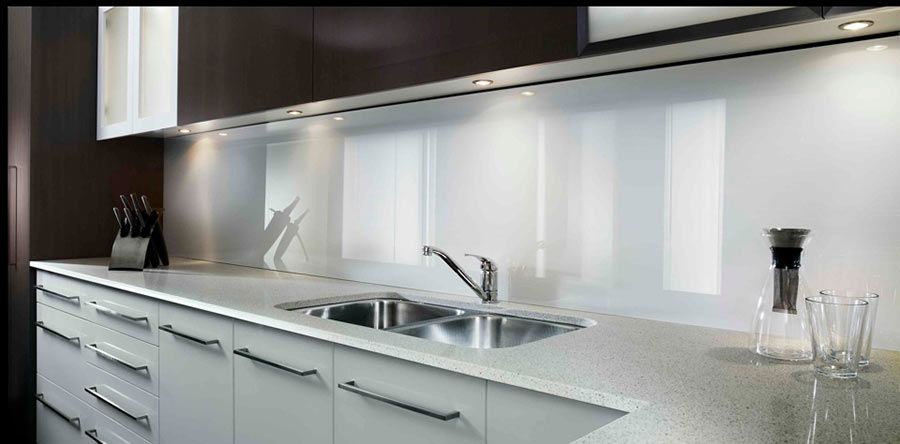 The cool high-gloss trend that can be seen all over kitchens in Europe has made its way to the states, offering interior designers and homeowners alike a unique, aesthetically appealing option for taking a modern look to the next level in commercial buildings or high-end luxury homes. Described as sleek, fun and contemporary, Lustrolite high gloss acrylic wall panels from Innovate Building Solutions can add a lot to your kitchen, bathroom, media room or office.
Adding pops of color to your décor has never been easier. Arctic, mocha, rouge and blue atoll are some of the vibrant hues that high-gloss acrylic panels are available in and can be used as accent colors in commercial buildings, to replace tile backsplash in a kitchen, or in showers for a cool, grout-free design. White high-gloss showcases a clean, modern look while opening a space visually and reflecting natural light. For sleek, executive appeal, dark carbon-colored panels add the perfect touch of elegance and sophistication to an in-home office, media room or in a commercial space. Learn more about the glamorous high gloss trend and ways to incorporate it here.
Although they offer a luxury look, high-gloss panels are low-maintenance, lightweight, durable, and easy to clean! For DIY customers in need of cool new look and a fall project, high gloss acrylic wall panels and installation kits can be purchased from Innovate Building Solutions and shipped FREE nationwide. For more information about the benefits of going high-gloss, visit our website or call us toll-free at 877-668-5888.
For regional help and installation, you can also contact our Bath Doctor branch in Cleveland and Columbus Ohio at 216-531-6085 and 614-252-7294, respectively.
---
Mike Foti
President of Innovate Building Solutions a nationwide supplier and regional (Cleveland and Columbus) remodeling contractors. Some of our product lines include glass counters, floors, backsplashes, glass blocks and grout free shower and tub wall panels
---