Basement Remodel Goes Beyond Man Cave to Fun & Functional Family Space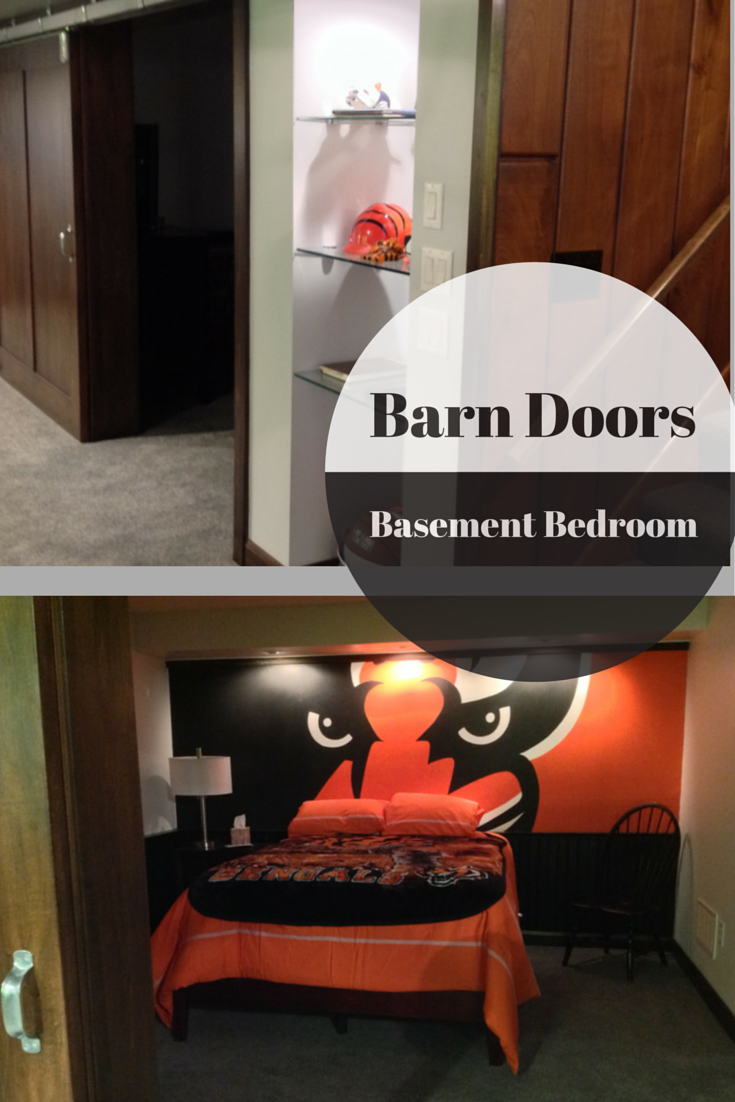 Sure – man-caves are cool – but why limit lower level living space to guys? For Sarah and Joe Chaulk of Alexandria Ohio (a rural area outside Columbus) two factors contributed to their transformational basement remodeling project. First and foremost was to have a place for their adult daughter to sleep (beyond a air mattress) when she visits from Cincinnati. Second – they needed to fix their wet basement (which had recently flooded) to provide a fun space which could be enjoyed by the whole family. In the article below learn how Sarah and Joe (along with their expert craftsman and contractors Randy and Mike) started literally from the ground up to transform a musty basement into a contemporary, fun and functional lower level living space.
It Ain't Sexy – It's Our Basement – Improving from the Ground Up
Like many people's basements Joe and Sarah's lower level was nothing to write home about. The space was damp, musty and dark and the rooms were cut off from one another. Basically the basement was a place to store stuff…but nothing too valuable due to the dampness problem.
The initial foundational work was not sexy – but it had to be done. The land was regraded with topsoil, new drain tile installed and on the inside the floor was retrenched and two sump pumps added. As Joe said, "At last the space was dry."
Rustic Contemporary Living Combined with an Eclectic Group of Sporting Interests
While the functional goal of this basement remodel was to provide a bedroom and bathroom for their daughter when she visits – the Chaulk's thought why not do it with an infusion of the family passion for sports (they are Cincinnati Bengals, Ohio State Buckeyes and Bradley University Braves fans) combined with a rustic contemporary décor? I'm going to highlight below some of the fun and functional features which caught my eye during a recent visit to the project:
The Bedroom – Sliding barn doors which not only could tame a tiger..but a Bengal as well! – I love the sliding barn doors in this Cincinnati Bengal themed room (note the back wall artistry was done by Joe Chaulk– although I have to admit I think it would look better with the Cleveland Browns logo!). The canned lights and wood wainscoting make the space inviting with the warm feeling of a rustic lodge.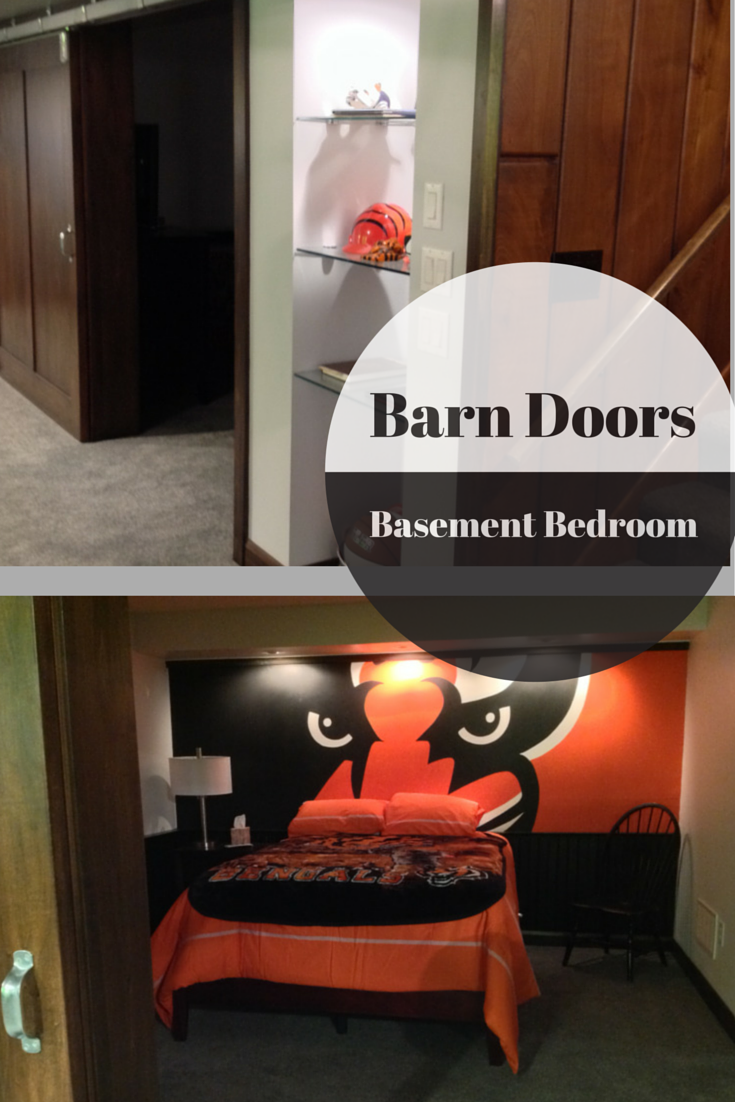 The Bathroom – Mashing up warmth, low maintenance products and fun use of color.
Warmth – Entering this room I could feel the warmth of the wood patterned ceramic floor and wall tiles and furniture grade cabinetry. Sarah decided on a 6" x 24" ceramic plank floor from the "Natura" series from Florida Tile with a slightly distressed wood grain. A furniture grade marble top vanity from Austell provides a contemporary and sophisticated look.
Low maintenance – The glass block walk in shower with rounded edges on the top and sides (which was installed by the Columbus Glass Block division of Innovate Building Solutions) is not only easy to maintain, but also provides an open feeling to the bathroom. The thinner glass blocks help to maximize the space on the inside of the shower as well.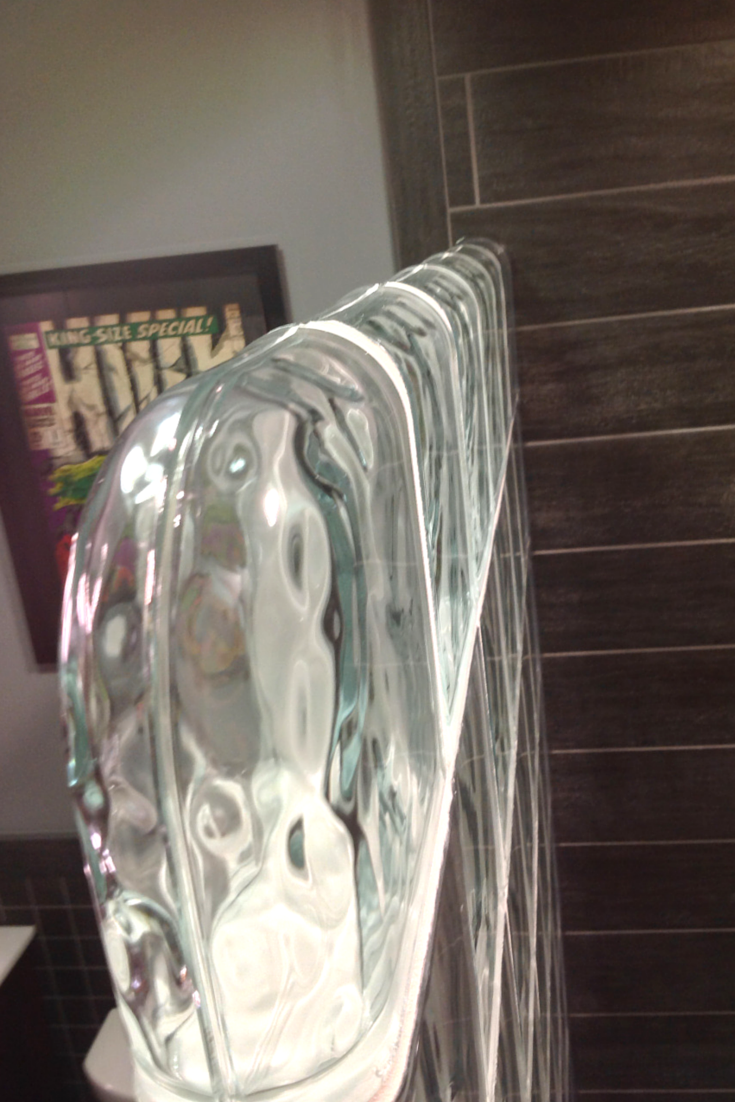 Fun use of color – As Sarah said, "Why not have some fun with the decorating?" The use of the green Amazing Hulk picture really pops and captures the spirit of the Chaulk family to enjoy life.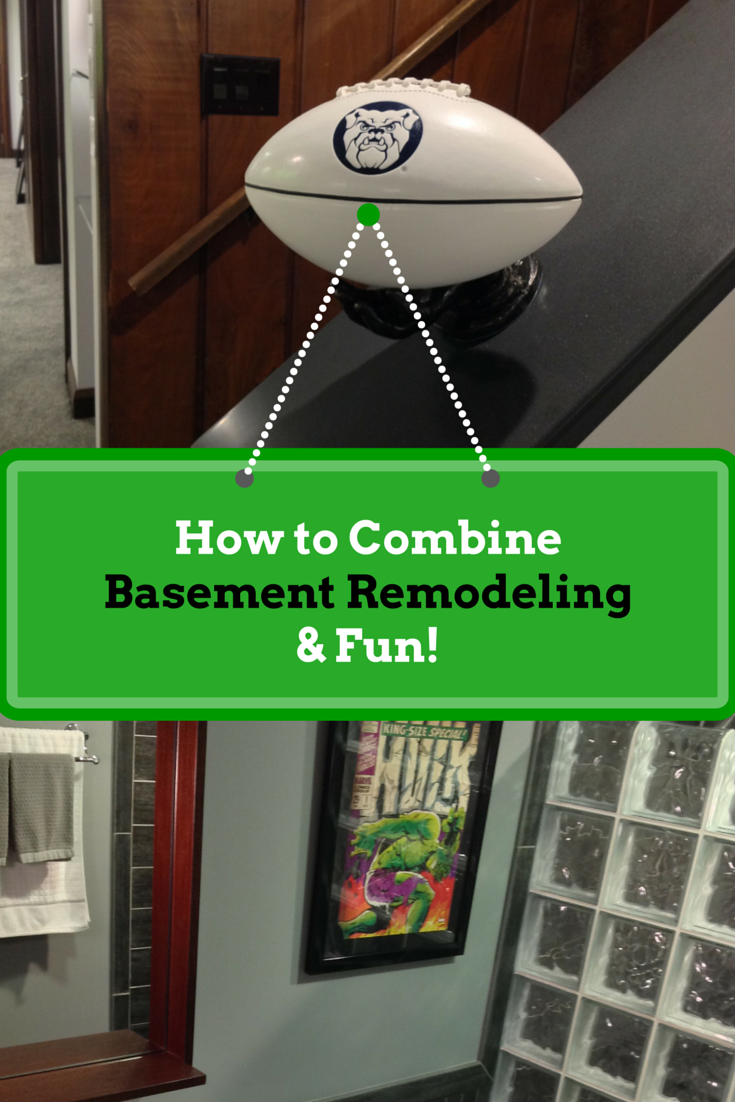 The Family Room – Decorative, well-light and fun filled – The main living space was opened up by removing 2 interiors walls. Randy and Mike (the contractors) were able to create a distinctive and light-filled basement with decorative soffit work (which is a work of art!), a good number of canned lights and using glass block basement windows. Joe and Sarah added a number of fun touches including:
"The hand" – No this is not a replica of "The Thing" from the Munster Family …but it is close. When you come down the basement banister you can reach out and find a seasonal ball or piece of memorabilia from one of the Chaulk's favorite teams placed in this "decorative hand." Right now "the hand" is featuring a Butler University Bulldogs football.
A piece of Shea Stadium – This fun Shea Stadium scoreboard piece is historically interesting and will eventually be surrounded with other New York imagery.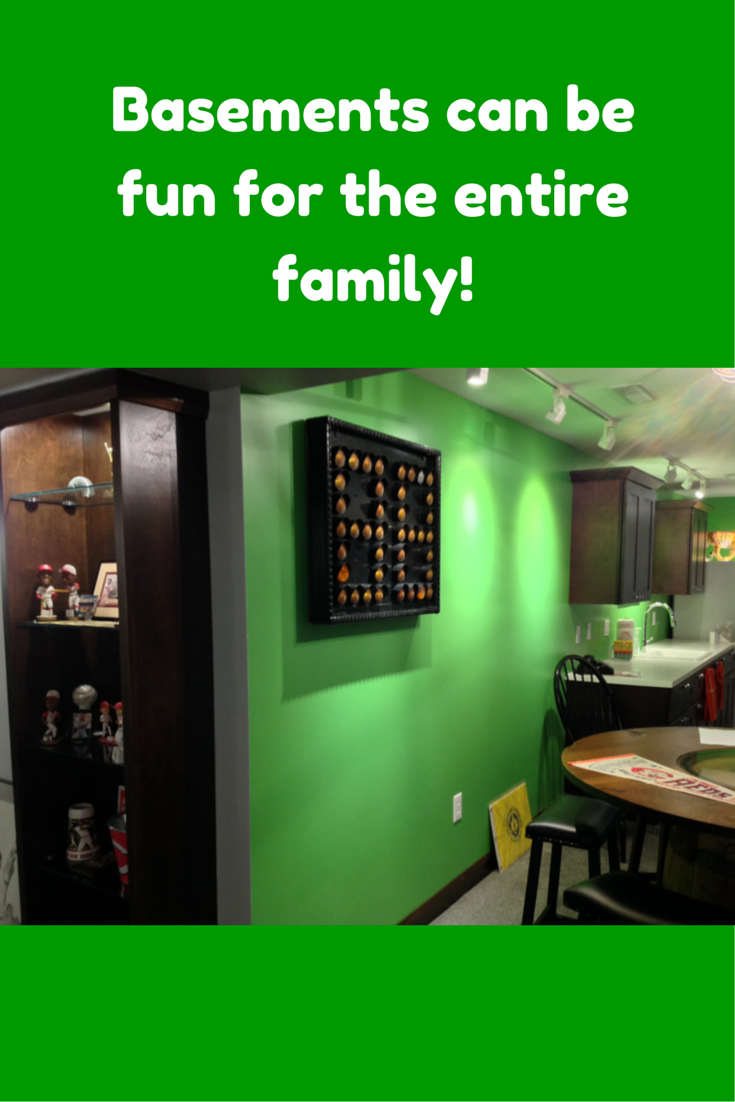 Coming soon…. A "rod hockey game" – This brought me back to my childhood. Joe has on order a rod hockey game with the spinning rods – I hope I get an invitation back to play!
What feature do you like best in this family oriented basement remodel? Please comment below or call for a free design consultation on a glass block shower wall or windows or a Cleveland basement remodeling project.
###
For glass block showers or windows call Innovate Building Solutions on a nationwide basis (877-668-5888) or for a local project their divisions including Columbus Glass Block (614-252-5888), Cleveland Glass Block (216-531-6363), West Side Glass Block (216-398-1020) or Mid America Glass Block in Akron (330-633-2900). For a basement remodeling project in Cleveland – contact Cleveland Design and Remodeling (216-658-1270).
---
Mike Foti
President of Innovate Building Solutions a nationwide supplier and regional (Cleveland and Columbus) remodeling contractors. Some of our product lines include glass counters, floors, backsplashes, glass blocks and grout free shower and tub wall panels
---