7 Tips to Choose the Right Glass Block Shower Wall Thickness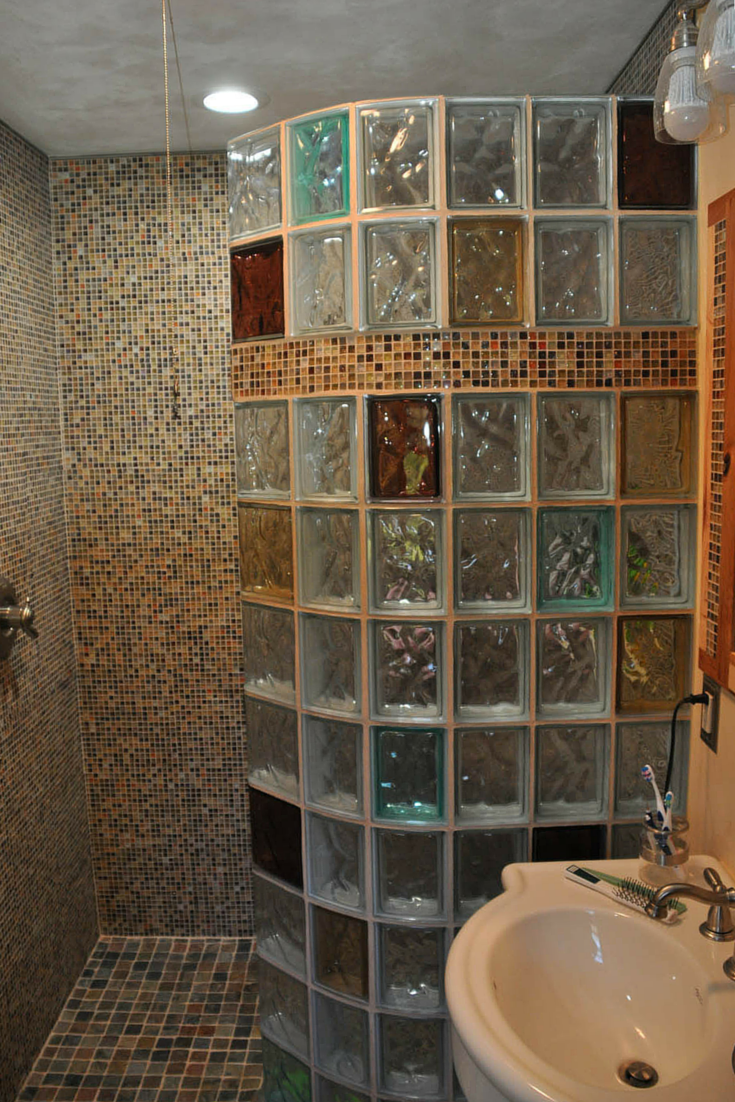 Updated February 23, 2019
Did you know glass block shower walls come in two thicknesses (4" and a thinner 3 1/8" series)? If not – you're not alone. While the thinner glass block walls were introduced only five years ago the vast majority (about 98% of my customer's at this time) are choosing the slim line product. In this article I'll explore 7 tips to help you make the best glass block shower wall thickness selection for your project.
Tip #1 – The right glass block to choose when to maximize the space inside your shower 
For many people making the best use of the space inside the shower is critical. Ffor this factor the thinner glass blocks can make a smart choice (note- the thinner blocks are ¾" smaller than  their thicker counterparts providing more inside room).
Advantage – Thinner Blocks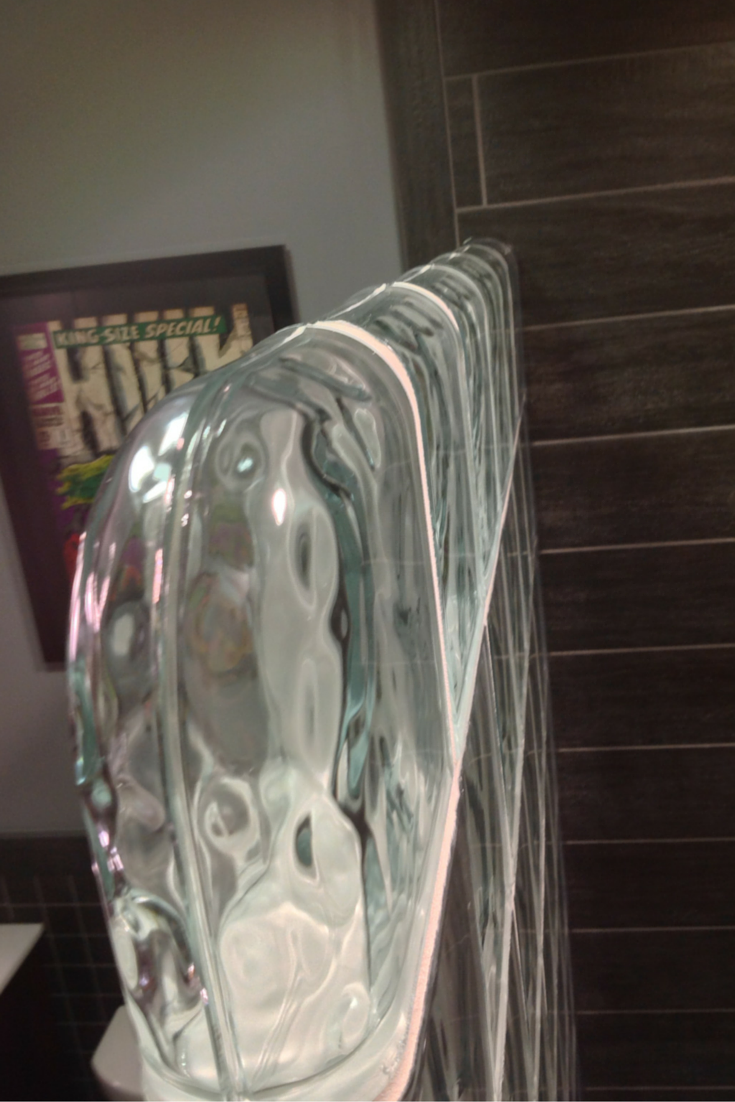 Tip 2 – How to find the right glass block thickness when you want colored, frosted, etched or textured metal designs
With advancements in technology the ability to personalize has never been greater. This is also true in the glass block industry – colors, frosted block treatments, glass tiles and even decorative aluminum art pieces are some of the design approaches being incorporated with block walls. Since there are more designs available in the thin series of glass blocks, it's usually the best choice for most projects.
Advantage – Thinner Glass Blocks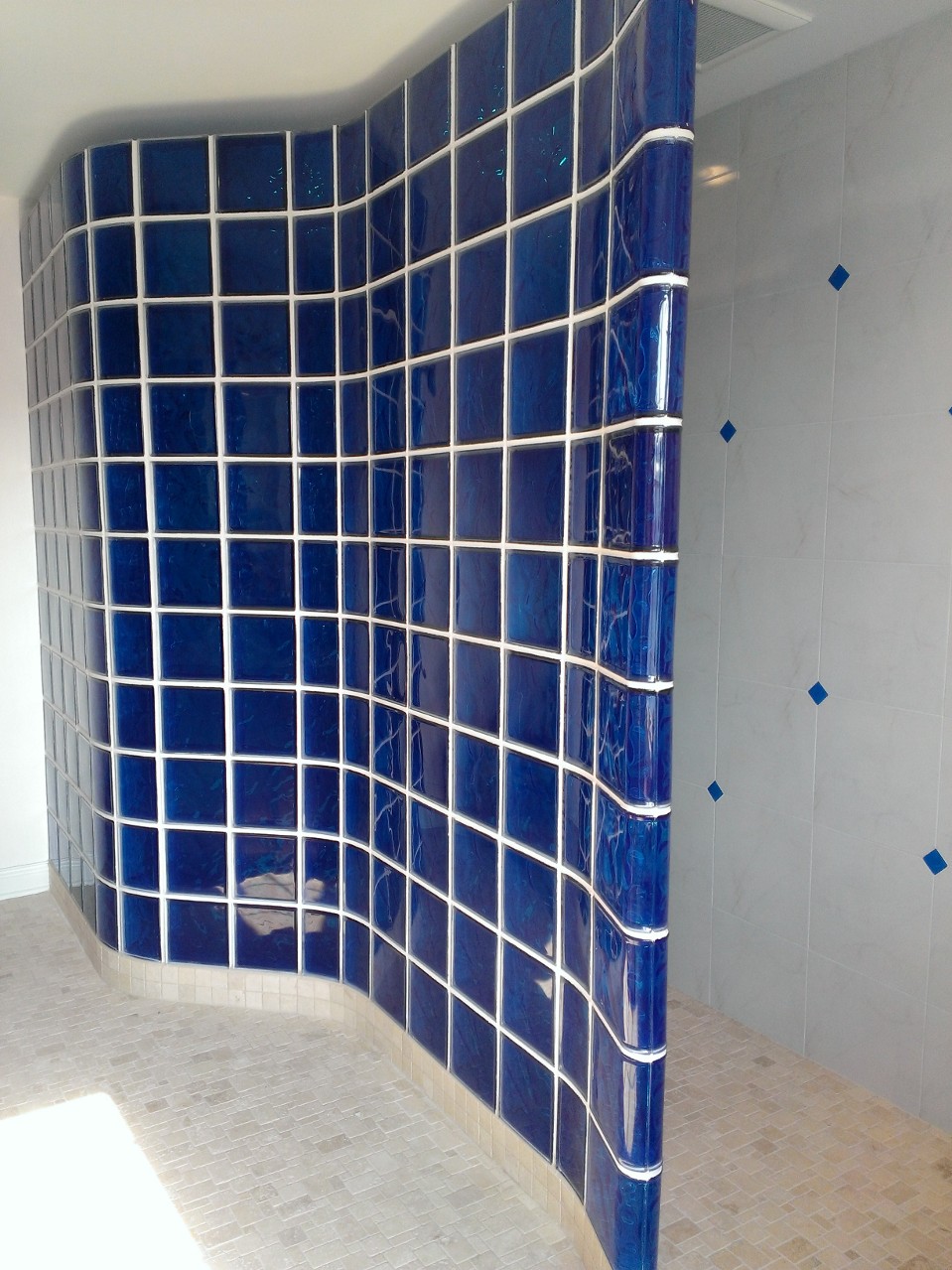 Tip #3 – How to get graceful curves on the inside and outside of a glass block wall 
Who doesn't love graceful curves whether for a wall or admiring a woman (hey – I've got to call it like it is)? If you want a wall with glass blocks which are curved on the inside and outside surfaces the only choice is the slim line blocks. It's contemporary design not only is shaped on both sides (unlike the 4" blocks which have a flat inside face) but they are also available in a contemporary see-through design for a sleek upscale look.
Advantage – Thinner Blocks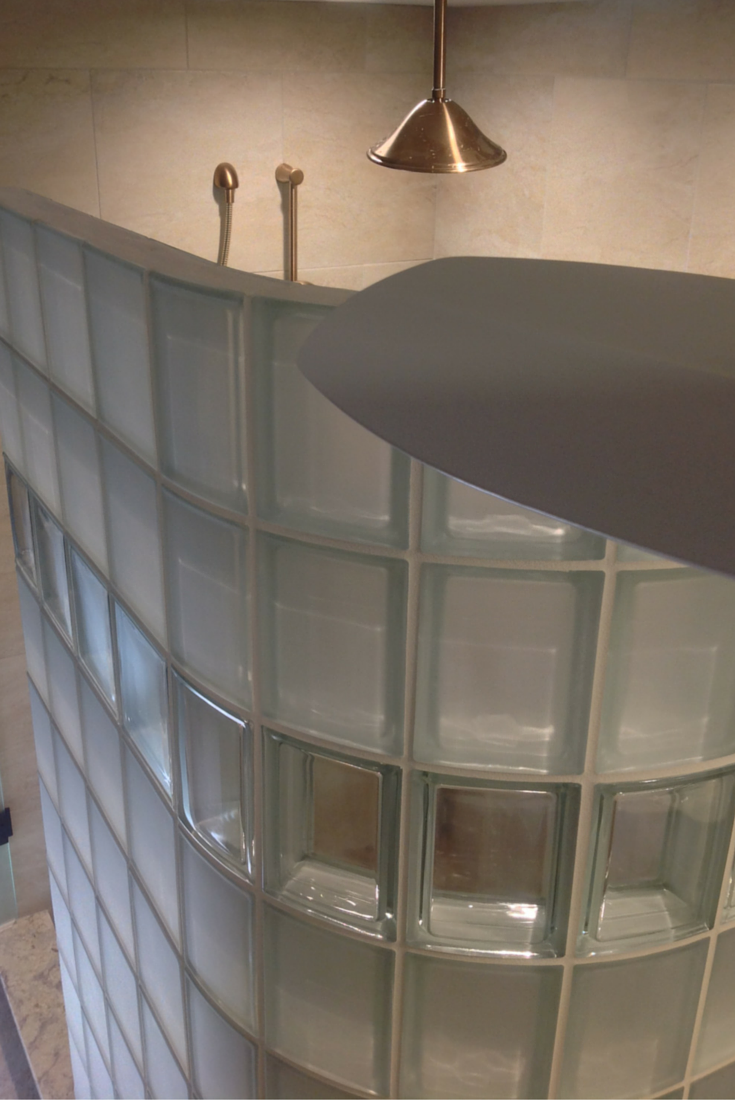 Tip #4 – Choosing the right blocks to maximize privacy and minimize cleaning
– Even with the popularity of clear glass showers I still find many people want a high privacy glass block wall for modesty and ease of cleaning. For these benefits the thicker Series Icescapes pattern is the ticket. The only problem with the thicker Icescapes blocks is they were made by Pittsburgh Corning – which went out of business 3 years ago. So quantities are limited. In the thinner series you can also get the maximum privacy by frosting a glass block on the bathroom side of the wall.
Advantage: Thicker Blocks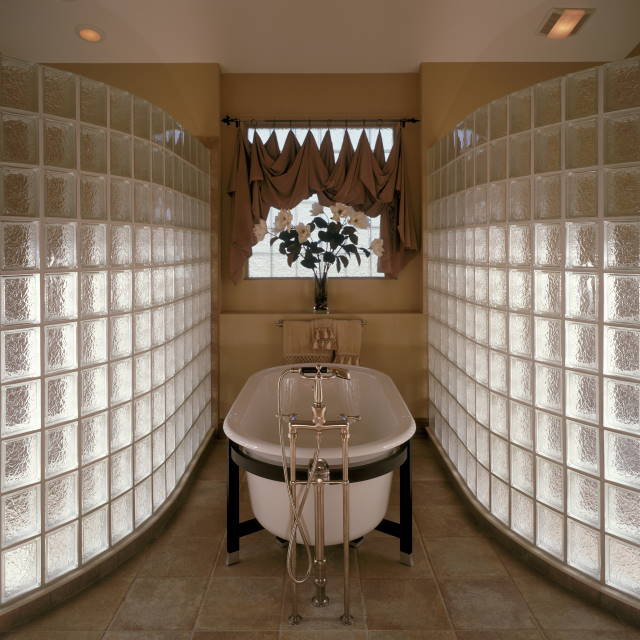 Tip #5 – You want to choose a lighter-weight glass block system which is simpler to install
The desire to reduce weight (whether it's for our own personal health or with building materials) always seems to be important for people looking to do a glass block project (most people are concerned about the weight of a glass block wall on their floors). The thinner series glass blocks (which weigh about 20% less) is a logical selection for not only it's lower weight, but the thinner prefabricated wall sections are easier to install since they are lighter. You'll also want to note you don't need to beef up the joists to install a glass block wall. The wall will actually weigh less than a person standing on that spot on the floor.
Advantage: Thinner Blocks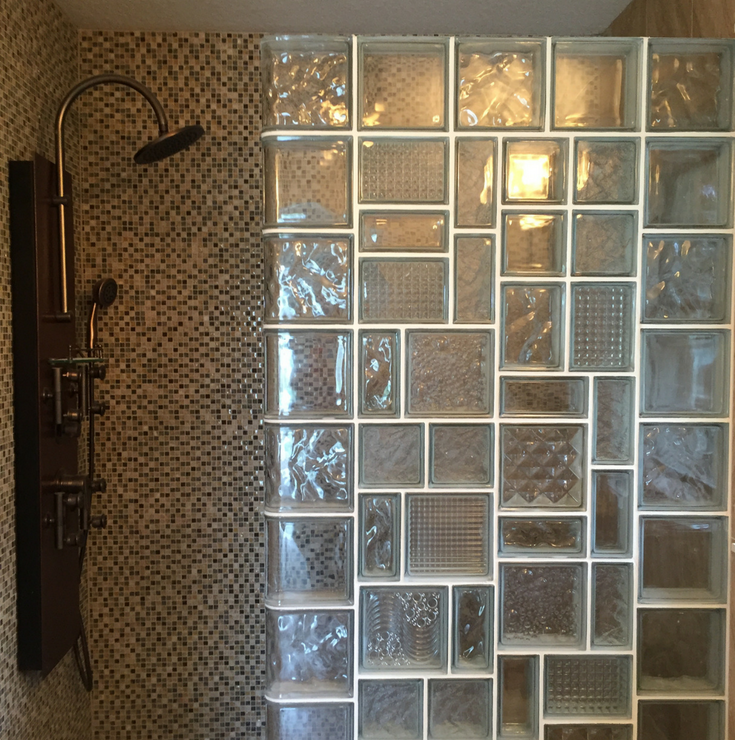 Tip #6 – You want a glass block system which will cut your costs and not break your bank
Why is it that bathroom remodeling always costs more than you think? The challenge in bathrooms is they are small spaces to work in, involve multiple trades (plumbing, electrical, carpentry to name just a few), and the product selections can be expensive. A way to reduce this cost challenge with glass blocks is to select the thinner 3 1/8" blocks since they cost less. The thicker blocks – have more weight – which in most cases isn't needed and it is harder to install.
Advantage: Thinner Blocks
Tip #7 – You need a shower pan to go with your glass block prefabricated wall? is it better to get thick or thin blocks?  – Just like it goes together to get an order of fries to go with your burger it's smart to get a shower base to go with your glass block shower wall. Unlike the burger franchise though, where you're placing a common order (for example I'd like the #7 with fries) – most glass block showers are going into non-standard sized spaces and need a custom shower base. What's nice is irrespective of whether you choose the thinner or thicker blocks you can choose between a custom ready for tile or stone base (made of solid surface) designed specifically to fit your wall.
Advantage: Toss Up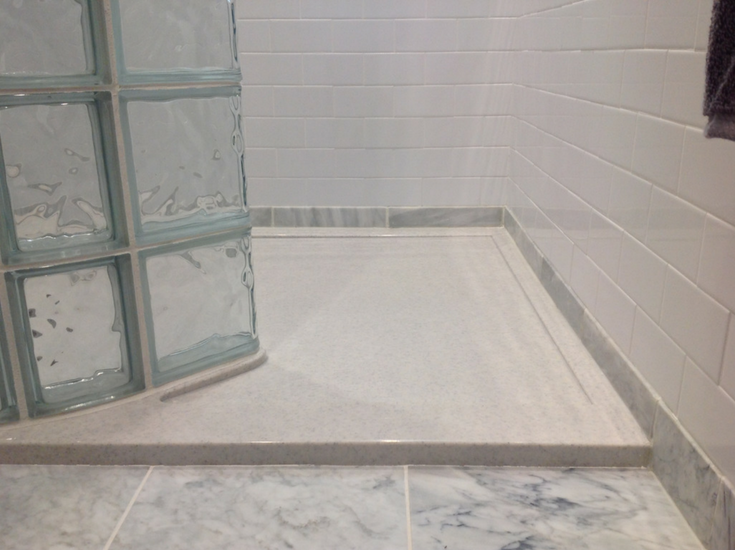 Have these 7 tips helped you choose the best thickness of glass blocks for your project? Comment or call us on the numbers below or call for more insights or a free estimate.
###
For assistance and pricing from a glass block design specialist call Innovate Building Solutions on a nationwide basis (877-668-5888) or for a local installation project their divisions including Columbus Glass Block (614-252-5888), Cleveland Glass Block (216-531-6363), West Side Glass Block (216-398-1020) or Mid America Glass Block in Akron (330-633-2900).
If you're a remodeler or builder and want practical advice on remodeling products, industry trends, marketing and sales tips to grow your business (and cut day to day hassles), start reading my newest blog – Innovate Builders Blog. It's packed with ideas you can use now. Click here to Sign Up for the Innovate Builders Blog.
---
Mike Foti
President of Innovate Building Solutions a nationwide supplier and regional (Cleveland and Columbus) remodeling contractors. Some of our product lines include glass counters, floors, backsplashes, glass blocks and grout free shower and tub wall panels
---