3D Luxury Shower and Tub Wall Panels – Coming to a Bathroom near You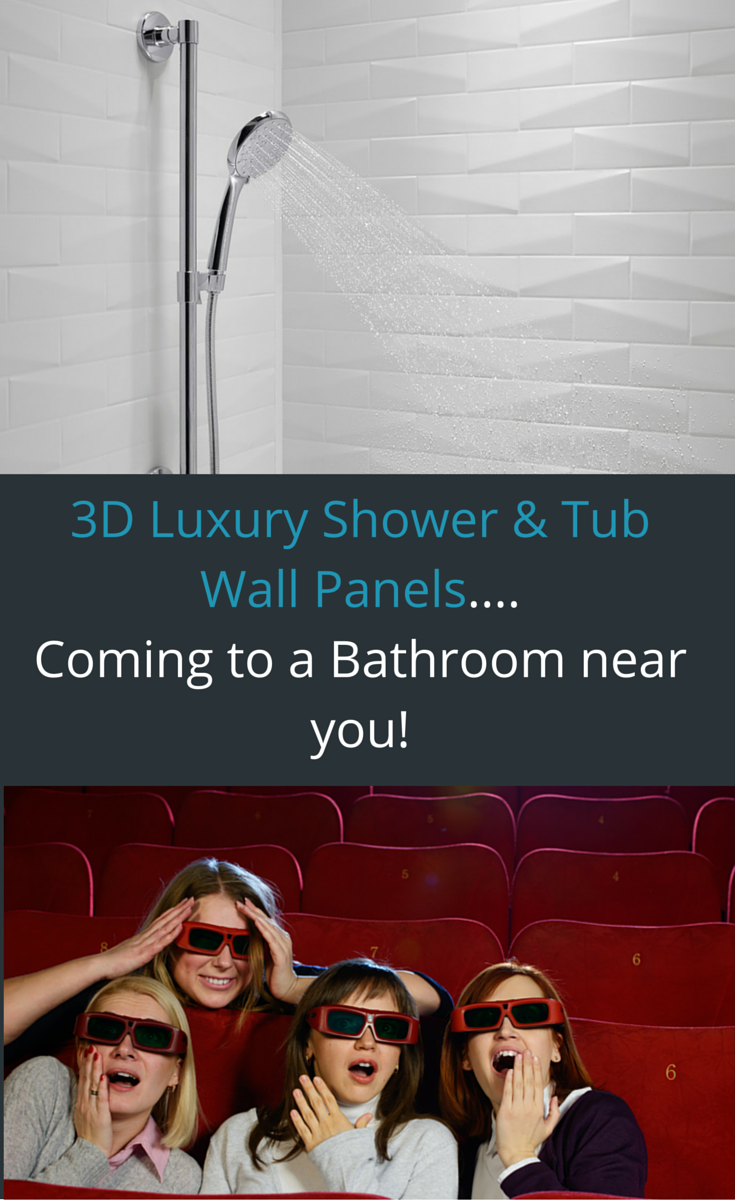 There is a fascination with 3D. 3D printing is becoming popular to shorten prototyping and manufacturing. The kids want to get you to the latest 3D movies (even if you hate those funky glasses you have to wear!). You can't stop seeing more 3D walls and wall tiles at trendy urban hotels and in upper-end interior designs. So what's the next frontier for 3D? Entering stage left is 3D luxury shower wall panels.
At this point you might have some questions like, "What exactly are these 3D shower and tub walls panels and why would I want them in my home? Are they difficult to clean? Can they be paired with smooth shower wall panels?" Let's get a sneak preview of these panels (and get your questions answered) and see why 3D (along with smooth) walls could be hotter than buttered popcorn for your shower or tub enclosures.
Take 1 – What are these 3D shower wall panels made of? Who make them?    
Unlike the flimsy wall panels of old you may see at your local home center store these single sheet units are made from a .20" thick composite of crushed stone and fiber strand reinforcement. It is a solid surface material – meaning it is durable and consistent material throughout the panels. They are made by Kohler under the trade name of Choreograph.
Take 2 – Wouldn't a 3D wall panel be difficult to clean? I already hate bathroom grout joints with a passion!    
If you're like me you know that tile grout joints are probably the biggest pain in the butt known to man. Who wants to take out a stiff brush and clean grout joints or wait for some company calling themselves the "Tile Doctor" or "Tile Medic" to show up to "diagnose" and then temporarily "cure" the nasty grout joints in your bathroom?
The 3D textured wall panels come in a brick and cord texture and have a slight projection into the bathroom – for a subtle effect. Since they are one solid panel they are not difficult to clean. Just use soap and water, Lysol or products like Mr. Clean.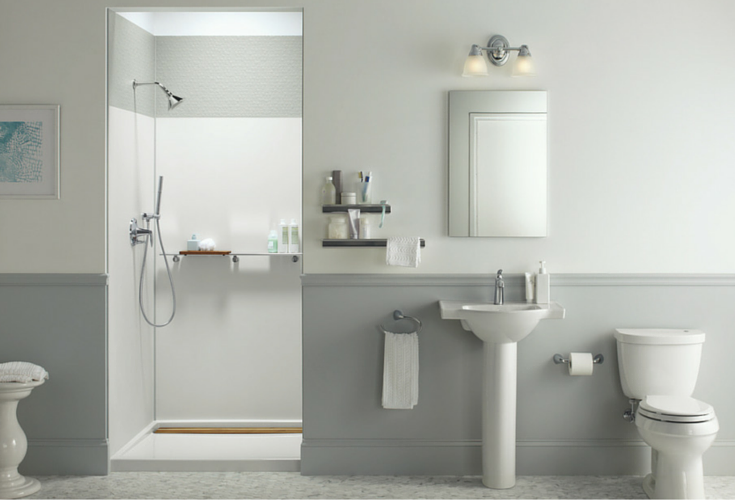 Take 3 – Do all the walls have to be textured? Are there other patterns or colors to choose from?  
Just like 3D movies can be fun to go to occasionally, textured surfaces have the greatest impact when used as a focal wall to highlight a distinctive tub and shower project. What's cool is you can mix and match the 3D textured walls with smooth solid wall panels (in white, dune, biscuit, ice grey and sandbar colors) or even subtly elegant naturally patterned walls. Basically you can choreograph (mix and match) the panels you like best to achieve a unique look for your shower or tub.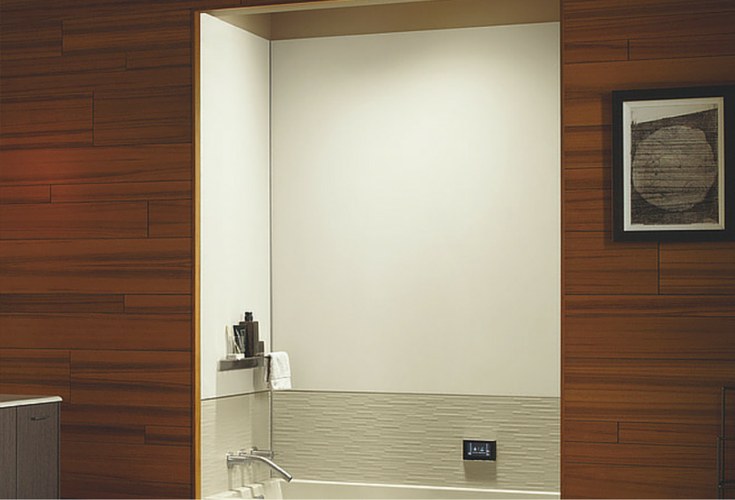 Take 4 – Like movie genres – one size does not fit all. What are the sizing options?  
Just like different types of movies appeal to different people (when my kids made me go to Sci-Fi movies like Star Wars and Harry Potter it was like sticking a needle in me – but sappy movies and comedies like the Fault in our Stars or Jerry McGuire had my name on them) when you're dealing with a shower or tub enclosure one size does not fit all. Anyone who owns an older home can certainly relate to odd shaped walls and wondering why they home has such a funky design.
These wall panels can be purchased in cost effective kits in standard sizes (which include 60 x 32, 60 x 36, 60 x 42, 36 x 36, 42 x 36, 42 x 42 and 48 x 36) or separate wall panels can be put together for any custom size or configuration.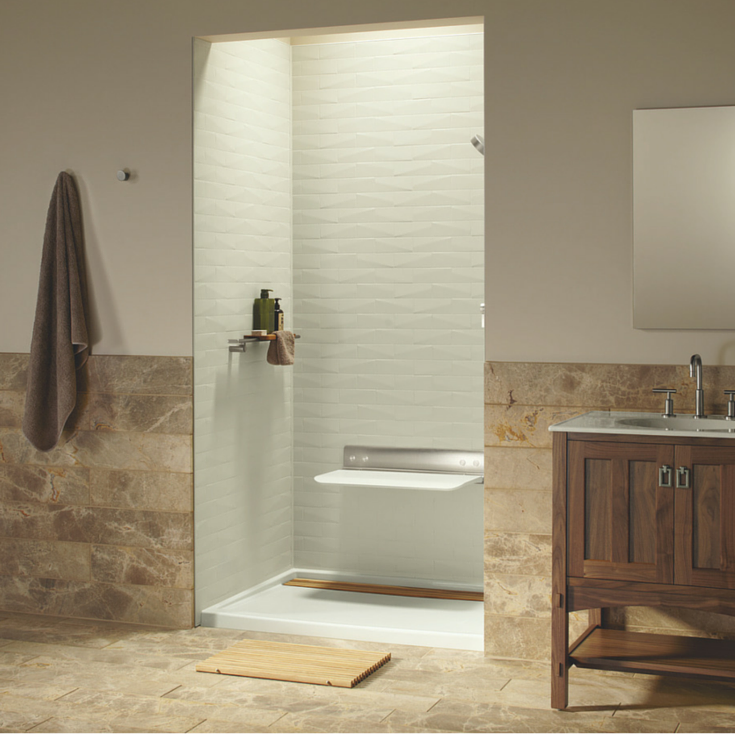 Take 5 – Are these wall panels more expensive than tile? Can I get a discount on them with my movie card?   
Are they more expensive than tile? The answer depends on how long you're planning to stay in the home and if you are a DIY'er. Generally if you buy a moderately priced tile and you do it yourself -in the short run- tile will be less expensive. Of course you'll have to keep in the mind the effort and "glory" of the maintenance down the road! When you compare these panels to having a tile setter do the work they will compare favorably – and you'll have cost saving down the road of not having to clean the grout (and forgo the hassle of having to schedule and pay for grout cleaning companies). Regarding the movie card discount on these panels….that is rather doubtful.
Take 6 – Are there any "special effects" or accessories to pair up with these 3D, solid or patterned wall panels?   
Just like in movies the "special effects" (i.e. shower accessories) in a shower can make the space "cooler" – but even more importantly the right accessories can make the space safer for your family. In this line there are long shower "lockers" where you can adjust the shelves for your soap, shampoo bottles with even a slot for toothbrushes and razors.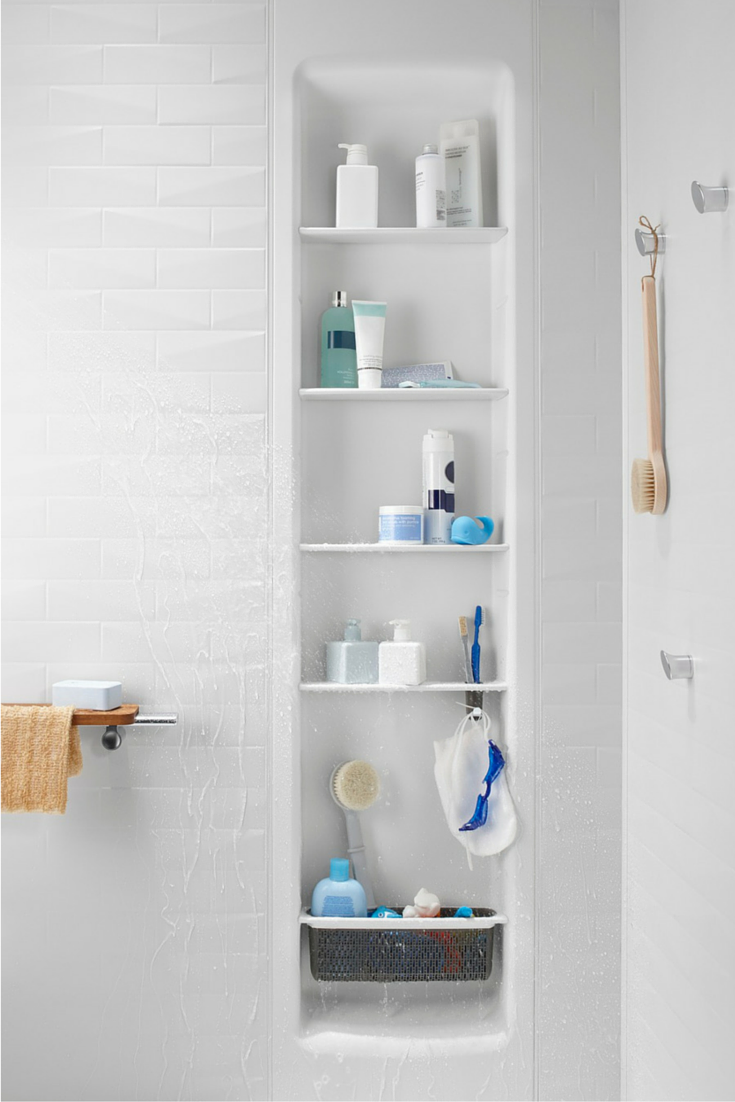 Floating shelves and fold down seats can make a luxurious (and safer) showering experience in a smaller area as well.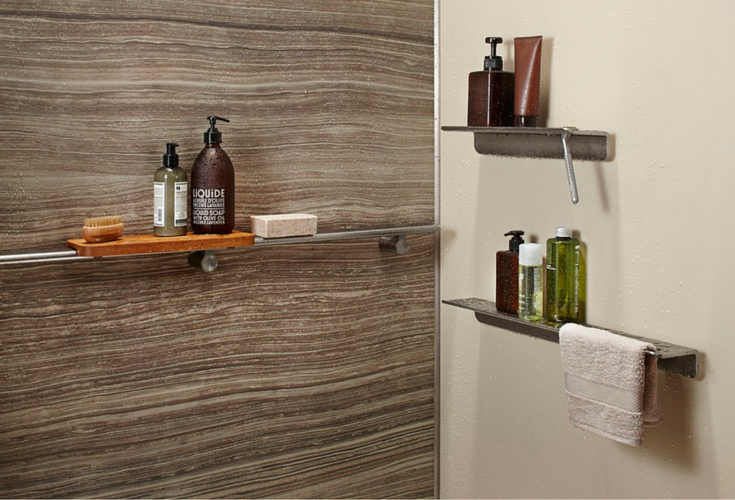 Take 7 – Where do I get these wall panels and accessories?
I would recommend purchasing these (or other types of grout free wall panels) from authorized distributors and professional contractors who focus on bathroom remodeling and/or universal design.
Conclusion
Whether you're a fan of 3D walls or not – shower "technology" has changed. Advancements in tub and shower panels and the accessories that come with them can make your daily trek to the shower a more pleasant experience. Has the time come to change the script (and pain) associated with your current bathroom?
For more information or nationwide supply for grout free or 3D shower and tub wall panels contact Innovate Building Solutions at 877-668-5888. For a Cleveland or Columbus bathroom remodeling project call Cleveland Design and Remodeling 216-658-1270 or the Bath Doctor at 614-252-7294.
---
Mike Foti
President of Innovate Building Solutions a nationwide supplier and regional (Cleveland and Columbus) remodeling contractors. Some of our product lines include glass counters, floors, backsplashes, glass blocks and grout free shower and tub wall panels
---