5 ½ Amazing Glass Block Shower Designs with Personality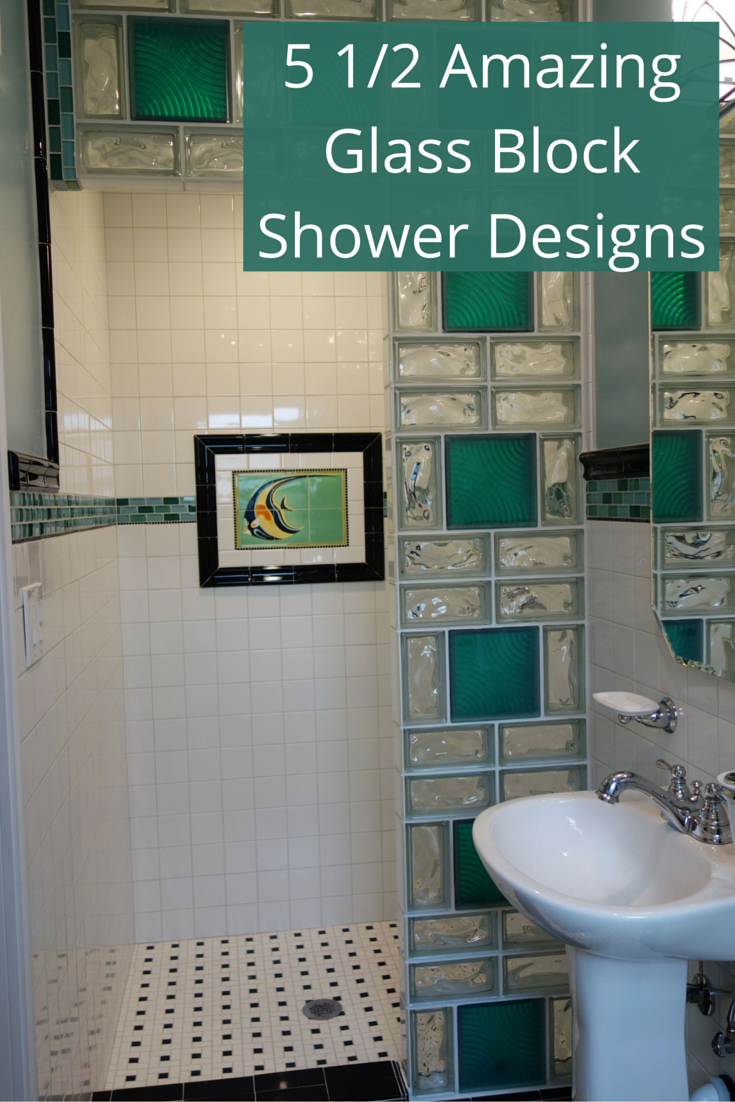 Updated April 19, 2020
Boring. Mediocre. Run of the mill. In a nutshell that's what most glass block shower designs are like. Get one standard 8" x 8" x 4" wavy glass block, stack it on top on the next block, lay them up in a straight line, stick a door on the other side and call it done. Now you have your plain Jane shower. Woo hoo!
When I was growing up my Dad Joe would say the word "mediocre" was a dirty word. He challenged me, my brother Frank and sister Venera to be the best we could be. He wanted us to become the best version of ourselves and do it with with "personopoloy." You may ask what is "personopoly?" It was my Dad's funny made up word to us to lead our lives with our own unique personality.
In the article below I'd like you to go on a trip with me to see 5 ½ incredible glass block shower designs (our company had the pleasure of working on) which certainly aren't boring or mediocre. These designs are distinctive because their owners were not afraid to let their uniqueness and "personopoly" show. They used persistence to find the right suppliers and contractors to make their dream showers a reality and wouldn't take no for an answer (and our company is just crazy enough to help them through these designs)! And here's another cool thing you'll find at the end of this article. It's an article to help you find out how much you can expect to pay for these designs. So, it's time to start checking out these 'drool-worth' glass block shower design.
Before we take a look at the 5 shower designs I'd like to give you the top 3 reasons many people fall short of getting what they want in a glass block shower.
Reason 1 – Stuck in the mud contractors – I wish I had a dollar for every time I talked to a homeowner who wanted something unique whose main  obstacle was a contractor who said "lady – you can't do that." In many cases it's not that it can't be done –the problem is they haven't done it before and don't want to learn something new. Lesson 1 – don't let your contractor dash your dreams.
 Reason 2 – Ignorance/lack of knowledge – If you're remodeling a bathroom or building a new home how is it possible for you to be an expert on every facet of the work and also have the skill to convince your contractor (see reason 1) to get you what you want? It can be tough. For glass block showers one of the biggest advantages today is there are shower kits (which include different styles of shower pans – which can be customized for our design). These kits make it possible for you (if you're a DIY'er) or your contractor to tackle this project even if you've never done it before. Lesson 2 – let your research fingers do their magic to find people who can help you achieve your unique vision …or call us. (hope you don't mind a bit of self promotion!)
Reason 3 –Myths which just aren't true – Sometimes "common knowledge" is a bunch of hogwash. There's a quote I love from Satchel Paige (the first African American pitcher for the Cleveland Indians) who said, "It's not what you know, it's what you know that just ain't so." You may hear tall tails like, "glass blocks are out of style, the blocks are too heavy for your floor, you need to put a post at the end of this wall.m" Don't trust "common knowledge" from people who aren't experienced in glass blocks. Lesson 3 – just because you hear doesn't mean it's so!
Now let's get on to the 5 shower designs with personality (or "personopoly" as my Dad might say).
Design 1 – "The Beyonce" – A serpentine glass block wall with some curves
This project is located in Rapid City South Dakota and it's got curves just like Beyonce! The foundation of this shower system started with a waterproof ready for tile base with the curvature for the glass block wall already built into it the pan design.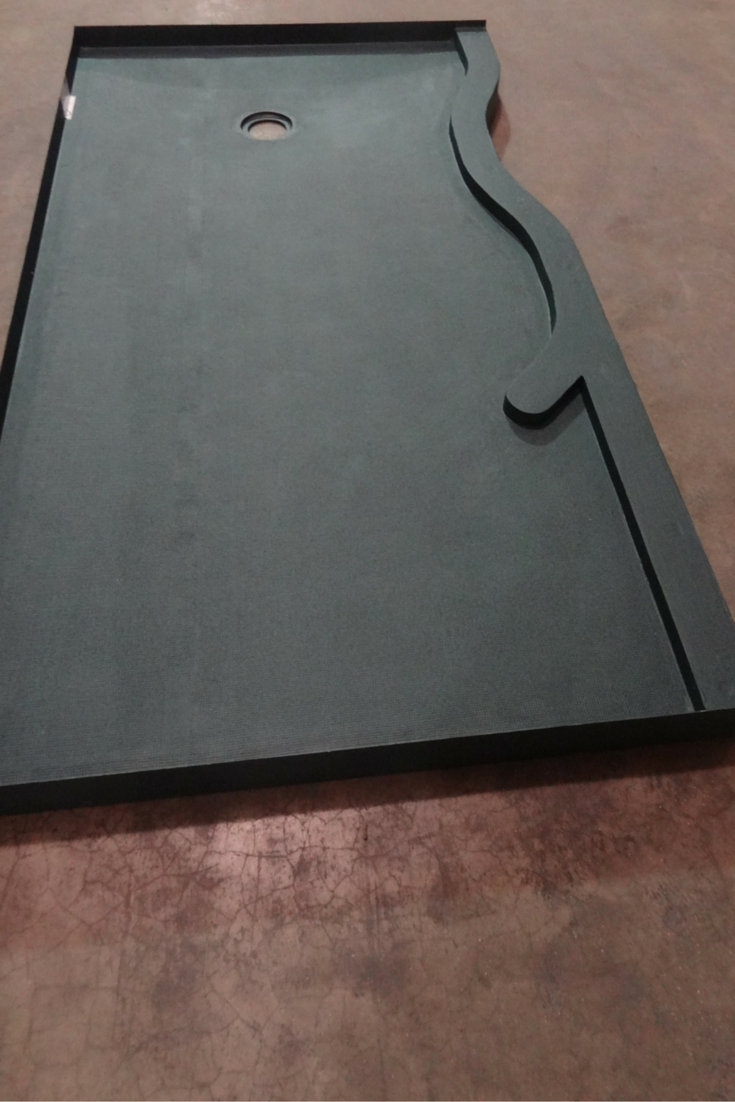 The serpentine shape is created using a specialty block called an "Arque" which curves to make the S glass wall shape. To add more style glass tile blocks (which were custom designed with the assistance of designer Lillie Burton) add pops of color in the wall. Have you ever seen a serpentine glass wall in a shower before?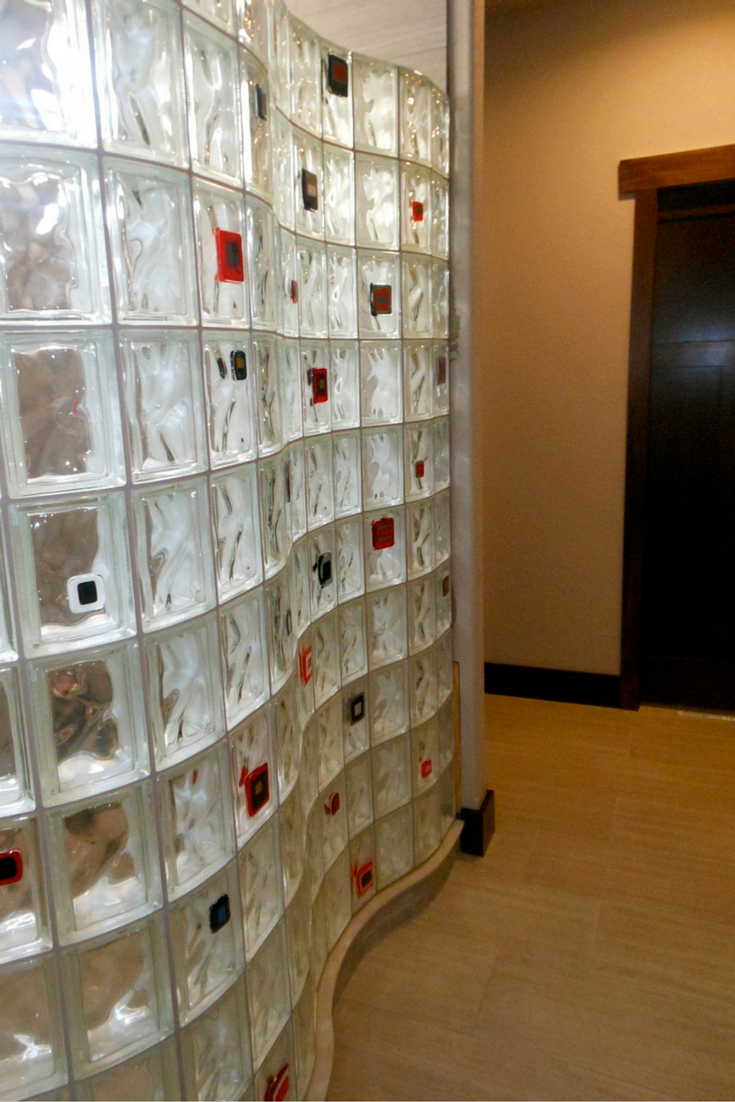 If you really love these 'curvy' designs here's another fun example for you. The wall starts out straight, then curves, and then bends back in towards the opening. One of the advantages of this shower vs. the one above is it didn't take as large a space.
Design 2 – "The Colorful Snail" – A snail shaped glass wall with colors which demand attention  
This project in Othello Washington screams out unique, luxurious and colorful. This glass block walk in shower was designed in a "snail shape"with a decorative panel which houses the shower head. A fun and whimsical glass block bench was added on the inside.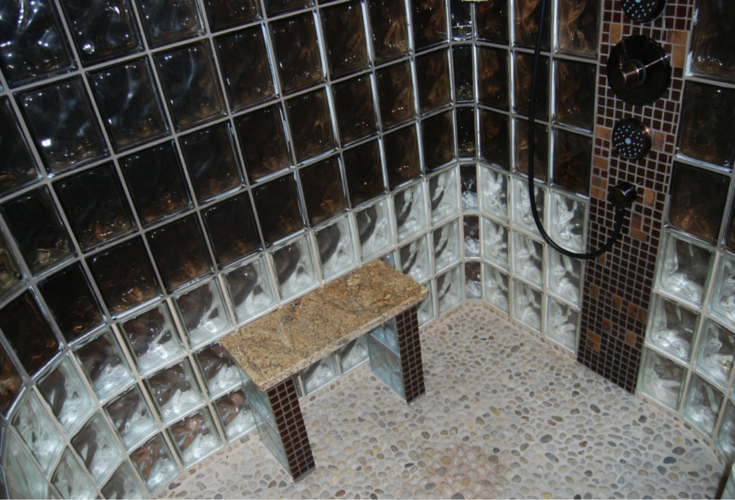 The 5 horizontal rows of colored glass blocks add drama to this walk in design. It's owners also like that there is no shower door to be cleaned.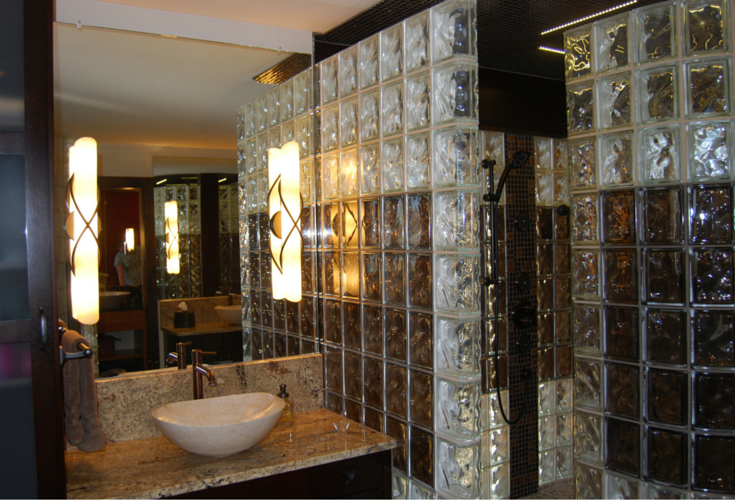 Design 3 – "The Woody Woodpecker" – Using cocobolo wood and unique patterns for a fun twist  
You may be saying, "wood in a shower" – you've got to be kidding me! But this is not just any old piece of pine picked up at the local home center store. This Texas project (and you know they do it bigger in Texas) used cocobolo wood to trim the end of the glass wall.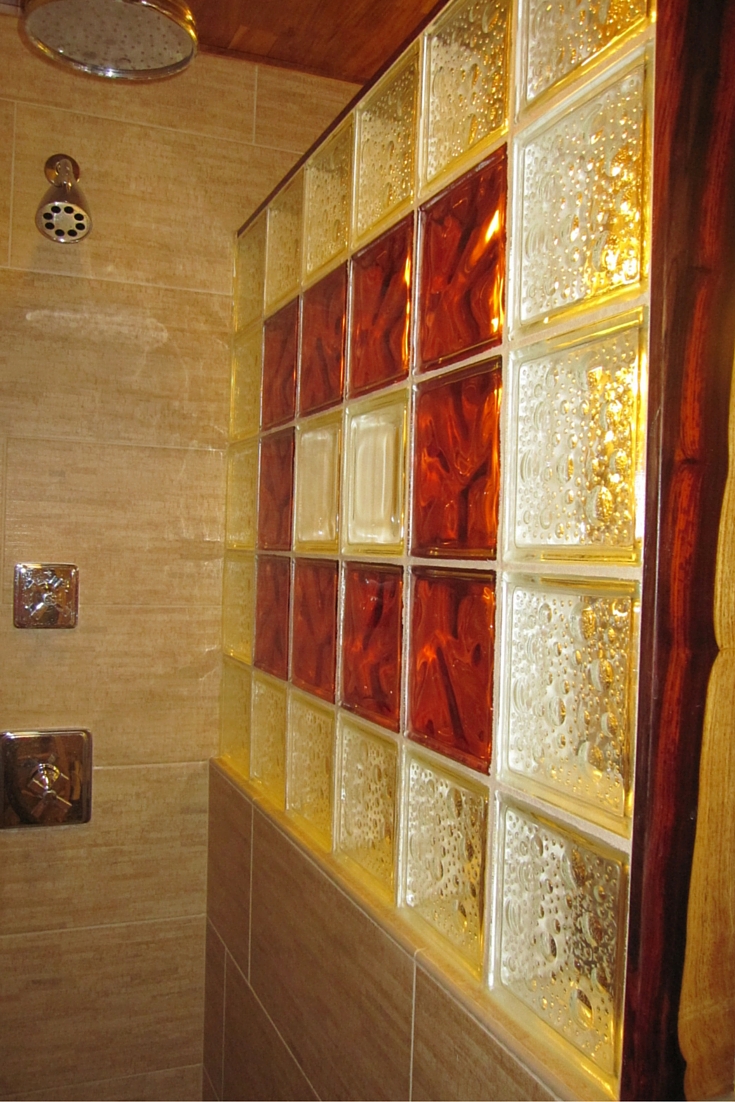 This is an oily and dense wood with brown, red and white colors which is made to be used in wet environments. The homeowners (Debi and George) are avid wood enthusiasts who used teak wood on the ceiling as well. The "sunset" colored glass blocks and the glass tile add fun color and interest to the design.
Design 4 – "The Catalina Tropical" – designing a San Diego glass block shower around a historical tile design
Sometimes there is a distinctive architectural element in a bathroom which has to be retained through the remodeling process – even if the rest of the shower/bathroom isn't working for you. This was the case for Jeff's San Diego California bathroom. A unique tile mosaic from the famous Catalina tile company was smack dab in the middle of a small and drab shower. But why throw the "unique" out with the bad in a newly remodeled bathroom? Jeff decided to retain this tile mosaic to serve as the focal point of the entire room. A glass block shower wall using a cool "bromo" pattern along with alternating thinner (3 1/8" thick) glass blocks in a 4 x 8 and 8 x 8 design pattern was used. A prefabricated glass block panel system (which is as simple as stacking up Lego blocks) was used to make the installation simple. Jeff also devised his own design detail to "suspend" the glass block rows in mid air above the doorway. Very cool!
Design 5 – "The Au Natural…..lighting that is" – Capturing every ounce of natural light in a shower
One of the main reasons people use glass block showers (or any glass enclosure for that manner) is to move natural light into the shower. Natural lighting is good for our health and also makes a safer shower. But this  bathroom took natural lighting to another level. The glass blocks not only combined two different patterns for style but the block wall was also used as an interior wall separating the bedroom from the bathroom. This allows natural light from the bathroom window in this Lancaster Ohio home to stream into the bedroom as well. Cool design!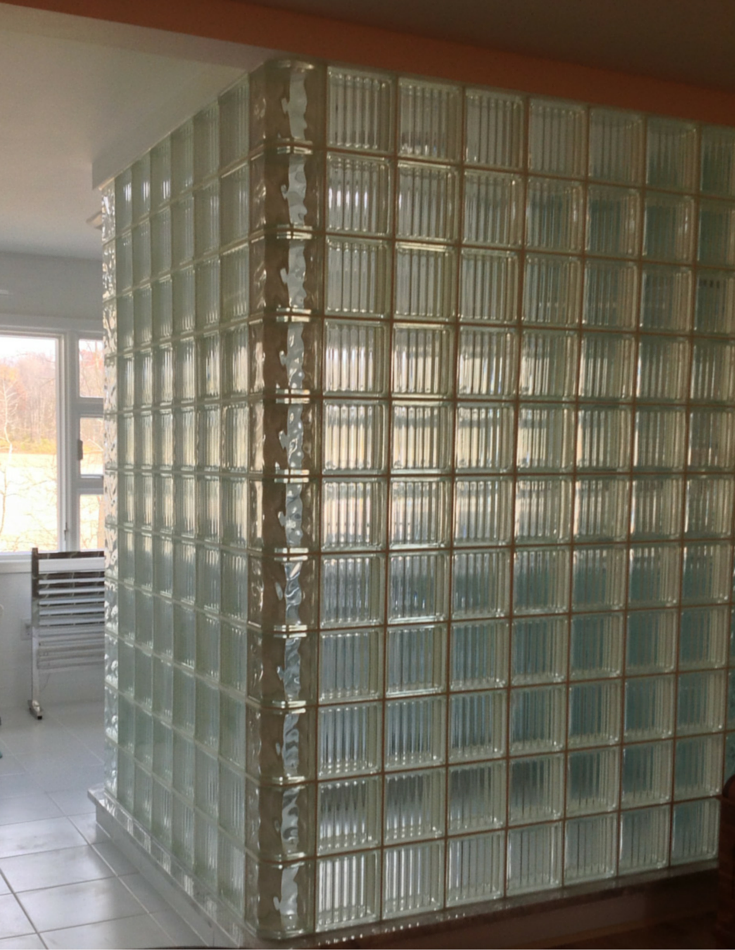 Design 5 ½ – "The Tearjerker" – a one of kind mosaic design
You may ask why this is a "1/2" design? The reason is it is almost finished (the prefabrication section tabs are still on the wall), but I had to share it anyway. When I talked to Geraldine Gallagher of Orlando Florida about her project most people told her what she wanted to do was crazy. I, on the other hand, disagreed (OK – I might be a bit crazy as well!). Geraldine's goal was to have a leaded glass design with multiple patterns made of durable glass blocks. When Geraldine sent the picture below to me (which was texted to her from the contractors working on the job) she said "Mike – I have tears in my eyes seeing this design!" It looks so cool I had to share it even though it hasn't been grouted yet and the installation section tabs are still on the blocks.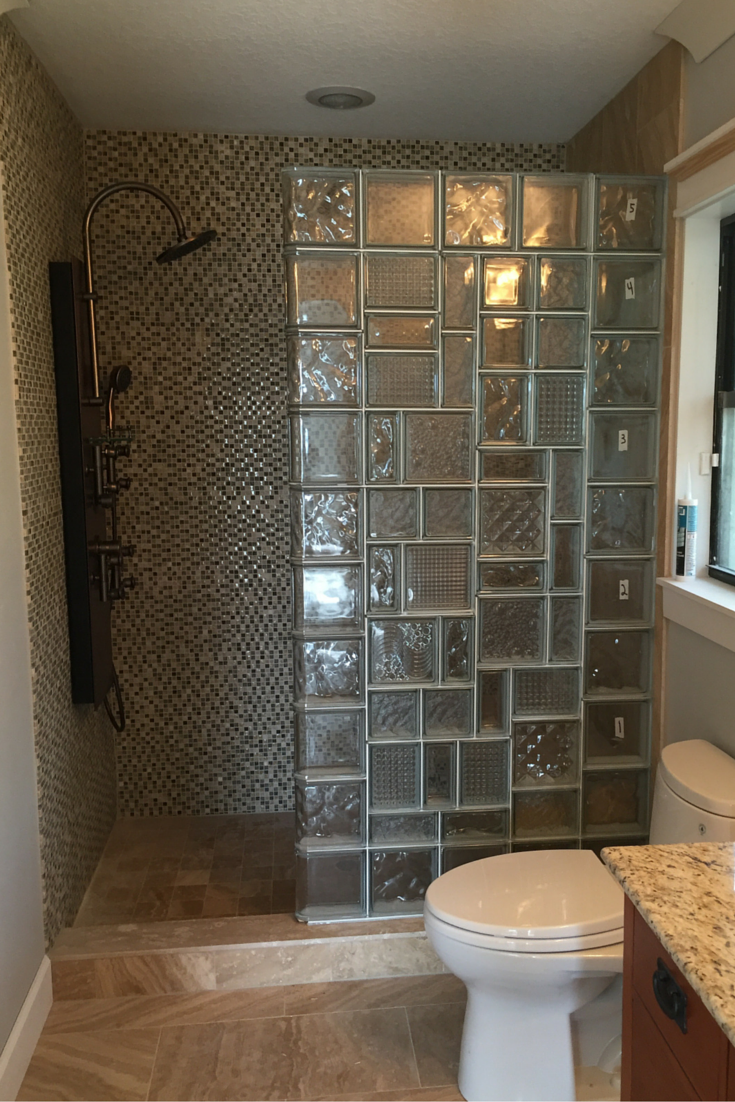 Geraldine's 'tearjerker' design has been the motivation for many other variation of this design over the years. Here's another fun version of her inspiration:
Now – to help you with the Notorious B.I.G. Question – How much do unique glass block shower designs cost?
Oh, how we dread this question. It's much more fun see pretty designs then it is to pay for them. But – by now – you may NEED to see how much prefabricated glass block showers cost. And for those of you who want answers to this question, I've got the resource for you. When you click on the image below you'll go to an article dedicated to the price of the prefabricated glass block shower wall assembly. Note – there will also be a future article on the price of the shower bases which went with these walls.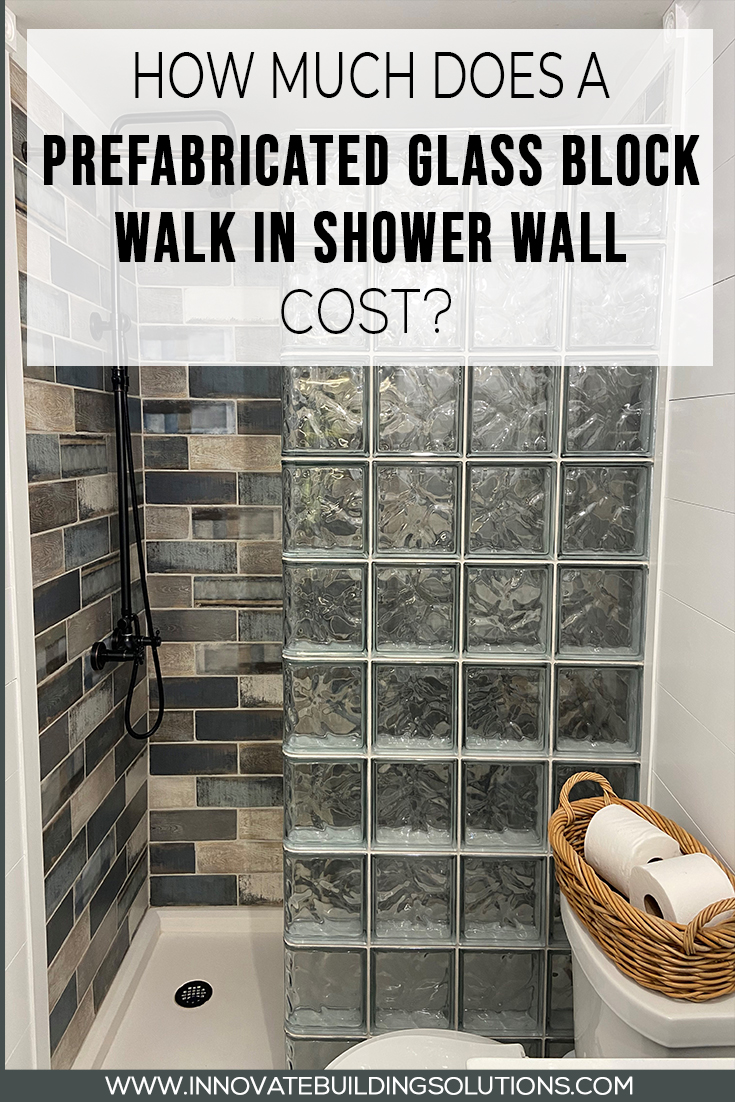 Conclusion
All of the owners above have one thing in common – they were not afraid to let their "personopoly" (their personal stamp) be all over their glass block shower designs. They did not let contractors or suppliers tell them "what couldn't be done!"
Do you have any unique, funky, or a  bit crazy design ideas lurking around in your head? Don't let those ideas go to waste. Comment below, call or email us. We'd love to help you make your glass block design vision a reality. Think about your crazy vision – we'll help you to build the wall and provide a shower pan which fits it like a glove. You may make the next installment of incredible glass block shower designs!
###
For nationwide glass block shower design assistance and supply of prefabricated panels and shower kits call Innovate Building Solutions at 877-668-5888. For a local installation service and supply contact Columbus Glass Block at 614-252-5888 or Cleveland Glass Block at 216-531-6363.
If you're a remodeler or builder and want practical advice on remodeling products, industry trends, marketing and sales tips to grow your business (and cut day to day hassles), start reading my newest blog – Innovate Builders Blog. It's packed with ideas you can use now. Click here to Sign Up for the Innovate Builders Blog.
---
Mike Foti
President of Innovate Building Solutions a nationwide supplier and regional (Cleveland and Columbus) remodeling contractors. Some of our product lines include glass counters, floors, backsplashes, glass blocks and grout free shower and tub wall panels
---