5 Awesome Tips for a Modern Spin on a Jack and Jill Bathroom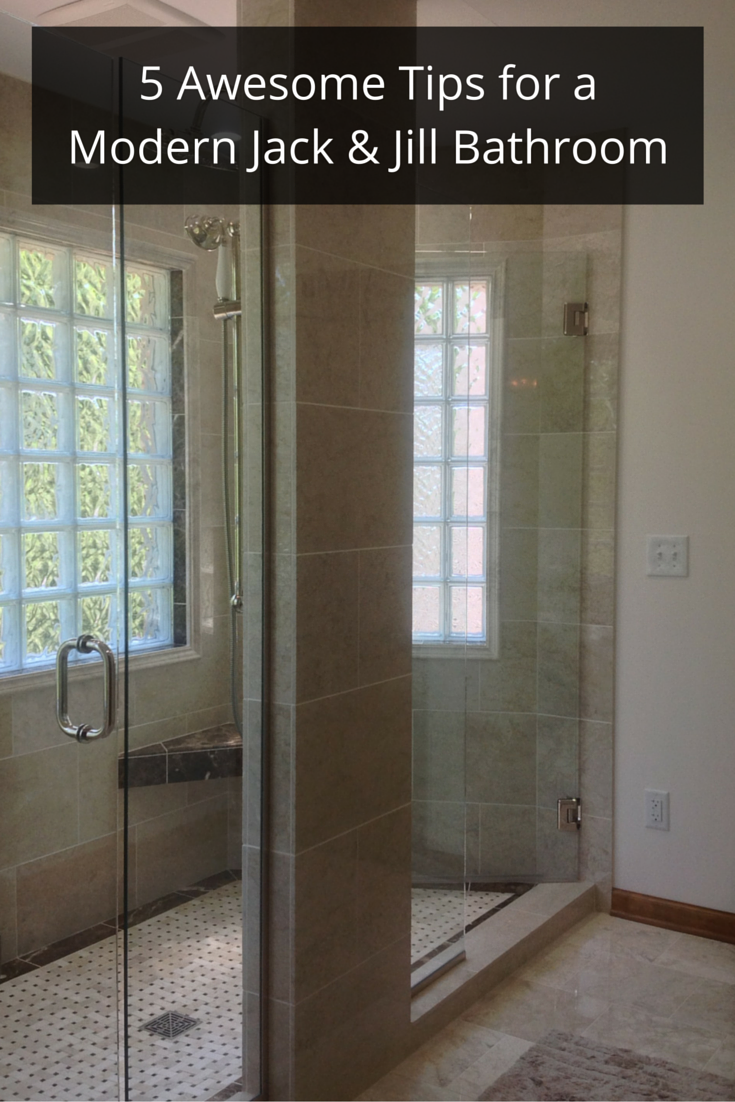 A high privacy shower with etched glass blocks
Updated March 9, 2019
If you have a 13 year old daughter and a 17 year old son (like Ben and Melodee Diss of Powell Ohio – and also me!) you know a shared Jack and Jill style bathroom has the potential to turn into a major battleground for a brother and sister (especially if they need to use the space at the same time!). So what's a family to do to make this room work efficiently and maximize the style, personal space and privacy of the kids using it? Let's first take a look back at the Jack and Jill bathroom and then step forward (using this project) as an example of how to make it better for today's modern family.
In the 1970's when the Brady Bunch was popular (I might be dating myself with this reference) a hot home design concept was the idea of the "Jack and Jill bathroom." This popular 70's show which featured a newly blended family with 3 boys and 3 girls had the ultimate in a shared bathroom. The kids used a common space known as a "Jack and Jill" bathroom. In it's basic form the Jack and Jill bathroom is a shared space between two bedrooms and has a locked door on each side. When someone is taking a shower or using the toilet they can lock both inner doors for privacy. In addition when a family member does not need complete privacy (for example when using the vanity sinks) the space can be shared.
While the shared, functional and stripped down bathroom might have worked for the Brady Bunch in the 70's most people (and their kids especially) don't want to live this communally today. We are used to nicer and more luxurious bathrooms and if the Diss' kids (Alex and Angie) are anything like my 17 and 13 year old son and daughter (Parker and Jade) the less space they have to share with their sibling the better (my 13 year old daughter doesn't want her brother checking out her stuff in the bathroom and I'm sure my 17 year old son feels the same way!).
So while the efficient 1970's concept of the Jack and Jill bathroom still makes sense – it does need some alterations to fit today's family. Let's take a look at 5 cool tips the Diss family used (in conjunction with their remodeling contractor Mike Cheeseman Builders) to modernize and privatize a Jack and Jill bathroom.
Tip #1 – Reconfigure and redesign a Jack and Jill bathroom to add privacy and flexibility  
While a "community" Jack and Jill bathroom is efficient, for modern teenage kids sharing a bathroom is a bit more closeness than they want – especially if they have to get ready for school or an event at the same time. What was done in this project was to reposition the vanity and sinks into the kids bedrooms so they now can take as much time at the sink/vanity as they like without getting bugged by their brother or sister.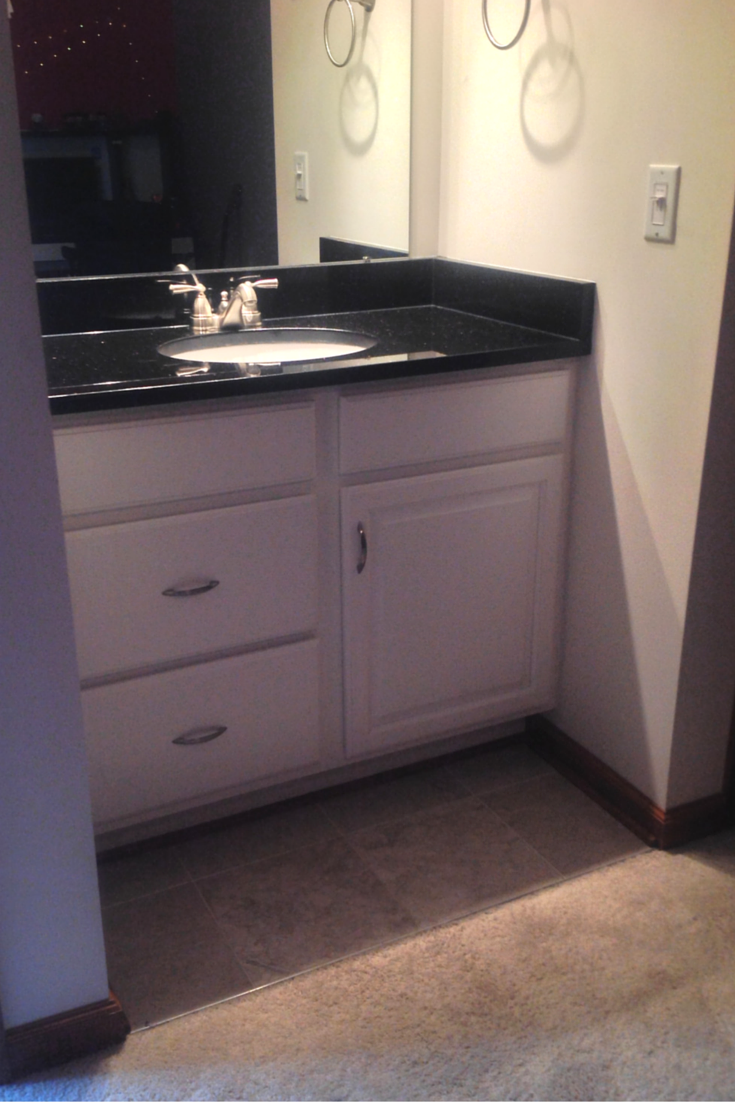 Tip 2 – Say hello to the big luxury shower vs. the outdated tub  
Who is using the tub function in their bathroom anymore? Well – almost nobody! In this newly remodeled bathroom the tub was removed in place of a large upscale frameless glass shower enclosure with 2 doors.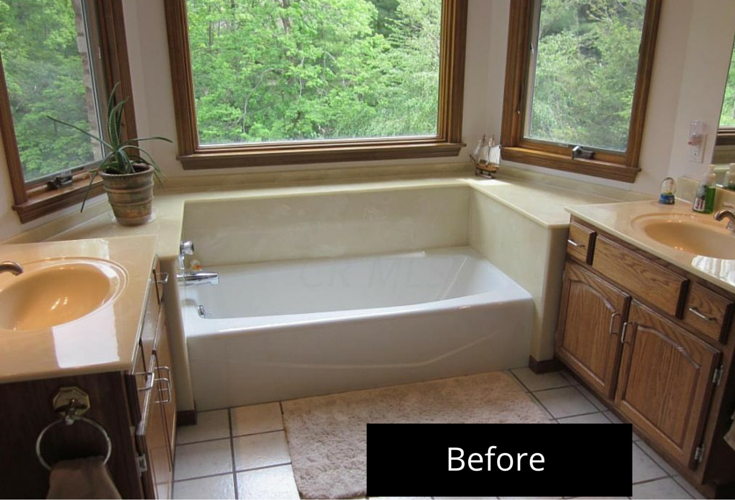 The marble walls create the feeling of an upscale luxury spa. This is not a "Brady Bunch" Jack and Jill bathroom anymore – but it does fit the needs and desires of high end homeowners in towns like Powell Ohio.
Tip 3 – Classic privacy with a modern design twist – an etched glass block window
What are you going to do for privacy when you have 3 exterior windows in the middle of a shower where your teenage son and daughter will be showering? Ben came up with a modern spin on a classic material when he saw the idea of using a laser etched glass block window mural in the shower windows. In the larger middle window he used an etched tree mural (which was placed over a wavy pattern glass block) you see below (provided by the Columbus Glass Block division of Innovate Building Solutions) offers a subtly sophisticated look – yet still maintains the privacy for the kids when they are in the shower.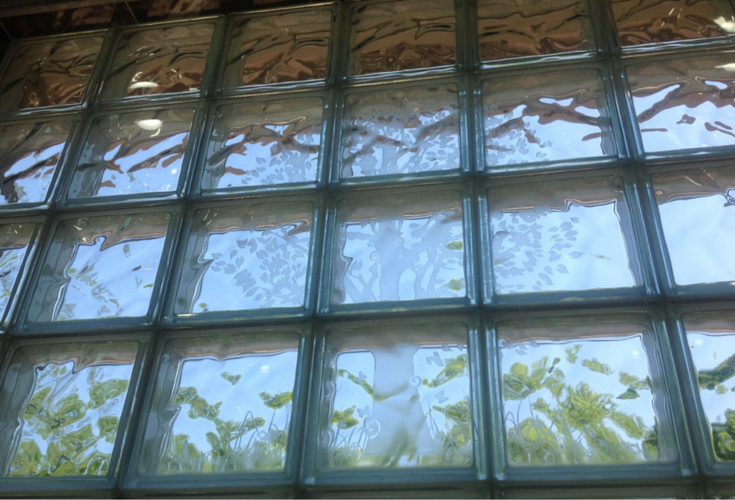 The two windows on the outer perimeter of the shower used a high privacy "iceberg" pattern with the wavy blocks on the border for additional style.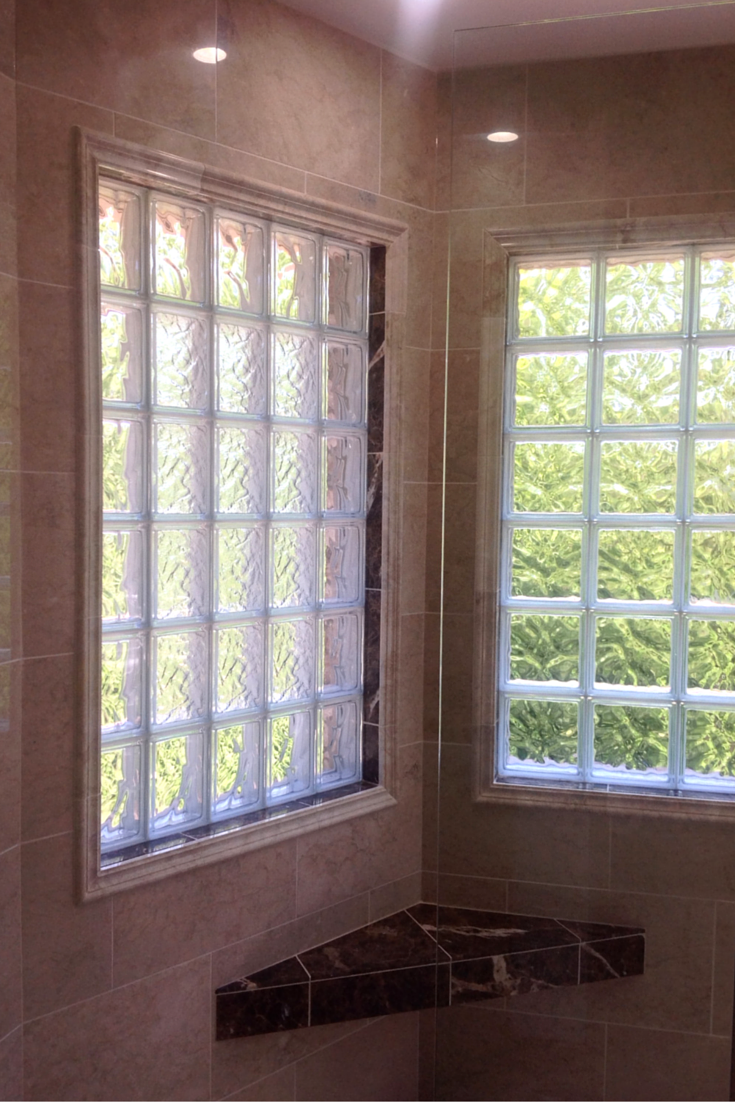 Tip 4 – Make it summer year round with heated floors
Tile and marble floors – while luxurious – can make you feel like you're walking on the ice of the Columbus Blue Jackets hockey rink during those long Central Ohio winters. To make the shower, bathroom and vanity floors comfortable year-round heated floors where added.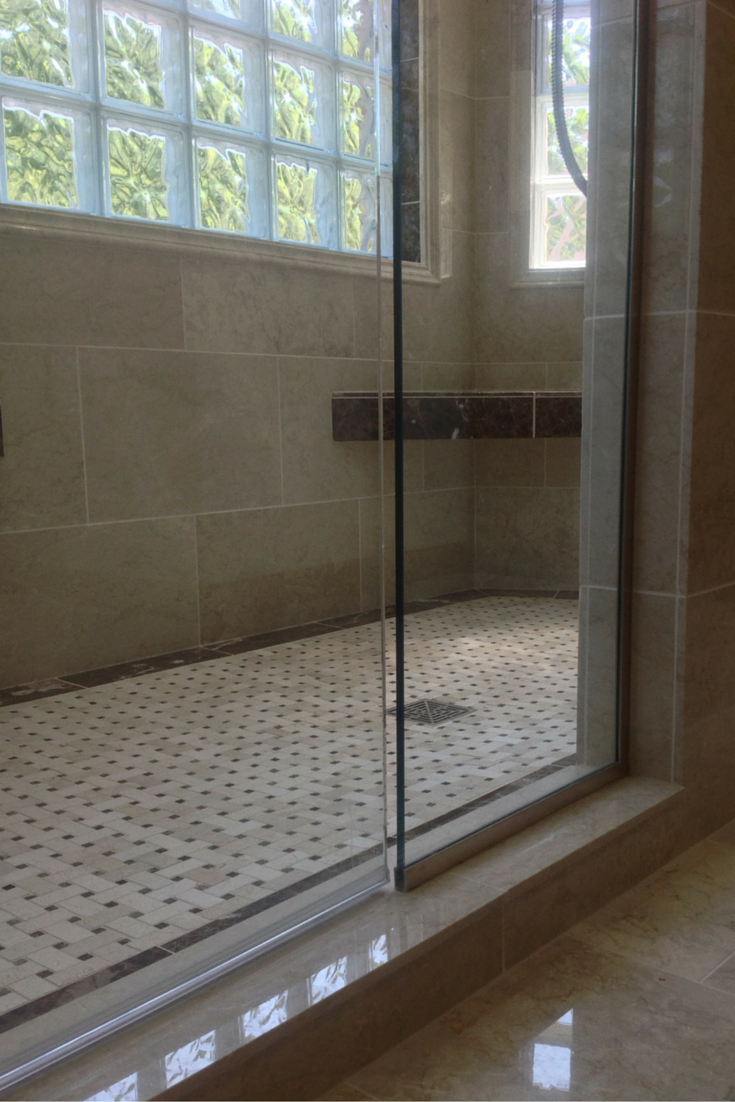 Tip 5 – Sit back and enjoy spa comforts
In this bathroom you don't need to go to the spa to enjoy the comforts of a spa-like experience. Two corner bench seats give a nice place to sit down after a long day.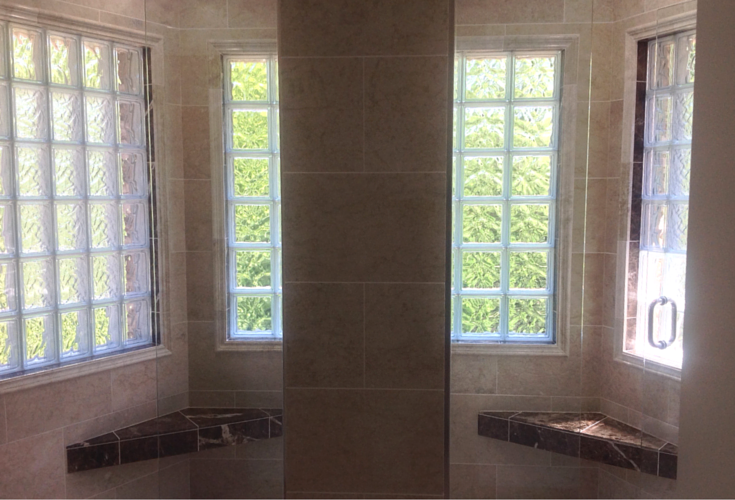 The rain head and hand held shower also add a relaxing feature.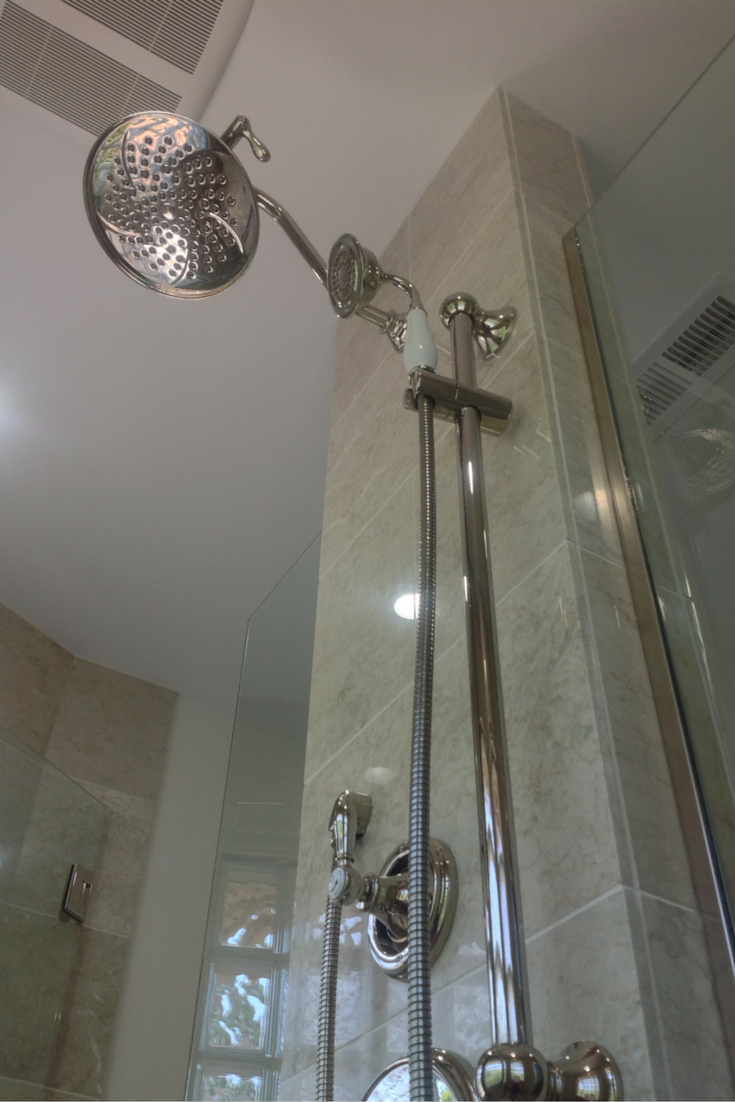 Conclusion
While it can be funny to watch the Brady Bunch kids pile into their 1970's Jack and Jill bathroom who really wants their current bathroom to live like a comedy show from the days gone by? For today's modern family a Jack and Jill bathroom can still benefit from a space efficient design – but it can also be luxurious and offer high higher levels of privacy than were available in previous generations.
If you're looking for more information or an estimate on remodeling a bathroom,  nationwide material supply or a glass block etched window call Columbus Glass Block (614-252-5888), Mike Cheeseman Builders (614-679-3904) in Columbus or for nationwide bathroom and glass block supplies Innovate Building Solutions (877-668-5888).
If you're a remodeler or builder and want practical advice on remodeling products, industry trends, marketing and sales tips to grow your business (and cut day to day hassles), start reading my newest blog – Innovate Builders Blog. It's packed with ideas you can use now. Click here to Sign Up for the Innovate Builders Blog.
---
Mike Foti
President of Innovate Building Solutions a nationwide supplier and regional (Cleveland and Columbus) remodeling contractors. Some of our product lines include glass counters, floors, backsplashes, glass blocks and grout free shower and tub wall panels
---