4 critical questions to find a progressive bathroom remodeling contractor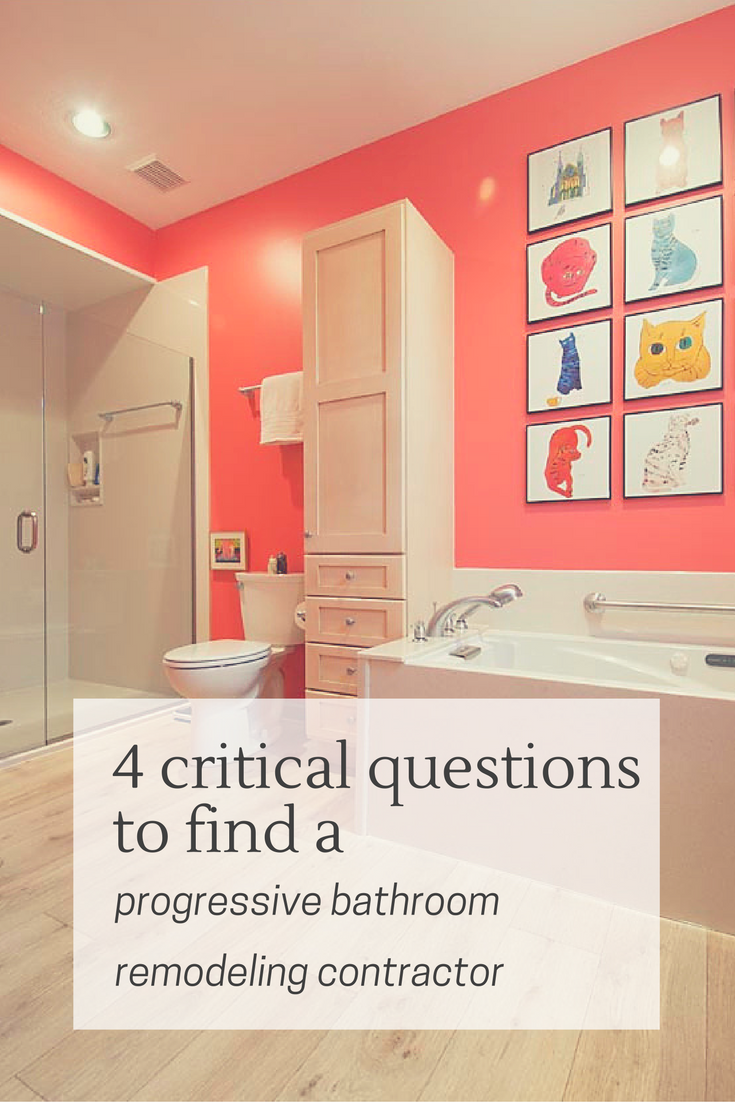 Phyllis just got done firing her second (ouch) remodeling contractor when she called me in tears! She said, "Mike these guys were as dumb as rocks. They (incorrectly) built half the wall you supplied and then asked me for the directions. All they care about is getting paid – not about delivering a quality job with the materials I want to use!"
As a nationwide bathroom building material supplier and a local bathroom remodeler (in Cleveland and Columbus Ohio) I wish I could tell you there was anything unique about the frustration Phyllis tearfully expressed above. Construction is often a process you must "endure" to get a stylish and better functioning bathroom. But should bathroom remodeling be a process you need to be "drug through" (and you may feel like you need drugs – just kidding – to get you through) when you're spending so much money???
IMHO (in my humble opinion) these bad bathroom remodeler experiences have to stop. Bathroom remodeling should not be the following:
A "one day process" where a high-pressure franchise salesperson sells a one-day bathroom system with an offer "you must sign today" or it will be gone forever. Why should you be uncomfortable and feel like your arms (and every other limb) are being twisted in the sales process?
A contractor driven project where they are telling you, "Lady this is how I'm going to build your shower." Aren't you the one paying to get this done after all? It should be about what you want.
A one size fits all "solution." You have different members of your family with unique needs. Shouldn't your bathroom be designed with everyone's needs (both today and tomorrow) in mind?
It's simple to spew out frustration about bathroom remodeling. The challenge is to know the right questions to ask in the research and contractor selection process. With the right questions, you won't get a dud you then need to figure out how to get rid of in the middle of the job without getting tangled up in a huge lawsuit.
How can you find a progressive bathroom remodeling contractor (yes there are actually a few these companies out there) who will treat you the way you deserve to be treated? Ask these 4 critical questions so you don't have to suffer through the contractor from hell!
Critical question #1 – What bath and shower products do you offer?
Your contractor should be more on top of what's hot in bathroom products than you are. If you're the only one bringing new ideas to the table this may be a tell-tale sign you've got one of those "stuck-in-the-mud" contractors, you need to avoid like the plague. For example, if you're looking at building a new shower to replace your old yellowed and cracked builder-installed unit what choices are you presented with? Is the only "tool" in your potential contractor's tool belt the "tried and true" tile shower. While tile showers can be luxurious they also require a lot of maintenance. Does your contractor know about (or even willing to install) one of the many lines of grout free shower wall panels out there today? If your contractor is a one trick pony run away fast! Here's a couple of examples of grout free shower wall panels which are getting popular now (solid surface and high gloss panels)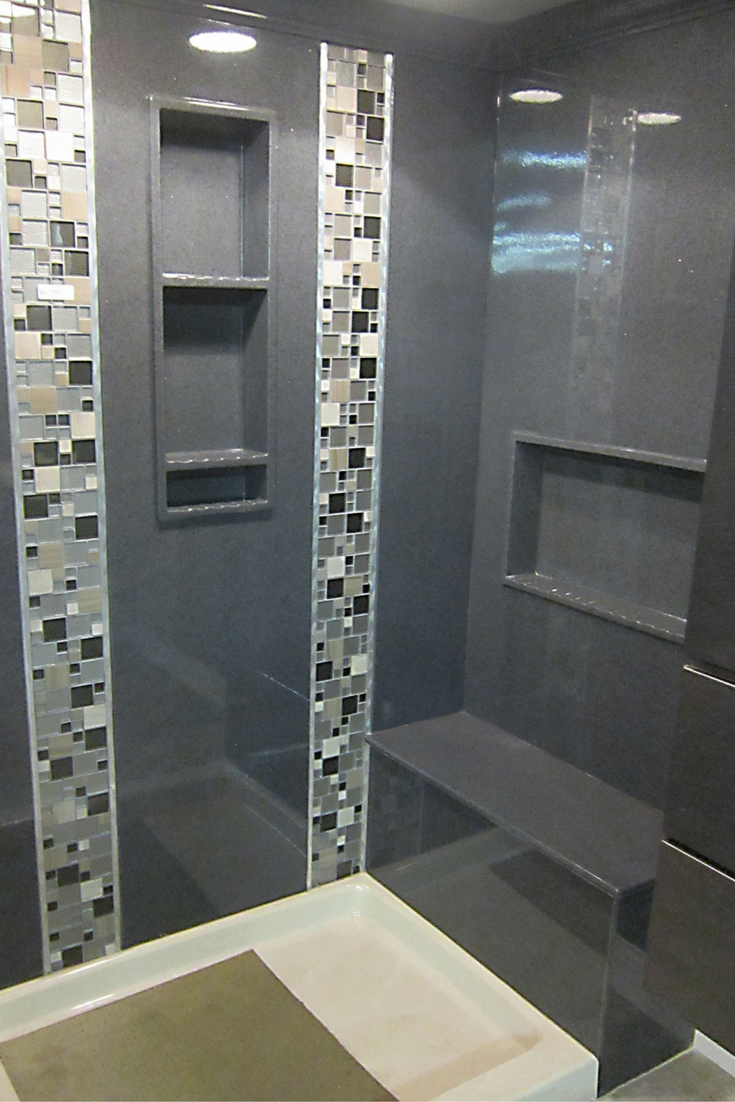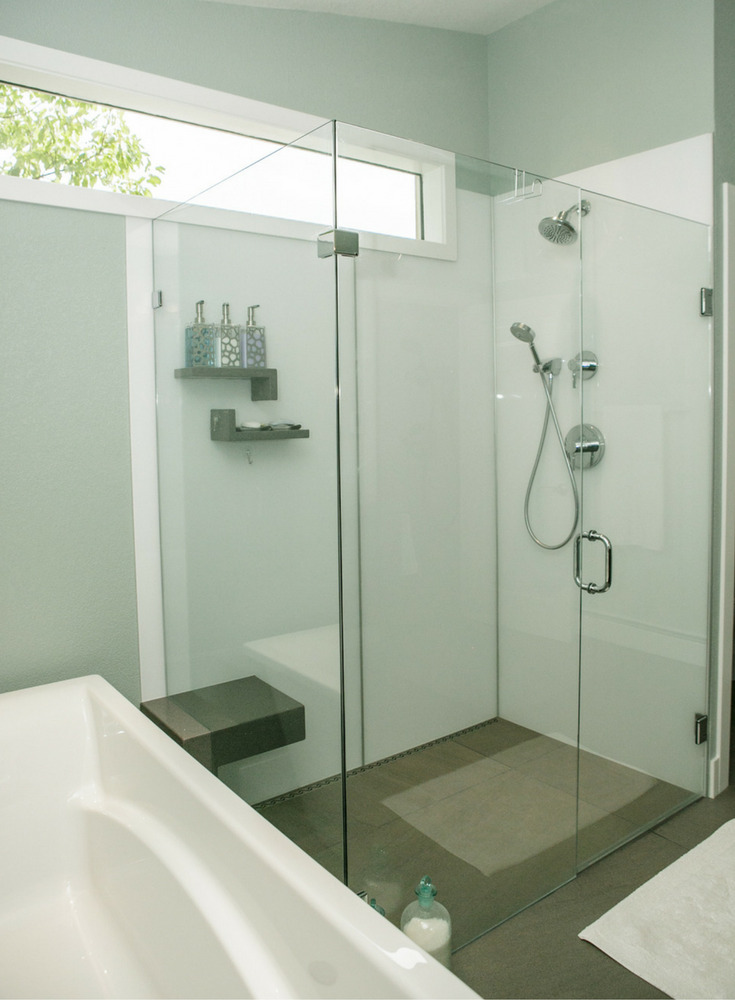 Critical question #2 – How do you "edumacate" (educate to most people) yourself?
You might be asking what kind of word is "edumacate?" Well this is a word my Dad made up for education. You see my Dad immigrated to this country from Italy and only had formal schooling through the 8th grade. Given this challenge (and coming to a new country) he knew self-education (or edumacation as he called it) was critical to his success in the United States.
I could remember him telling people he came into contact with he was just a "dumb greenhorn off the banana boat." Anyone who believed that had to be crazy. My Dad – while not formally education – did not believe in the saying when the student is ready the teacher will appear. He believed if you want to be the best in your field you go out and find the education (or edumaction as he used to say) yourself. Maybe that's why he was able to grow a multi-million masonry construction business starting out with just a beat up old truck and a large dose of desire.
Your contractor doesn't have to have the fanciest of everything – but they should be dedicated to learning (and teaching you) what they know so you can get a project which exceeds your expectations. Ask your contractor this question, "How do you stay up to date with bathroom products and new ways of doing things?" Then ask, "What new products and processes do you recommend using on my project? Do you have cost effective ideas on how to make a small bathroom look nice?"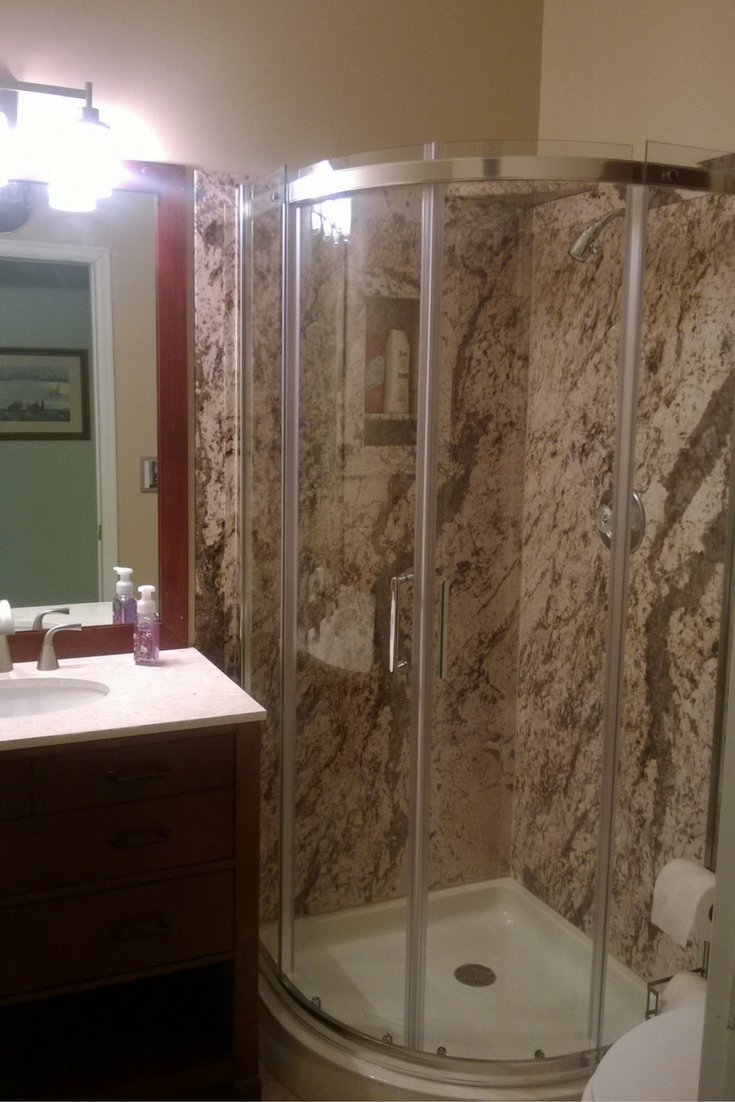 If they give you a big old blank stare, you'll known everything you need to know. Progressive and smart contractors are on top of the new trends and products.
Critical question# 3 – How can you make sure this bathroom works well for me over the long run?
You probably don't intend to live in this home for just a couple of years.  If you did you wouldn't be planning to shell out anywhere from $5,000 to $50,0000 on a basic to ultra-luxury bathroom project. But here's the challenge. You may spend good money to do a bathroom remodel today with the best of intentions and find out 2 years from now you've wasted your money! You may be asking, "Mike, why would you say this?"
Here's the problem. Life's unexpected twists, turns, surgeries, family challenges get in the way. Maybe a family member (God forbid) has a stroke, heart attack, gets into an accident and now needs a bathroom which will work for their current abilities. Maybe it's best to have Mom or Dad come live with you and they aren't quite as mobile as they used to be. Forward planning in a bathroom remodeling project can allow your space to work flawlessly even when life throws you a few lemons (and my guess is if you're like me you've already been challenged to make lemonade out of a few of life's lemons!).
If you have a bathroom remodeling contractor who is familiar with universal design remodeling (i.e. designing spaces to work for people of all abilities) you can create a cool space which will work over the long run (no matter what curves get thrust upon you). Ask your contractor what thoughts they have to make your bathroom functional over the long run. See if they know about products like one level wet rooms and barrier free shower pans.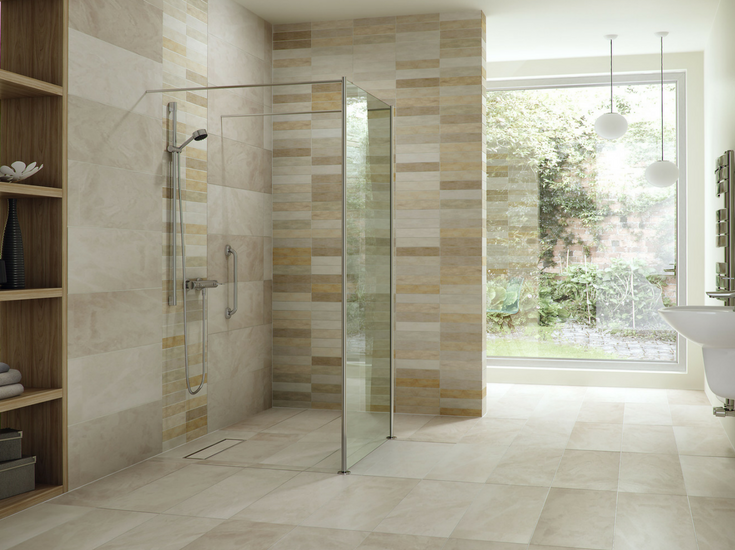 Do they suggest ways to improve lighting and make it easier and more spacious to get around the bathroom? If your potential contractor is clueless about these questions –move on.
Critical question #4 – What kind of paperwork will we get through the process?
I have to admit I have often jokingly said, "I'm allergic to forms, and if I had to be the one who filled out all the forms to adopt Parker and Jade (my 18-year-old son and 14-year-old daughter) we'd only have one son today (Grant – my 22-year-old son who came to use through biological birth)." While I'll joke around about forms, I understand it's essential in running a professional bathroom remodeling (or doing an adoption – a bit more important process than the remodeling job!) to use the right paperwork and be completely transparent through the process.
In this project, you'll want to make sure both you and the contractor are getting (and delivering) what's expected. Ask your contractor what type of contract they use. Inquire how they handle the change order process. If your contractor is known for putting proposals on a yellow legal pad and doing change orders on the back of Subway wrappers this is not a good sign! If the back of their truck looks like a disorganized mess like the image below also not a very positive sign.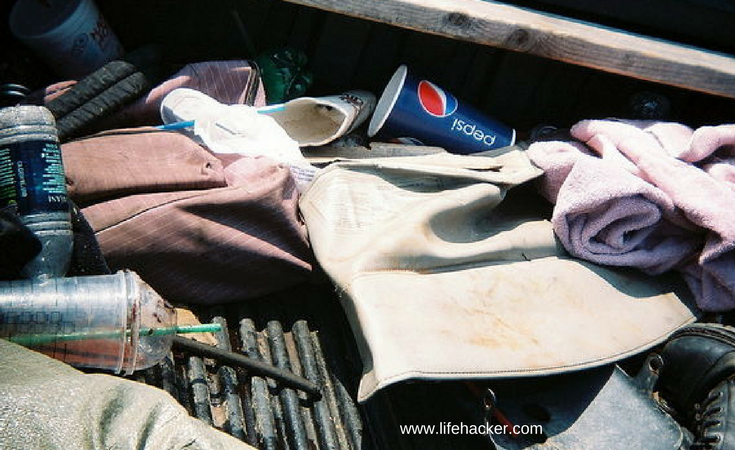 Conclusion
Don't become another victim of a poorly organized, stuck-in-the-mud, unprofessional bathroom remodeling contractor. The key will be to be thorough and thoughtful in your process of interviewing people to do your job. Ask the 4 questions above. Don't be afraid to ask. Quality contractors (who also employ quality people) will be patient and try to help you. If they aren't patient and helpful you don't want them anyway.
For an Akron or Cleveland bathroom remodeling project call Cleveland Design and Remodeling at 216-658-1270. In Columbus, The Bath Doctor at 614-252-7294. For nationwide supply of bathroom remodeling products like one level wet rooms and grout free shower wall panels contact Innovate Building Solutions at 877-668-5888.
---
Mike Foti
President of Innovate Building Solutions a nationwide supplier and regional (Cleveland and Columbus) remodeling contractors. Some of our product lines include glass counters, floors, backsplashes, glass blocks and grout free shower and tub wall panels
---