A vacation home bathroom remodel can transform you to a peaceful state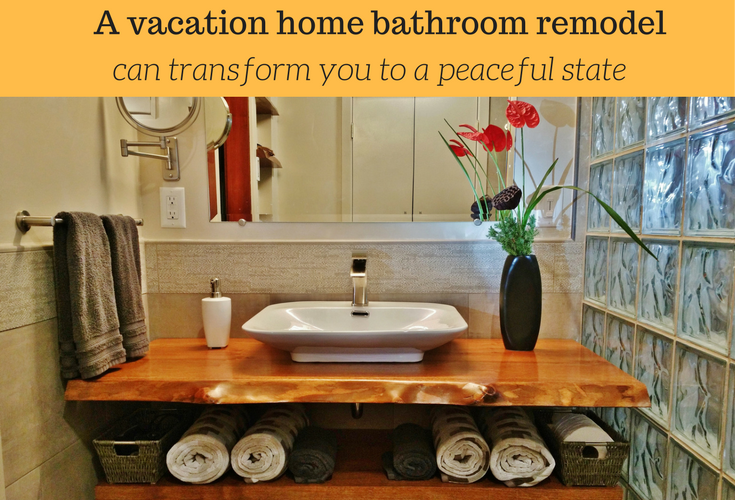 Updated March 16, 2019
If your schedule is like mine it's crazy. You're personally joined at the hip to your cell phone. Work demands are well…too demanding. You feel (at times) you're short-changing your family and friends. You know loving others is all that really matters.
At this point you may be asking yourself, "Mike, what does this have to do with bathroom remodeling?" Well, homes can and should go beyond bricks, mortar, lumber and shingles. A home (or bathroom) properly designed and remodeled can become a transformative experience (yes – I know it's a bit flowery, but I'm sticking with it). Homes can create a feeling of peace, tranquility and a connection to nature with the right design which can provide a temporary refuge from your craziness.
While any of us can experience this connection to nature in a home by touring an architectural masterpiece like Falling Water designed by the great (yet completely arrogant) Frank Lloyd Wright, we can't stay in this very cool mid-century modern home with our friends and family (boy – I wish I could).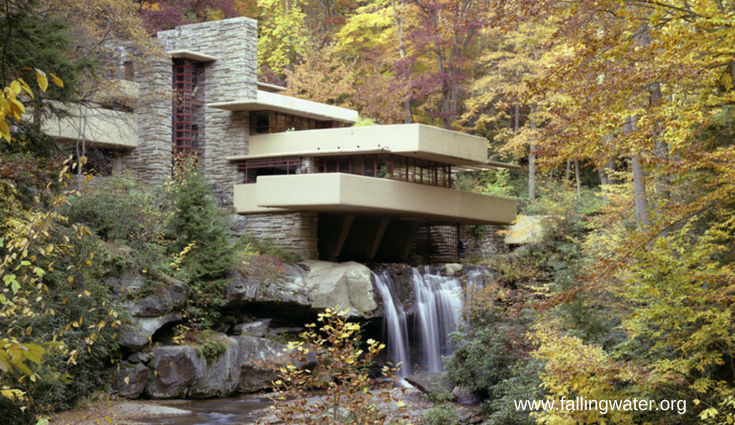 Fortunately, if you want to escape the insanity of being a Soccer Mom/Dad or hard-charging much too busy city executive you can find places other than Falling Water to have this connection with nature or your family.
One such place is at  Sequoia Beach Dreamery (owned by Andrew Zarrillo). This vacation home rental is located next to the Austin Creek and surrounded by 600 year- old redwoods in the tiny town of Cazadero, located in the Russian River resort area of Sonoma Country, California. This unique Zen-inspired home is now even more special with a transformative bathroom remodeling project which connects the homes awe-inspiring exterior with a tranquil interior.
Join me on a journey and see how this home's "wet areas" (bathroom, outdoor shower, hot tub and river) can help you disconnect from your "busy-ness" and reconnect with nature and those you love.
The Sequoia Beach Dreamery Bathroom Remodel
 A bathroom (or your bathroom) can be simply thought of as a collection of a lot of things. You've got a vanity, sink, toilet and shower/tub. To have a special, transformative bathroom you need to create an "experience" beyond just a bunch of plumbing parts. To do this step back and ask these questions:
What's the theme of my bathroom remodel?
How do I want to feel when entering and leaving this room?
How can I inject my passions, my personality, into the space?
When I asked Andrew about the theme of this bathroom remodel he said to me, "Mike – it's simple. I wanted the look, feel and tranquility of a Japanese garden. I wanted to bring the outdoors into the bathroom."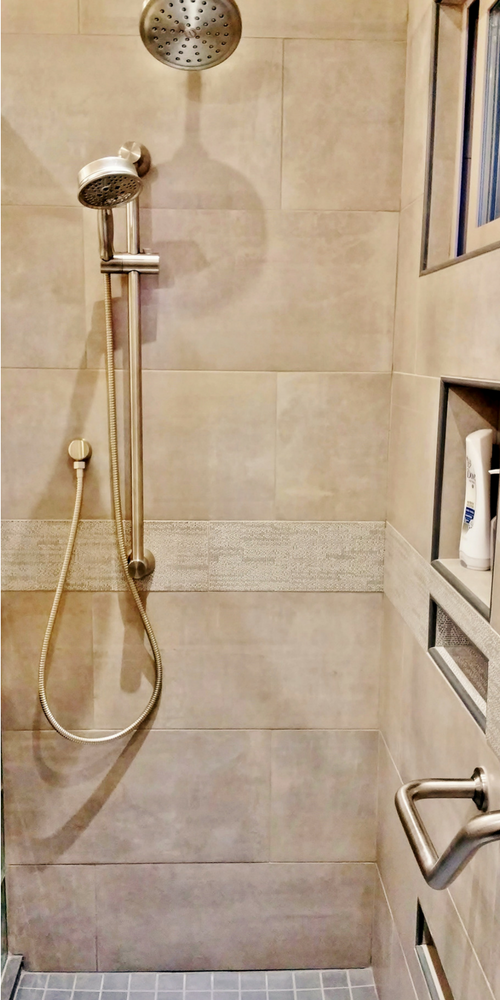 As Andrew expressed to me that while the old bathroom was functional, it was also dated and had a small enclosed shower which wasn't welcoming.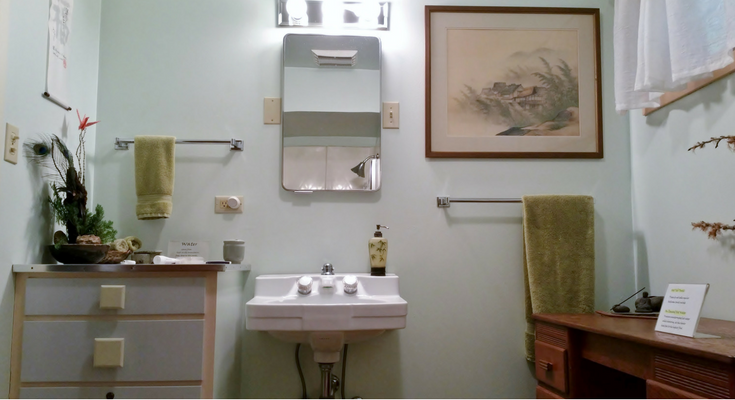 Based on the on-line review below I think Andrew has done a darn-good job achieving his goal of transforming this dated bathroom into an inspired and beautiful design.
"Andrew has thought of everything. He has an eye for design and creating beautiful spaces."
Let's see how Andrew made his bathroom vision come alive.
Bringing the outside in – a bathroom transom window
You can't bring the outside in without a visual connection between the spaces. This long narrow transom window does just that. It allows you to see the towering redwoods – but also provides personal privacy since it's been placed at the top of the tile shower wall.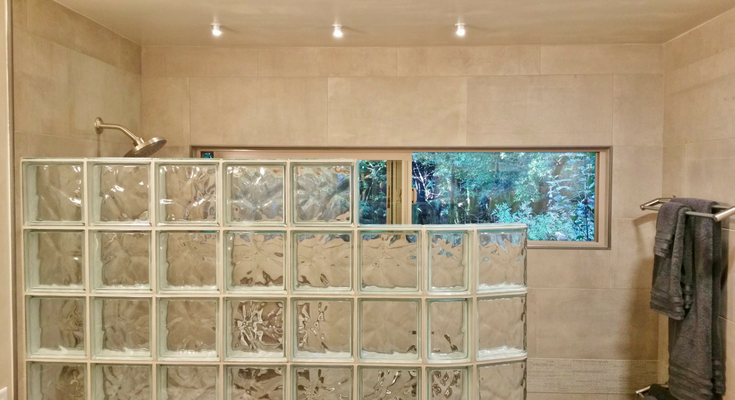 Capture the beauty of the surrounding area –a bay laurel countertop and shelves
What better way to bring the outside in than to literally…. bring the outside in! Andrew wanted a rustic feel to build on the Japanese garden theme. To make this happen he had his contractor take a piece of a bay laurel hardwood tree and cut it, stain it a redwood color and polyurethane the tops (6 times!). Now these pieces of wood have evolved into an attractive and useful countertop and shelves. The vanity countertop has a live edge which makes it a very interesting piece indeed.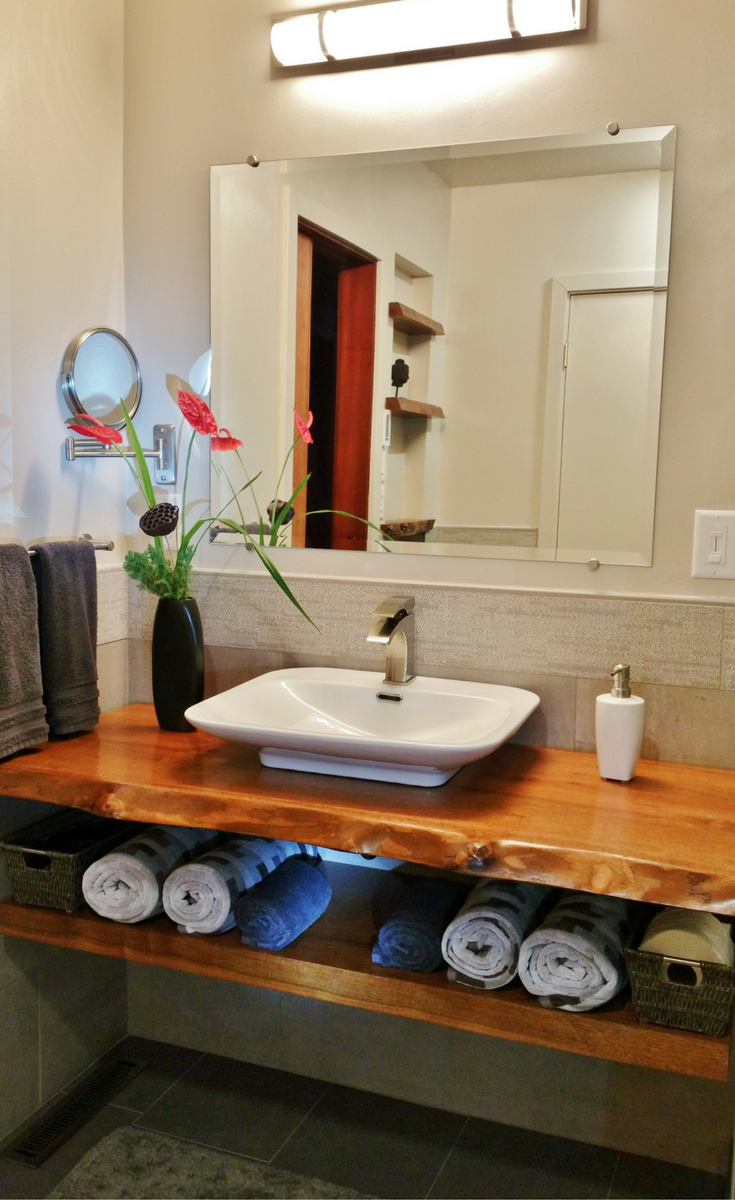 A shoji screen look with a modern glass block wall
Instead of choosing a standard glass enclosure Andrew captured the look and feel of the traditional Japanese shoji screens with this glass block shower wall. The traditional grid pattern is implied through the modularity of the block wall – yet the product's clarity moves light from the transom window into the balance of the bathroom.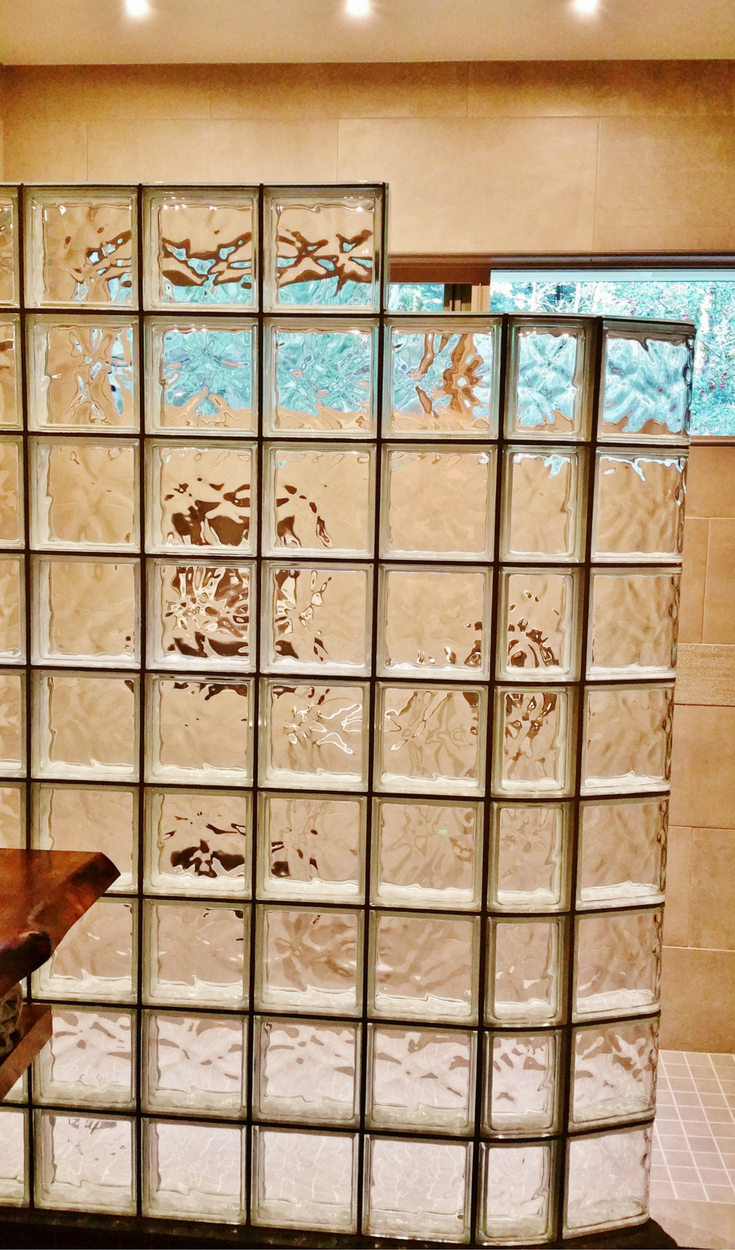 From a construction standpoint, this shower was made easier to install because it was pre-built in prefabricated glass block sections and used a ready for tile shower pan to simplify the shower floor installation as well.
Don't be afraid to combine design styles
When it comes to design styles many people feel like they've got to stick to one, but sometimes a "fun" space is an eclectic combination of styles. In this bathroom (and in other rooms of this home – as you'll see below) Andrew likes to have some fun with the décor. You'll see influences of mid-century modern, Japanese, rustic and craftsman styles. In the pictures below I'm really loving the Japanese inspired umbrellas and the rustic dresser!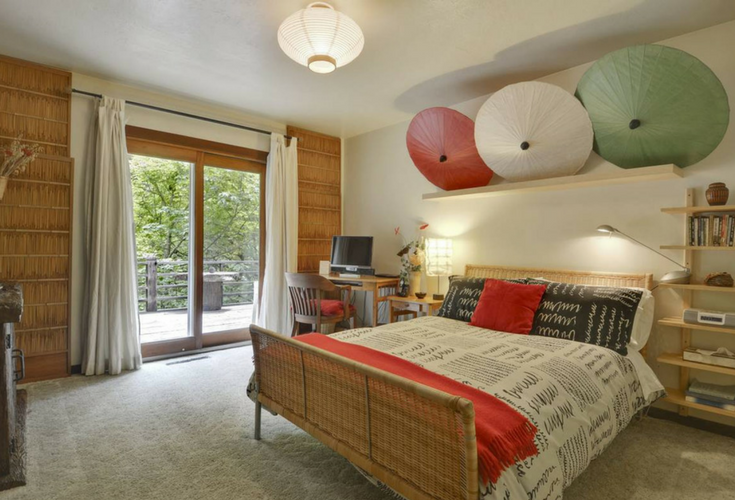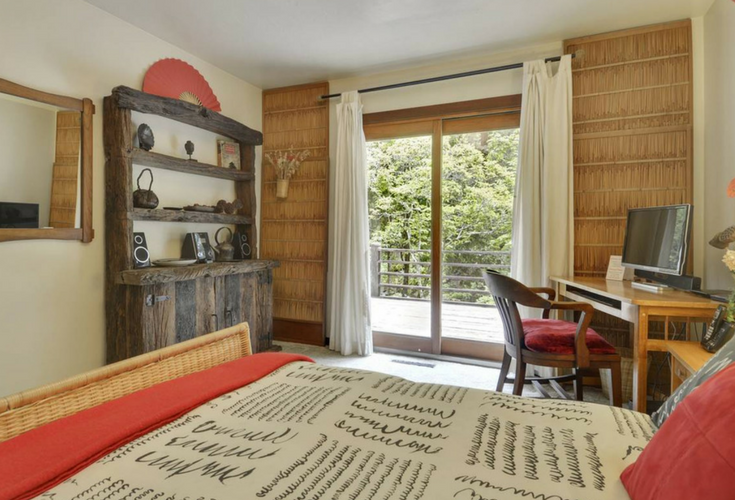 Making Sequoia Beach Dreamery memorable and romantic – the outdoor shower and hot tub
Quirky, eclectic, fun and memorable are all adjectives I'd use to discuss the outdoor spaces in the Sequoia Beach Dreamery. This outdoor shower which comes out of a tree looks like a blast (no pun intended). It's a private and unique place to rinse off after enjoying the private beach by Austin Creek. It's also nice to know it also has hot water (I don't know about you but a cold shower just isn't my thing – ha! Ha!).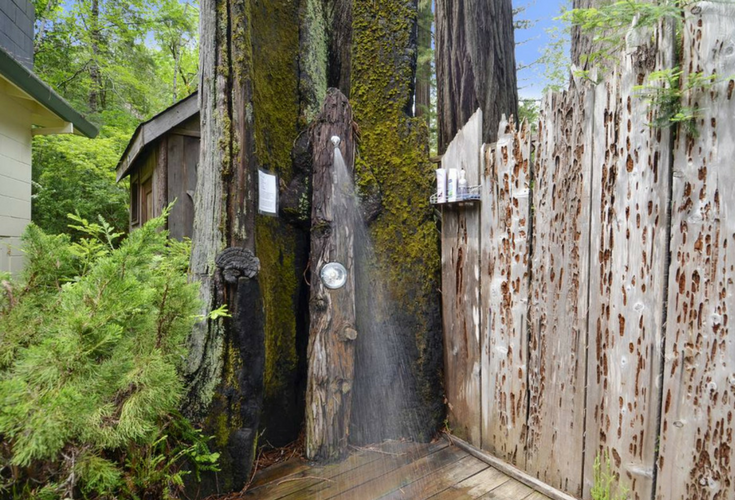 Whether you go to this home as a romantic getaway, or to enjoy friends, the hot tub is another outdoor feature you'll want to experience. You'll be able to relax in the peacefulness of the surrounding meditation gardens, be nestled among the hollowed-out sequoias, while observing fun and funky art pieces on the deck.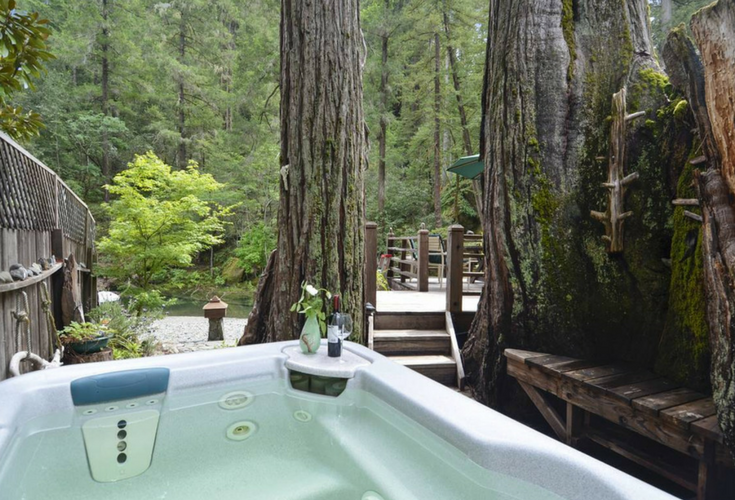 A private beach by the Austin Creek
The Creekside beach is another fun water feature of this home. Take the time to play in the river and you might even come upon some otters, steelhead salmon, bullfrogs and more than a few ferns.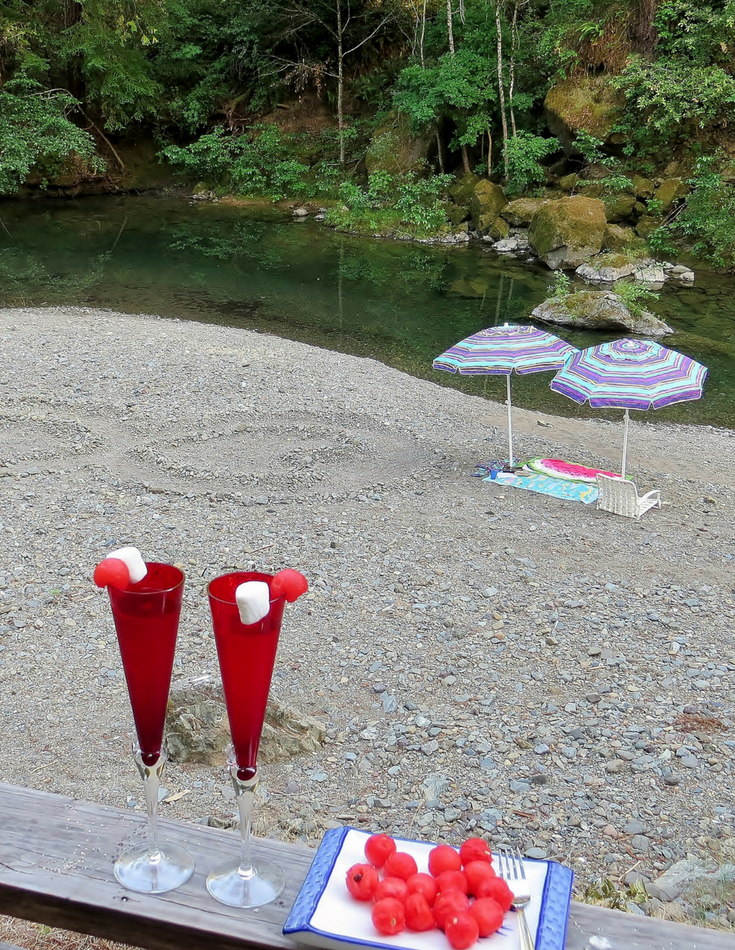 Conclusion
I hope you enjoyed the "mini-tour" through the unique "water features" (bathroom, outdoor shower, hot tub and creek) in this vacation home. It's neat to see how a home can be inspired when you connect an entire property (inside and out) to your distinctive personality. Andrew certainly has accomplished this with his Dreamery!
###
If you want more information about the Sequoia Beach Dreamery visit the web the website for Russian River Vacation Homes or call 800-997-3312. For more information about the glass block shower system used in this project call Innovate Building Solutions at 877-668-5888.
If you're a remodeler or builder and want practical advice on remodeling products, industry trends, marketing and sales tips to grow your business (and cut day to day hassles), start reading my newest blog – Innovate Builders Blog. It's packed with ideas you can use now. Click here to Sign Up for the Innovate Builders Blog.
---
Mike Foti
President of Innovate Building Solutions a nationwide supplier and regional (Cleveland and Columbus) remodeling contractors. Some of our product lines include glass counters, floors, backsplashes, glass blocks and grout free shower and tub wall panels
---