7 Affordable Bathroom Design Ideas First Time Home Buyers Will Love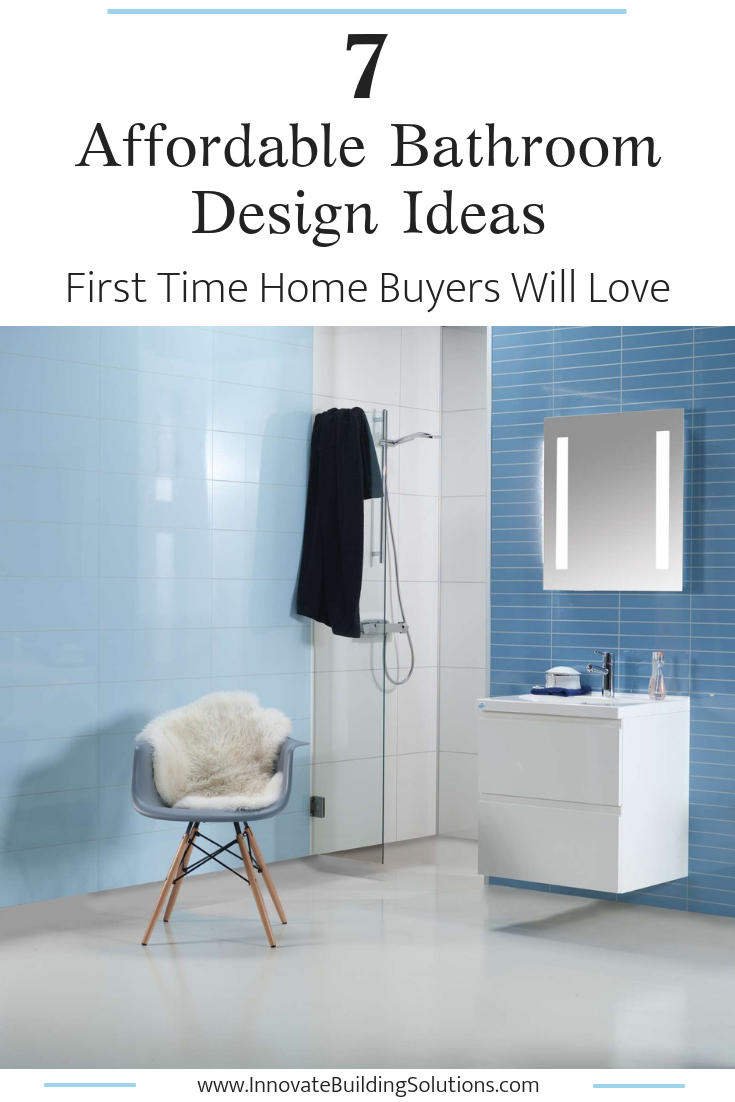 Updated March 24, 2019
You're not quite sure how and when you 'evolved' into 'adulting', but boy has it hit you now. With a baby on the way you and your spouse knew your tiny apartment in the city wasn't going to cut it. It was time to buy your first home.
However, with few new homes on the market and prices higher than you'd like, your vision of the perfect turnkey home (no remodeling required) in a walkable neighborhood turned out to be the impossible dream. You adjusted your expectations and found an "OK" home which needed some work.
You took the big step- bought the home and signed soooooo many forms you figured the real estate and mortgage industries must not have got the memo about minimalism. You were all smiles turning the key for the first time entering your new home. You're also proud of yourself for not posting another 'we just moved into our new home' selfie on the front porch like so many of your friends.
After getting settled in you now know its time to update your time-warped bathroom, or you and your husband might kill each other when getting ready in the morning. The challenge becomes how can you get a functional space which is fashionable while not blowing your budget (after all your new baby isn't going to feed himself)?
If only you had unlimited funds and could afford the sleek designs, you see in Architectural Digest or while watching The Properties Brothers (you think – if only the Properties Brothers would choose our home for their next show. A nice dream. Probably not going to happen).
The question becomes how can you create an updated bathroom in a small space without a big budget?
In this article my goal is to present 7 affordable bathroom design ideas you can use to create an updated bathroom in an older home with a smaller bathroom. At the end I'd love to know which ideas you think will help you the most and/or specific questions you have about your bathroom remodeling project.
Bathroom design idea #1 for a first-time home buyer– Create more time for fun and less time maintaining your shower with an acrylic shower pan
If you ever had the 'pleasure' (sarcasm intended) of helping your Mom clean tile grout in their bathroom you know what a pain this task is. The last thing you want to do (especially with a baby on the way) is get on your hands and knees with strong chemicals cleaning dirt (and black mold) off a tile shower floor. It's oh so glorious! I'm sure your realtor never shared with you how 'fun' (sarcasm intended) some of these 'home-moaning' tasks would be
If you want to make your bathroom work well, yet not be a pain to maintain, you'll want to start at the 'foundation' of your shower –the shower pan.
Fortunately, in today's market you don't have to settle for an ugly yellowed fiberglass shower pan (which is supposed to be low maintenance, but often isn't because you can't scrub the dirt off the bottom) or deal with the nastiness of dirty grout joints in a tiled shower. If your budget is tight (and you don't want to sacrifice style) a fun way to do this is with a curved and shaped acrylic shower pan. Below you'll see how you can use this 'bowed' shower pan to not only convert a tub into a shower – but make the space larger in the center. This way you and your husband won't be banging your elbows on the shower door.

Acrylic bases are not only cost effective (and stylish when you add a shaped design) – but are simple to clean (with ZERO grout joints).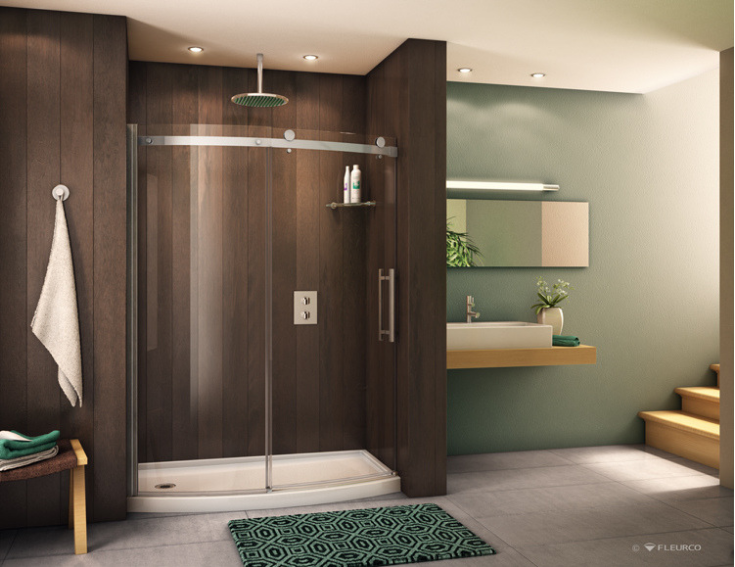 Bathroom design idea #2 for a first-time home buyer – Choose high-style bathroom wall panels and install them yourself (with a little help from Mom or Dad, if needed)  
If money was no object, you'd love to hire a contractor to do every step of your bathroom remodel and install a luxurious, contemporary master shower. However, this isn't the world you're living in today (buying this home was a stretch as it was).
However, what would you say if I told you could get the sleek look of large format tiles, eliminate the hassle of cleaning grout joints and do the installation yourself to save money? Sound impossible? It's not….if you know about laminated bathroom wall panels.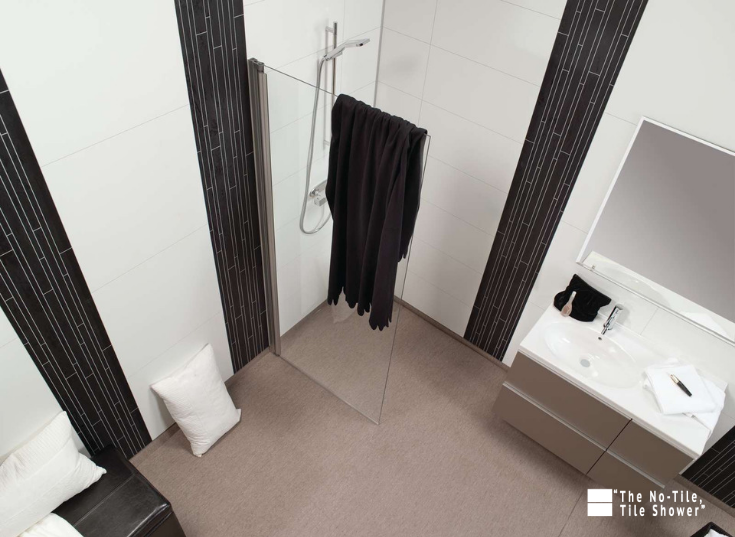 With these Euro-inspired (Norwegian manufactured) bathroom and shower wall panels you'll get contemporary designs which are a cinch to install. These 2' x 8' panels simply click and seal together (like a tongue and groove wood floor). You can get a fashion-forward bathroom without having to hire and find (note – finding a decent contractor today can be a 'needle in a haystack' expedition) a tile setter or an expensive general contractor.
These panels come in 21 fashionable patterns and can be used with any type of shower pan (from the acrylic style mentioned above to solid surface shower pans to a custom tile base).
You'll get the style of a real tile shower without the maintenance hassle (and since it won't be long until you're running around after a little one – who wants to mess with tile grout joints anyway. You'll have your hands full with more important things).
Bathroom design idea #3 for a first-time home buyer– Let your small bathroom 'live' bigger with an 'open concept' design  
Oh – how nice it would be to have the luxury master bathroom your parents enjoy in their 3,500 square foot home in the 'burbs. You're definitely not at that income bracket yet. Your 1,800 square foot 'starter homes in the inner ring suburb is certainly a case in point.
When you decided to buy this home, you didn't realize how truly small it's 5' x 8' bathroom would feel. One 30" wide single bowl vanity top with a teeny tiny countertop (there's no space to spread out your stuff). One 5' x 3' combined tub and shower at the back of the room. One toilet crammed into the corner. You're desperately looking for ways to make this space live bigger than it actually is.
Here's a design strategy to make this happen. It's called a one level bathroom (or a wet room as they're called in Europe and Asia). Instead of 'compartmentalizing the shower/bathtub area into an 'enclosure' learn from the Europeans (who live with smaller bathrooms than we do) and open the space up.

Build a one level bathroom. One level bathrooms don't use a traditional shower pan (which has a curb you need to step over and is normally surrounded by glass). The entire bath and shower are at one level. If you're worried about water problems – chill out. With these systems the entire floor is waterproofed.
What's also nice about one level wet rooms is they not only open-up the room, but they're contemporary in design. This isn't your parents 'too-stuff-fancy-furniture' bathroom look.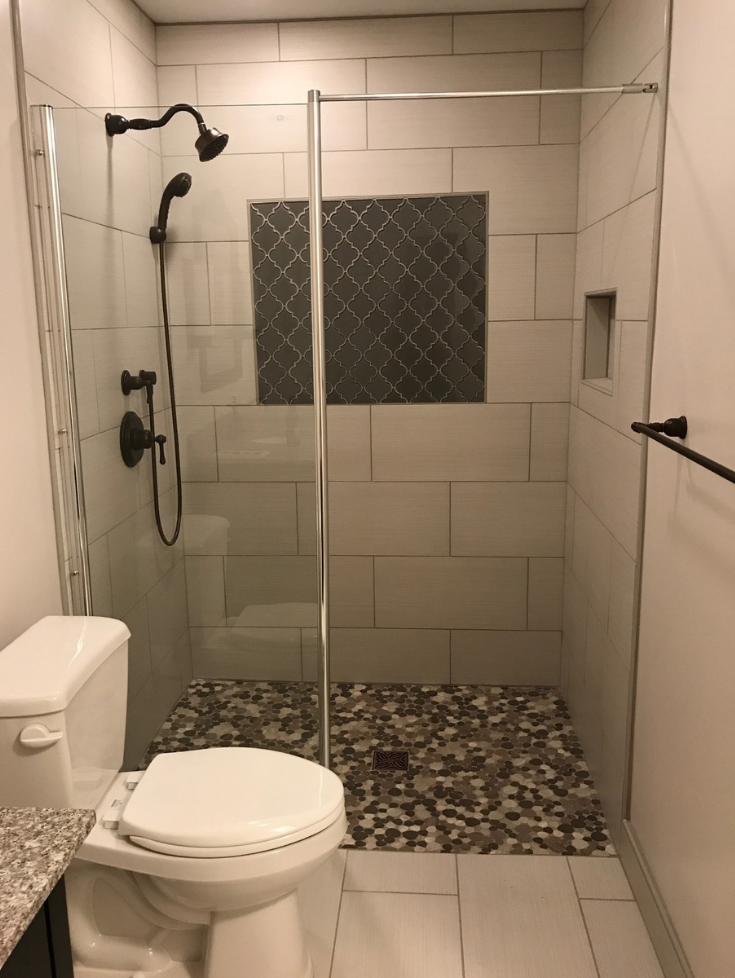 Bathroom design idea #4 for a first-time home buyer– Remember 8th grade geometry and use your volume
I hate to bring up bad memories (and for many people 8th grade Geometry class certainly qualifies), but this nightmare of a class can come in handy (a Ripley's Believe it or Not statement if there ever was one) when designing your first bathroom.
Since your master bathroom is not as big as you'd like you (OK – if we're being real it's as jamb-packed as experiencing Travis Scott at the last Lolla concert), and your 'stuff' (bathroom supplies, towels lotions and potions are growing constantly) is overwhelming the space, you need more storage. It's this lack of space which makes using your bathroom 'volume' critical.
Not sure what I mean by volume? In layman's terms (or laywoman's if it's a word) it's getting the max out of every inch of space. The question becomes how can you do this? Here's 3 space-generating ideas:
Use the 'dead space inside wall cavities – If you're remodeling your shower, insert inside the wall cavities recessed niches to house your soap, shampoo, toothbrushes and loofas. You'll gain storage using zero space.
Use the space above the toilet – Few people think about using the vertical spaces above the toilet as a storage opportunity. However, installing a floating shelf in this spot is perfect for towels, baskets and any spillover storage.

Image Source: Listing More

Have your storage come to you

. It's almost impossible to see and use what's in the back of your vanity (can you relate?). Make the volume inside your vanity effective by adding (or choosing a vanity cabinet with) slide out drawers
Bathroom design idea #5 for a first-time home buyer– Go green and save money
If you've learned one thing over your life, it's that our planets resources are being depleted. You know it's not your goal to contribute to the mess. You made a promise once you owned a home you would be more responsible than the generations before you and not to waste precious natural resources. The question becomes how can you remodel your bathroom, have it function well for you – and save resources simultaneously (trying to be smart, and green at the same time)? Here's a few ideas to help achieve this goal:
Get a low flow toilet – 27% of the water used in homes is from flushing toilets. A low flow toilet will have no negative impact on your life – but it saves a LOT of water.
Use an energy star rated fan – To start out with old exhaust fans are as loud and obnoxious as the sound than your first car – plus they are energy hogs. Today's exhaust fans are quieter and use far less energy.
Get a low flow shower head – It used to be low flow showerheads were wimpy when it came to having enough pressure to get soap out of your hair. New air-infused shower heads have changed this. Don't be afraid of including a low flow shower head to save money, yet still have a nice showering experience.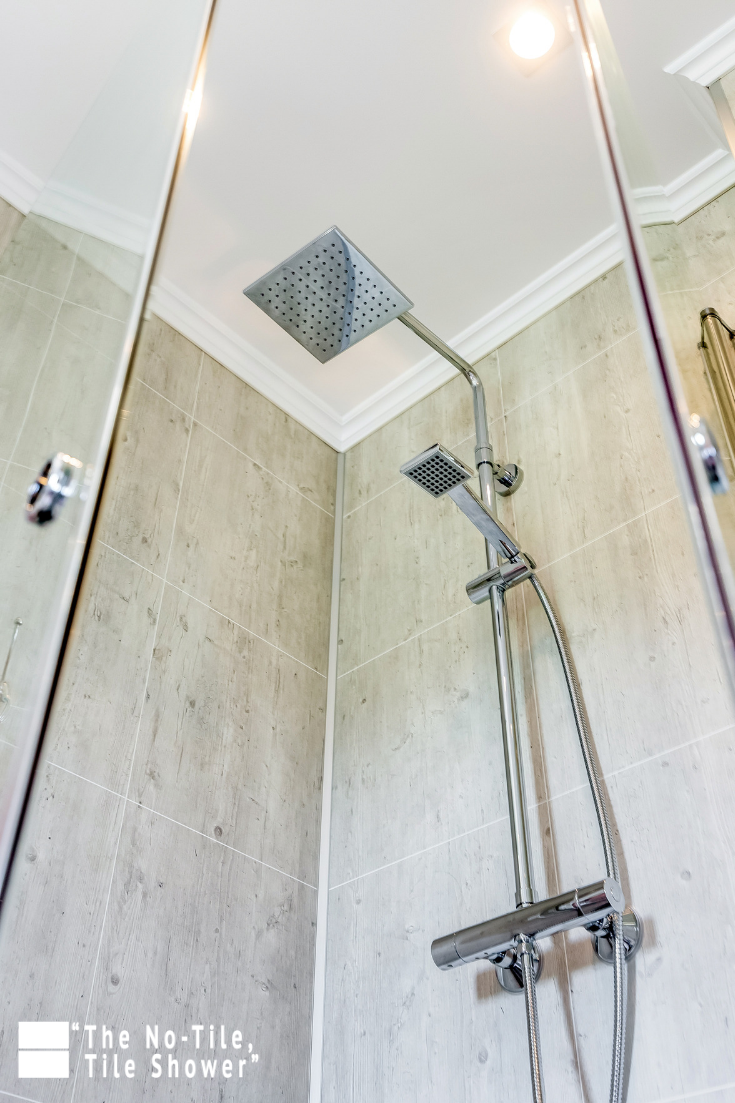 Bathroom design idea #6 for a first-time home buyer– Go 'au natural
OK – I'm not telling you, you should walk around your bathroom without any clothes with this sixth idea (although I'd say this is likely to happen anyway – otherwise you're taking a pretty odd shower with your clothes on). What I am referring to about going 'au natural is creating a natural and calming interior bathroom design which is not only stylish, but also creates a calming space to relax after a tough day.
Design styles like Mid-Century Modern and Modern Farmhouse take advantage of this trends of 'bringing the outside in' with natural, earthy materials. They help to create a comfortable bathroom which is not buttoned up and stuffy.
Here's two ideas to bring a natural look – yet reduce maintenance – in your bathroom.
First, on the floor consider luxury vinyl tiles. They give you the wood feeling, without the cost or installation hassles. Simple tongue and groove systems make them a simple DIY project.
Secondly, with your shower walls use wood-looking laminate covered panels. There are Mid-Century Modern wall panels and Modern Farmhouse selections for a stylish look, with minimal maintenance on your part. This product also goes together with the straightforward tongue and groove installation method.
Bathroom design idea #7 for a first-time home buyer– Save space and modernize your look by changing your vanity
The existing vanity cabinet sitting on the bathroom floor with the swirly marble looking top not only chew up a lot of room but look butt-ugly and takes up too much space. Chucking this old vanity cabinet can not only add floor space but can be an opportunity to upgrade your look as well.
One fun way to do this is with a floating wall hung bathroom vanity. It will give you a crisp, clean look and if you put the faucet into the wall, you'll be able to buy a shallower cabinet and gain space to walk around.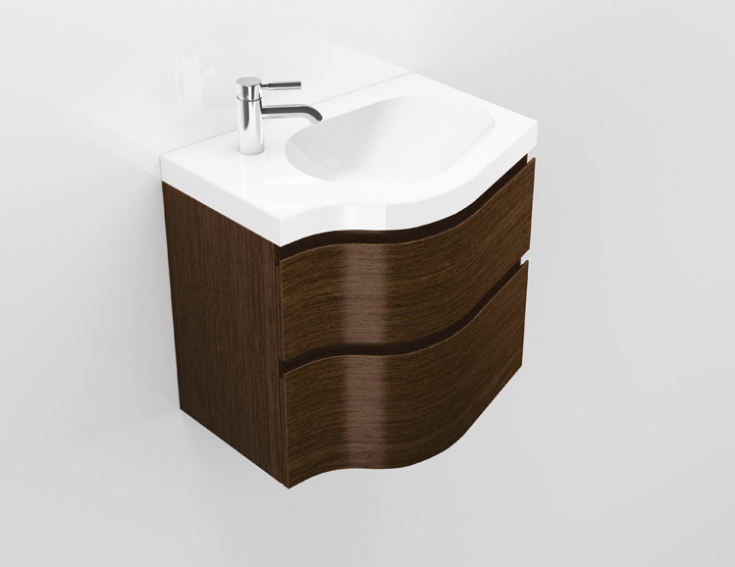 Conclusion
Evolving into this homeowning and 'adulting' thing is not easy – but hey, if your parents were able to pull it off, you'll figure it out also.
It's nice to know when it comes to bathroom remodeling it's entirely possible to get a sleek and cool space without having two 6-figure incomes. With this being said it will require being smart with your money, possibly putting in some elbow grease by installing yourself, and making sound bathroom product choices. Fortunately, there is a LOT more to choose from today to help you get a stylish bathroom without busting the budget.
If you need more insight on cost-effective products and design ideas for your home – no matter where you live in the country we can help with contemporary shower panels, acrylic shower pans or with a one level wet room system. Feel free to call us on the numbers below.
How can I (or a member of my team) help you?
If you'd like to save money with nationwide factory direct supply on barrier free shower bases or grout free wall panels (like The No Tile Tile Shower) contact Innovate Building Solutions at 877-668-5888.
If you're a remodeler or builder and want practical advice on remodeling products, industry trends, marketing and sales tips to grow your business (and cut day to day hassles), start reading my newest blog – Innovate Builders Blog. It's packed with ideas you can use now. Click here to Sign Up for the Innovate Builders Blog.
If you need help with a bathroom design, contact The Bath Doctor in Cleveland at 216-658-1270 or in Columbus at 614-252-7294.
---
Mike Foti
President of Innovate Building Solutions a nationwide supplier and regional (Cleveland and Columbus) remodeling contractors. Some of our product lines include glass counters, floors, backsplashes, glass blocks and grout free shower and tub wall panels
---