How to Choose Shower Wall Panels to Fit 9 Hot Interior Design Styles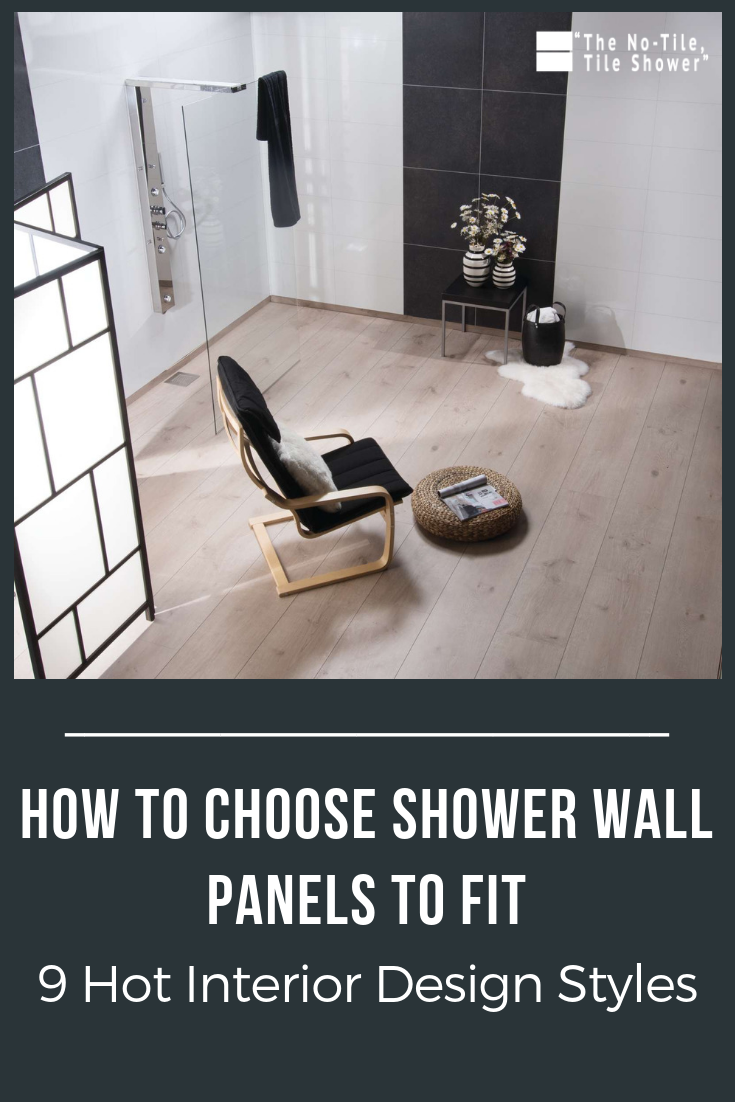 Updated March 24, 2019
It used to be if you wanted the maintenance free benefits of shower wall panels you were subjected to ugly, cheap plasticky sheets you hoped no friend or relative visiting your house would ever see. You know the type I'm talking about. Either the slap- 'em-up 'bathroom in a day' panels sold (or pushed might be a better term) by Danny DeVito Tin-Men inspired sales sharks. Or perhaps you've seen the stamped out of mold shower enclosures everyone in your neighborhood has in their hall or kids' bathroom which were put in originally by ABC Bang-Em-Out Production Builders Inc.
If these old-school panels and enclosures discussed above aren't exactly the look, you're after for your next bath remodel – I get it.
The shower wall panels of yesteryear have no place in stylish bathroom remodels today. Just think if you've ever spotted shower wall panels in fashionable interior decors like these:
Project 1) A rustic modern farmhouse or shabby chic bath in a home in the country.
Project 2) A bold modern, minimalist, or industrial loft space with an edgy look in the city.
Project 3) A relaxing coastal or Zen-inspired bath design in the 'burbs.
I'll bet you haven't seen traditional shower wall panels in any of these projects.
So, if you want a stylish bathroom – and if the you think old-school shower wall panels look butt-ugly and wouldn't be caught dead with them, what alternative do you have? You know you don't want the back-breaking grout joint maintenance of a tile or stone shower.
The good news is you do have better (low maintenance) choices than tile. However, most people don't know what they are.
In this article I'm going to identify the top 9 interior design styles and pair them with grout free shower wall panel options to compliment your decor. My goal is to show you how wall panels have gone beyond the slap-them-up mass-production fiberglass units used in new homes – or the thin (we look like we belong in your local hospital) wall panels being pushed by high-pressure Bath in Day franchises. At the end I'd love your Siskel and Ebert feedback (OK – I'm dating myself here) on which panels you think are hot and which are not.
Interior Design Style #1 – Modern Farmhouse
This warm and inviting interior design style is everywhere. In Ohio (where I live) builders are cranking out Modern Farmhouse models like they're going out of style (or coming into style). These designs are approachable and give a rustic farm feeling without having to wake up at 4 AM to feed the cows!
Until recently there weren't any wall panel systems which complimented modern farmhouse (unless you chose a cultured granite subway tile wall – which isn't too bad a fit). However, now there is an option which fits like a glove. They are high-pressure laminated wall panels. This antique gray pattern has the relaxed weathered look which works perfectly with Modern Farmhouse.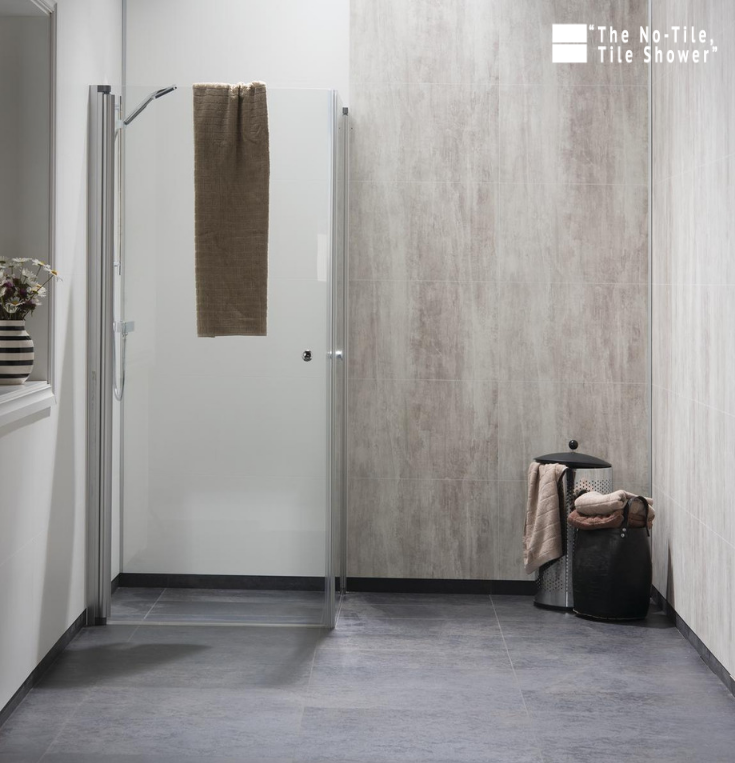 Interior Design Style #2 – Coastal
Coastal design no longer needs to be joined-at-the-hip with cheesy nick knacks you scarfed up from tacky souvenirs shops on your last beach vacation. Modern coastal designs are still connected to the sand, the sea and the sky you love. However, today they are updated with a sleek, minimalist vibe vs. the tacky seashells and sea horses of days gone by.
There are two ways you can bring a modern coastal aesthetic into your bathroom wall panels. One choice is to use cool glass green high gloss shower wall panels like pictured below.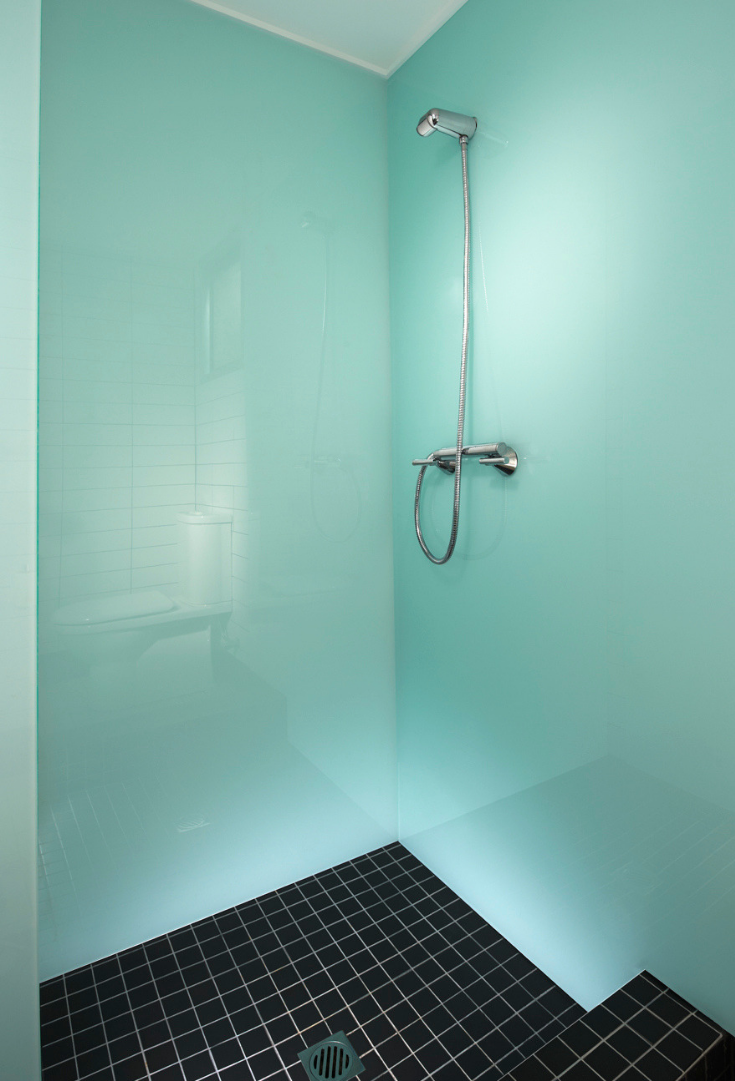 Another option is a sky blue (or glass green) easy-to-install laminated wall panel system. Either way –your bathroom can be a vehicle to mentally take you back to the ocean (even if you're trudging through the dreary wintery slush of a Northern or Midwestern frigid winter).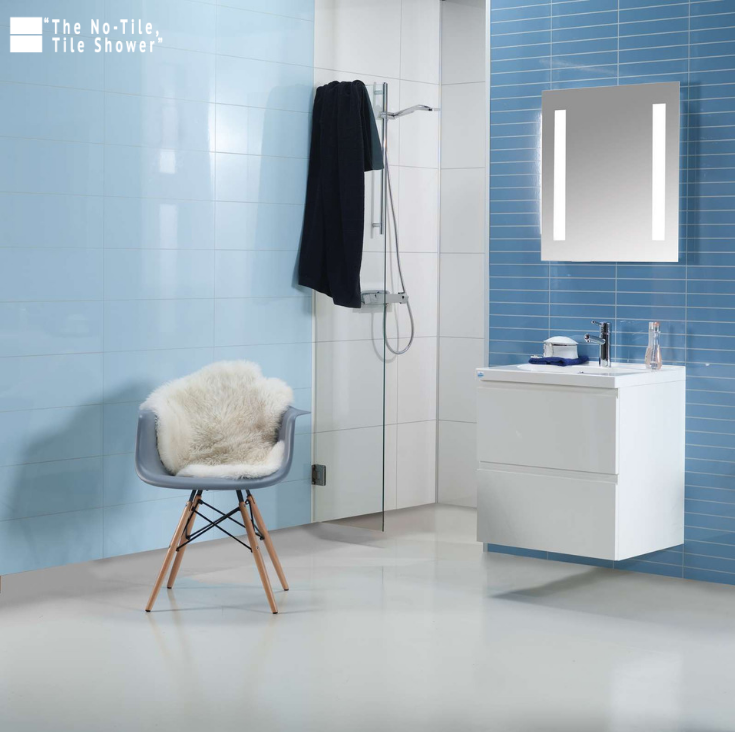 Interior Design Style #3 – Traditional
If history, tradition and the classics are your thing I can relate (sort of). The reason I say 'sort of' is while I'm not exactly a lover of history and traditional interior design, my oldest son Grant never met a used bookstore, antique store or a history class he didn't love. I can admit loving to vacation at a luxuriously restored historic hotel (and if you ever have a chance to visit the Omni Bedford Hotel – it's wonderful. Don't miss ordering the seafood tower if you do. Unfortunately, this is not a paid endorsement – ha! Ha!). The traditional interior design is not exactly my wife Rose and I's day-to-day vibe, but we appreciate the look.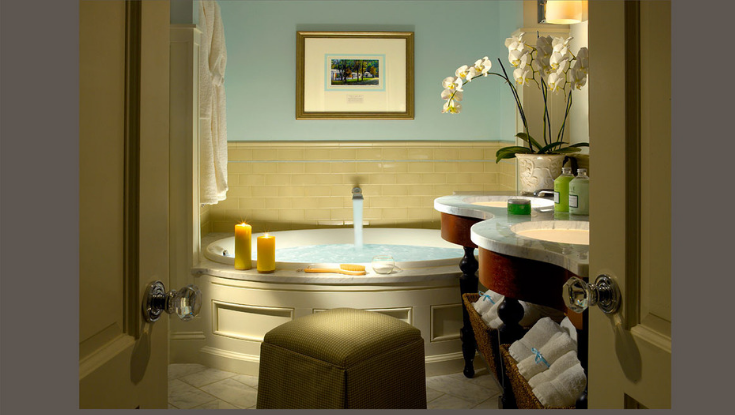 Capturing the historic look with grout free wall panels used to be the impossible dream, but this is changing. I have worked with bed and breakfast owners and homeowners alike who are using faux granite wall panels and subway style solid surface panels to capture the 'old look' – without the maintenance of time-worm products. Not a bad way to go.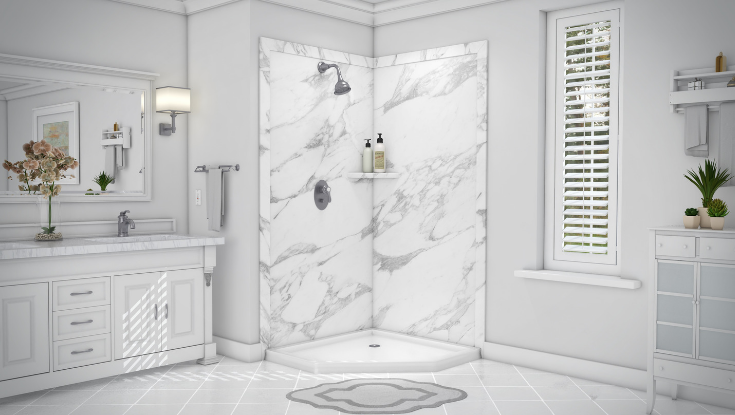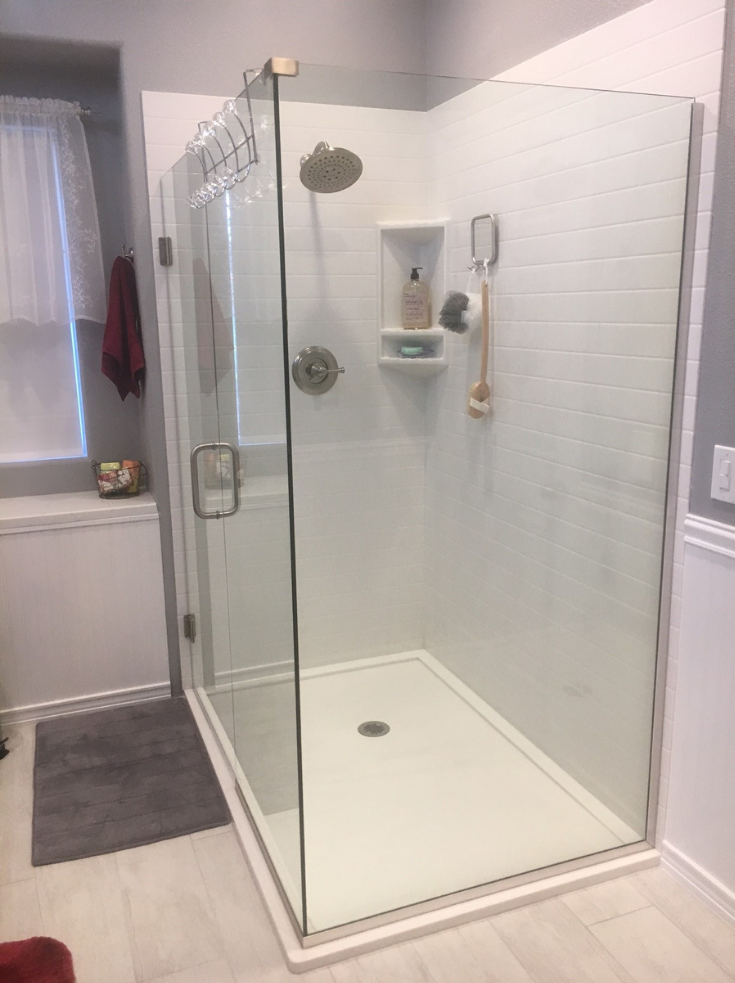 Interior Design Style #4 – Scandinavian
Scandinavian design can be about more than taking a trip to your local IKEA store (although that's fun to do and munch down on their famous meatballs at the same time). With Scandi design you'll experience of mix of utility, simplicity and beauty. Light woods and bright whites just feel right.
To capture the Scandi-chic design in your bathroom (and chuck your tile scrub brush) -here's a couple of fun options. One is to use white glossy wall panels. They are smooth, fresh and simple to clean. Another idea is to use these 'wood-looking' Marina Gray Oak laminated wall panels. Available in 2' x 8' sections – they are a breeze to install and give you the relaxed Scandi-vibe.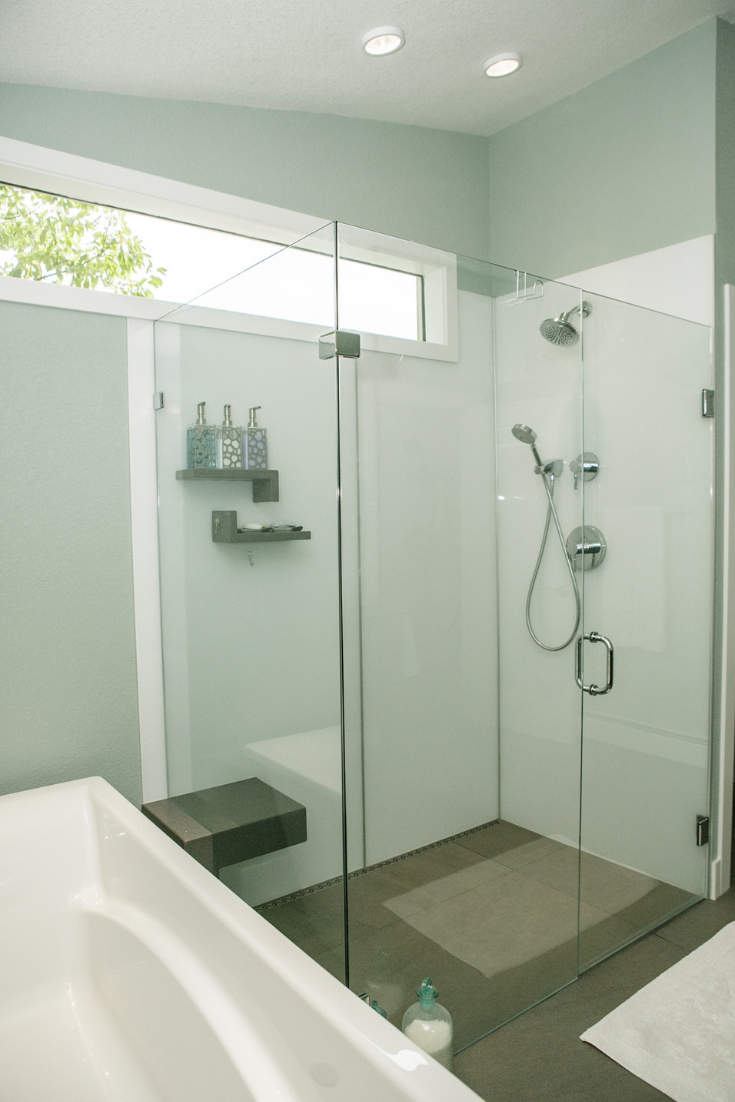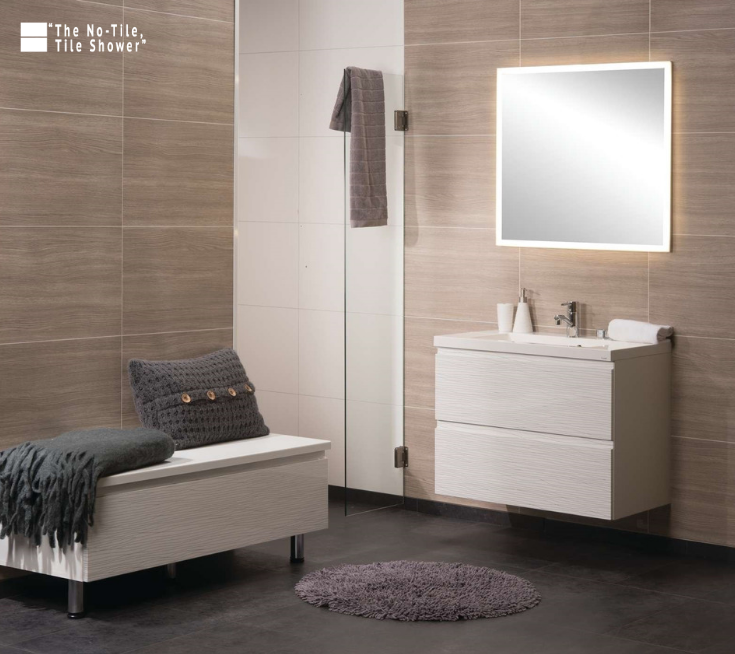 Interior Design Style #5 – Industrial
Whether you're an empty nester looking to ditch suburbia since the kids have left the nest or a single professional who absolutely LOVES city life – there is certainly a lure to enjoying the heart-beat of downtown. Fun shops, art galleries and a bevy of restaurants to check out (I'm bringing up food again. Can you catch a theme here?). Much of the growth around city life is built around loft conversions and industrial-style condominiums. These spaces marry exposed brick, open ceilings and raw materials for a gritty aesthetic.
Until recently I would tell you there weren't great wall panel choices to fit this style. Fortunately, that has changed. One cool way to capture the raw gritty nature of industrial design style with low maintenance wall panels is using these cracked cement bathroom wall panels. They're not only raw and industrial – but simple to clean. They're even more fun when you pair them with wall hung vanities like you see below.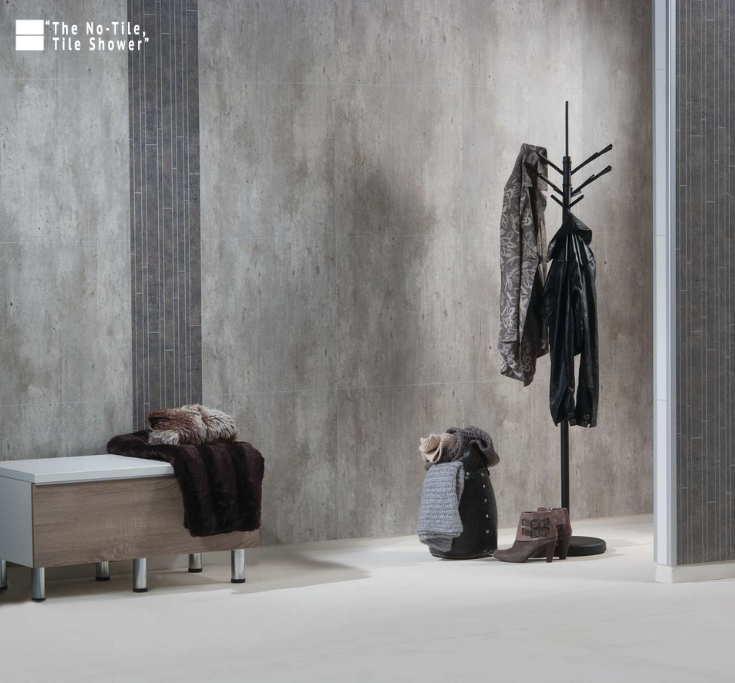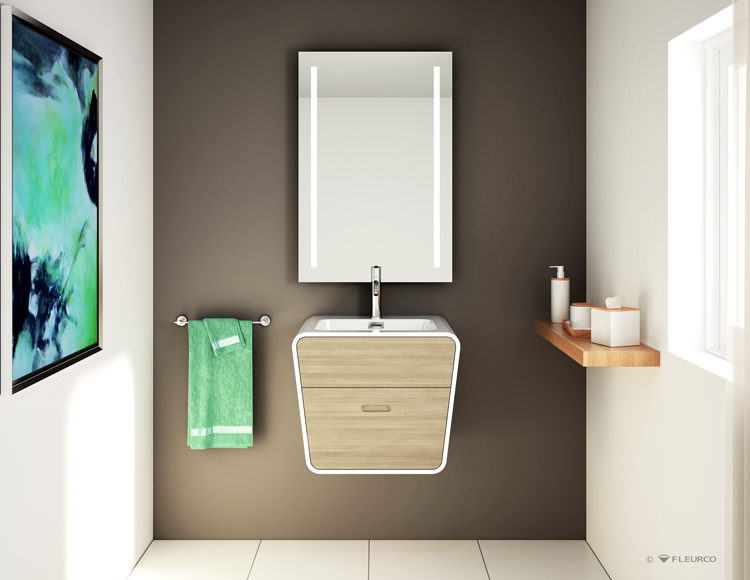 Interior Design Style #6 – Modern
Modern bathrooms are synonymous with open plans, clean lines and geometric shapes. While modern designs can be functional – it's their simplicity which creates a dramatic look. The color pallet in modern bathroom can vary. You'll see brilliant whites to pale grays to bold dramatic colors reminiscent of the 'father' of Modern Art – Piet Mondrian.
I just love these easy to clean fire engine red high gloss bathroom wall panels. They're a simple, show-stopping example of a modern bathroom look. Piet Mondrian would be all over this.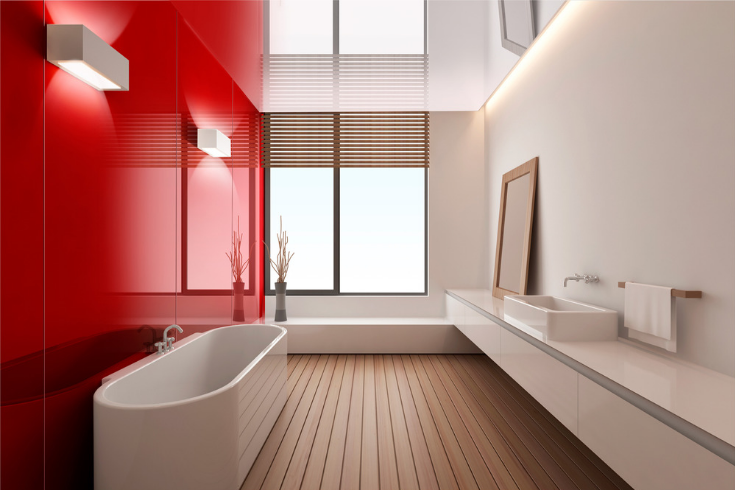 Interior Design Style #7 – Zen-inspired Mid-Century Modern
In today's day and age of political divisiveness, endless corporate job demands and kids with too many 'needs' (can you relate?) who doesn't want their bathrooms to provide some 'take me away Calgon' (I'm dating myself and borrowing from the classic 1960's commercial here) moments to escape the drama of our lives? It's for just these times when Zen-inspired, spa-like bathrooms with Mid-Century flair are a perfect interior design choice.
You crave relaxation and peacefulness. Mid-century modern bathrooms can deliver the tranquility you desire.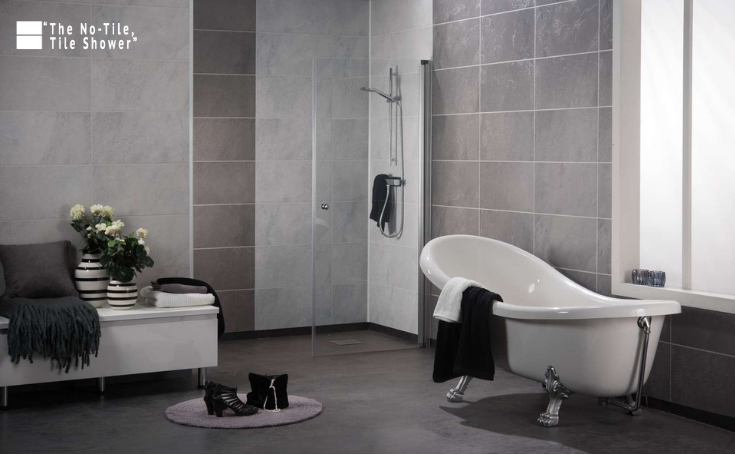 Born in the 1950's and 1960's this style was popularized by brilliant (yet arrogant) architect Frank Lloyd Wright. Mid-century bathrooms embrace nature and natural elements. Stone, wood and water. Bringing the outside in.
Historically shower wall panels were associated with harsh, white plastic materials (not Zen inspired, soothing or natural). Fortunately, product advancements have arrived to create natural feeling products without tons of scrubbing action from you. Check out 3D textured slate wall panels and rough wood accent walls. They're natural-looking – without grout joints.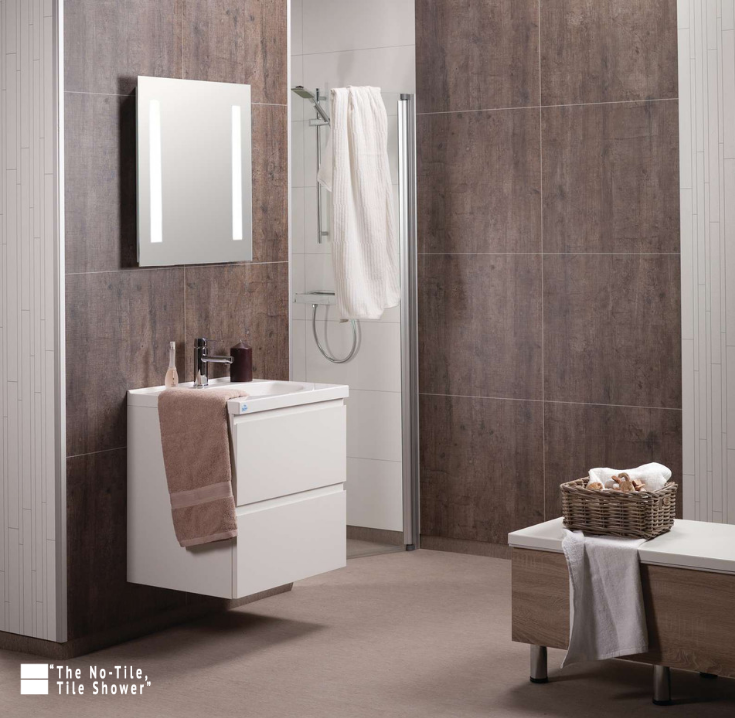 Interior Design Style #8- Shabby Chic
 Certainly, more feminine than the 'earthy' Mid-Century Modern style described above, a shabby chic bathroom can be the perfect place for a relaxing bubble bath. Combining weathered vintage furniture pieces with calming beige, off white and light grey colors – shabby chic is as comfortable as your favorite family room couch.
No 'molded' wall panel manufacturers to the best of my knowledge (with products like solid surface, acrylic or fiberglass) have attempted to replicate this vintage look in a bathroom wall surround. However, with advancements in laminate technologies (using a specialized process called EIR – Embossed In Register – makes this possible) this weathered look is achievable in a waterproof wall panel. Check out the picture below. Does it feel vintage to you with its textured surface and finish?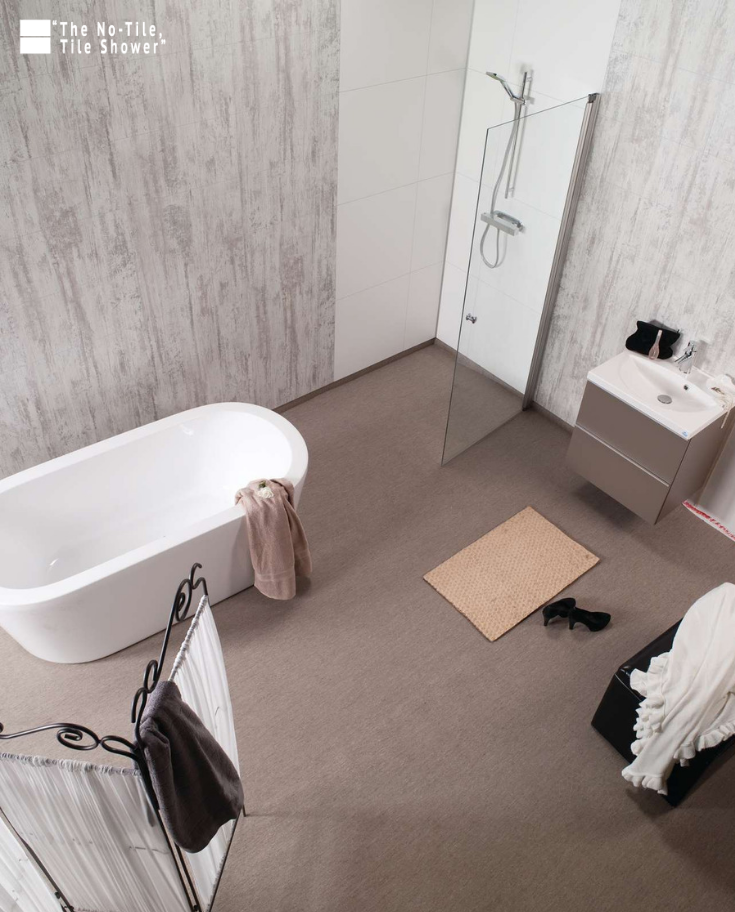 Interior Design Style #9 – Minimalist
Using your bathroom is about more than simply getting clean (although that can be a HUGE benefit if you have to live with a too-often-stinky teenage boy – but I digress). It can be about clearing your mind from the crazy 'clutter' which has filled your head today.
With our desire for simplicity and reducing life's complexity in our over-taxed social-media-overload world, a stripped-down Modern Minimalist bathroom can be a thing of beauty. Combining the utilitarian lines of wall hung vanities, with concealed storage and low maintenance bathroom walls can be a welcome diversion from your hectic day.  
Conclusion
 From this article I hope you take away one key fact.
You don't have to 'settle' for a high maintenance tile shower (and his evil stepbrother the grout joint) if you want a stylish new bathroom which doesn't forces you down on your hands and knees to clean it.
With fun designs, textures, colors and patterns in laminate, high gloss, PVC composite and solid surface panels any bathroom interior décor can enjoy the benefits of low-maintenance shower and bathroom wall panels.
Here's a fact. This new generation of shower panels isn't your Fathers (or sleezy Bath in a Day sales dudes) wall panels anymore!
If you'd like a stylish design, or cost-effective product options, for a grout free shower, tub or bathroom walls click or call us at the numbers below.
###
For Nationwide supply of tub and shower wall panels, shower enclosures call Innovate Building Solutions at 877-668-5888. For a remodeling project in Cleveland contact Cleveland Design and Remodeling at 216-658-1270 or The Bath Doctor at 614-252-7294.
If you're a remodeler or builder and want practical advice on remodeling products, industry trends, marketing and sales tips to grow your business (and cut day to day hassles), start reading my newest blog – Innovate Builders Blog. It's packed with ideas you can use now. Click here to Sign Up for the Innovate Builders Blog.
If you're in the building business, click here if you'd like to learn how to become a shower wall panel dealer or call and ask for Mike at 877-668-5888.
If you want more advice (or like wacky humor) follow me on Twitter @Mike_Foti or my companies @InnovateBuild or @InnovateHomeOrg.
---
Mike Foti
President of Innovate Building Solutions a nationwide supplier and regional (Cleveland and Columbus) remodeling contractors. Some of our product lines include glass counters, floors, backsplashes, glass blocks and grout free shower and tub wall panels
---