7 Reasons We Love Contemporary Bathroom Design (and You Should Too)
If your bathroom is stuck in a 1990's 'builders-grade' time-warp we get it (and we see it daily looking at bathroom remodeling jobs also). A pitted bright brass 3' x 3' stand-up shower with flimsy doors. This shower feels like an old-fashioned phone booth. It stands next to a mega-sized drop-in Jacuzzi tub. This huge space-wasting dust collecting monster is never even used any more. The stained oak double-bowl vanity with raised paneled doors really looks dated.
Sure, this bathroom WAS hot…. back in the day. You've concluded its time to reinvent this behind-the-times space.
You're not only looking for an updated bathroom design style which you'll love using today, but one which will live well for many 'tomorrows' to come. What design style can that be?
I would argue that bathroom design style is contemporary.
In this article I'll look at 7 reasons I (and my team) love contemporary bathroom design (and why we believe you will too).
Reason #1 – Contemporary bathroom design is sleek and minimalist  
When your home was built 20 to 30 years ago interior design styles and your lifestyle was different. Interiors were filled with ornate carvings, arched windows and stained wood trim.
Your lifestyle is also different. When you went out for a 'fancy dinner' you wore a dress or a suit and tie.
Boy, how times have changed.
Today you're running to keep up with the pace which is your life. Going out for a fancy dinner doesn't involve a dress or suit and a tie, it's a pair of dress jeans and a nice shirt or blouse. You've done away with many of life's formalities.
Today you need simplicity. You want simplicity. Life is too doggone complex.
In a new bathroom you want a sleek, minimalist look. The last thing you want are nooks and crannies you have to clean like were put into 'fancy' bathroom designs 20 years ago.
This is where contemporary design comes in. It's simple, clean and uncluttered. It fits the life you're striving for.
Reason #2 – Contemporary bathroom design is safe and works for everyone
When people think of contemporary bathroom design, I'll bet the word 'safety' is not first and foremost on their minds. However, one common trait in modern bathrooms are one level floors between the shower and bathroom. You might wonder why this flat floor feature is used in contemporary bathrooms?

Here's a couple of reasons:
You have a small bathroom but want it to look sleek and stylish – Since one level showers are built at the same level as the bathroom floor, your design is efficient. The space is not 'compartmentalized' (like a 'shower enclosure' which separates the shower from the bathroom).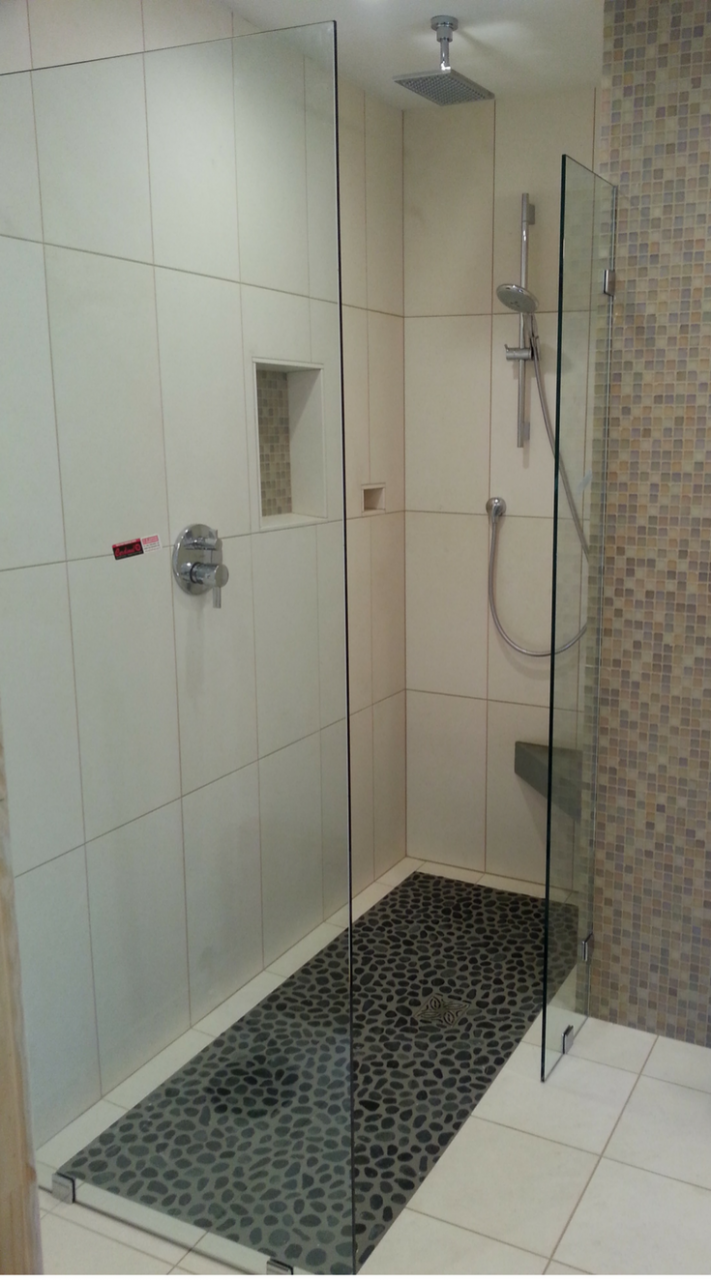 It's safer – Without a step-over-curb a contemporary shower base design can be 'universal' (meaning it's works for all ages from Grandparents to Grandkids). The risk of falling is reduced. The space looks sleeker and up-to-date.
Reason #3 – Contemporary bathroom design is easy to clean
Who loves to clean? If you answered, "I do," you're either nuts (I say this in the most respectful way), have too much time on your hands (and knees), or have a tinge of O.C.D. running through your veins.
Most sane people want to get rid of (or at least minimize) cleaning their bathroom. You'll be able to do just that when you use a mix of the following contemporary bathroom products:

Wall hung vanities – Floating vanities – while not 'magically delicious' (like Lucky Charms) will magically make it simpler for you to clean your bathroom floor. No nasty nooks and crannies around the bottom of a floor-based bathroom vanity to re-caulk or clean ever again.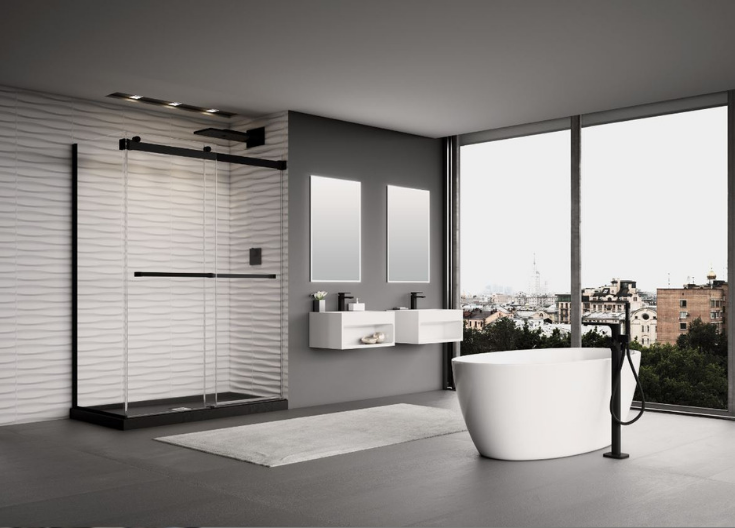 Wall hung toilets – Like the wall-hung vanities, wall-hung toilets get rid of cleaning around the bottom edge of your toilet (can you say yuck???). They'll also make your space feel larger.
Reason #4 – Contemporary bathroom design does more with less
Back in the day when McMansions and the movie Wall Street was popular, the themes of the era where 'bigger is better' and 'greed is good.'
However, as we now know this thought process imploded in 2007 and 2008. We learned bigger wasn't better. Huge mortgages can (and did) choke family finances. Greed really isn't good. Hopefully our Mom's and Dad's and churches have taught us that.
You and I have come to realize simplicity is better. Books like the Not So Big House are popular. Once crazy concepts like tiny homes and container homes aren't looking as crazy any more. You and I are so desperate to declutter our lives we're even glued to the tube (or your favorite electronic device) watching shows on Netflix like Tidying Up with Marie Kondo. We want (and crave) a simpler lifestyle.
While shrinking your living space sound simple – in theory – in practice it's impossible to do UNLESS you ramp up your efficiency game. And this is exactly where contemporary design excels. You need thoughtful ideas to gain bathroom space if you're not living in a home with a McMansion mega-bath (and most of us aren't). Here's 3 ideas to do more with less:
Idea 1 – A wall hung vanity with drawers which works around plumbing pipes. Smart bathroom planning uses every inch possible.
Idea 2 – Shower niches in the wall – Dead space inside walls doesn't need to be dead space. Use it for your 'way-too-many' (according to your spouse at least) beauty products.
Idea 3 – Recessed medicine cabinets – Use your wall above the vanity for more than a mirror. Go deep and add storage with a recessed medicine cabinet. While it's not a new idea (and even your Grandma still loves to use her's), it is a smart idea.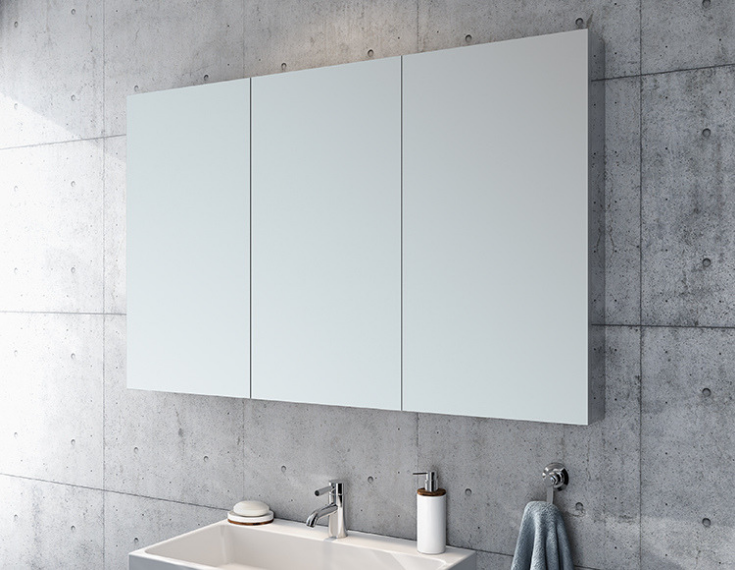 Reason #5 – Contemporary bathroom design is open and airy      
Do you love elevators crammed with people?
Do you love a crowded bus when you're the 'lucky' person the huge dude who doesn't shower often enough 'picks' to sit next to?
Do you love a cramped and dark bathroom where you and your grouchy partner get the pleasure (sarcasm intended) of being 'cheek to cheek' in the morning getting ready?
If you answered no, you're certainly in the majority.
You and I crave personal space – on the elevator, on the bus, in your bathroom.
You and I crave light, bright and open spaces.
Contemporary bathroom design is all about 'opening up' and 'slimming down' your tight, dark and cramped spaces.
Open up your bathroom with a sleek clear glass walk in shower. Make your space feel 'airy' with a solar light tube. It 'makes' light where none existed before.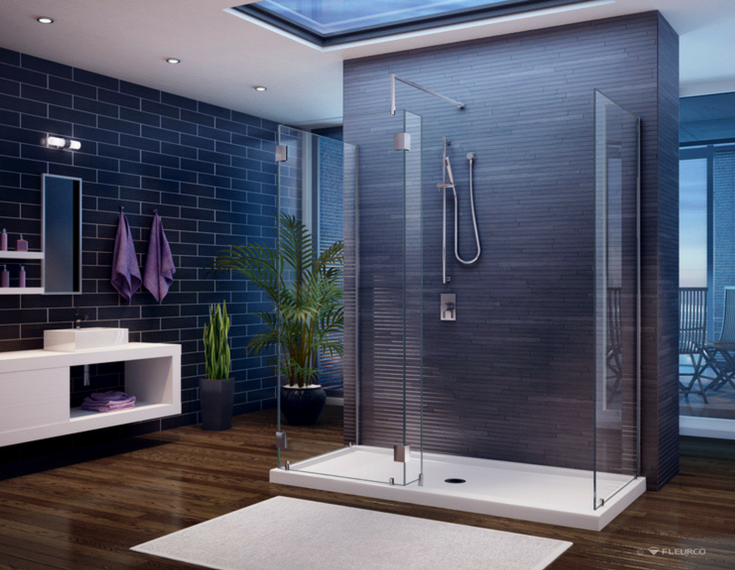 Slim-down your bathroom with shallow wall hung vanities.
Don't accept a dark, cramped bathroom any more.
Reason #6 – Contemporary bathroom design is smart
Are you a fan of the latest and greatest gadgets (and have the wallet to support your early-adopter ways)? Do you want a bathroom which can 'take you away Calgone (for those of you not familiar with this reference its from a funny commercial from the 1970's)? Smart technology in contemporary bathrooms is the intelligent 'vehicle' to get your fix of fun gadgets and a cool space. Here's some interesting ways it can help:
Don't want to wipe your own butt? No, we're not talking about hiring a 'butt butler' (hopefully such an occupation doesn't exist). We are talking about a 'shower toilet' with an oscillating spray which allows you to chuck your T.P. Doesn't everyone need one?
Want to adjust your lighting and music without fussing with switches? Use the Amazon Alexa Echo system to voice activate mood lighting and crank up your favorite tunes.
Contemporary bathrooms go beyond the 'utilitarian' basement shower Grandpa used back in the day.
Go-Go-Gadget your way to your own fun,  smart and contemporary bathroom.
Reason #7 – Contemporary bathroom design is relaxing
Why shouldn't you enjoy your life….and your bathroom?
You work like a maniac for 'The Man' or 'The Woman' or 'The You' (if you're a solopreneur or entrepreneur). Work's demanding. Family's demanding. The stakes of life have never been so intense.
A contemporary bathroom can (and should) provide you with 'temporary relief' (not of your hemorrhoidal tissues) from the craziness which is your life. Add relaxing bathroom features. You deserve it.
If you've got a large bathroom install a free-standing tub.
If you only have a tiny walk in shower add a rain shower head to message your scalp after a long day (as a side-note, rain heads also help keep water contained – and not spraying out the opening).
If cleaning the bathroom ain't your thang, use organic styled shower wall panels (made with cool patterns like rough wood or marina oak) to create a spa-type feel with ZERO (yes, you heard that right – ZERO) maintenance.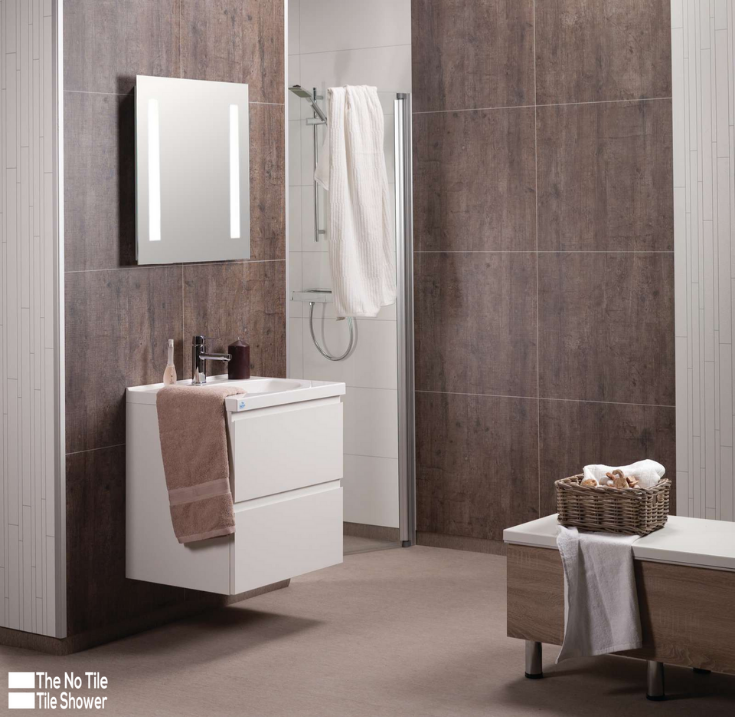 Conclusion
So, are you 'sold' a contemporary bathroom design is a smart choice for you? Why or why not? Comment or give us a call at the numbers below for design, product supply and installation assistance.

###
If you need help with shower wall panels, wall hung vanities, one level wet rooms, and frameless glass enclosures call Innovate Building Solutions at 877-668-5888. We help design, provide factory direct pricing or can refer you to one of the team of Innovate Dealers to get the job done for you in your hometown.
For a bathroom remodeling project in Cleveland contact Cleveland Design and Remodeling at 216-658-1270 or in Columbus The Bath Doctor at 614-252-7294.
If you're a remodeler or builder and want practical advice on remodeling products, industry trends, marketing and sales tips to grow your business (and cut day to day hassles), start reading my newest blog – Innovate Builders Blog. It's packed with ideas you can use now. Click here to Sign Up for the Innovate Builders Blog.
If you're in the building business, click here if you'd like to learn how to become a shower wall panel dealer or call and ask for Mike at 877-668-5888.
If you want more advice (or like some wacky humor) follow me on Twitter @Mike_Foti or my companies @InnovateBuild or @InnovateHomeOrg or connect with me on LinkedIn @MikeFotiLinkedIn.
---
Mike Foti
President of Innovate Building Solutions a nationwide supplier and regional (Cleveland and Columbus) remodeling contractors. Some of our product lines include glass counters, floors, backsplashes, glass blocks and grout free shower and tub wall panels
---