11 Smart Ideas to 'Find' Space in Your Small Bathroom…without busting your budget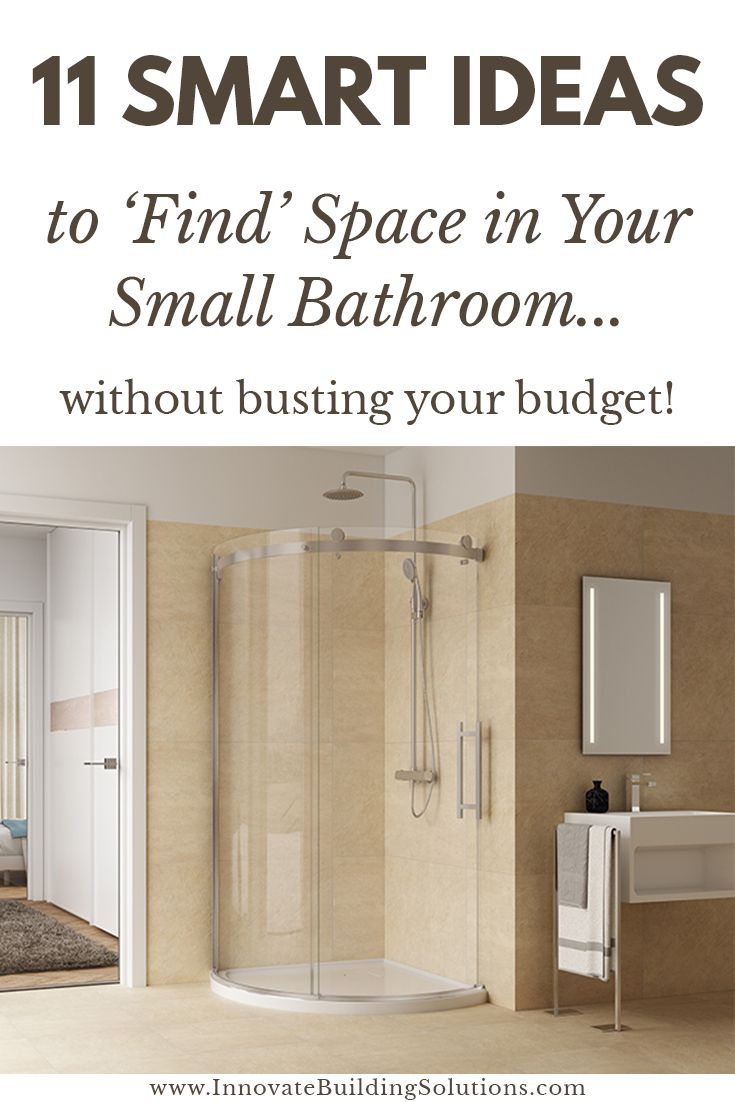 You dream of the 'drool-worthy' pictures on Pinterest and Instagram. Expansive and opulent master bathrooms with free standing tubs and large walk in showers. The vanity countertops seem to stretch on for miles. Oh, how you would enjoy a large bathroom like this.
Then you wake up.
This IS NOT the reality of your small bathroom.
You know your lack of space oh so well. No place to store towels. No place to put your shampoo bottles in the shower. Your spouse is constantly complaining about banging their elbows on the shower doors.
And none of these problems even captures the 'joy' (sarcasm intended) you have cleaning those teeny-tiny grout joints in your shower stall or the drab 'colors' or lack of lighting which IS your small bathroom.
Finding things to complain about with your teeny-tiny space isn't hard. Figuring out a game plan to 'right the ship' (or the bathroom in this case) is quite another task.
The goal of this article is to not only to help you 'right the ship (and create a more efficient small bathroom),' but it's a LOT loftier than that. The goal is to create a small bathroom you'll LOVE to use AND one you won't go broke improving in the process. OK, I know you're likely thinking this concept is crazy. However, read the following 11 smart ideas and you'll see your small bathroom DOES NOT have to be the cringe-worthy space you've grown to 'put up with' each and every day.
There is HOPE for your small bathroom.
Smart small bathroom idea #1 – Rethink how your space is 'divided.'   
In the United States most small bathrooms have a tub/shower enclosure or a stand-up shower stall. Your shower space is 'defined' by a shower enclosure and a shower pan. They (effectively) make a 'box' around your shower.
The 'separation of space' exists because 'this is how our builders have always done it.' Sure, our country may be thought of as the 'land of plenty,' but many of us can't brag about having the 'bathrooms of plenty.' Rethinking this 'separation of space,' is a key to a more thoughtful AND roomy design.
But how you may ask?
Well as the Europeans and Asians know (and they live with far smaller bathrooms than we 'enjoy' in the United States) the way to create a more spacious space (and yes, I realize this is redundant) is to STOP separating your shower from the rest of your bathroom. And this can be done with a waterproof one level shower. This will allow your bathroom to flow as one continuous space. It'll visually open things up. It'll make your small space live bigger.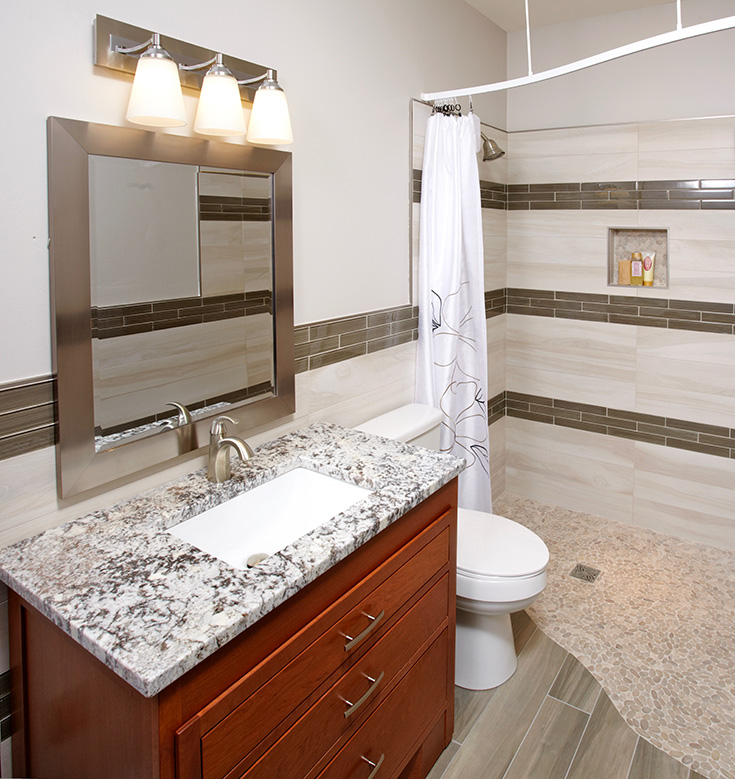 If you don't want a completely 'wide open' shower, then add a glass shower screen to create a walk-in shower where your old tub or stand up shower used to exist.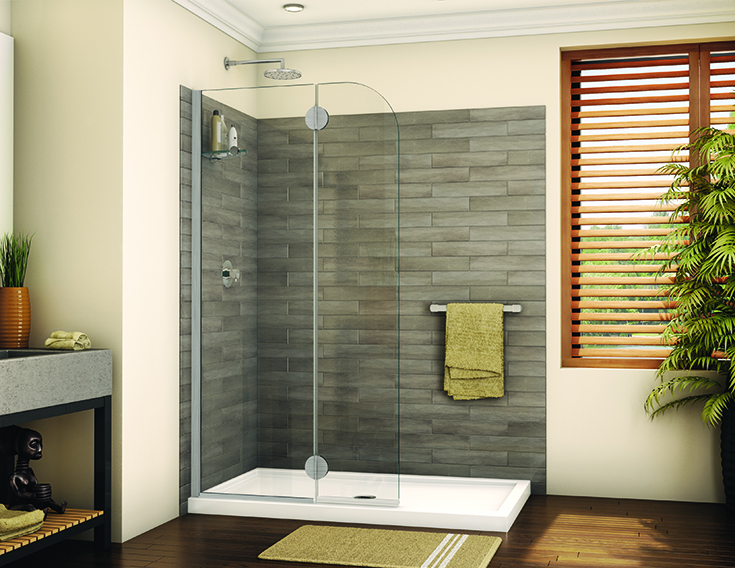 Small bathroom idea #2 – Rethink how your shower doors open
Have you bumped into your pivoting glass shower door more than a time or two (or ten)? And do you also hate the drops of water on the floor from this glass shower door? I know exactly what you're saying (and hear homeowners complaining about these doors all the time).
60" wide showers or NEO angle corner showers which have doors which swing into your little bathroom are 'not your little 'fre' (as Tony Montana from the movie Scarface would say). They encroach on your limited bathroom floor space. They leave water for you to clean off the floor.
However, it's nice to know this problem has a simple to fix. The key is to use sliding glass doors (where one glass door moves to the side) or choose a bypass shower door (where both doors slide in front of each other). Consider this improvement. If you're putting up with a NEO angle corner shower today with an inswing door, you can swap it out with a round corner sliding glass door.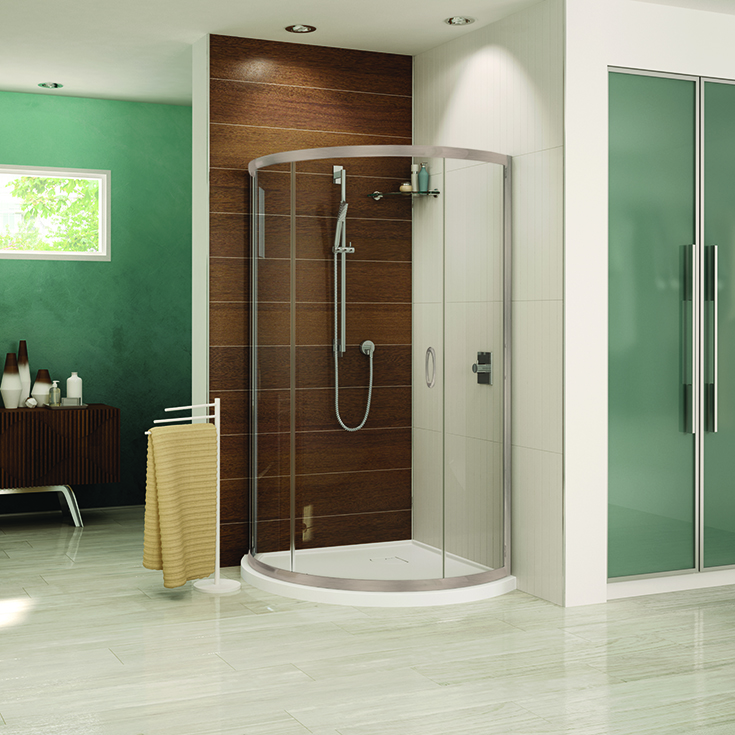 And if you choose either of these 2 sliding door systems, you'll not only stop your glass door from swinging into your limited bathroom floor space, but you can also gain a towel rack on the door. Now you'll no longer have to throw your towel onto your yucky toilet!
Small bathroom idea #3 – Another 'swinging' idea you need to know
Another frustration of small bathrooms is the inswing door you use to walk into the bathroom. As you know there's nothing quite like whacking your spouse or partner on the arm when you swing the door to get in. They just LOVE that, don't they?
You need to eliminate this problem. And what you need is ask if it's possible to change the swing of the bathroom entry door. Can it swing out? Can you use a stylish barn door which slides to the side of the opening on the outside of your bathroom? Is a pocket door a possibility?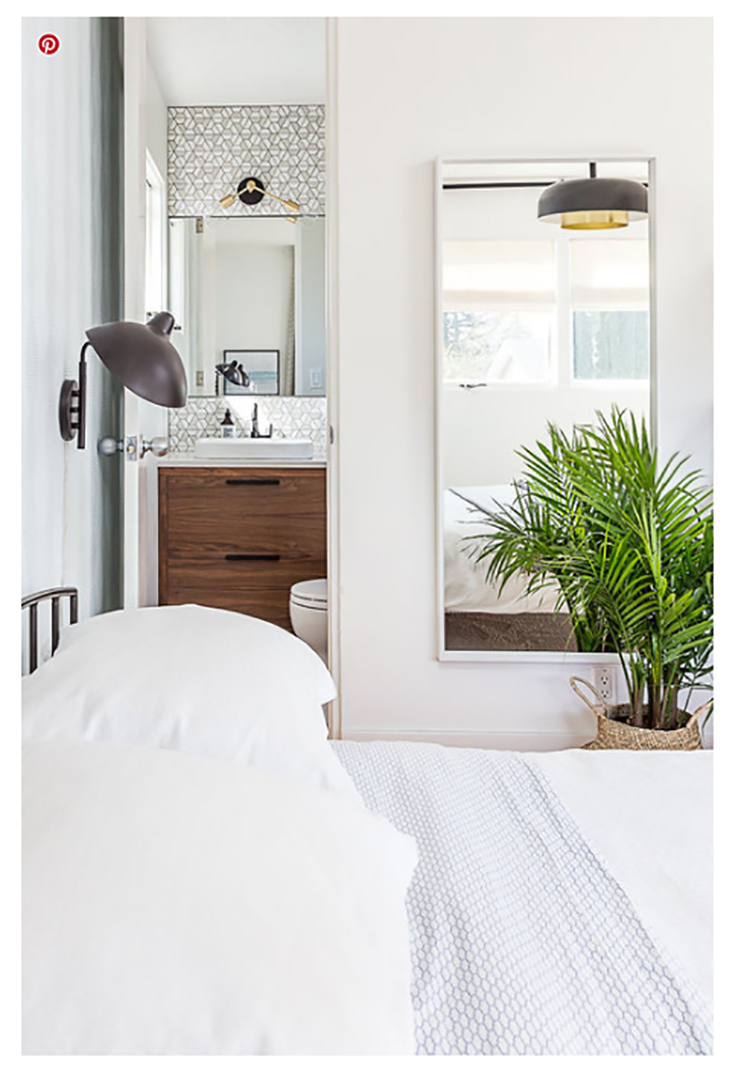 Image Source: shiftmodernhome.com
The cheapest option will be to change the way the door swings. So, if cost is an issue (OK – I understand if you have a few million dollars less than Bill Gates), consider changing the swing before spending big bucks on a barn door or reframing for a pocket door.
Small bathroom idea #4 – Get 'free' storage. Start using your walls
The walls of your small bathroom can (oddly) be the key to a more spacious bathroom. And one underused area is above your bathroom counter sink. Sure – having a mirror there is essential, but what if you could get more bang for your wall-space-buck than only having a thin mirror over your vanity counter? What if this space could also 'magically' grow your storage?
A smart way to do this is with a mirrored medicine cabinet. You'll still enjoy your all-important mirror (even if it doesn't eliminate your wrinkles like Botox), but you'll also gain a place for medicines, ointments and tubes of toothpaste. You'll free up room in the vanity drawers (if you're lucky enough to have vanity drawers).
And if bathroom lighting is one of your bathroom's weak points, use an LED mirrored medicine cabinet for storage AND lighting built into one!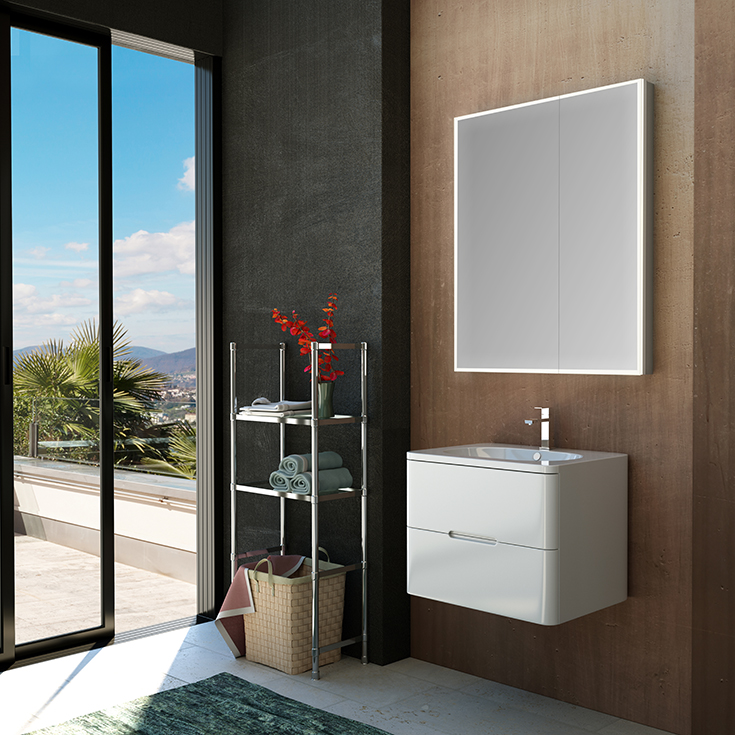 Small bathroom idea #5 – If it can't 'be' bigger, your bathroom can at least 'look' bigger. Use large format patterns to do a 'David Copperfield' and create the 'illusion' of space.  
Small sized tiles do small bathrooms no favors. They contribute to it feeling even smaller. They're also a pain to clean. A smart small bathroom design strategy is to 'visually open up' your teeny-tiny space. And a way to do this is to make it feel bigger by using patterns which visually open the space. And it's not hard to do this.
You'll want to use large format patterns. And if you desperately want a bathroom which takes less time to clean, use large format laminate wall panels to open things up. With this grout free product, you'll swear (although don't let your Mom hear you) it's tile, but it's not.
Your space will not only 'feel' bigger, but you'll have the added bonus of holding a retirement party for your tile scrub brush.

Small bathroom idea #6 – If it can't 'be' bigger, your bathroom can at least 'look' bigger. Use lighter colors.   
As any interior designer will tell you dark colors make small spaces feel smaller. If you want an open and airy feeling, go 'light' with your colors. White and light grays are smart choices. They also coordinate well with design trends like Modern Farmhouse or more contemporary bathrooms.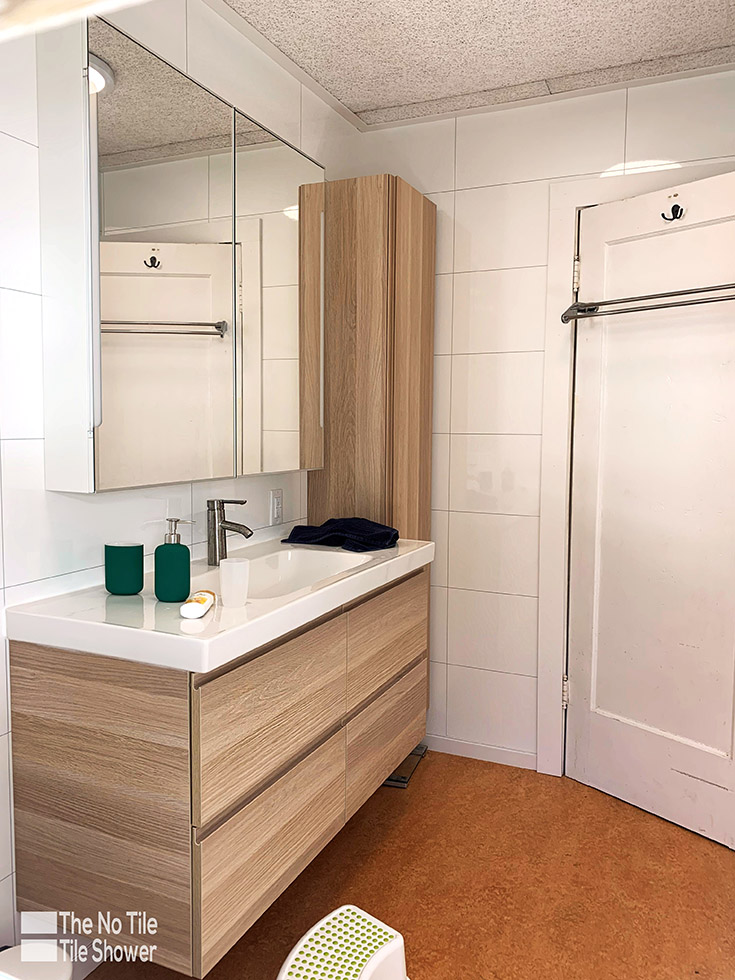 Small bathroom idea #7 – If it can't 'be' bigger, your bathroom can at least 'look' bigger. Go reflective and glossy.   
Reflective surfaces are another way to make your small 'volume' bathroom, appear larger. Products like high gloss shower wall panels or high gloss laminate cabinets, or bright chrome fixtures give you a fresh contemporary look. They visually grow your space. Lastly, throw in more mirrors and watch your space 'grow' even more (of course, you'll want to position those mirrors to highlight your 'good side.'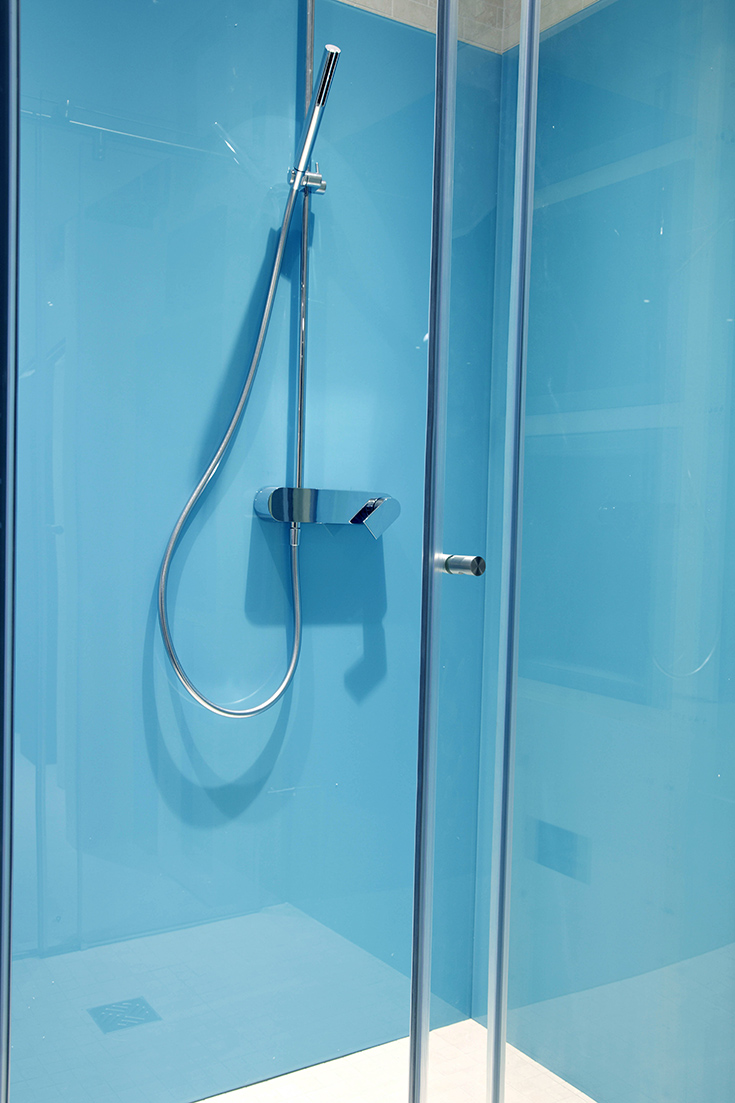 Small bathroom idea #8 – Go 'up' with your storage. Use the area above your toilet
OK – I know this is hardly a unique idea but adding shelving or cabinetry above the toilet is a royal-flush (OK, I know that's a terrible pun, but I just couldn't resist!) for a more spacious small bathroom. It's dead space anyways, so why not use it?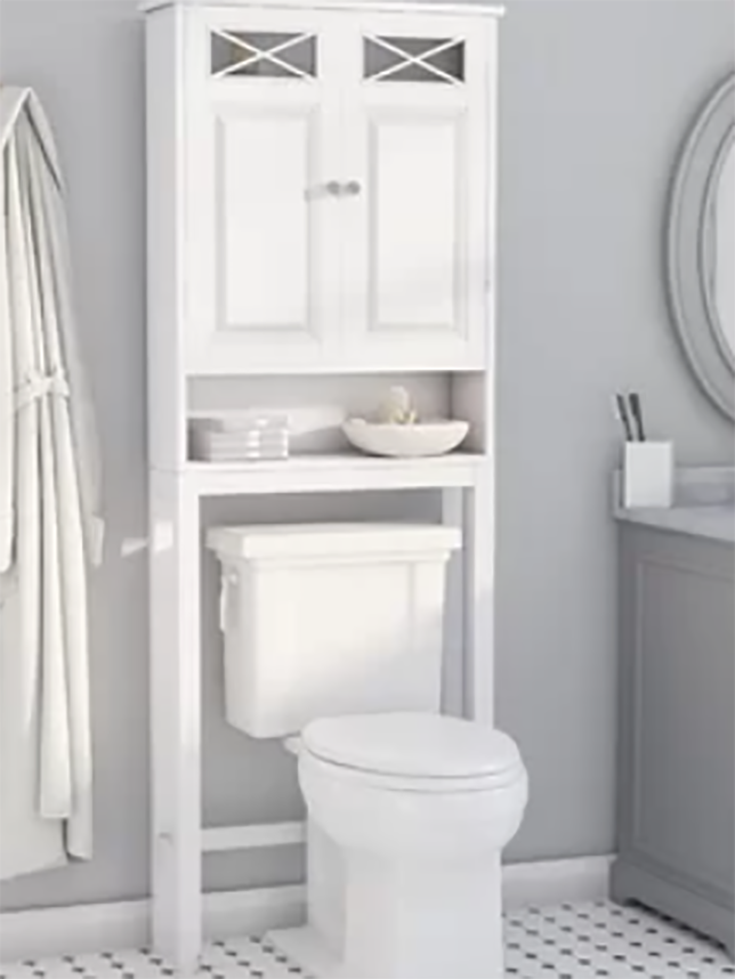 Image Source: Wayfair.com
You'll get a place for towels, or shampoo bottles or candles to add a little ambiance. It's also an idea you can 'do on the cheap.' You'll see one example of this with this $100 unit from Wayfair below.
Small bathroom idea #9 – Put a 'bow' on your tub shower alcove. Your elbows will thank you and your pocketbook won't be drained either.  
It's not often you can add style -and add space – and do it without 'spending all of me money' (to quote the bathroom remodeling guru, Sponge Bob).
And as you may know all too well, your 60" wide by 30" deep (and I use the word 'deep' here in only the most sarcastic way) tub/shower alcove doesn't give you the most elbow room – to say the least.
Here's a fun and functional idea to solve your depth problem. Transform your shower or tub with curved glass which 'bows' out to 36" in the middle. You'll get more style. You'll get more function in a tiny space. And you won't use one iota more space to make it happen.
It's also comforting to know these standard-sized curved glass shower doors are manufactured in such large quantities they won't cost you an 'arm and a leg' to buy them either.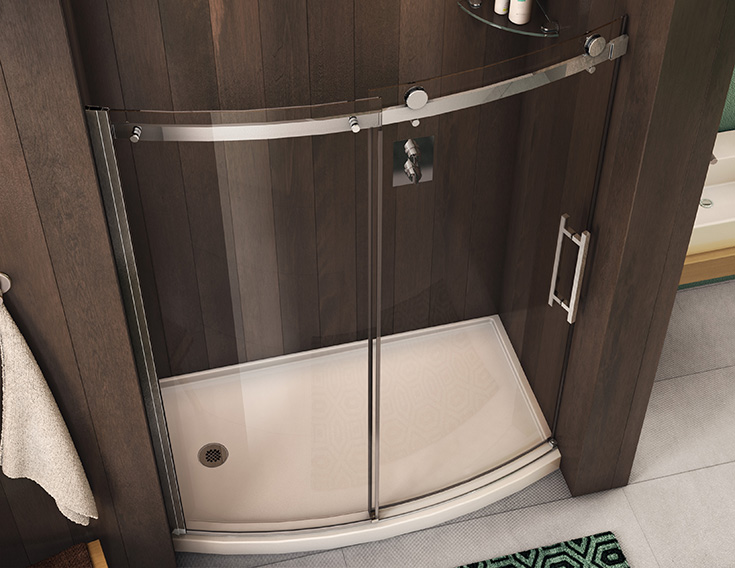 Small bathroom idea #10 – Put your vanity on a 'diet'
If you're constantly stubbing your toes on your 24" deep bathroom vanity cabinets, you know what a pain they can be. While it's nice to have the deepest and widest vanity you can cram into your bathroom, sometimes they're flat-out too big and cumbersome.
What you need is a vanity on a diet.
Bathroom vanity cabinets can be as thin as 15". They can be installed into a corner if your bathroom has a square layout.
You can also create a more spacious feeling using a wall hung bathroom vanity vs. one which sits on the floor. A wall hung unit is also a smart component for the one level bathroom discussed in idea 1.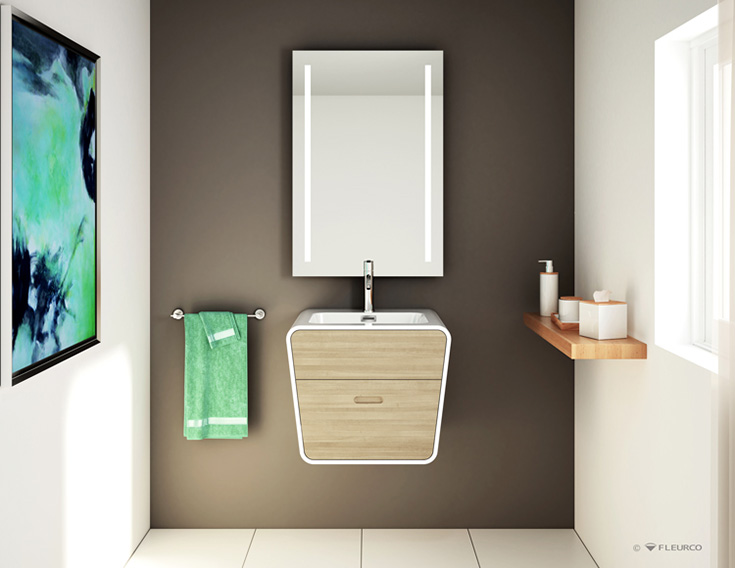 Small bathroom idea #11 – 'Grow' your counter space…without actually growing your counter space  
Let's face it, counter space in small bathrooms is at a premium. You'd love a long bathroom counter. However, this ain't happen' unless you remove the throne ('er toilet).
So, the challenge becomes how can you 'grow' counter space if it's impossible to actually grow your counter space? You don't have to believe in miracles for this to happen. But what you do need is a strategy to get more things OFF the counter. And here's 2 products to put on your small bathroom makeover shopping list:
First, check out these smart-looking bathroom shelves. Adding shelves above (or on the side of) the counter gives you a place for another towel, or tumbler or soap dispenser. It frees up room on your counters.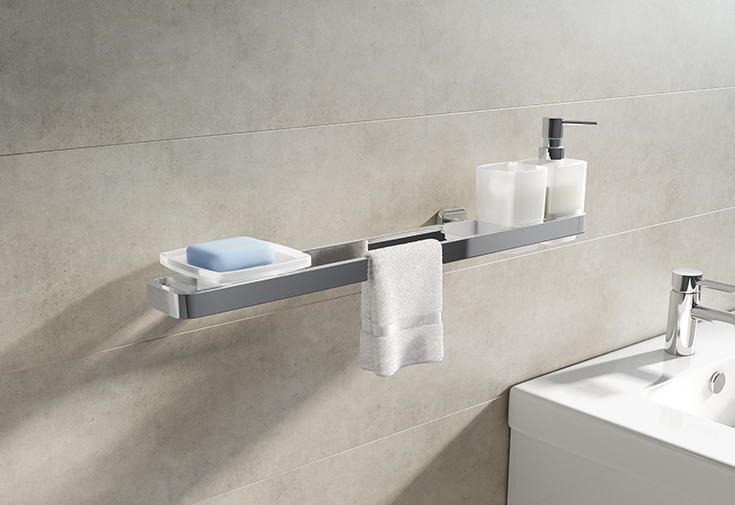 Second, consider a vanity with 'secret hatch doors' on the side. They can house some of your supplies and keep your counter free for other things.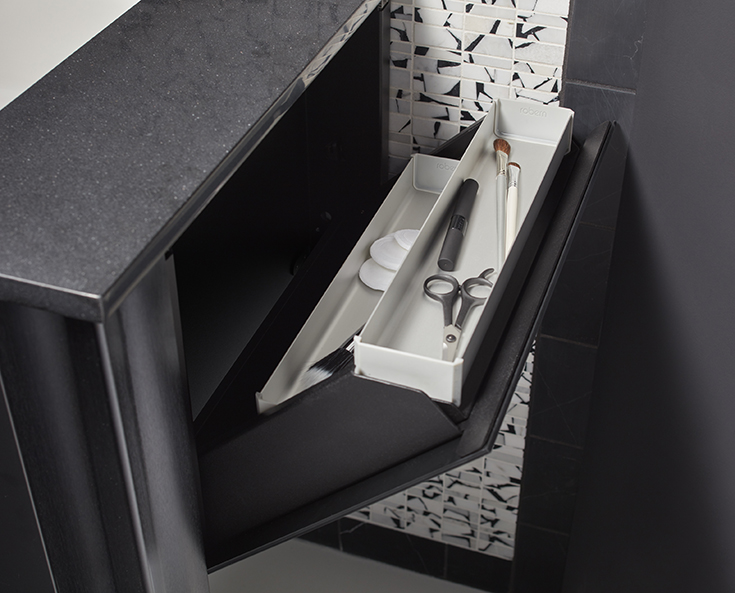 A key to a more spacious small bathroom is being smarter than the people with big bathrooms. You HAVE TO get the most out of what you have.

How can me and my team help you next?  
From years of working with homeowners and contractors alike with small bathroom challenges (OK – that's the P.C. way of saying their tiny bathroom works like crap), I know your existing space can make you mad as heck (and that's the 'family friendly' word for it).
However, there's there's one universal truth about small bathrooms I'll share with you….
Small bathrooms require A LOT more thought to make them work well!
You've got to use your walls to 'gain space.'
You must rethink if 'compartmentalizing' your space with a separate enclosure is needed or smart all.
You must look for ideas to create the 'illusion' of space since you can't blow out the adjoining walls and make the space bigger.
Doing these things – and keeping your budget intact – is a delicate balancing act.
But here's how I'd like to help. If you're struggling with a small bathroom plan (and the right bathroom products to make your existing space work), call me – or one of my team at Innovate Building Solutions (877-668-5888) for help.
There's no reason to go it alone. And there's also no reason to 'assume' the first contractor you talk to has all the answers (because no one in the bathroom remodeling industry – including 'yours truly' has this entire small bathroom thing figured out).
But here's what I have figured out.
If you want small bathroom design ideas, or pricing on one level wet room systems, or space-saving glass enclosures or shower accessories for a small bathroom me and my team are ready to help. Call 877-668-8888. Click for a Free Small Bathroom Design Consultation.
And if you have a bathroom remodeling project in Cleveland contact our Bath Doctor division at 216-658-1270.
Thanks for reading – and putting up with my (sometimes, or maybe more than sometimes) wacky humor.
Mike
###
If you want more advice (with a little less wacky humor because you'll see the 'buttoned-up' business version of me) follow me on LinkedIn @MikeFoti.
---
Mike Foti
President of Innovate Building Solutions a nationwide supplier and regional (Cleveland and Columbus) remodeling contractors. Some of our product lines include glass counters, floors, backsplashes, glass blocks and grout free shower and tub wall panels
---