9 Smart Alternatives to a Ceramic Tile Shower Which Won't Make You Say…. YUCK!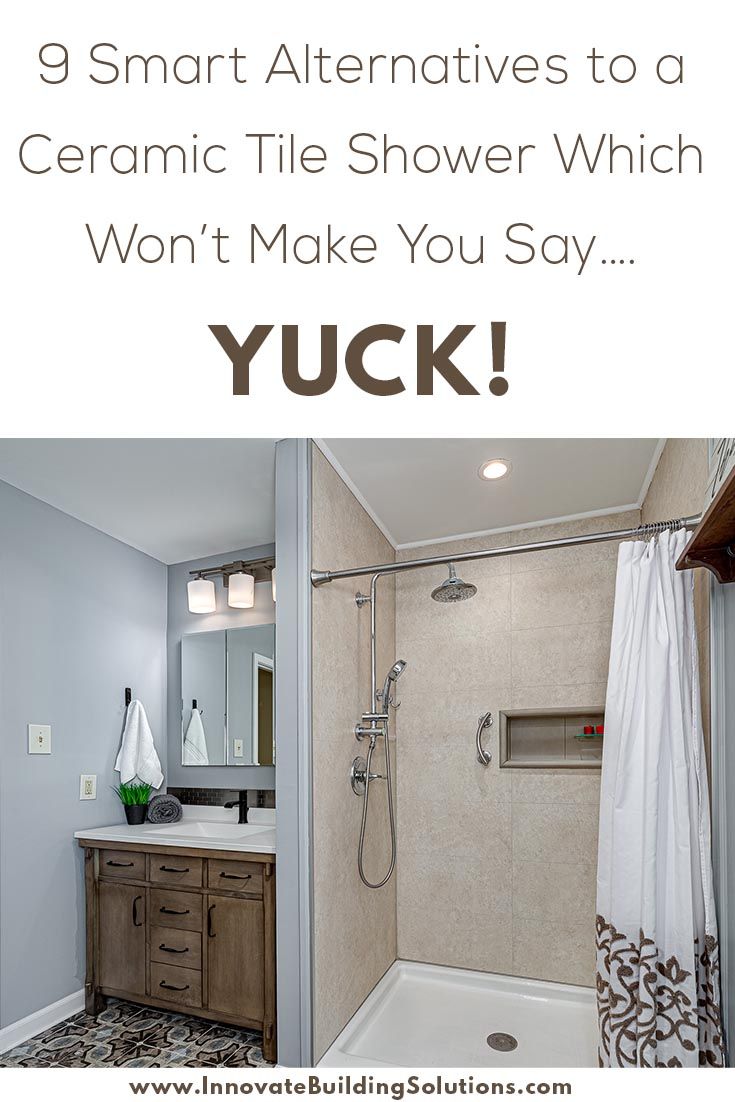 I know many of you are frustrated with your ceramic tile showers. You're DESPERATELY seeking alternatives. You've 'had it up to here' (as my Mom used to say when she was mad at us) with moldy, dirty, hard-to-clean tile grout joints.
However, even though you hate your tile shower, you're NOT OK replacing sturdy 3/8" thick tiles with wafer-thin, flimsy, plastic wall panels (and yes I'm referring to fiberglass reinforced plastic – FRP – and acrylic wall panels here). Who really wants these cheap looking panels from the discount aisle of your local home center store?
What you're looking for is a ceramic tile shower wall and floor pan alternative which is an UPGRADE over what you have today. You're not looking for a tacky system which will be an embarrassment for all the 'tomorrows' you own your home.
But where are these ceramic tile shower alternatives you'll actually be proud to show off to family and friends? What are the tile shower alternatives which will stand the test of time, look great and not (literally) bring you to your hands and knees cleaning (and being a slave to your home)?
In this article I'm determined to put you out of your tile misery. I'll share 9 options which will allow you to 'swear off' your ceramic tile shower and stop swearing at it. And at the end I'll share my 'fav' with you (and I'd love to hear in the comments which one rocks your world also). Let's explore these 9 alternatives.
Ceramic tile shower alternative #1 – Laminate shower and bathtub wall panels
This first alternative is an option most Americans have never heard about – but our friends in Europe have known for 40 years. This option is laminate wall panels. While they're seen as 'new' in the United States (they were introduced in 2018), they're hardly a 'new-fangled' concept.
These 2' x 8' x 3/8" thick panels have a high-pressure laminate outer surface. This heavy-duty laminate is placed over a marine grade plywood with a vapor backing. They create a stylish wall panel with a wide range of design options. These panels use a 'click-lock' (tongue and groove) system like laminate flooring. In addition, there's a hybrid polymer sealant squeezed (but not visible) in between the panels. This makes them 100% waterproof. They also have a lifetime guarantee.
But what makes them 'uber-cool' IMHO is they really look (and feel) like tile. You see they have indentations in the panels which give you the look of a grout joint with one big exception….
There's ZERO grout joints for YOU to clean!
There's a wide selection of options from matte to satin to gloss finishes. You'll find selections for traditional to transitional to contemporary designs.
Get Free Samples!
Click here to request free samples of our Laminated Waterproof Shower Wall Panels.
And these walls panels are not priced out the butt either. This is one alternative if you're not familiar with them now, you should be. The only downside with these panels is they don't come with matching shower pans. However, you can pair them with a heavy-duty acrylic shower base or cultured stone pan.
Ceramic tile shower alternative #2 – PVC (marble and granite look) shower and bathroom wall panels
Maybe you love, love, love the look of real marble, granite or travertine and know they're far beyond your budget. You'd love that 'champagne look,' but with your beer-budget you know it's not in the cards for you.
Well – here's an option which is simple to install, gives you the luxury look AND you can get a matching shower pan to boot.
This choice is ¼" thick PVC shower wall panels. These digitally printed PVC panels are glued over moisture resistant green board. They come in over 20 different marble, granite and travertine looking patterns. There's a wide range of accessories (including niches, window trim kits and bench seats). You can even get a matching shower pan – if the 'matchy-matchy' look is comfortable to you.
Get Free Samples!
Click here to request free samples of our DIY Shower and Tub Wall Panels.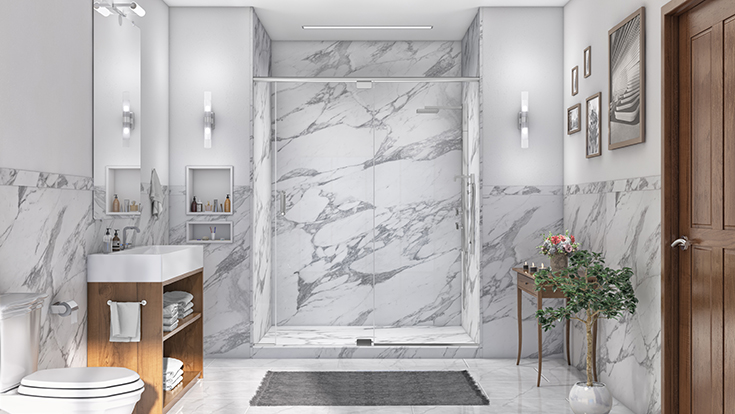 Ceramic tile shower alternative #3 – High gloss acrylic shower and bathroom wall panels
First off, I'll tell you these high gloss acrylic shower wall panels ARE NOT the same as the cheap 'shower-in-a-day' acrylic systems pedaled by many local home improvement companies.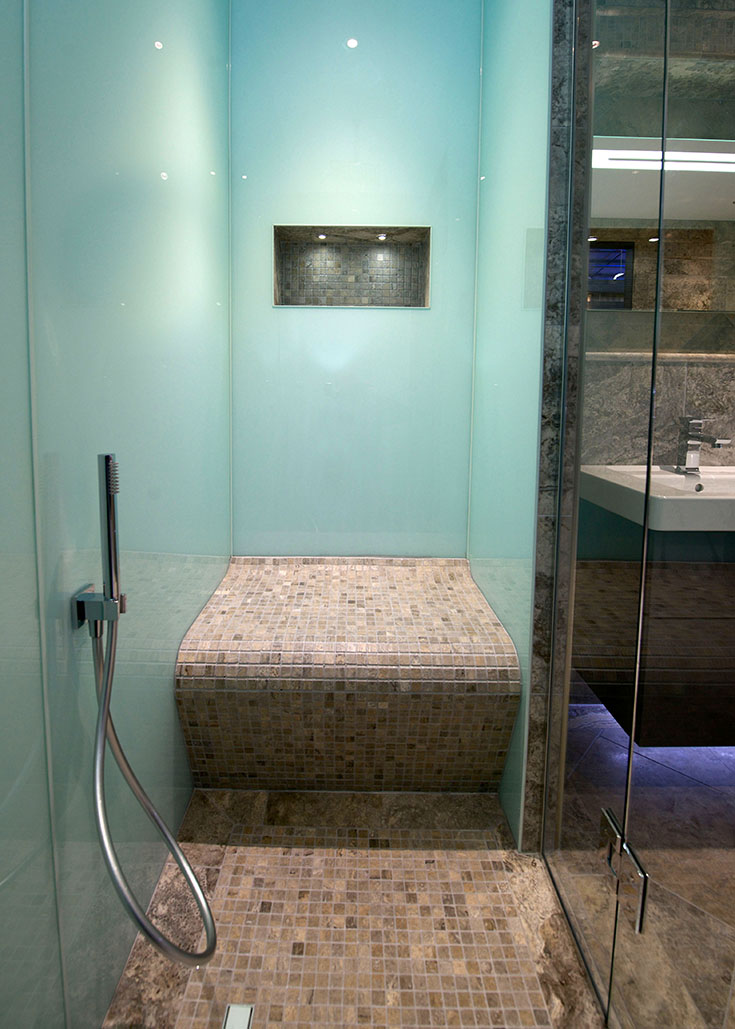 No, these panels aren't cheap. And as a matter of fact, I'm going to give it to you straight and tell you they're quite expensive. In most cases they're 2 times as expensive as the laminate and PVC systems mentioned earlier. However, these optical grade, clear-front with colored back panels are ultra-stylish, especially if a clean, contemporary, gloss look is your vibe.
Whether you choose from eye-popping reds, calming blues or a sea-green colors (or 6 other options) the result will be bathroom walls which command attention.
These 5/32" thick panels are glued over a moisture resistant green board. And although you can't get a matching base with these units, you can use them with a solid surface shower pan, a rock-solid choice (yes – bad pun intended).
Get Free Samples!
Click here to request free samples of our High Gloss Shower Wall Panels.
Ceramic tile shower alternative #4 – Cultured granite, cultured marble and solid surface shower and bathtub wall panels
Cultured granite wall panels are built like a tank – and have the 'girth' to show for it also. They're 3/8" thick. They're a man-made stone. They're heavy. They often carry lifetime guarantees. They've been used for years (and were hot, hot, hot back in the days when mullets were the craze).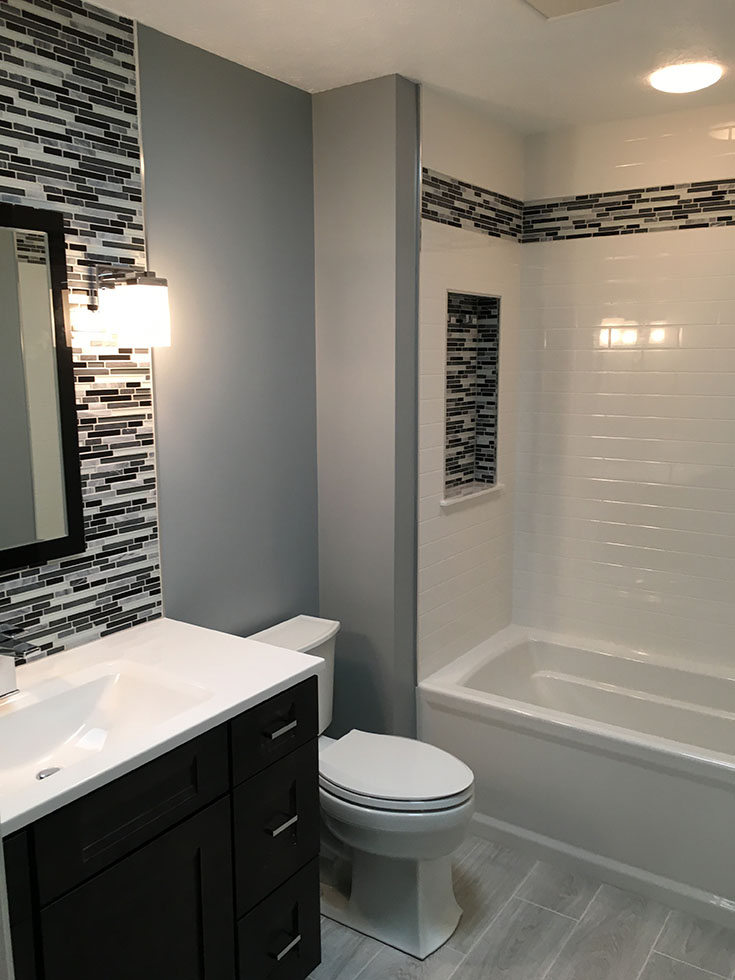 And if 'sturdy' is your thing, it's a solid (get it) choice.
And if 'style' is your thing, they look a little 'long in the tooth' in my opinion.
However, assuming you've got a buddy (or can hire a contractor to install them) – so you won't be the one lifting these puppies (note – a 5' x 8' panel will weigh over 100 pounds)– their durability and bulk cannot be denied.
What's also nice is these stone wall panels can be paired with custom cultured granite shower pans. And even if the cultured stone look walls don't trip your trigger, cultured stone shower pans are a logical choice with any grout free wall panel system reviewed in this article.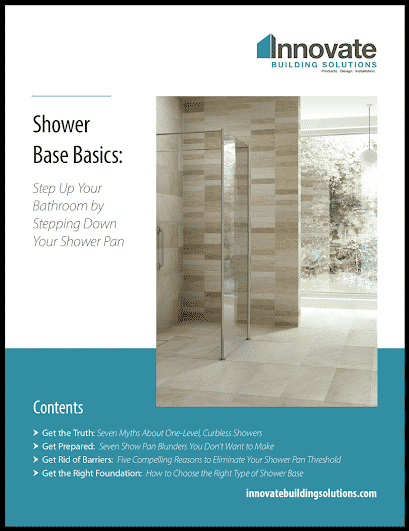 Get Our Ultimate Shower Base Guide!
Step Up Your Bathroom by Stepping Down Your Shower Pan!
Ceramic tile shower alternative #5 – Marble and granite slabs for your shower or bathtub
If you've got the money, there's nothing quite like the classic look of marble slab wall panels. They make a ceramic tile shower look like dumpster trash. They're classic. They're sturdy. They reek of opulence. You've 'made it' when you can afford these slabs.
Unfortunately, there's a downside to all this opulence (believe it or not). Real marble is a softer material which makes it more absorptive. This can be a challenge if you have hard or rusty water or use a bottle or two or three of hair coloring to revive your 'younger' look. Marble and granite can also lose their sheen over time and need to be polished. And I'd keep in mind installing marble slabs is not for a first-time DIY'er. The cost of screwing up the cuts could send you into therapy for months!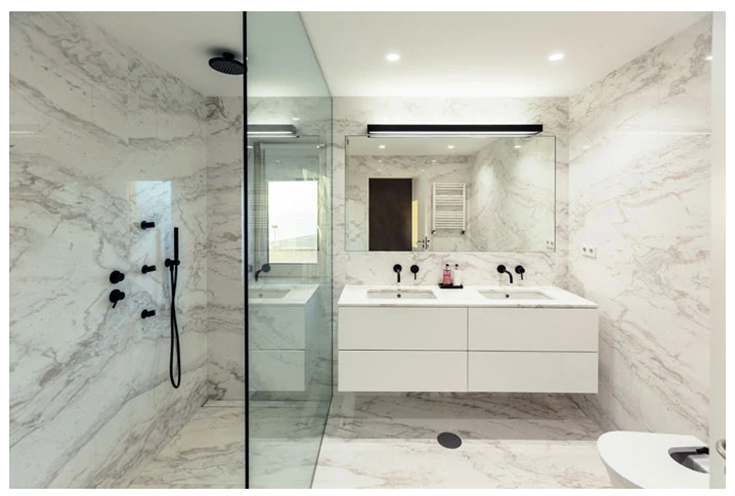 Image Source: www.sefastone.com
Ceramic tile shower alternative #6 – Vinyl click-together tiles for showers and bathtubs
A product which is growing fast are 25 5/8" wide x 14" high vinyl click-together tiles. They're available in 7 stone tile patterns and are uber-easy for a DIY'er to install. You see these ¼" thick tiles simply snap together with sealant and are glued over moisture resistant green board. And the cost is one of the lowest on this list of 9 alternatives.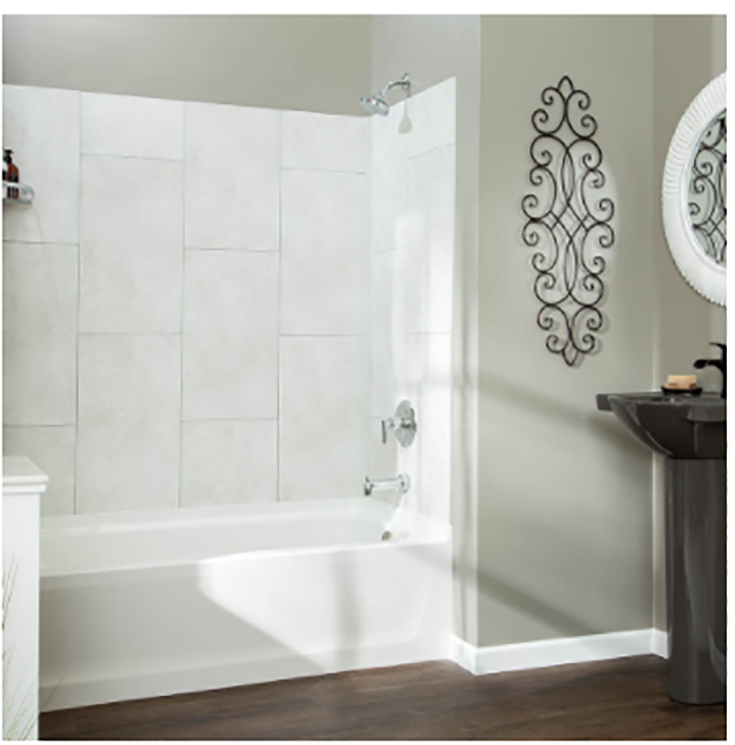 Image Source: www.dumawall.com
Their downside is you'll need approximately 36 tiles to finish a standard 60" x 32" x 96" shower. There's joints vertically and horizontally. What worries me about this system are the horizontal joints. I'd be concerned if one of these vinyl tiles isn't plumb, water could get behind the wall causing leakage in the floor below. This system also has a short 10-year guarantee vs. the PVC and laminate panels mentioned earlier which have lifetime guarantees.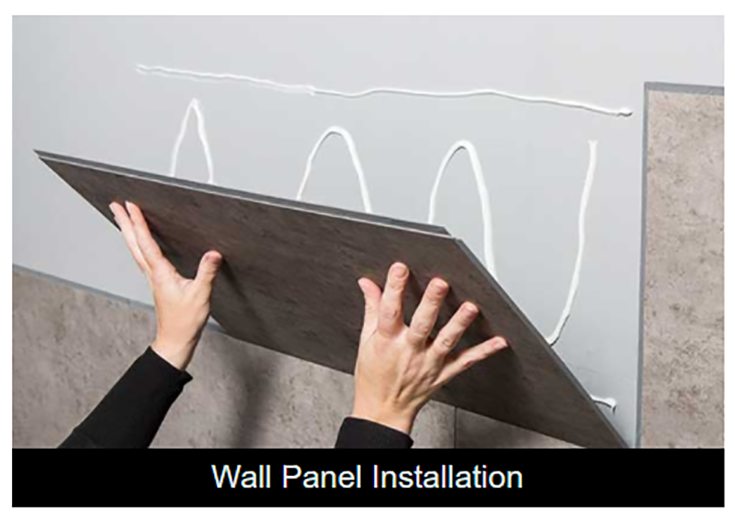 Image Source: www.dumawall.com
Ceramic tile shower alternative #7 – Metal panels made of stainless steel, copper and barn tin for showers and tubs
Maybe you've seen a 'super-cute' (as one of my office staff used to say) picture on Pinterest of a tiny or manufactured home with barn tin siding as the shower wall panels – and thought, "How fun is that?"
Or you've dreamed about a copper or stainless-steel shower – and didn't even know if such a thing was even possible.
Well, I'm here to tell you metal shower wall surrounds (and even copper and stainless-steel shower pans) are possible – and being made (albeit in small numbers) for residential showers today. They're fun-looking, eye-catching, and unique. However, to date they haven't gained much of a foothold in the ceramic tile shower alternative universe. And here's why.
The DIY-ish barn tin style showers you see on Pinterest are fun and funky. However, I haven't seen any tested installation systems to ensure they're waterproof. Also these walls have a way of 'making a racket' (this is something Mom used to say to my bro and I when we were getting rowdy). You see the pinging sound of water on metal can be annoying when someone is sleeping in the adjoining bedroom. Basically, corrugated metal showers are an unproven, budget-friendly DIY concept, not a proven system.
Image Source: www.cbssheetmetal.com
And as far as stainless steel and copper showers go – there are a few tested systems. However, they're custom-made and pricey (although they do use 1" thick foam-filled sheets to stabilize the temperature and to deaden the sound of water droplets bouncing off the metal).
Image Source: www.frigodesign.com
So, in short – if you're on the 'adventuresome' side, metal panels are something you can try, but IMHO this ceramic tile alternative still has 'it's training wheels' on.
Ceramic tile shower alternative #8 – Back painted glass shower and tub surrounds
If you're looking for a ceramic tile alternative which will not be forgotten (and you've got the bucks bank-rolled to afford it), then back painted glass is an option you'll want to check out.
These tempered glass panels use special paint (which adheres to glass). You can even put a custom image on the inside surface for a one-of-a-kind design. They'll brighten your dull bathroom with pops of color which are only limited by the Sherwin Williams or Benjamin Moore color wheels (can you say almost unlimited options?).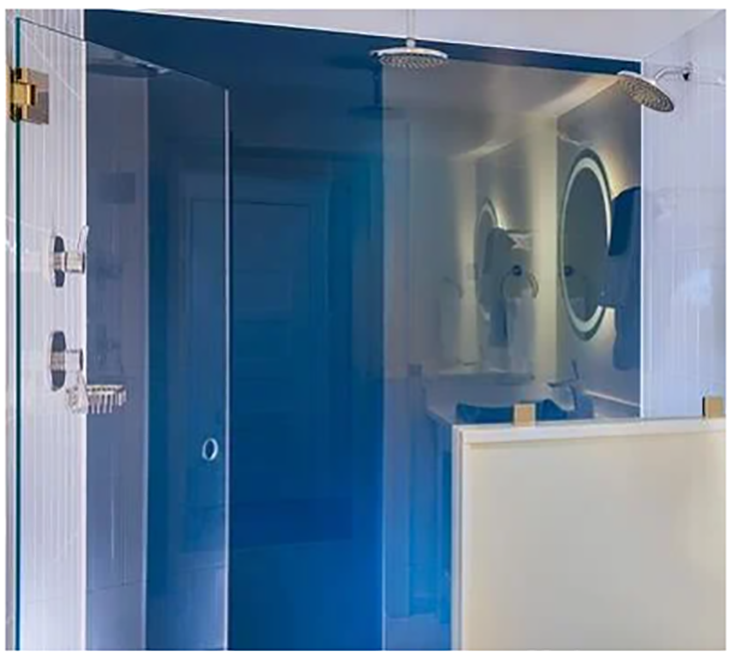 Image Source: www.dillmeierglass.com
The panel needs to be predrilled for your shower head and valve and any other 'penetrations' you need for wall niches (penetration is a fancy construction term I threw in, so you'd think I'm smart. Is it working?). They're as stylish as all get-out but won't come cheap. Their price is up there with the marble, granite or travertine slab walls mentioned in alternative #5.
Ceramic tile shower alternative #9 – Decorative aluminum shower wall and tub surround panels
A brand-spankin'-new entrant in the United States market you've likely never heard of are decorative aluminum shower wall panels. These panels are 4 millimeters thick (or a tad over 1/8") and come in matte and gloss finishes. They're simple to install on a moisture resistant green board with adhesives. They're also easy to cut. They'll give you a drool-worthy modern look like the high gloss wall panels mentioned in alternative #3.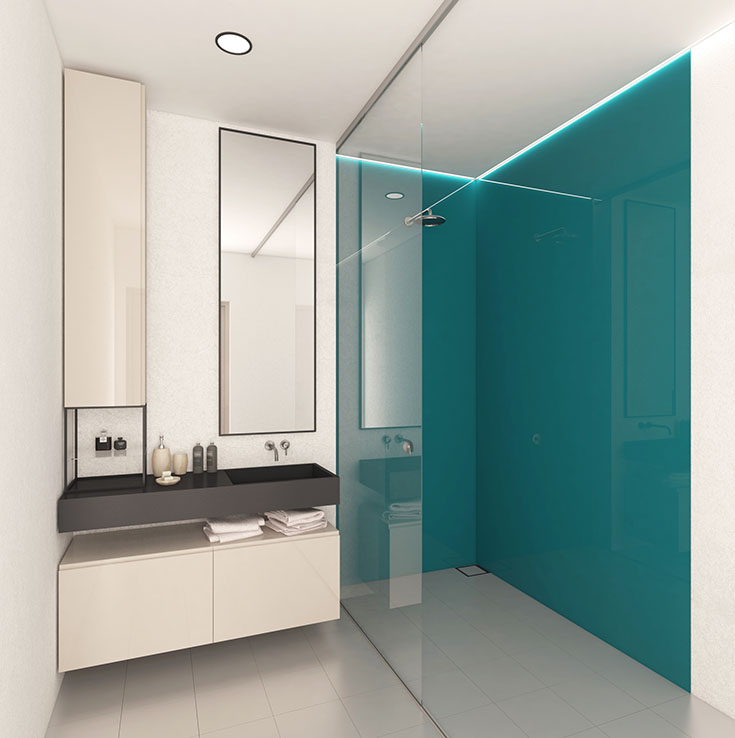 Image Source: www.alusplash.com
The biggest challenge right now is the inventory in the United States is limited. The 48" wide x 120" high size panels aren't efficient for U.S. sized showers (where the most common size is 60" wide x 32" deep x 96" high). There will be a lot of waste with the currently available panel sizes.
I see this panel as an 'up and comer' once sizes are adapted to United States shower requirements.  
So, now that you've learned 9 ceramic tile alternatives – which is your favorite?
So, now you've read about 9 ceramic tile shower wall alternatives, I need to ask, what's your favorite? Why did you choose this one? Feel free to speak your mind in the comments section below and also let me know if you think any of the 9 are ones which are 'too off the wall' for you.
And in the beginning I promised to reveal my 'fav' to you. And that would be….
And you may be asking why I made this choice when my company wholesales and installs several types of walls panels. We'll it's because they're stylish. It's because they can 'adapt' and be used in any interior design style. And it's because they're an excellent value. They're a mid-priced shower and bathroom wall panel with a high-end look. Basically….
They'll give you the 'diamond look' at a budget-friendly 'cubic zirconium' price.
Do you have questions to determine which is best for your shower?
I know at this point you may have specific questions about your shower and which system will work in your bathroom. You want to ditch evil grout joints which come with tile.
This is where me and my team would love to help. Call 877-668-5888. Click for a free shower wall panel design consultation or to request free samples of several of these panel systems.
We can answer your questions and provide nationwide wholesale supply of wall panels, shower pans and glass shower enclosures. In addition, we can guide you (in select markets thus far) to an installing wall panel dealer in our network.
And if you're in Cleveland Ohio, our Bath Doctor division (you can reach us at 216-658-1270) can help with a professional bathroom remodel.
Thanks for reading,
Mike
###
If you're a remodeler or builder and want practical advice on remodeling products, industry trends, marketing and sales tips to grow your business (and cut day to day hassles), start reading my newest blog – Innovate Builders Blog. It's packed with ideas you can use now. Click here to Sign Up for the Innovate Builders Blog.
If you're in the building business, click here if you'd like to learn how to become a shower wall panel dealer or call and ask for Mike at 877-668-5888.
If you want more advice (or like wacky humor) follow me on LinkedIn @MikeFotiLinkedIn or on Twitter @Mike_Foti or my companies @InnovateBuild or @InnovateHomeOrg.
---
Mike Foti
President of Innovate Building Solutions a nationwide supplier and regional (Cleveland and Columbus) remodeling contractors. Some of our product lines include glass counters, floors, backsplashes, glass blocks and grout free shower and tub wall panels
---