Universal Design Can Be Cool – Using a Decorative Glass Block Bathroom Window to Dress up a Home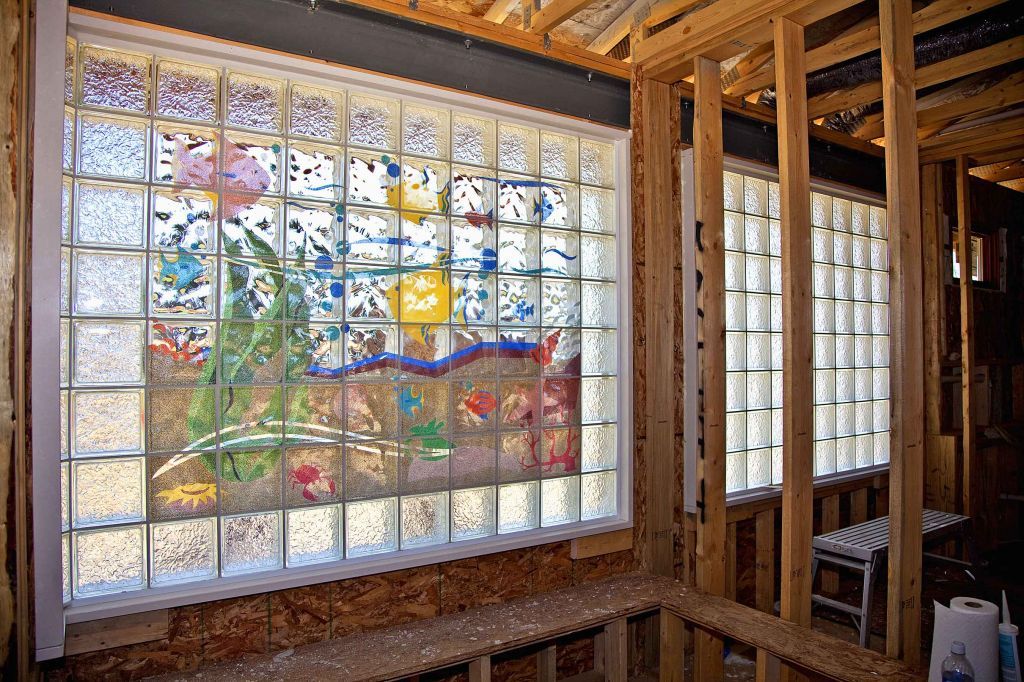 Glass block bathroom window mural for a universal design based home - picture courtesy of Scott Cunningham

When most people think of universal design the words that come to their minds might be institutional or boring – and that might have been true in the old days but not anymore!
When one of my companies (Columbus Glass Block) was asked to sponsor the Universal Design Living Laboratory Project (a new home being built in Columbus Ohio which incorporates Universal Design and Green Building Concepts) by two friends of mine – Rosemarie Rossetti and Mark Leder – I had no idea of the level of cool elements that would ultimately be designed into their home.
Mark and Rosemarie definitely needed a home incorporating universal design concepts since Mark is 6' 5" tall and Rosemarie is a small woman who gets around with a wheelchair due to a spinal cord injury several years ago.
A large glass block window wall was designed into a side wall of the home by architect Patrick Manley. Since this window wall is in the shower of the master bathroom the goal of the glass block would be to not only provide privacy and light on the side of the home but also to add a dramatic decorative element as well. Rosemarie and Mark chose to use a decorative aquarium wall mural provided by Cogir USA which used a wavy glass block pattern supplied by Pittsburgh Corning. Not only does this glass block mural pop out of the wall with the color and light it provides in the shower space, it also makes a private showering experience as well.
If there's one thing the Universal Design Living Laboratory Project shows it's that Universal Design and "cool factor" are not mutually exclusive.
Are you working on a project where using universal design principles would be helpful? If so – comment below. If you've got some words of wisdom to share on using universal design strategies and green building principles fantastic! Share your thoughts.
###
If you're looking for help to create a stylish universal design for your kitchen or bathroom remodeling project (or for more information on decorative glass blocks) visit Columbus Glass Block (614-252-5888), Cleveland Design & Remodeling (216-531-6085), Columbus Design and Remodeling (614-252-7294)or the Bath Doctor (513-742-6679)of Dayton and Cincinnati Ohio.
---
Mike Foti
President of Innovate Building Solutions a nationwide supplier and regional (Cleveland and Columbus) remodeling contractors. Some of our product lines include glass counters, floors, backsplashes, glass blocks and grout free shower and tub wall panels
---