Advantages and Disadvantages of Fixed Replacement Picture Windows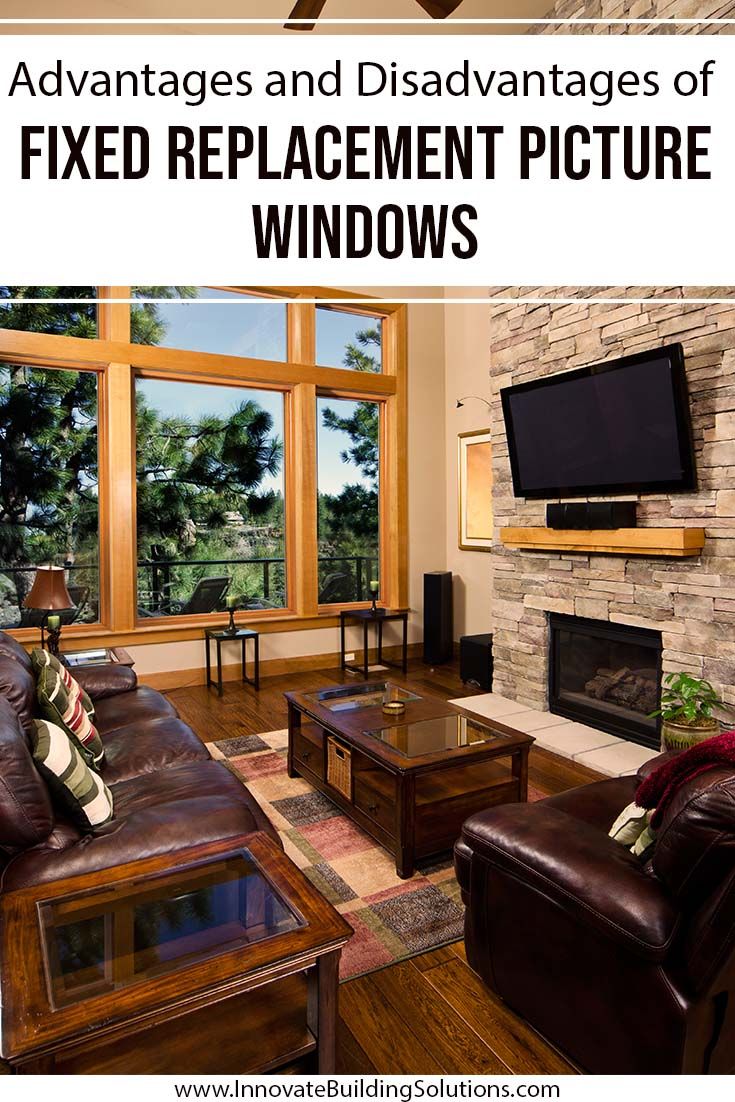 Updated May 31, 2021 
While it's nice to be snuggled inside a warm home on a cold Winter day in Ohio (and sorry I used the evil 'W' word for Winter), it's also wonderful to watch the snow flakes shimmer (from the inside) on a sunny winter day.
Or maybe you're like me and love Summer. I enjoy looking out my kitchen picture window and seeing the woods and the blue spruce tree I planted 26 years ago (even though when I'm doing this I'm often washing the dishes!).
And if you're someone who loves to bring the 'outdoors' in – a large picture window is a must.
However, while there's advantages with picture windows, they also have their downsides (or disadvantages as well).
So, if you're in the market to replace your existing house windows, or are building new and want to make sure you choose the right window for the right locations, you've come to the right article.
It's my goal in this article to make it simple for you to figure out if a picture window is right for your project. I'll begin by defining what a picture window is. Then I'll look at their advantages and disadvantages. And finally I'll give you ideas on where to use these fixed windows. At the end of the article, please comment and let me know if this window makes sense for your Cleveland or Columbus home (or anywhere else you may live as well).
What is a fixed picture window? 
A picture window is a large, flat fixed window that can't be opened . It's used to improve views to the outside and gain light transmission on the inside.
Advantages of Picture Windows 
While it wouldn't make sense for all the windows in your home to be fixed (unless you want to live in a bubble), the right use of picture windows can add style, architectural interest, light and create a 'window' (pun intended) to the outside. Here's the main benefits of fixed picture windows.
Advantage #1 – Picture windows maximize the views to the outside
Picture windows can make a small home 'live big.' Their larger size, and unobstructed views, bring the outside into the home. Enjoy watching birds in your backyard, or a lake or stream on the side of your property. Put in a large picture window in your front family room so you can keep an eye on the kids as they wait for the bus for school. A picture window is the 'connection' between the outside and inside of your home.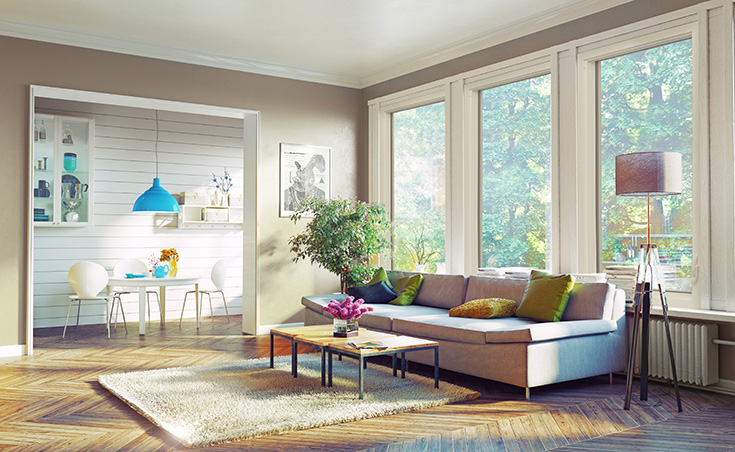 Advantage #2 – Picture window are light on your wallet 
Picture windows are simple in design. They have Z-E-R-O mechanical parts. Since they don't need to operate the window is simple and low maintenance- especially if you choose a vinyl framed picture window. This simplicity also makes them cost less per square foot than operable windows (like an up and down double hung or a side to side sliding window).
Advantage #3 – Get light into a dreary home
Dark spaces are depressing (and in some cases, like in your bathroom potentially unsafe). If you want your home to be inviting you need light transmission. And since picture windows have no sashes to block your view – there's no better way to gain light into your home.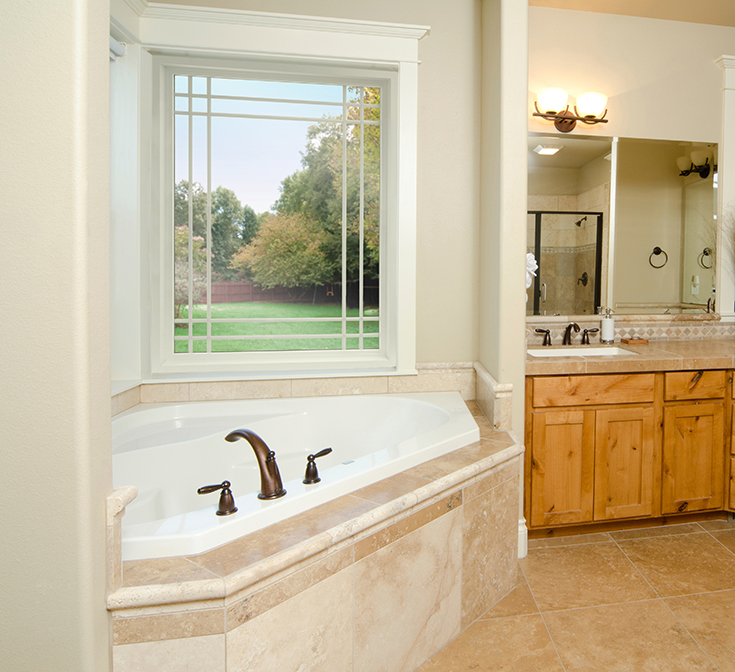 Advantage #4 – No moving parts = Low, low maintenance
If you hate chores around the home – like me – raise your hand. And working on window cranks (with crank out casement windows) or repairing your sliding windows so they effectively move side to side is a pain you can do without. You'll love knowing (at least with a couple of your fixed windows) you won't be messing around with them on a Saturday afternoon when you'd rather be golfing with buddies or shopping with friends.
Advantage #5 – Increase your home's curb appeal and add architectural interest
How your home looks from the outside can be a major benefit (or a big soar thumb) to determine if you get your asking price (or more) when it's time to sell. And given the ability to make pictures windows with shapes, grids and create an architecturally correct look – they can make you a happy man or woman when your realtor brings offers back to you ABOVE YOUR ASKING PRICE!
Advantage #6 – Picture windows provide better energy efficiency (and bring in solar heat gain in the Winter)  
Since picture windows have no moving parts they have a 'leg up' over the operable windows (like casements, double hung and awning windows for example). When it comes to energy efficiency, simple ('er no moving parts) is good. And if you want to notch up your picture window to the next level, consider a triple pane or low E glass package.
Disadvantages of Picture Windows 
It would be great if life (or your picture windows) were all a 'bed of roses.' And as you know where there are advantages there's also a few disadvantages you'll want to understand BEFORE you plunk your hard-earned dollars down. Here's the 'cons' to picture windows you'll want to keep in mind.
Disadvantage #1 – They don't open 
While pictures are wonderful to provide unobstructed views of the outside they do you NO GOOD when you're trying to get out the stinky smell of the fish your spouse insisted on cooking from their latest fishing get-a-way trip with their buddies.
So, while big views are nice, when choosing windows you'll always want to consider if you'll need ventilation as well. And it's nice to know you can buy a 'combo window,' which combines views with air flow. A common strategy with pictures windows is to combine them with double hung or casement windows on the side. In this way you get the 'best of both worlds' – great views and air flow.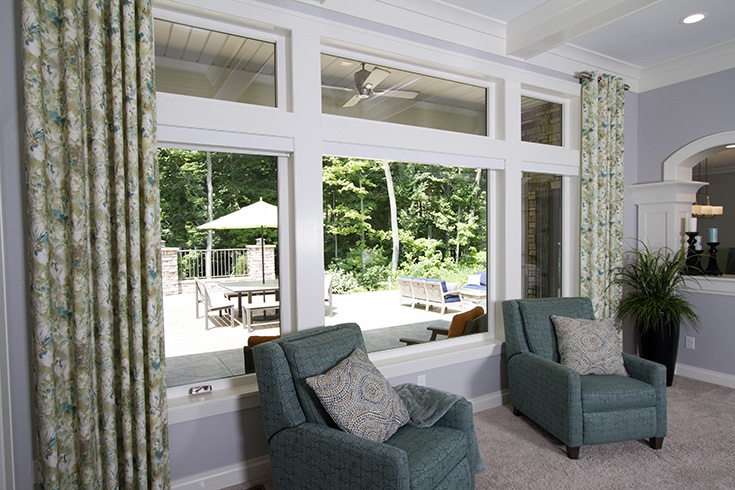 Disadvantage #2 – there's more glass to repair with a large picture window 
If your son gets crazy with his buddies and throws a baseball through your picture window, one of the negatives you'll deal with is there's more glass in this unit and it's likely to cost you (and/or your insurance company) a few more bucks to repair (unless you put a steel cage over them – OK, just kidding about that!).
Disadvantage #3 – picture windows are hard to clean on the outside
Cleaning windows is NO FUN – unless you're making money doing the job and have a cleaning business. However, for the rest of us window cleaning is a pain. However, with some types of operable windows (like tilt in double hungs or tilt in sliding windows you can do ALL THE CLEANING from the inside). With a picture window this is not possible. You'll need to climb the ladder and 'let the cleaning games begin.'
Disadvantage #4 – solar heat gain in the summer
Sometimes an advantage of large picture windows (solar heat gain in the winter) can be a disadvantage when you get to the summer (solar heat gain). It's one of those things where you have to take the good with the bad.
OK – so now that you've seen the pros and cons of pictures windows you may be wondering where is the best places to use them. Read on.
Where to use Fixed Picture Windows
 You'll find picture windows in family rooms, living rooms, great rooms, bathrooms and kitchens. And if you want a real special look combine rectangular and square picture windows with shaped windows to add style which cannot be denied.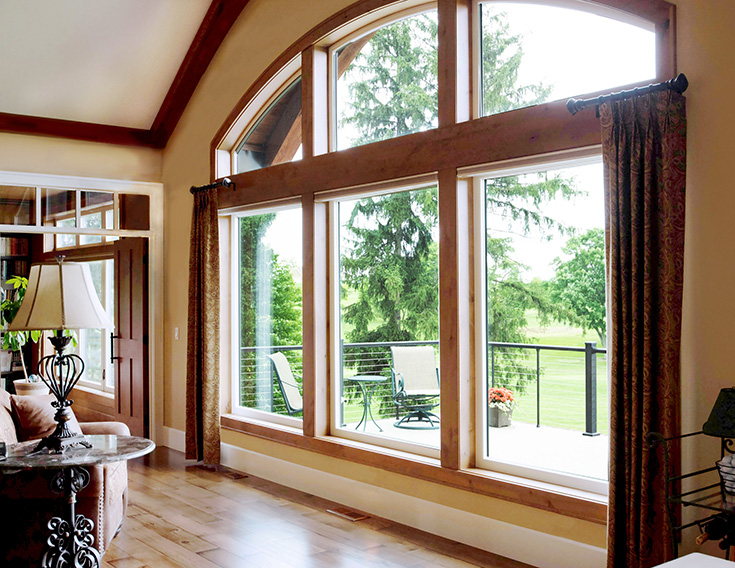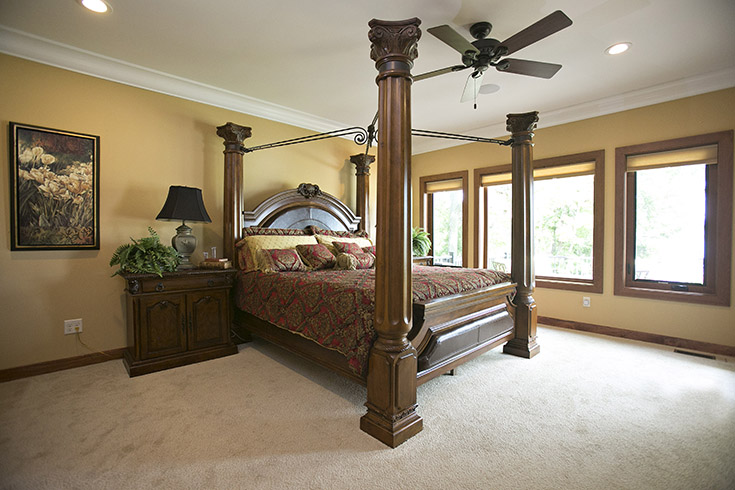 So, do you think picture windows make sense for you home?
Now that you've read the pros and cons of picture windows do you have a spot….or two….or three to use them in your home? Why do you (or why don't you) want to use them ?
How can Cleveland Window and Clear Choice Window and Door help you next?
I know buying replacement windows can be confusing. You need to think about the right type of windows to use, the option(s) which make sense and then choose a frame and sash material (vinyl, wood or metal) which fits your style and your budget (ouch – yes I did have to bring this up).
And if you're looking for more information (or pricing) for replacement windows in Cleveland or Columbus Ohio – we'd love to help. Contact Cleveland Window Company at 216-531-4118 or Clear Choice Window and Door (in Columbus) for more information or click for a Free Design Consultation. You can rest assured you'll be in good hands since we've installed over 1,000,000 windows in our company history since 1977.
Thanks for reading – Mike
---
Mike Foti
President of Innovate Building Solutions a nationwide supplier and regional (Cleveland and Columbus) remodeling contractors. Some of our product lines include glass counters, floors, backsplashes, glass blocks and grout free shower and tub wall panels
---