Project Spotlight: Decorative Glass Block Shower Wall & Partition on a Luxury Houseboat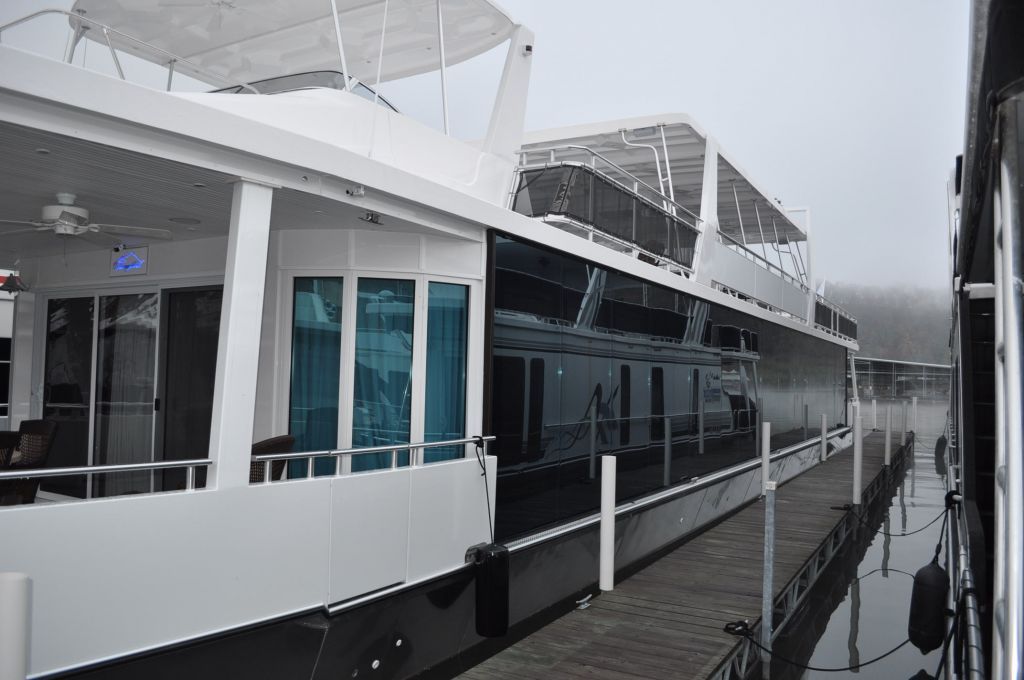 Have you ever gone to a place where luxury boats are docked and thought how cool it would be to live on a houseboat with all the features and benefits of a high end home? It is just those kinds of dreams that companies like Thoroughbred Houseboats make into reality. If you can create it on land then Shawn Heinen (President of Thoroughbred) can usually make it come to life for a home on the water as well.
When a new customer of Thoroughbred's came to visit one Thoroughbred's existing houseboats one luxury feature that caught their eye was the use of a glass block shower wall. In this article you'll learn more about this luxury houseboat, where it is docked and how the glass block shower and partition walls progressed from a design concept to a finished project.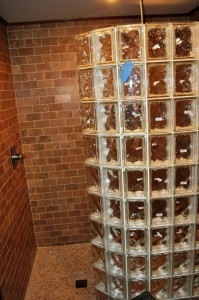 The Houseboat – The houseboat was not a plain vanilla project for Thoroughbred – this boat was decked out! The boat is a 2012 model which is 21' wide by 103' long boat with over 1,500 square feet of living space on the inside. It has 5 bedrooms, two full baths inside plus a half bath in the rear deck. Most of the flooring was Asian Walnut wood with tiled bathrooms. Unique features included tall walls with over 8' interior heights, insulated blue glass exterior walls, complete granite upper bar with a 55" drop down TV, blue underwater lights, and a walk in glass block shower and partition wall.
Where the boat is docked – The boat is docked at Lee's Ford Marina on Lake Cumberland Kentucky which is considered to be the birthplace of recreational houseboating. Houseboating has been increasing in popularity because it is easy to explore the local scenery while staying in close distance to other outdoor activities like hiking, camping and beaches. Lake Cumberland is a good location for houseboats because there is a good number of coves and fingers that allow houseboats to tie up or anchor away from the main channel and provides owners a peaceful and secluded atmosphere.
The walk in glass block shower and partition wall feature – The glass block walk in shower was a good solution for this project because you can create a small curved design (which is useful for a walk in layout) in a small space. The glass block walls were prefabricated into easy to install sections by Columbus Glass Block and shipped to the boat manufacturing site. The tile shower base was built by Thoroughbred's crews to match the curvature of the radius glass block wall. The premade sections were anchored to the existing walls and field grouted. Dawn Heinen (the designer/decorator for Thoroughbred) also recommended a small 5' tall glass block wall to tie the whole bathroom together and provide some privacy to the toilet area.
What do you think about the owning a houseboat? Do you like the features that were included in this project done by Thoroughbred and Columbus Glass Block? Please comment below.
If you'd like any more information or assistance with a new houseboat contact Shawn Heinen of Thoroughbred Houseboats. If you need help with a glass block shower wall or partition project (whether it's on a houseboat or not) contact Columbus Glass Block (877-668-5888), Cleveland Glass Block (216-531-6363) or Mid America Glass Block of Cincinnati & Dayton (513-742-5900).  
---
Mike Foti
President of Innovate Building Solutions a nationwide supplier and regional (Cleveland and Columbus) remodeling contractors. Some of our product lines include glass counters, floors, backsplashes, glass blocks and grout free shower and tub wall panels
---