Ranch home sales on the rise in 2012 – Ease of use & universal design are the drivers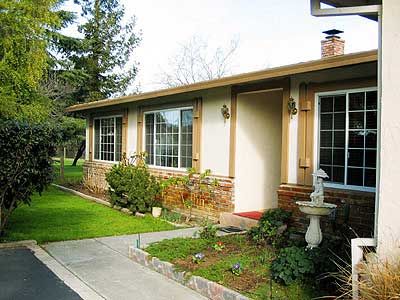 In the movie "Field of Dreams" the famous line was if you build it they will come. In the home building industry applying this mantra without an understanding of what the market needs and wants will provide a quick path towards not having a business. Given the challenging home construction market the question a smart home builder will ask is what do people today need and want. According to an article from Builder Magazine 7 of the top 10 selling home plans were in 2012 will be ranches (i.e. single level home designs). This article will explore why single level homes are increasing in popularity, the advantages and disadvantage of this type of design, and what features might be included in this type of home to make it more useable by people of all ages and capabilities. If you aren't in the market for a new home you can also learn a few remodeling tips to take advantage of features of a single level home in your existing 2 level design.
Advantages of single level ranch homes and why they growing in popularity
Single level plans have been growing in popularity due to 2 main factors.
Design – This type of home plan has an open, airy design which contains large windows to maximize natural light. It is generally has an attached garage, no stairs on the main living level, and a long low roof line. In the Midwest most ranch (single level) homes also have a full basement which can provide a low cost area to create additional finished space down the road through a

basement remodeling

project.  
Demographic trends – Single level homes hold a large appeal to people over 55 since they don't have steps on the first floor, the attached garage provides additional safety and the abundant natural light makes it easier to move about the home.    
Disadvantages of single level ranch homes
No home design is the end all and be all. Here are some negative factors for single level living:
Cost per square foot – Due to the sprawling design of this home type the cost is usually higher to a comparably sized 2 story alternative. The heating and cooling systems for example require longer runs through the home than a 2 story product.
Ecological impact – Since this home type needs a bigger lot there will be fewer homes built within any given development vs. multi level homes.
Features to include to make a more universal and accessible home design
One of the key potential benefits of a ranch home is it's design (with no steps on the main living level) makes it easy to use by people of all ages (from those 55+ to parents with young children). Some features forward thinking builder can include to make the more design more universal are:
Zero step curbless front entries
Wider 36" wide doorways
Hallways 42" wide
Barrier free no step shower entries
Higher electrical outlets and lower light switches
High output fluorescent lighting and task lighting
Level style door handles
Not in the market for a new home – 4 remodeling tips for your 2 level home
If you like some of the benefits of a single level home but aren't in a position to move consider some of the following home modification ideas to improve your existing 2 level home:
Remodel a bathroom

– Since by it's nature a bathroom is a wet space it can be dangerous. Consider a bath to shower conversion, adding a comfort height toilet, a hand held shower with an anti-scald valve or a roll under sink.
Widen interior doors
Remodel a kitchen

– To make a more universal/accessible design consider a kitchen remodeling project that uses pull out shelves, counters at different heights and smooth induction cooktops.
If space allows consider a room addition or in law suite
What do you think a single level home design? Do you like the features in this type of home? Are the remodeling tips of value for your exiting home? Please comment below.
###
If you need assistance with a universal bathroom or kitchen design & remodeling project learn more by visiting Cleveland Design & Remodeling (216-531-6085), Columbus Design and Remodeling (614-252-7294), or The Bath Doctor (513-742-6679) (serving the Cleveland, Columbus, Cincinnati and Dayton markets).
---
Mike Foti
President of Innovate Building Solutions a nationwide supplier and regional (Cleveland and Columbus) remodeling contractors. Some of our product lines include glass counters, floors, backsplashes, glass blocks and grout free shower and tub wall panels
---