How to include the most popular bathroom features in your remodel or new home (even if your budget isn't crazy big)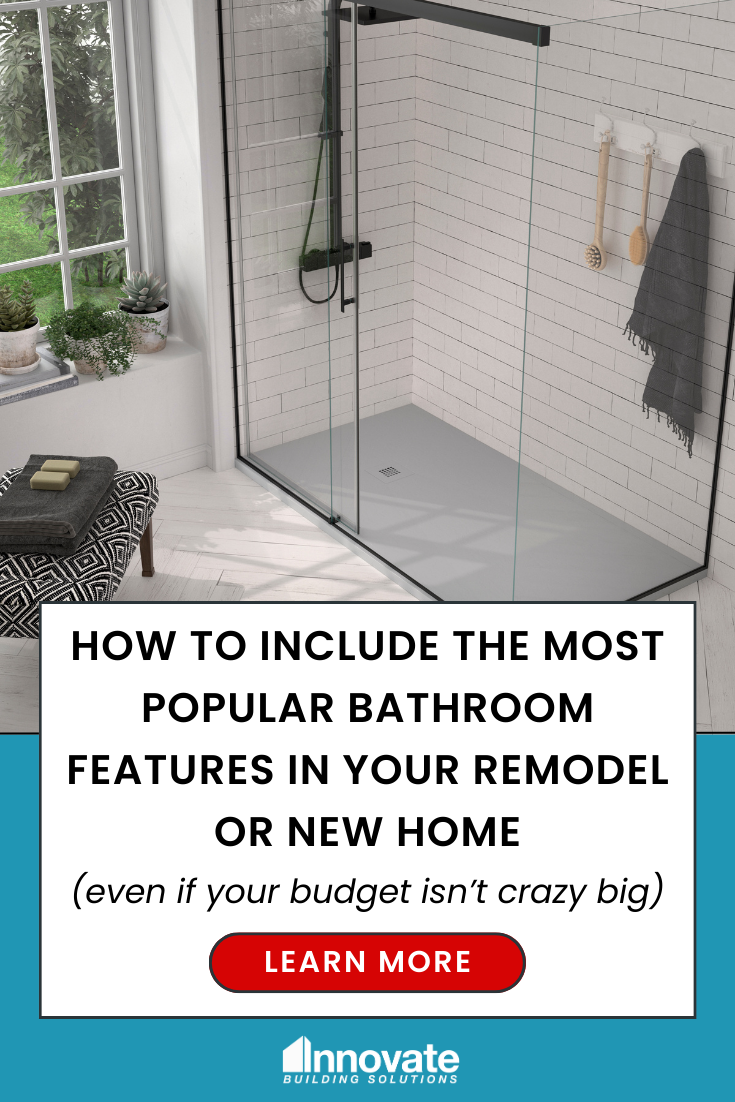 OK – not to be 'Captain Obvious,' but the price of bathroom remodeling and new homes IS NOT going down any time soon. And as you know inflation HAS NOT been your 'little fre' (as Tony Montana from the movie Scarface would say).
So, the question becomes, if you're looking to build a new home, or remodel your bathroom, AND want to include the right features (these would be features you'll love AND will bring the max value if you decide to sell down the road) you may be curious about two things:
(1) What are the most popular bathroom features today?
(2) How can I use these features in my new bathroom WITHOUT draining my life's savings and/or depleting the kid's (or grandkids) college funds?
In this article I'll give you answers to both questions. The most popular bathroom features for this post where identified in the 2023 Home Design Trends Survey From the American Institute of Architects. And in this article, I'll not only discuss 7 of most popular bathroom features (in descending order), but I'll give tips on how to include them in your home – even if you don't have the (Notorious) B.I.G. budget you wish you had.
Popular bathroom feature #1 – A walk in shower…and what type of walk in shower makes sense if you're on a budget?
If I'm being 'real,' there's more types of walk in showers than you can 'shake a stick at' – as grandma used to say. And if you want to go 'deep, deep, deep,' researching walk in showers, read How to Compare Walk in Shower Systems (your ultimate guide to walk in shower selections).
The question for this article is, if you want to add a walk in shower, and want it to be nice but not be painful on your pocketbook, what can you choose?
Well for my money I'd make sure to get a walk in shower which will work for the long run. I'd include the following stylish and sturdy (yet, reasonably priced) walk in shower products:
First, choose a standard sized stone low profile shower pan – To make your walk in shower cost reasonable, where possible, make your shower alcove 48" or 60" wide (since there's a lot of standard systems you can use in this size). Then choose a sturdy shower pan WITH style which isn't hard to step into (we'll talk more about this in feature 3). These standard low profile pans which come in 48 x 36, 60 x 30, 60 x 32, and 60 x 36 sizes fit the bill.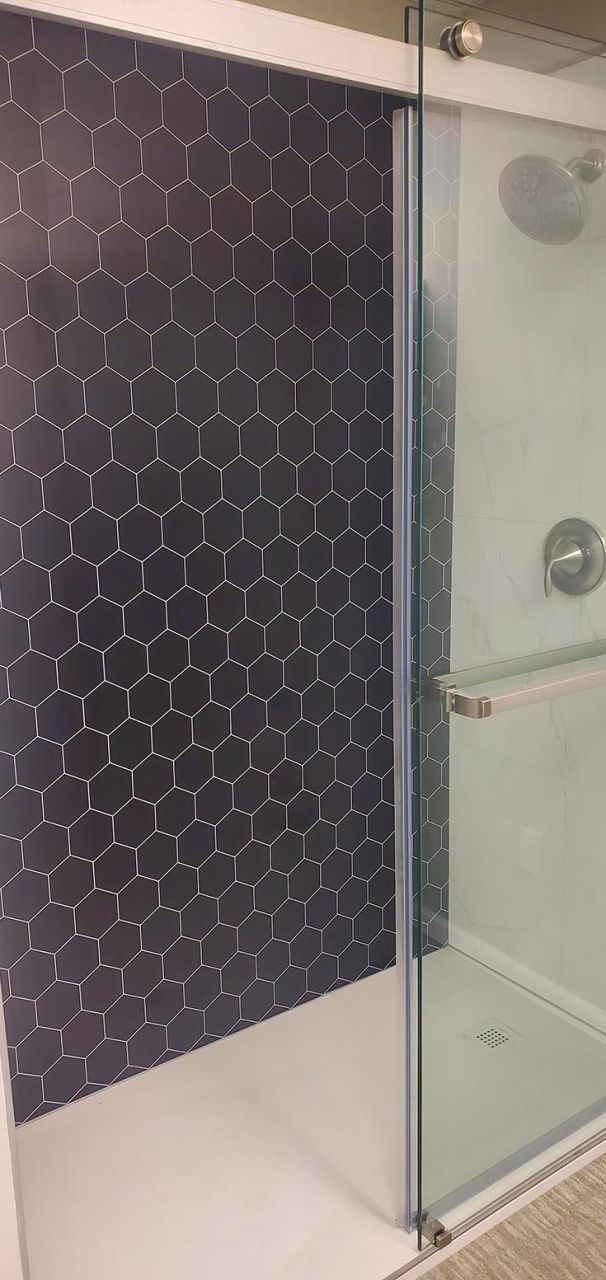 Second, use stylish, and modular, grout free wall panels – My favorite wall panel system (and I've seen a bunch of them in my 'advanced' age) are laminate wall panels. They're available in 29 patterns. They're simple to install because they come in 2' x 8' sections which click and lock together (like laminate flooring). They DO NOT look fake like plastic bathroom wall panels.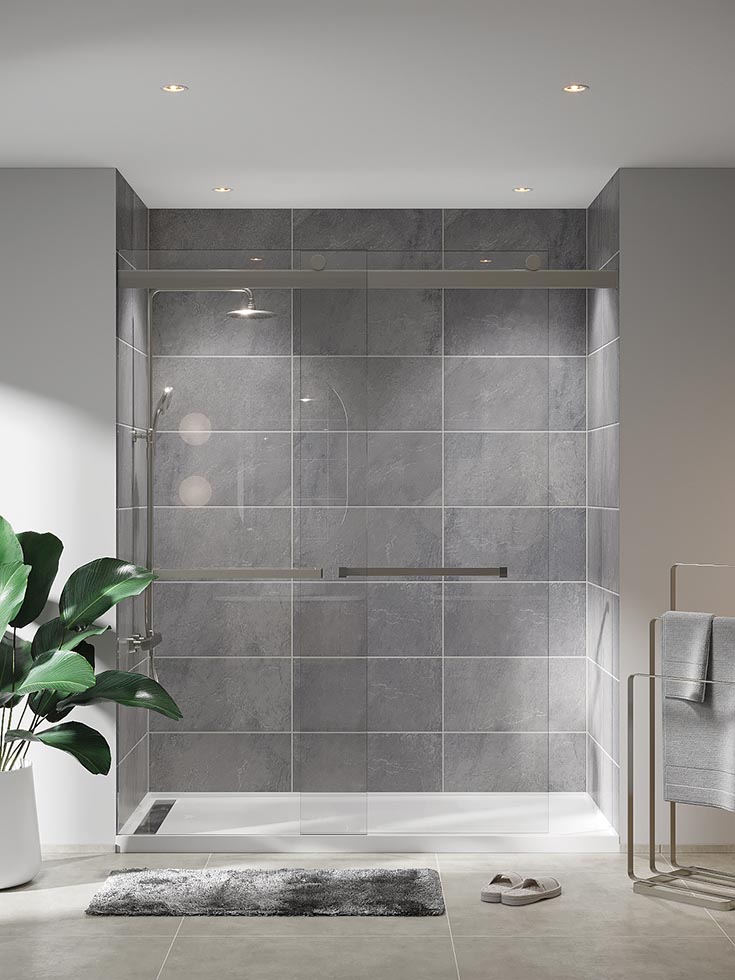 Lastly, use a glass shower screen – Glass screens keep water in the shower and maximize the amount of glass covering the opening so your booty doesn't get too cold (which is probably the #1 complaint about walk in showers).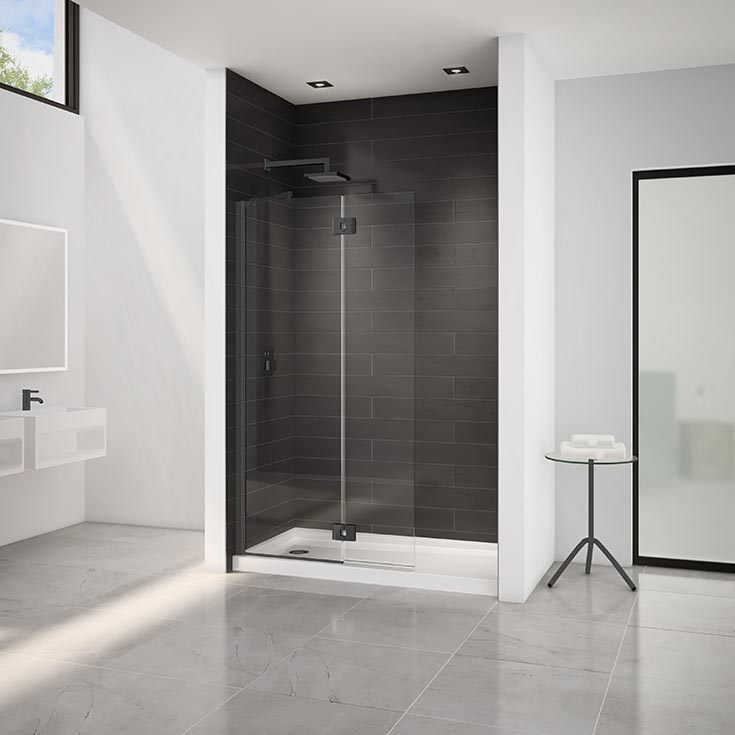 Get Free Samples!
Click here to request free samples of our Laminated Waterproof Shower Wall Panels.
Popular bathroom feature #2 – A stall shower without a tub…and why should your stall shower NOT include a tub and a high price tag?
Although (historically) tub/shower combo units have been as common as peanut butter and jelly, you may be asking, why is the second most popular bathroom feature a stall shower which DOES NOT HAVE a tub?
Well – here's why.
Basically, it's because you're 'showering' and generally not 'tubbing' (and is 'tubbing' even a word?). You're using the shower. You're not using the tub (unless you're bathing a little one).
In addition, as a guy who leads a bath remodeling and nationwide bathroom products wholesale business, I can tell you our industry is constantly doing 'tub to shower conversion' projects where you remove a tub and replace it with a shower only function. However, we're NEVER doing a 'shower to tub conversion.'
In your fast-paced world, you want to get in (and get out) of a shower. And with our 'aging population' (and no, I DO NOT include my 63 year-old-self in this category, thank you very much) – the idea of stepping over a tub deck is downright dangerous.
So, if you want to include a stall shower without a tub and don't want to spend too much, what's a smart way to do it? I'd recommend a complete shower kit. A replacement shower kit includes a nice (but not too expensive) shower base, shower wall panels, and sturdy glass doors.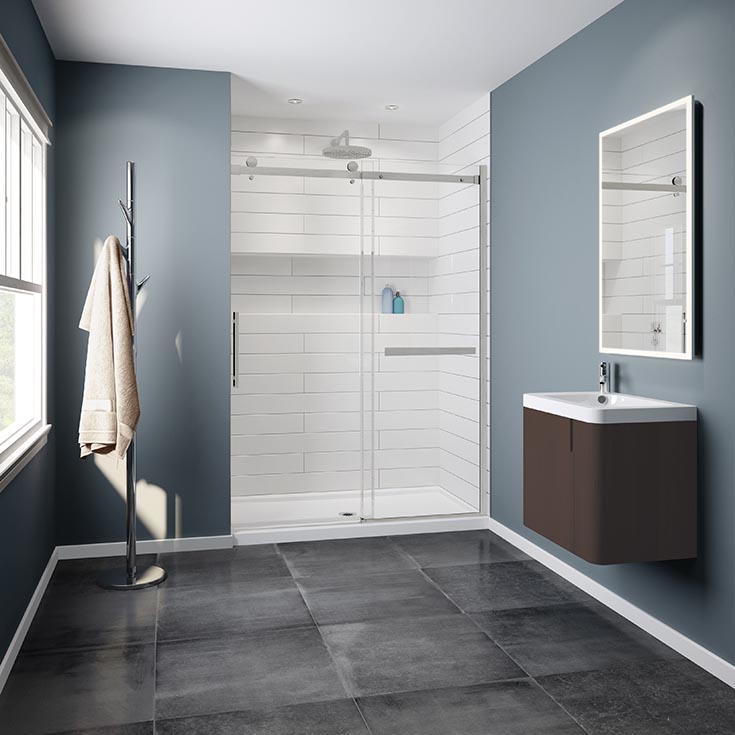 The Ultimate Shower Replacement Kit Guide
Clear advice on bringing your bathroom to the next level
Popular bathroom feature #3 – An accessible (or universal design) bathroom…and why a stylish (yet accessible) universal design is important for resale.
The good news is we're living longer.
The bad news is, we're living longer, but our bodies are a bunch of 'wear parts,' which don't do what they used to.
And while we're (hopefully) getting wiser with age – if I'm being brutally honest, our bodies are NOT getting finer as Father Time (and, as a side note, I'm wondering where Mother Time is in this evil aging process also) rears his ugly head.
It's harder to step over a tub rail or tall shower threshold. It's difficult to shave and wash up if your lighting isn't the greatest. It's harder to stand in a slippery bathtub. The greatest number of falls happen in bathrooms.
And for all these reasons (and many more) an accessible bathroom has become a popular (and in many cases essential) feature for people of all ages (and abilities).
And if you want a universal design bathroom AND don't want it to mess up your resale value (by making it look like grandma lives here), make sure it's also nice looking. And if you're wondering how to do this (without breaking the bank), read 15 Insider Tips for a Safer, Simpler, and Stylish Age in Place Shower.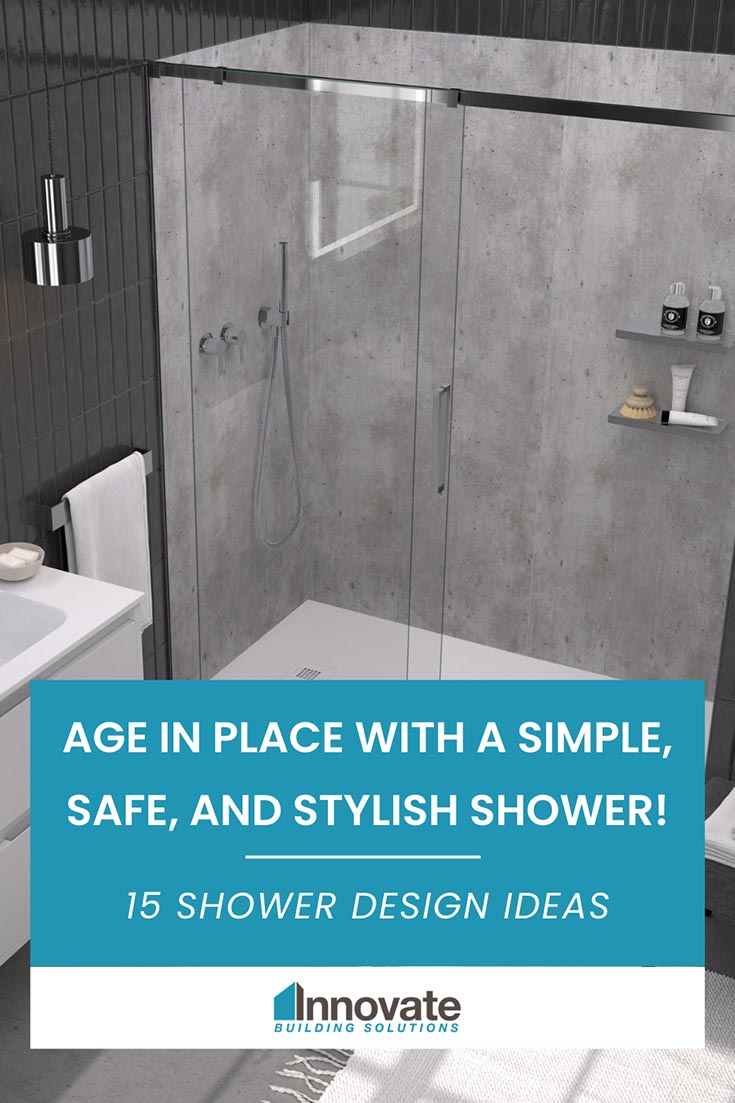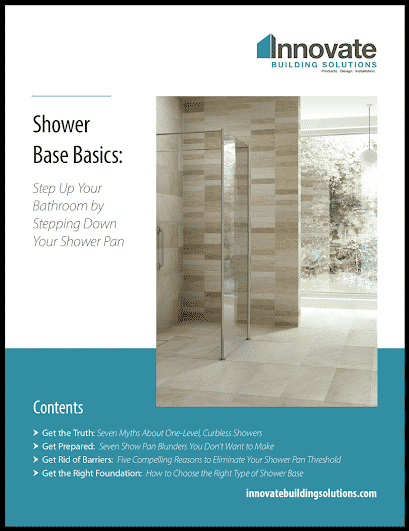 Get Our Ultimate Shower Base Guide!
Step Up Your Bathroom by Stepping Down Your Shower Pan!
Popular bathroom feature #4 – A spa bathroom…and how can you get a spa bathroom if you don't have a big budget?
I'll bet most of you aren't surprised to see a spa bathroom mentioned on the list of popular features. And if you're wondering who wants spa bathrooms, I'd argue it's anyone whose life has more stress than they'd wish and wants someone to 'take them away Calgon' (as this old commercial promotes below).
Perhaps your job is crazy and stressful.
Or you're caring for an aging parent.
Or your kids are DRIVING YOU NUTS (and I'll 'come clean' -bathroom pun intended- and tell you when our kids were younger my wife and I used to say, 'the first one to leave, gets the kids.' And maybe that's what's kept us together for 39 years – OK, maybe it's more than that!).
And if you want a spa style bathroom, but don't have big-bucks to spend, read this Better Homes and Gardens article on Simple Tricks to Create a Spa-Like Bathroom on a Budget.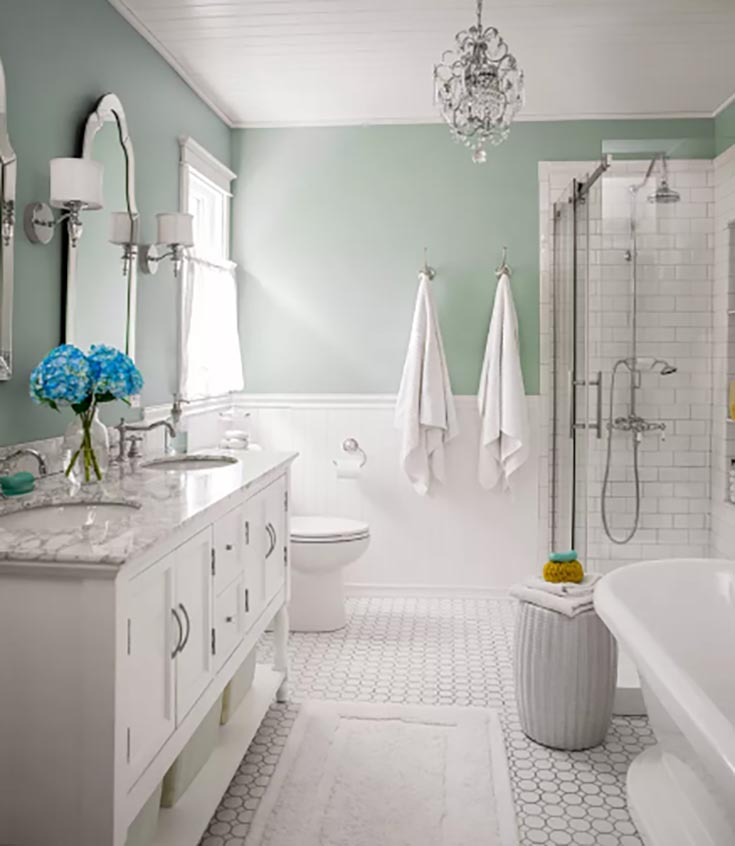 Popular bathroom feature #5 – A bathroom with more natural light…. with tips to improve natural lighting without spending a lot.
If the universal design bathroom feature mentioned in #3 is calling your name, I'm here to tell you feature #5 should be 'joined at the hip' with feature #3.
As you age – your need for better lighting goes up exponentially.
And what you may also not realize is natural lighting improves your mood, is better for your eyes, produces Vitamin D, saves money (vs. turning the lights on) and reduces stress. So – it's not hard to conclude natural lighting in a bathroom is a BIG plus!
So, the question is how can you improve natural lighting if your bathroom is on an inside wall, or if you aren't as buff as Jennifer Lopez or Matthew McConaughey and don't want to give neighbors a 'show' through your existing clear glass bathroom (or shower) window covered by blinds or drapes?
Well, here's 3 ideas to improve natural lighting and overcome these challenges:
Replace your wood, metal, or vinyl clear glass window with an acrylic or glass block window. This will help you gain natural light WITHOUT showing off your 'hot' (OK – I put it in quotation marks) bod!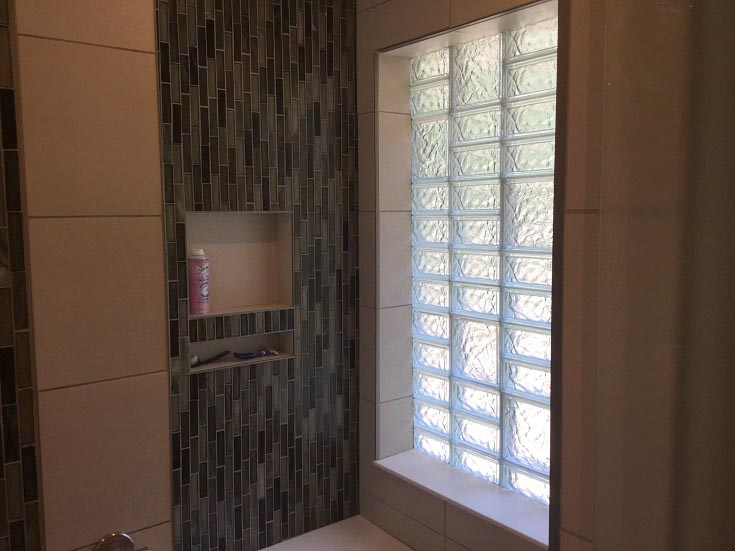 Install a solar light tube or skylight. This product moves light from the ceiling into any room below. It's smart for bathrooms which doesn't have an exterior wall where you could install a window.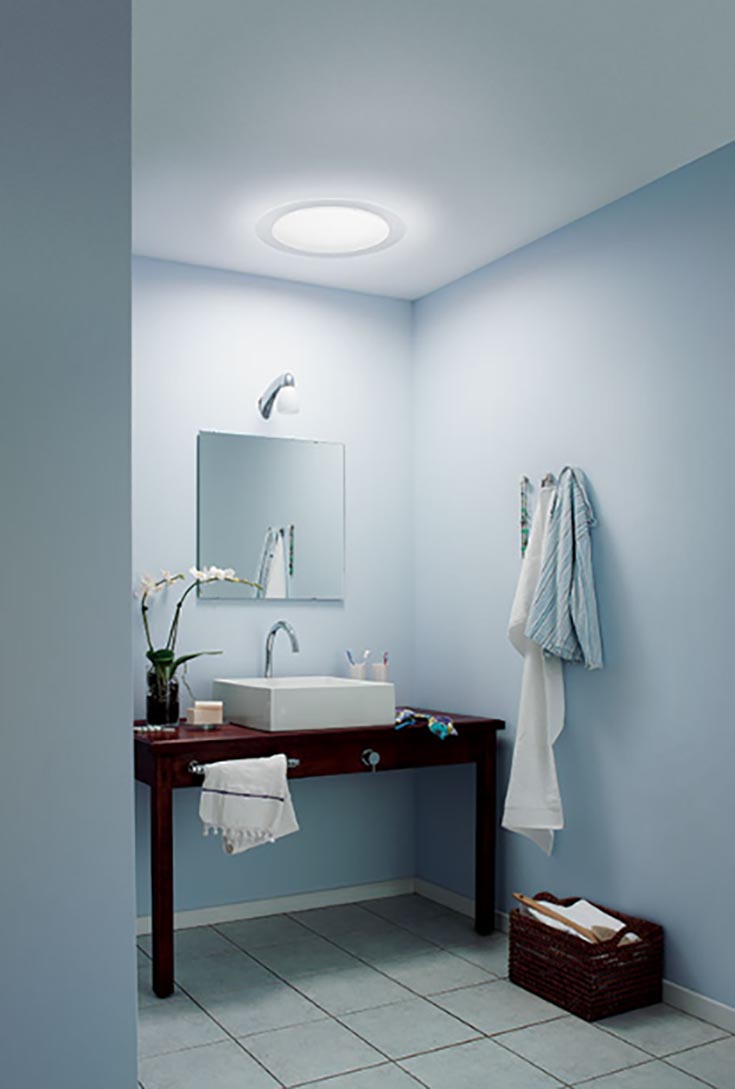 Cut a transom window in through the exterior wall. Bathroom transom windows respect your privacy, while moving light into your bathroom.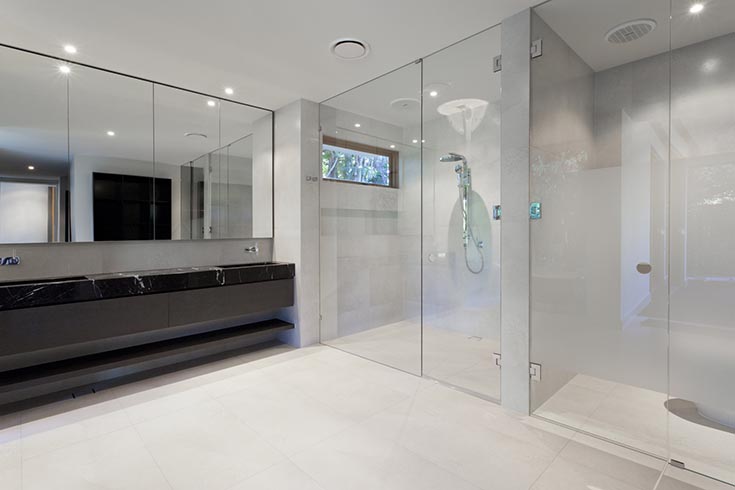 Popular bathroom feature #6 – A freestanding bathtub….and how can you get one of these luxury tubs on a moderate budget?
If I was to nominate the most controversial feature of the 7 on this list it would be the freestanding tub. And you might ask why. Well for as popular as freestanding tubs have become, in many bathrooms they're more of a 'decorative showpiece' than they are a feature people actually use.
And given this fact, you may be asking why are freestanding tubs so popular? Well – if you want to learn about their popularity read The Pros and Cons of a Freestanding Tub vs. an Alcove Bathtub. But the primary reasons freestanding tubs are popular is:
They make a bathroom look more elegant.
They make the room feel larger than with an alcove tub.
They're more comfortable than standard alcove tubs.
There's no limitations on where you can put them in the room.
So – if you're 'sold' on a freestanding tub and do not want to spend a 'tub-load' on them, I'd consider an acrylic freestanding tub. They're simpler to install, more cost-effective, and easy to clean.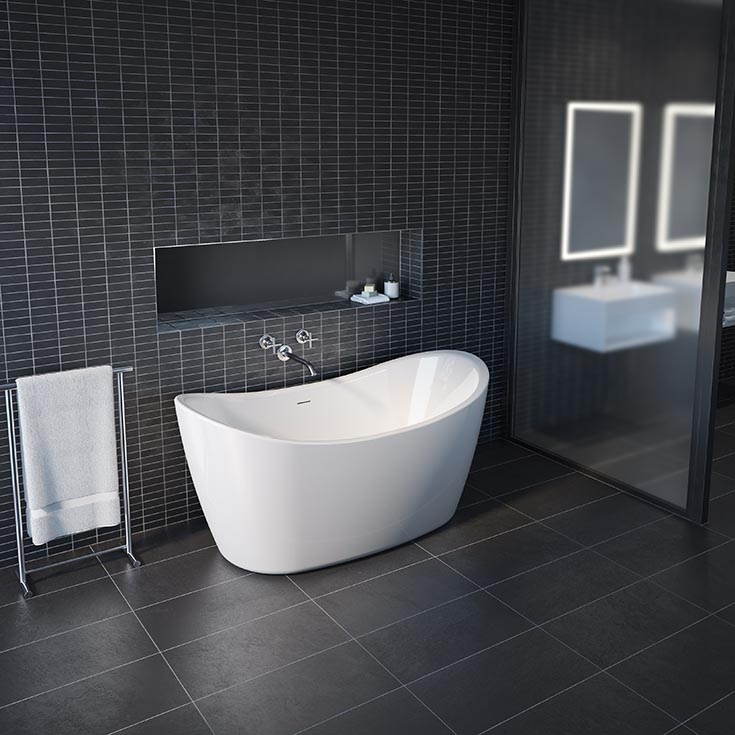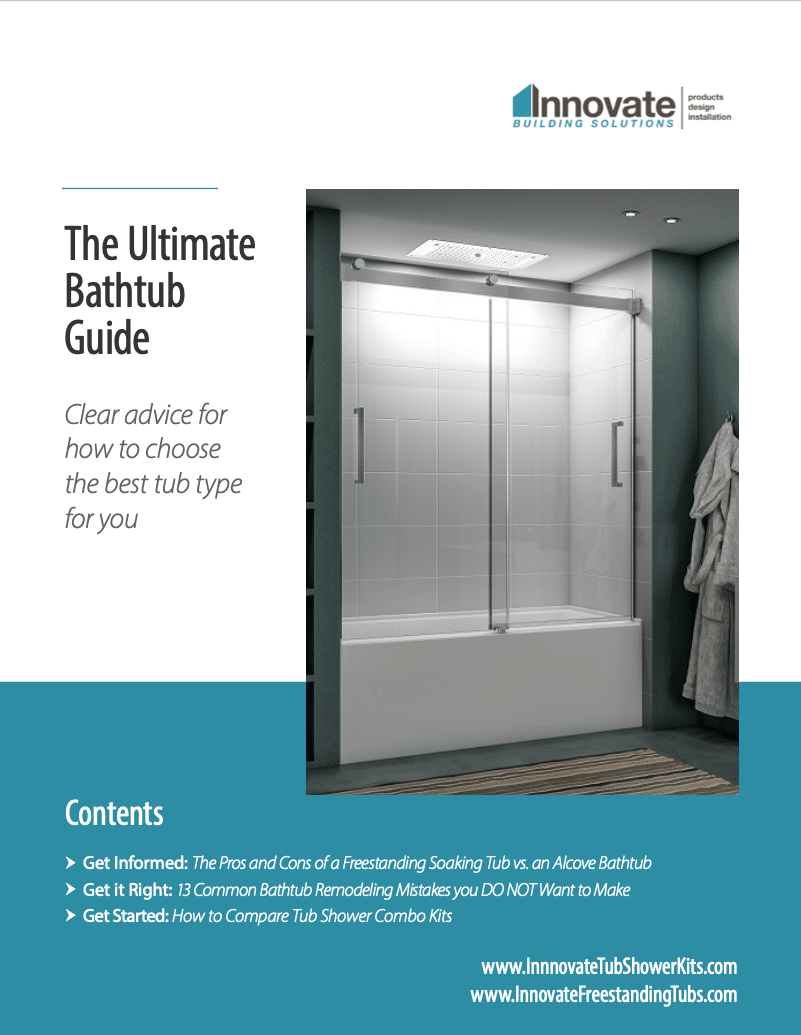 Get Our Ultimate Bathtub Guide!
Clear Advice for How to Choose the Best Tub Type for You!
Popular bathroom feature #7 – Improved bathroom storage…. with tips to 'find' storage when it's not (financially) practical to make your bathroom bigger.
If your bathroom WILL NEVER resemble the large bathrooms in upper end kitchen and bath magazines, raise your hand.
And if you're sharing this bathroom with someone who isn't as neat as you'd like (and yes, that's the P.C. term for they're a slob!) you know if you want to lessen your frustration in your (new) or remodeled bathroom the storage systems MUST improve. And this is one huge reason improved storage is such a popular feature.
The question is how can you improve storage without throwing your (not as neat as you'd like – and I'm being kind here) loved one out of your bathroom or knocking out the wall into your bedroom? Here's 5 (not too crazy expensive) ideas to notch up your bathroom storage game:
Idea #1 – Add a large, recessed niche in the shower – Shampoo bottles on the floor are fall hazards. A large recessed niche gives you the room for lotions and potions which grow as we get older.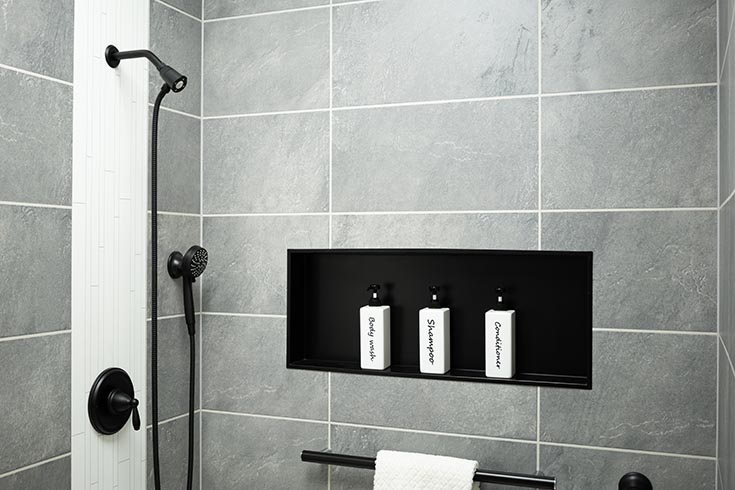 Idea #2 – Slide out vanity drawers – Trying to find things in most bathroom vanities is a pain in the rear because they're one big open 'box' on the inside. That's why I'd recommend you insist on slide out drawers for your next vanity. You'll (magically) be able to see what's in the back (and won't buy shaving cream, hair color, and toilet paper you don't need because you can't see what you have).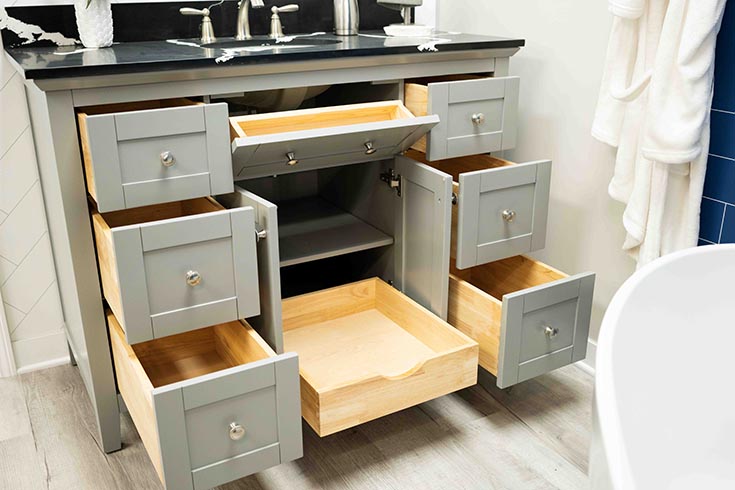 Idea #3 – The 'ladder' storage rack – If you hate, hate, hate seeing wet towels hanging over your glass shower doors because you have one tiny towel rack, it's time to do something about this. The ladder bathroom storage rack is a good way to house everyone's towels…and get a few style points as well.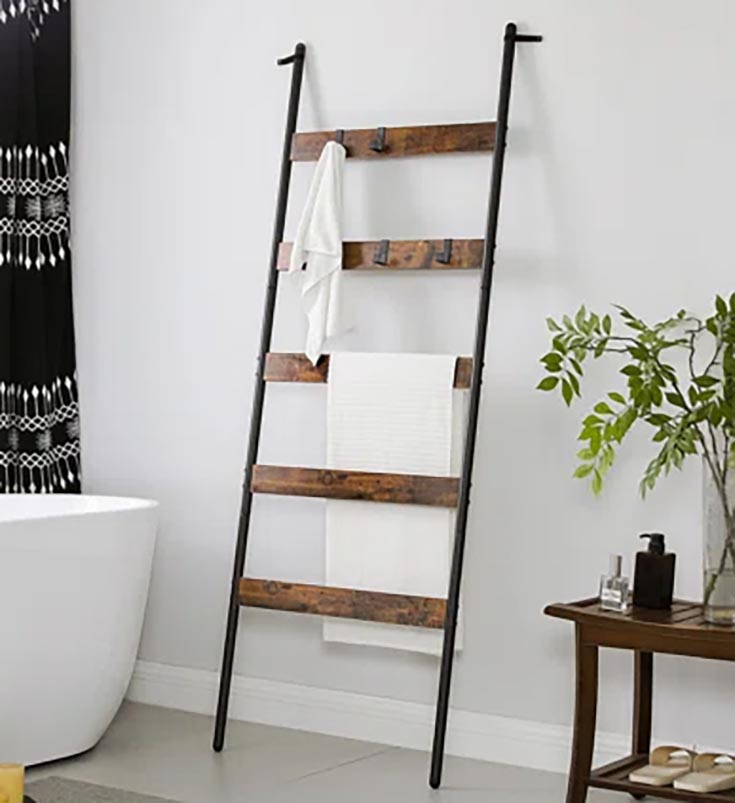 Idea #4 – A professionally organized linen closet – Most linen closets (with their 'un-adjustable' shelves) are a pain to use. Remove your old wood (or wire) linen closet shelves and put in an adjustable laminate shelving system.
Idea #5 – A mirrored LED medicine cabinet – Anytime you can improve lighting, gain storage, and add a functional mirror in one swoop is a good idea. With this product you'll have a secure place (away from your kids or grandkids) for your medications.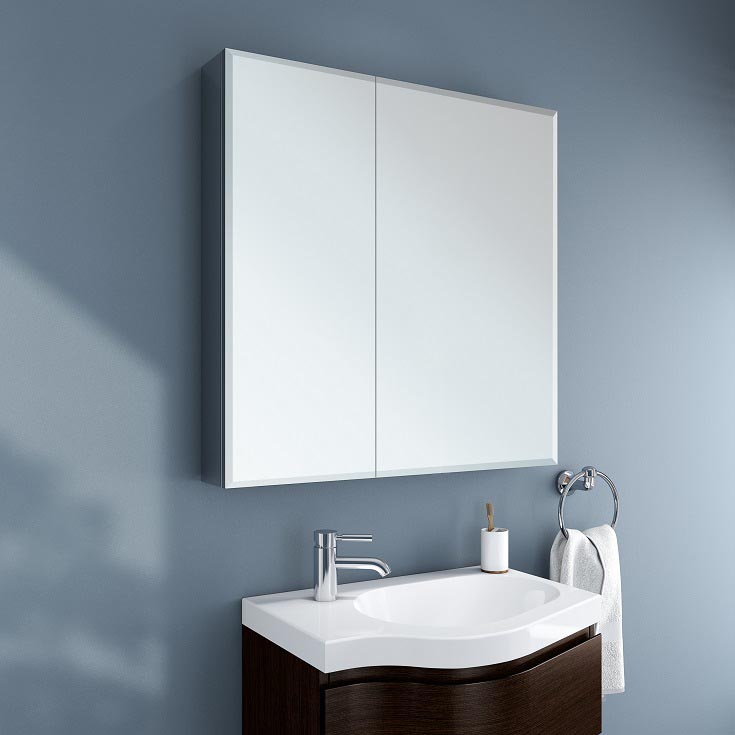 So, which of these popular bathroom features are you looking to add in your remodel or new home? Do you need help figuring out how to use them in your design?
While I know it's simple to list ideas, when it comes to figuring out if these ideas make sense in your design (AND your budget), that's where things get more complicated.
And if you want help figuring this out call a Bathroom Design Specialist from Innovate Building Solutions at 877-668-5888 or request a Free Design Consultation.  You'll get insights AND pricing on bath and shower products which are nicer than the cheap stuff you'll find at your local home center store (and work with someone knowledgeable along the way), or you can ask for a referral to an installing dealer.
Or learn more about shower wall panels, shower pans, glass shower doors, vanities, or universal design bathrooms by visiting the web site.
Thanks for reading (and putting up with my humor along the way)!
Mike
And BTW – if you're an installing contractor and would like to learn about becoming a dealer of laminate wall panels, modern low profile shower pans, and shower replacement kits call Mike at 888-467-7488.
---
Mike Foti
President of Innovate Building Solutions a nationwide supplier and regional (Cleveland and Columbus) remodeling contractors. Some of our product lines include glass counters, floors, backsplashes, glass blocks and grout free shower and tub wall panels
---