5 Frequently Asked Questions about Trench, Channel, Trough or Linear Shower Floor Drains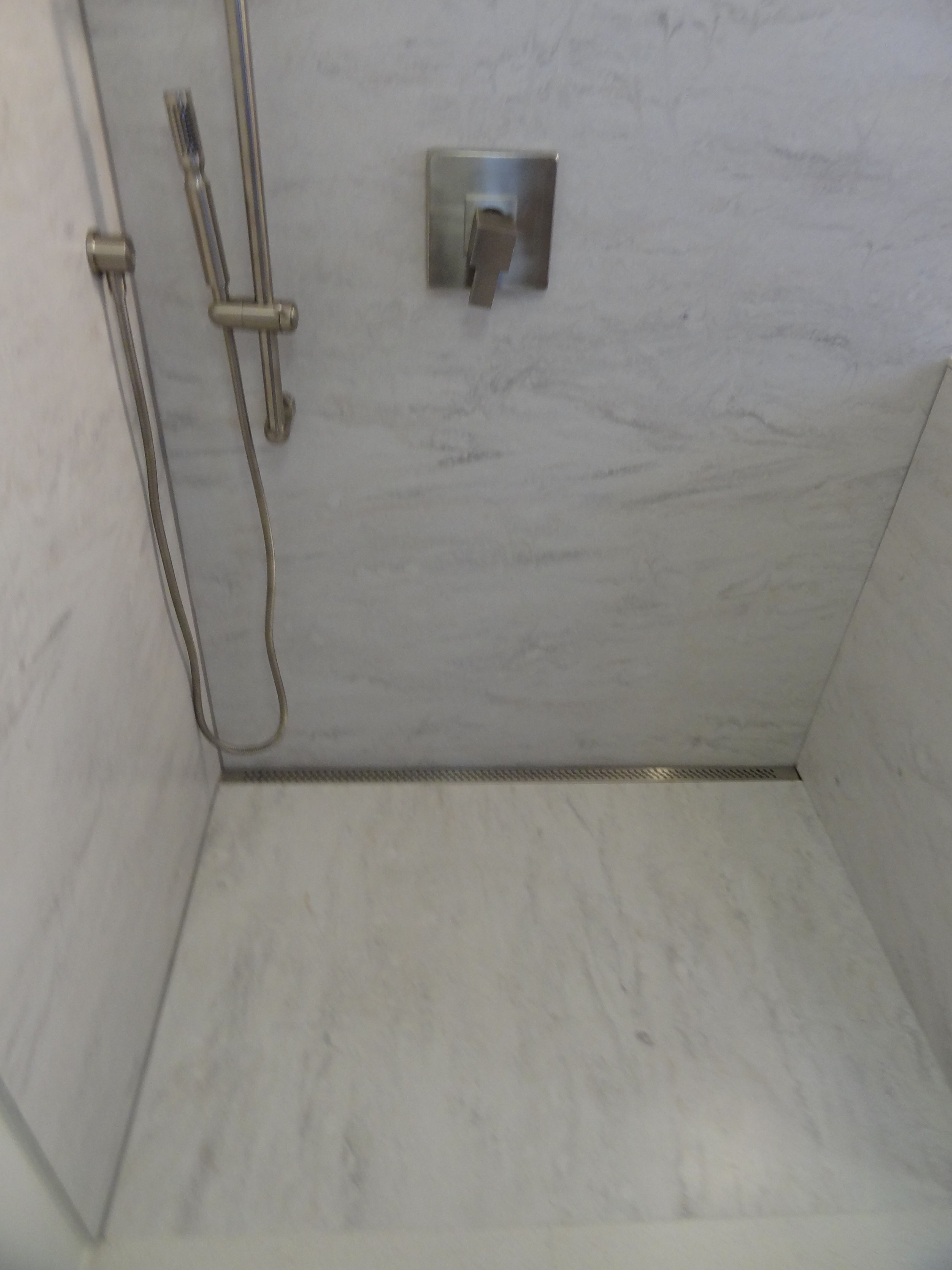 One customer asked me how it was possible to get excited about a channel or trench drain. I replied – if you hate standing on a shower grate while showering, or if you'd like to use large tiles on the shower floor, or if you're looking for a cost effective and excellent functioning accessible shower – a trench drain floor system may be the perfect answer. Learn the answers below to 5 frequently asked questions about these drains.
Question 1 – Why should I use a channel drain? – Here's 3 popular reasons:
The drain is set to the perimeter so you don't have the uncomfortable feeling of stepping on a shower drain while showering.
Since the drain is set to the end of the base, and the base is sloped in one direction, you can use large tiles or stones and minimize the number of grout joints.
A trough drain system can be used in less expensive accessible showers where the base is raised from the floor (vs. the more costly bases which are set below the subfloor).
Question 2 – Where are trough drain systems used? – They are used most frequently in residential homes, hotels, schools, and hospitals and health care facilities.
Question 3 –What lengths and sizes are available? What are these drains made of? – Sizes and dimensions will vary from manufacturer to manufacturer but common sizes include 26", 30", 36", 40", 44" 46", 52" and 68". Custom sized shower drains can be made from 10" to 10' long. The drains or made of heavy gauge stainless steel.
Question 4 – What decorative designs and options are available in the strainer grates? – If you're looking for a cool, sleek, industrial, retro or traditional look in a floor drain there is a style to suite you. Some of the grate pattern names include Wave, Dots,Hawaii, Pixel, Linear, Horizontal and Vertical. There is even an option where you can set the tile inside the drain to create a hidden or invisible drain look.
Question 5 – Are special pipes needed for these drains? – No. You can use a standard 2" pipe connection.
Have you ever used a trench, trough or linear drain or have questions about this type of system? If so please comment below.
###
Learn more about bathroom or shower remodeling or trench drains by visiting Cleveland Design & Remodeling (216-531-6085), Cincinnati Design and Remodeling (513-742-6679) , (614-252-7294) The Bath Doctor (614-252-7294) or nationwide supply through Columbus Glass Block (877-668-5888).
---
Mike Foti
President of Innovate Building Solutions a nationwide supplier and regional (Cleveland and Columbus) remodeling contractors. Some of our product lines include glass counters, floors, backsplashes, glass blocks and grout free shower and tub wall panels
---