5 ½ Tips to a Safe & Stylish Bathroom for your Mom on Mothers Day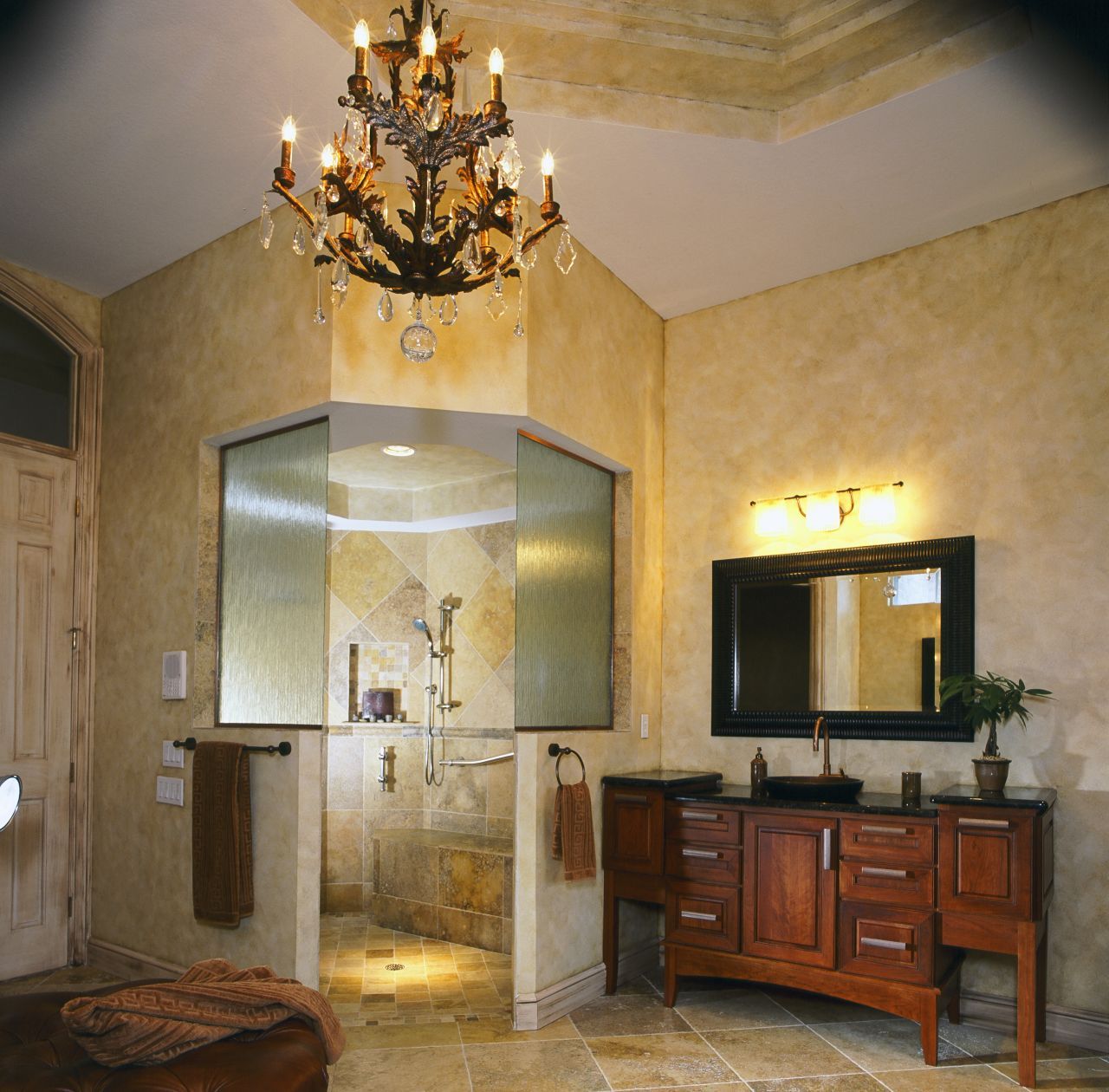 Luxury bathrooms can be safe and stylish!
You can do the usual this Mother's Day – buy Mom flowers, take her out to dinner or buy her a new outfit – or what if you provided her with a gift she could use everyday which would add style and make her safer? This gift would be a new bathroom design.
Unfortunately as we age our mobility, vision and balance do not get better – which makes bathrooms (which are wet and sometimes dark places) dangerous. This article will identify 5 ½ practical tips to not only design a safer bathroom for Mom – but one which is more stylish as well!
Tip 1 – Ditch the tub – Stepping over a 12" – 20" tub rail into a slippery bathtub is an accident waiting to happen (and these accidents can be expensive – over 1/3 of people over 65 years old falling require a hospital stay). Possibly the biggest single improvement you can make is to convert a tub into a shower. For an even sleeker (and safer) contemporary design consider a one level wet room (see the picture below) can be used.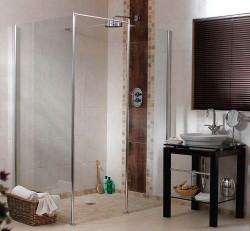 Tip 2 – Let there be (more) light – Ever watch your teenage son or daughter read in a dark room and wonder how the heck they do it? The reason they can pull off this feat of magic is younger people have better eyesight. When you think about your Mom her vision probably isn't what it used to be – so a new bathroom design needs to maximize both natural and "task" lighting. To improve natural lighting consider adding a high privacy bathroom window, using a solar wall tube or skylight. If adding natural lighting is cost prohibitive add brighter "task" lighting over the sink or in the shower).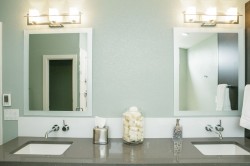 Tip 3 – Eliminate maintenance (and grout) where possible– Look for a stylish (grout free) shower wall alternative (like solid surface or high gloss acrylic wall panels) to give Mom more time to enjoy her shower vs. having the painstaking task of cleaning mold and mildew from grout joints.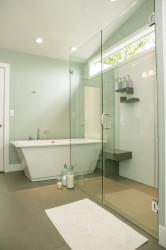 Tip 4 – Add decorative safety – This new bathroom does not have to look like the cold sterile hospital rooms you're looking to avoid seeing Mom in with institutional looking safety products – but with that being said it still is very important to add safety features. In today's marketplace you can use items like decorative grab bars (like the one shown below from GreatGrabz) and/or sharp-looking fold down seats made of Teak or Brazilian walnut. Safety and style are not mutually exclusive.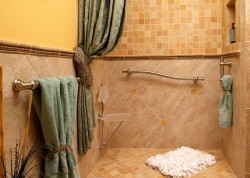 Tip 5 – Location, location, location– In real estate location is king – in bathroom design location, height and placement will make the space work (or not work) for your Mom as she ages. If you decide to remodel lower the light switches (48" from the floor) and move the electrical outlets up (18" from the floor) to make them easier to reach for either a seated or standing position. Locate recessed soap/shampoo niches in lower easier to reach places. And don't forget about the toilet – use a comfort height unit which is slightly higher off the ground and is easier to get up from.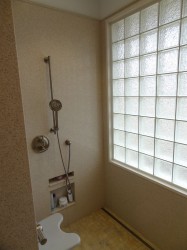 Tip 5 1/2 – Don't be afraid to get qualified help – Seek out the input of a Certified Aging in Place Specialist (CAPS) who has been trained specifically to design spaces for aging adults.
I hope these tips help! Comment below or call with questions.
###
Contact Cleveland Design & Remodeling (216-658-1270) or the Bath Doctor in Columbus (614-252-7294) who have Certified Aging in Place Specialists to help you with your design and provide estimates on bathroom remodeling or products for this type of project. For nationwide bathroom product product sales call Innovate Building Solutions (877-668-5888).   
---
Mike Foti
President of Innovate Building Solutions a nationwide supplier and regional (Cleveland and Columbus) remodeling contractors. Some of our product lines include glass counters, floors, backsplashes, glass blocks and grout free shower and tub wall panels
---