Hot Deals on DIY Shower Panels and Tubs for the Dog Days of Summer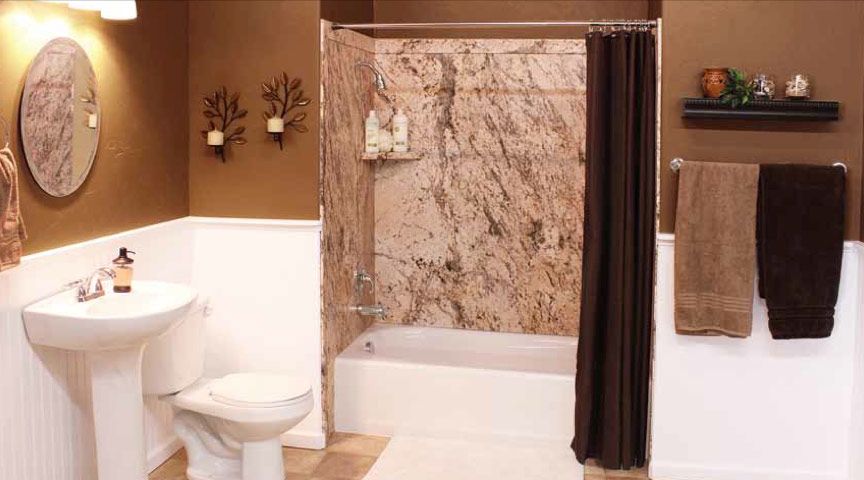 There are lots of reasons to get started with your bathroom remodeling project this summer, and taking advantage of the additional hours of sunlight is just one of them.  However, many people find that they need more than daylight savings to complete a fresh new look without breaking the bank. Never fear—Innovate Building Solutions can eliminate third-party installation costs by serving as your guide to purchasing and installing new shower and tub wall panels yourself, providing you with high quality products and a variety of finish options. You'll have a brand new bathroom look in no time!
DIYers and savvy savers will love installing these decorative high-end shower panels. The complete shower and tub wall kits from Innovate Building Solutions combine a one-quarter inch thick PVC backed composite with a high-resolution printed digital image to create same look as real stone, marble or granite. We are currently offering shower wall systems priced at $700 and up, with tub wall systems starting as low as $675!
Benefits:
Get the look of marble, granite, or stone panels in five beautiful stock colors like our popular Golden Beaches. We also offer specialty colors such as Venetian Gold and Blue Sodalite for a small additional cost and a little more lead time. The specialty color panels are typically ready to ship out to you in about three weeks.  See our full range of color selections here.
Ability to DIY with ease (but we'll be still there for support with simple step-by-step instructions).
Durable, lightweight and easy to clean material that is made to last
Material will not crack, chip, or fade and is mold and mildew resistant
 Options for standard and custom sizing
 Variety of tub and shower trim moldings
 FREE nationwide shipping
Installing a DIY shower has never been easier or more cost-effective! For more information on our shower and tub wall systems, call Innovate Building Solutions today at 877-668-5888.
---
Mike Foti
President of Innovate Building Solutions a nationwide supplier and regional (Cleveland and Columbus) remodeling contractors. Some of our product lines include glass counters, floors, backsplashes, glass blocks and grout free shower and tub wall panels
---