5 Design Ideas to Modernize a Glass Block Wall or Window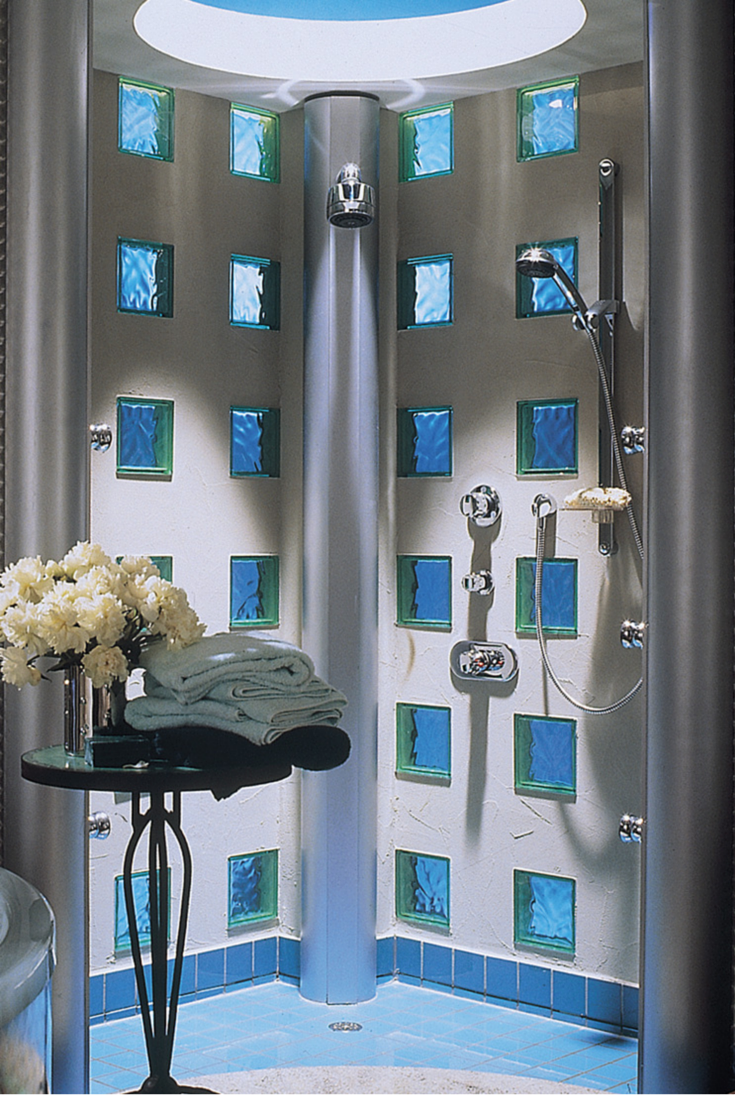 Updated February 23, 2019
Yes – I've heard the arguments that glass blocks are dated or that they are an "80's" product – but I'm not sure people who make this claim are aware of how this material has evolved. This is not your Grandfathers glass blocks (or your Fathers Oldsmobile anymore). The article below will show you 5 design ideas to modernize a glass block wall or window which will you cause to pause about your thoughts of this as an outdated building material.
Design Idea 1 with glass blocks– combining different patterns and sizes
Mixing up sizes, patterns and even colors can be fun, eclectic and cool! Why limit a glass block layout to stacking one block on top of another? In this project 4″ x 8″  in a clear wavy pattern where combined with colored blocks in a teal 8″ x 8″ size. Its also interesting how the blocks over the doorway seem to 'float in space.' The color of the glass was chosen to match with the Catalina tile you'll see on the inside wall of the shower. This is certainly not a 'generic' shower.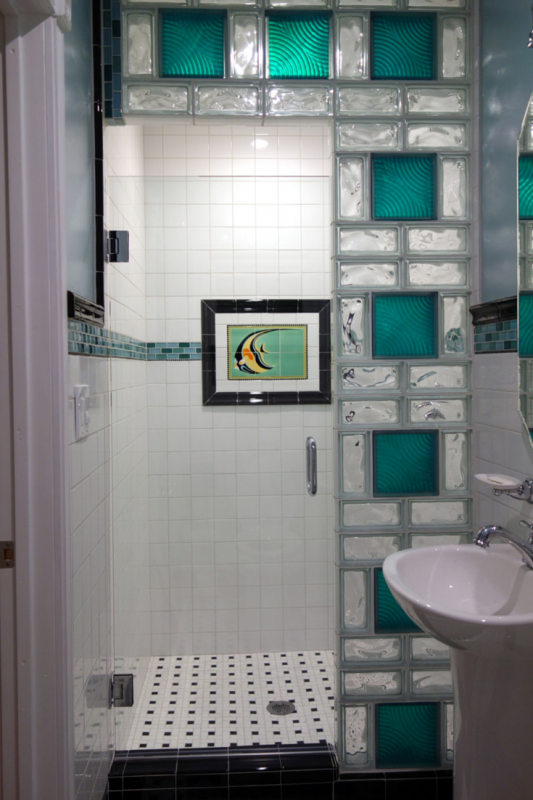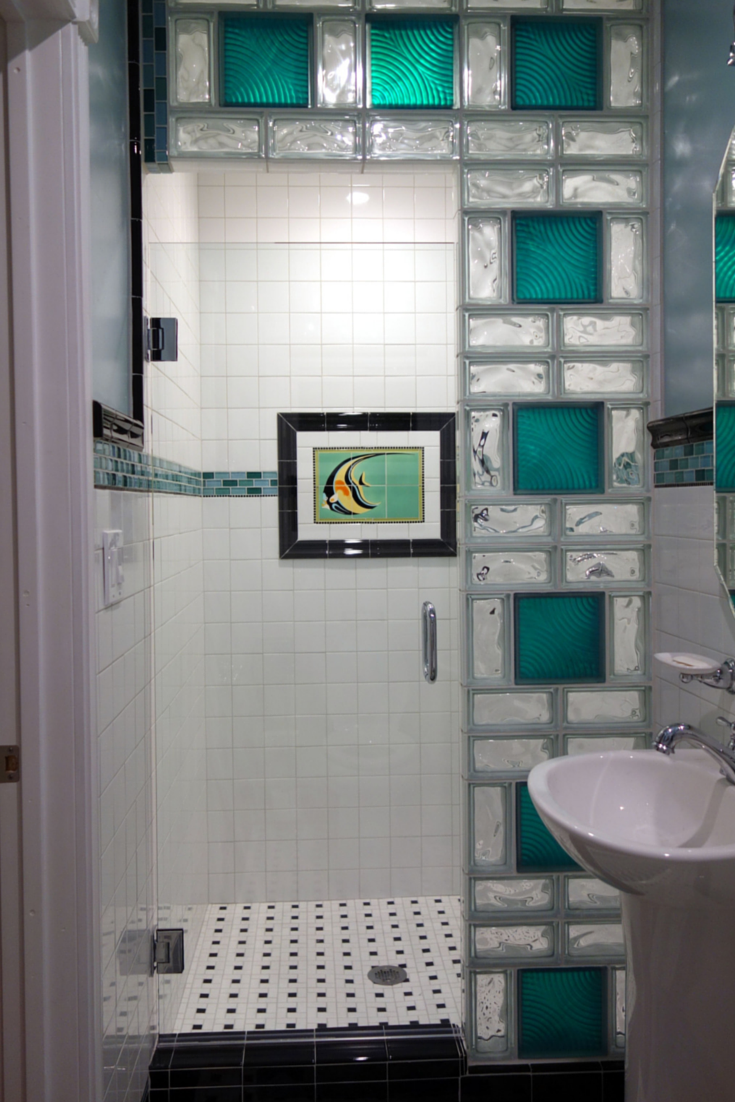 Design Idea 2 with glass blocks using textured glass blocks
Adding texture and depth to a design can provide more interest for a shower wall, bathroom window, kitchen backsplash or partition wall. Newly introduced textured mosaic and pyramid shaped blocks (which literally pop out of a wall) can make a unique statement. This is the same type of unit you'll see in an eclectic boutique chic hotel like "The W" – don't you think?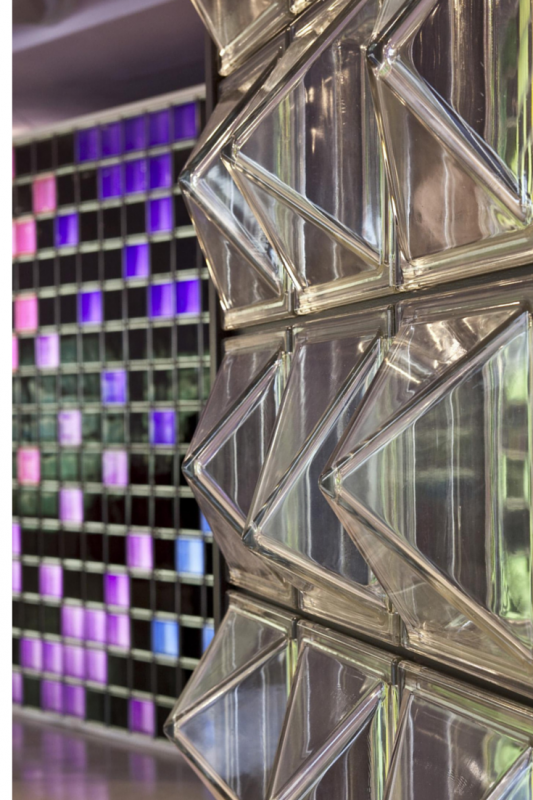 Design Idea 3 with glass blocks– Frosting is not just for cakes!
While frosting is sweet on a cake, a frosted surface on a glass block wall or window can add subtle sophistication, bring light through and make your bathroom or bedroom private. In the projects below frosted glass blocks add privacy, yet move light through this stairwell in a bathroom separation wall.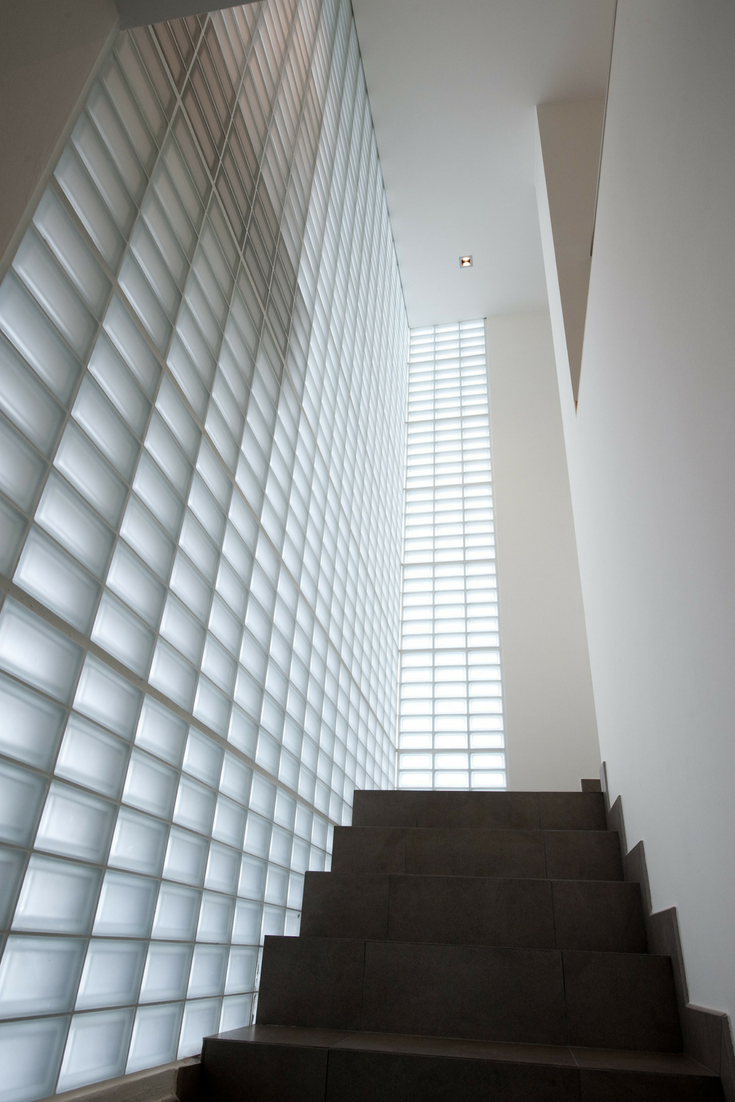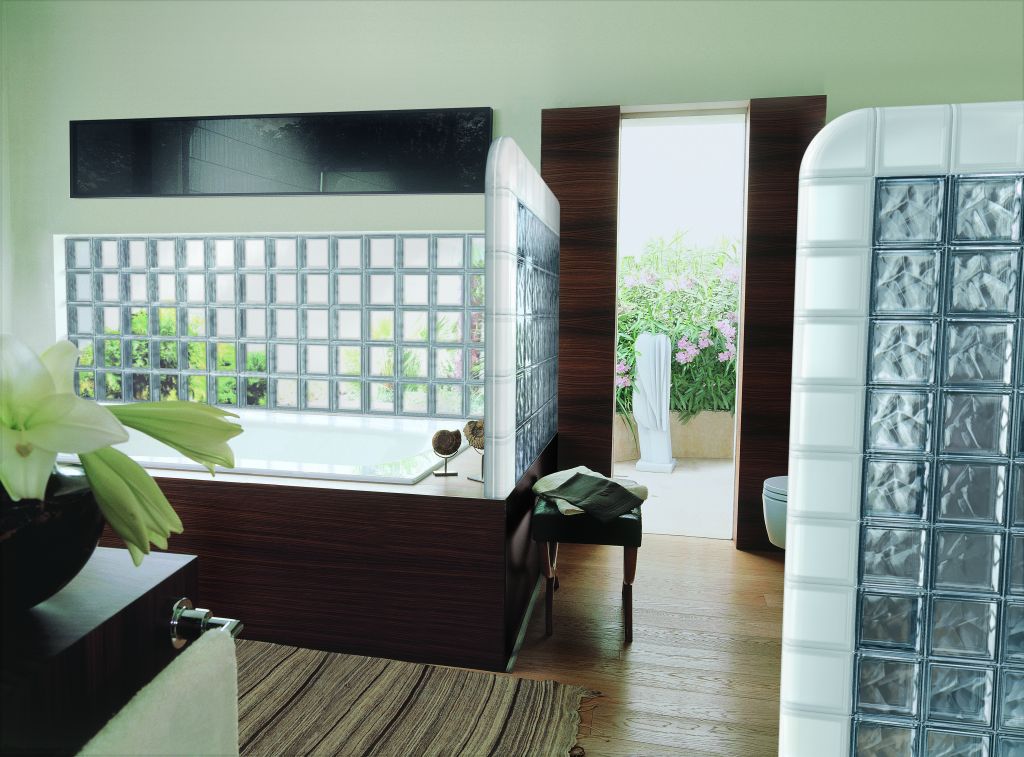 Design Idea 4 with glass blocks – Combining modern art, color and even a "caming" effect
If you're a fan of Piet Mondrian (considered by many the father of modern art) you're going to love this idea. Using colored glass blocks in the Mondrian color palette and a black grout joint (to mimic a caming effect) transformed this room with fun colored lights and a modernistic design look.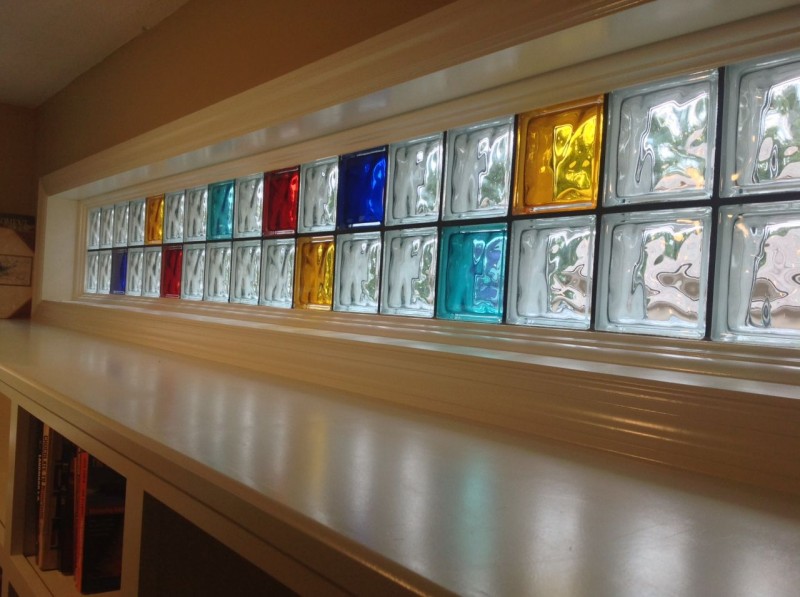 Design Idea 5 – See through design for a crisp, contemporary look
Non-patterned (see-through) glass blocks provide a cleaner look than the obscure type patterns often associated with glass blocks. This  modernistic installation in a purple color has a WOW affect.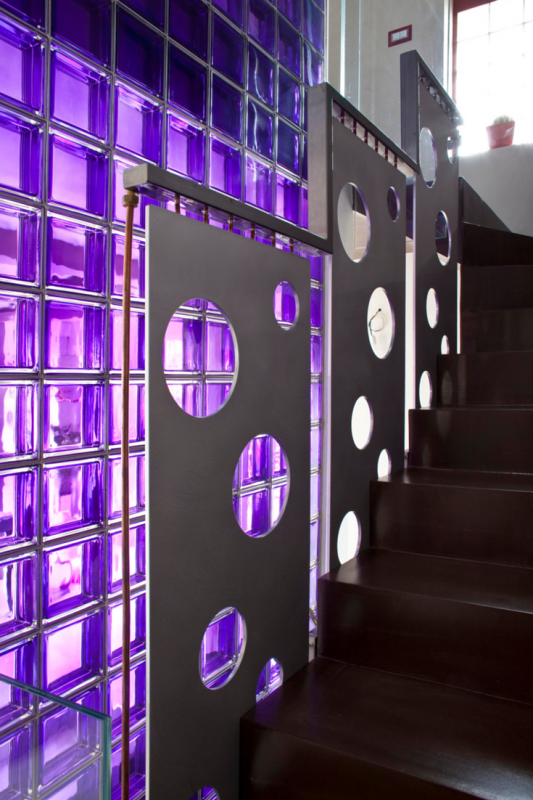 Conclusion
Has any of these 5 designs changed your opinion about using glass blocks in your home or business? Did we inspire you, or do you still the material as a wacky idea? I'd love to hear your thoughts below.
###
Call Innovate Building Solutions for direct product supply on a nationwide basis (877-668-5888). For a local project their divisions including Columbus Glass Block (614-252-5888), Cleveland Glass Block (216-531-6363), West Side Glass Block (216-398-1020) or Mid America Glass Block in Akron (330-633-2900).
If you're a remodeler or builder and want practical advice on remodeling products, industry trends, marketing and sales tips to grow your business (and cut day to day hassles), start reading my newest blog – Innovate Builders Blog. It's packed with ideas you can use now. Click here to Sign Up for the Innovate Builders Blog.
---
Mike Foti
President of Innovate Building Solutions a nationwide supplier and regional (Cleveland and Columbus) remodeling contractors. Some of our product lines include glass counters, floors, backsplashes, glass blocks and grout free shower and tub wall panels
---