The 5 Step Program to Remodel Your Home out of a Fashion Time-Warp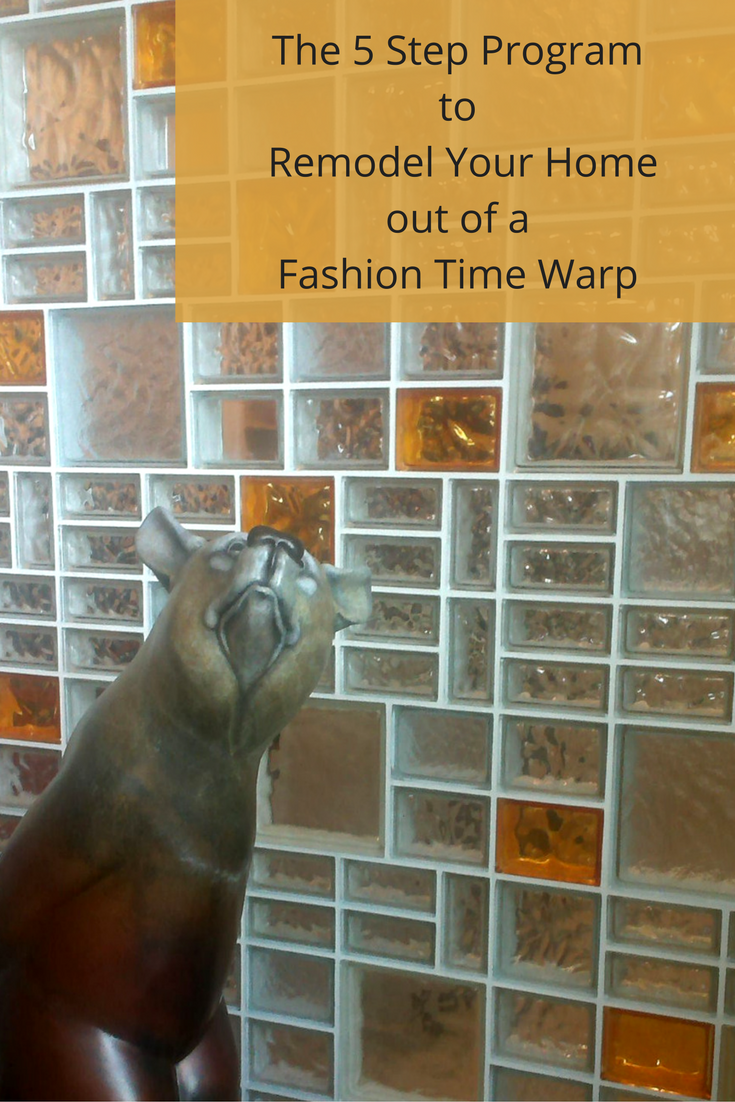 How do you know when your clothes or home have gone out of style and you need a makeover – BAD? You may ask a trusted consultant for their honest opinion. Someone who will not beat around the bush. I remember doing this during my early days as a professional speaker. I approached Danielle Turcola (a national image consultant) about how I was dressing and she said, "Mike – it's time to ditch those button down shirts. It's way too middle-manager looking for a professional speaker." While it hurt to get Danielle's "give it to you straight" advice she was spot on. I listened.
In many cases we're oblivious to our own fashion – whether it's in clothes (do you have any family members who are stuck in the 70's with long hair and groovy outfits?), or in home décor (the wallpaper in their homes looks like Marcia and Greg Brady could show up any moment!).
Such was the case for Lilly Epstein of Orlando Florida when she brought in Interior Designer Laurie Lake with Floor to Ceiling (a contractor and interior design firm) in Winter Garden Florida. Laurie came originally to look at upgrading one of Lilly's floors. While Lilly's home was hot (it won the Best Home in the 1989 Orlando Parade of Homes) it's current décor was stuck in a bit of a fashion time warp. As Lilly said to me, "I didn't realize how dated the home had become until I saw the before and after remodeling pictures!" The reality is time moves on but sometimes we become oblivious to our own surrounding and sense of fashion (I would still be wearing those button down shirts if Danielle had not set me straight!).
If you look at your home today is it looking a little long in the tooth? I can still think back to the "June Cleaver Kitchen" my wife and I inherited as a young couple when we bought our first home (many people today probably don't even know who June Cleaver is!).
Do you need help transforming your "much-too-long-absent-from-remodeling" home into one which looks like it belongs in a magazine (and not a magazine from 20 years ago sitting in your old dentist's office?). If so, the time may be right to enter the "5 step program for non-remodelaholics" (i.e. those people who have waited too long to update, redecorate and remodel their homes). Join the meeting – now in session- to get 5 key steps to remodel your home out of a fashion time warp.
Step 1 – Admit you have a home fashion problem  
Step 1 is you (and maybe your spouse – which could be tougher) have to admit you have a home fashion problem – that your home is dated and needs a makeover. I have to admit I break out in the sweats when my wife Rose tells me she has the "urge to redecorate." I'm a guy (and even one in the remodeling and design business) and I don't even notice half the things which need to be fixed or upgraded in my own home as my wife does!
In Lilly's case she was open to Laurie's input that her home had become dated. Laminate countertops were out and Quartz was in. Her framed shower doors had seen their better days. An oil rubbed bronze frameless enclosure would create a fresh contemporary look. Some of the vanities were outdated and needed to be replaced.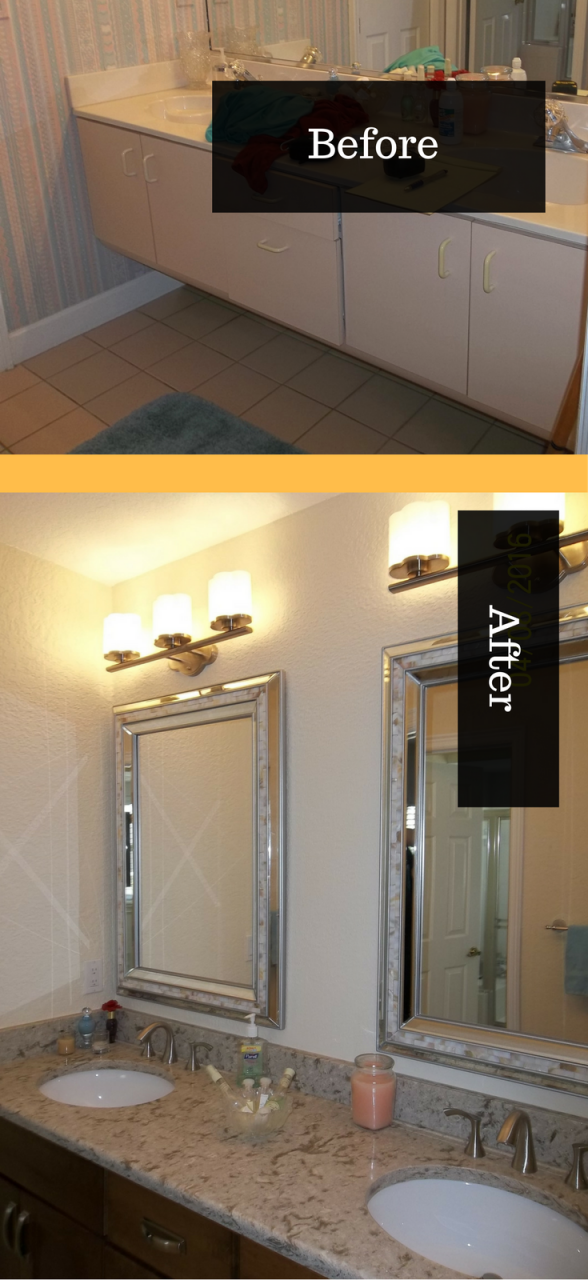 Look around your home. What screams "old school?" Have you admitted your home has an interior design or decorating problem? Have you been able to get your spouse or significant other to admit this fact?
Step 2 – Seek out a "power," person or company you can trust to set you free from your remodeling time-warp  
Would you leave for a trip around the country and be comfortable enough with your contractor and interior designer to lead you through the construction and product selection process while you're on the road? To most people this sounds completely crazy! To Lilly this process made perfect sense. She "got out of Dodge" while the "remodeling dust was blowing" and communicated consistently with Laurie and the Project Manager David Smith to guide selections and construction decisions. As Lilly said to me, "I trust Laurie implicitly. She can read me. She has my best interests in mind. She can research products with the best of them." Laurie said to me, "Mike – being an interior designer is like being a Librarian with a digital rolodex on steroids. Knowing what products to show a client and who(m) to call is essential."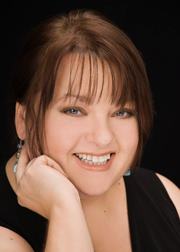 At this stage you may be asking, "How do I find a contractor or interior designer I can trust like Laurie and her company Floor to Ceiling? I'd recommend first talking to friends (hopefully they'll be willing to share their "secret contractor" with you). Go to sites like Angies List, Houzz and Yelp. One other little known strategy to do would be to contact a company like Remodelers Advantage. They provide consulting services to top remodeling contractors across the United States. Since they consult and educate the "best of the best" in the industry they could also serve as a referral source for you!
Step 3 – Allow the style of your home to be fearlessly YOU!   
Stop designing and remodeling your home around "what is best for resale." Are you remodeling and/or redecorating for you or for someone else? Design a home around your tastes, passions and style. Create a home which will live and entertain extraordinarily for you and your family. Lilly was all about this. As she said to me, "If I see it and it hits me – that's it – I'm going to do it!"
Lilly loves the flair and colors of the Southwest. She wanted to incorporate these colors in her redesign. Laurie led a team of people which replaced a boring (one block on top of another) glass block partition wall with a multi-textured glass partition experience.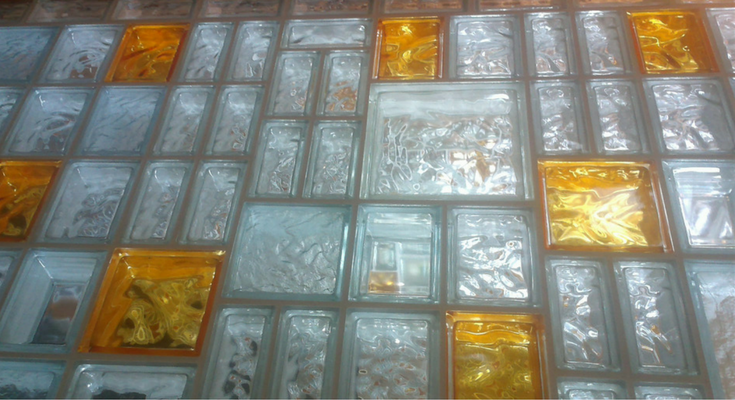 Mixing up sizes, patterns and even amber colored glass blocks the partition wall now not only helps to control light and heat gain of the Florida sun,  it also makes a statement in the home's foyer that this home is not like all the others!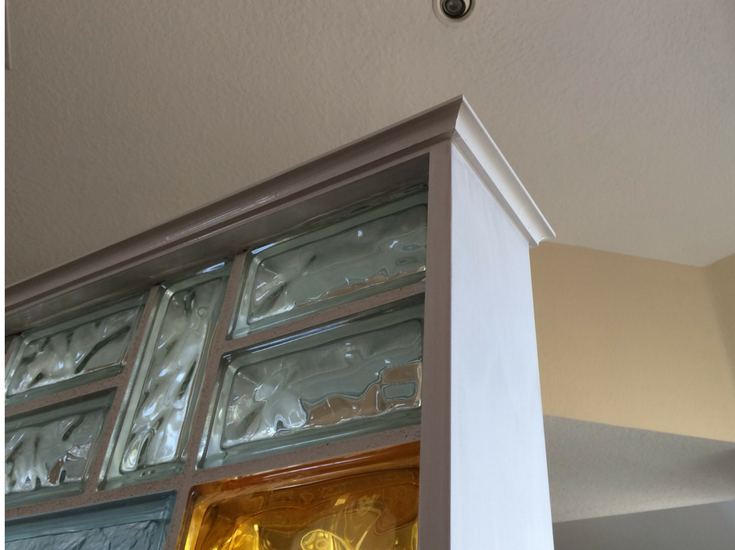 What can you do in your home to fearlessly show your personality? Does your home today look like a beige-colored spec home a production builder cranked out several years ago?
Step 4 – While removing your décor and design shortcomings – don't abandon what's good
You've heard the saying "don't throw the baby out with the bathwater." In remodeling there can be a tendency to say we need to chuck everything. This is not only costly – in some cases it can be the wrong thing to do. Evaluate your space where the "decorating" or façade is not up to snuff. For example, if you have a bathroom like Lilly's with a corner tub first ask yourself, "do we use this tub?" Does it just look old and need an update? If you don't use the tub – by all means get rid of it. If you use it but it's needs a cosmetic update (like new tile, an updated finishes on the fixtures or a new vanity), then go in that direction.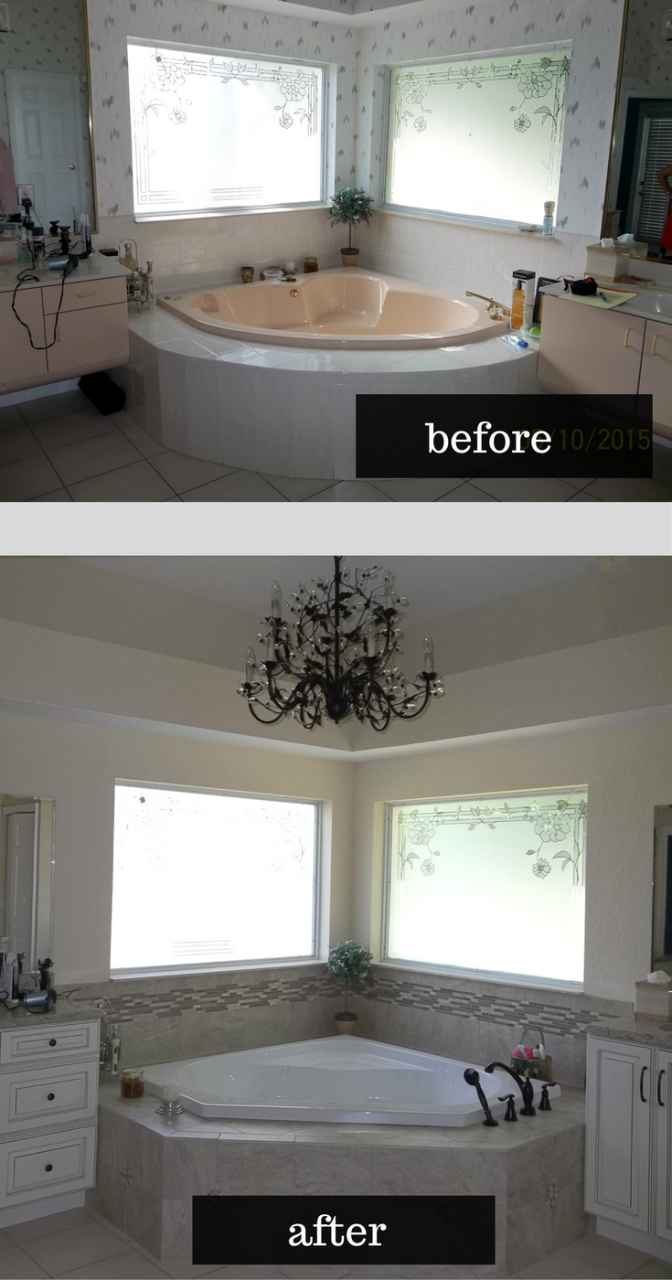 All of our homes have shortcomings. Just don't forget what's good and throw that baby out with the bathwater.
Step 5 – Make a decision to have fun with your remodeling and redecorating
Remodeling and designing the interior of your home should be fun! Yes – you heard that right FUN! Here's two ideas to inject fun in your next project.
Work with fun people – If your contractor or interior designer is too serious they will lack creative ideas and may get too stressed when things don't go as you (or they) want. In the process of interviewing contractors look for people who can not only "get down to business," but will joke around or say things like "I have a crazy idea for you!" Remember the coolest – most unique- features are often born from crazy ideas (from creative people).
Add fun products and touches which show your "fearless style" (from Step 3) – In Lilly's case you'll be immediately be welcomed into her home by a bronze bear called "Clark." Clark is a warm and friendly bear who was "adopted" (purchased sounds too commercial) from the sculptor Joshua Tobey in Sedona Arizona. You can also see a fun (but a bit of a "girly" touch as Lilly said to me) chandelier in her master bathroom. Injecting your personality will make your home memorable. Check these two fun products out below: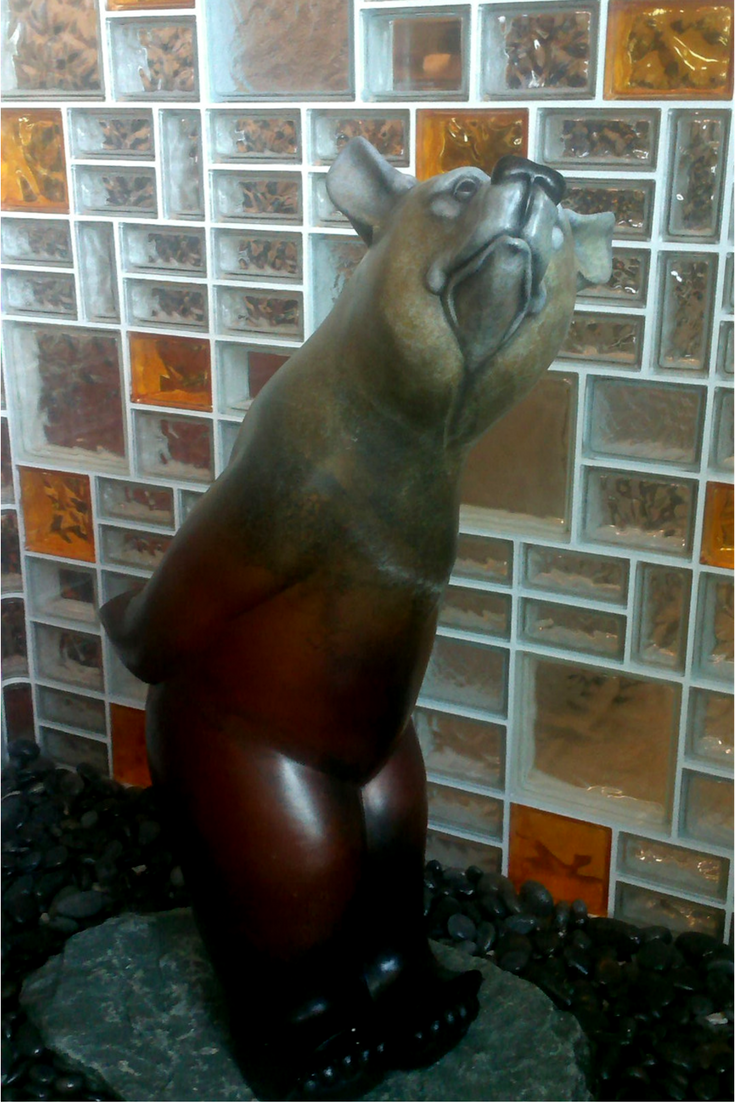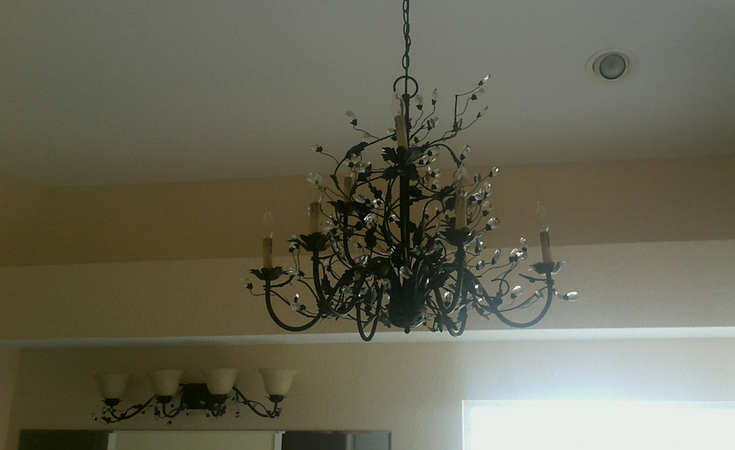 Conclusion
If your home needs to enter the "5 step program" don't be discouraged or upset. Stay disciplined to work through the steps, find people to guide you along the way and keep the vision of a better, more contemporary home in your mind.
Do you have any questions about remodeling, redecorating or using interior design services for your home? Comment or call the numbers and resources below.
If you're looking for more information or an estimate on remodeling in Orlando Florida call Floor to Ceiling at 407-877-0070 or a for a Cleveland remodeling project call Cleveland Design and Remodeling at 216-658-1270. For nationwide supply of colored glass block walls call Innovate Building Solutions (877-668-5888).
Connect with the author on Twitter @Mike_Foti his company @InnovateBuild
---
Mike Foti
President of Innovate Building Solutions a nationwide supplier and regional (Cleveland and Columbus) remodeling contractors. Some of our product lines include glass counters, floors, backsplashes, glass blocks and grout free shower and tub wall panels
---