How to design a shower your woman will love (written by a guy)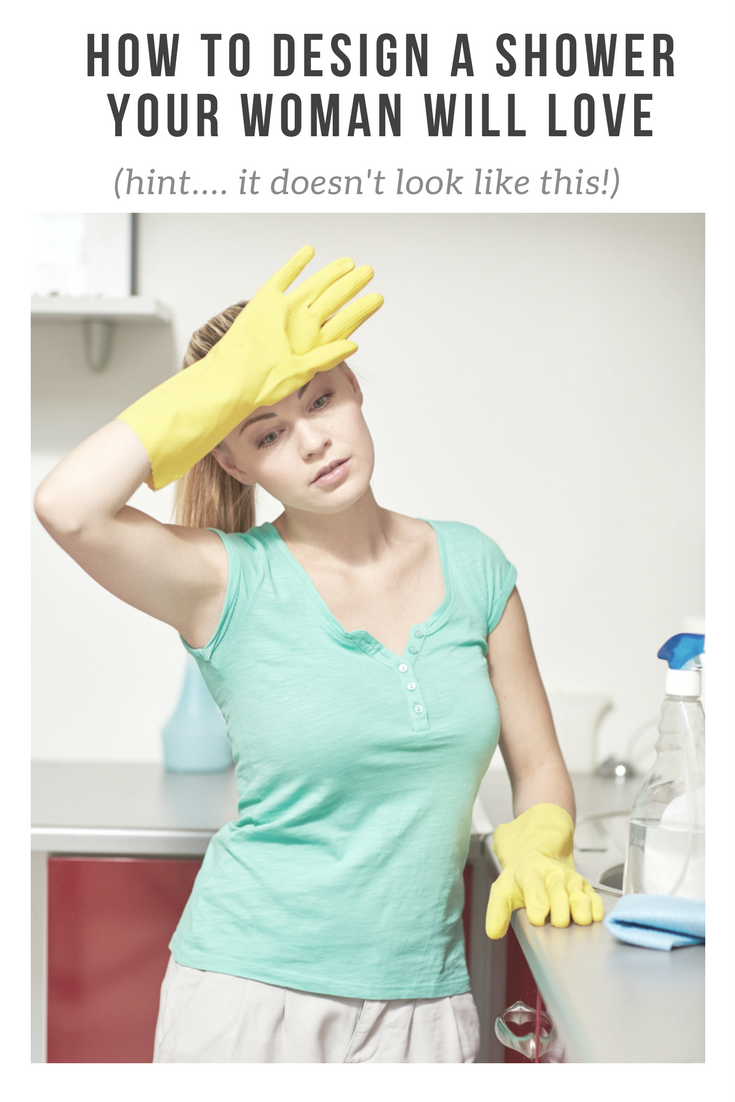 Updated March 16, 2019
I know I'm stepping on unsteady ground here writing an article about shower designs a woman would love (since I'm a guy!). While I'm not crazy enough to dish out marriage advice.  I won't tell you how to improve your listening skills so your wife won't get mad at you (I sometimes resemble this remark). I don't have any special motivation pills to tackle your "honey-do" list, but I do have a lot of experience working with lots of women desperately wanting new shower systems (and are trying to convince their husbands or boyfriends to DIY – or spend the money – to make these showers a reality). I've heard their pains LOUD and clear. I guess you could say I feel at times like the "Dr. Phil" of shower design.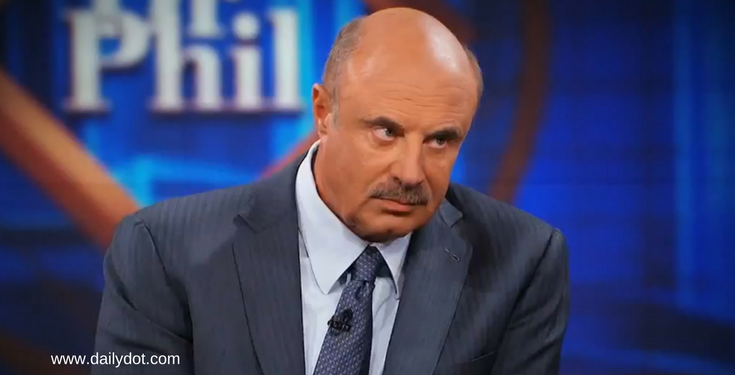 Guy's – this article is written for you. For a better bathroom. For you to live the concept "happy wife (or significant other – need to be P.C. here), happy life!"
Let's look at 5 practical ideas to get your woman loving your shower (and loving you more – by extension – as well).
Shower design love tip #1 – Framed doors are nasty – blow yours up immediately
Have you ever had the "pleasure" (sarcasm intended) of cleaning the junk (hair, dirt, grime) out of the track of the door in your shower? Well, many women have been living the reality of this nastiness for years. Be a hero and get rid of this cheap high maintenance, high hassle shower door. To do this you have 2 basic options:
Go frameless – frameless glass doors are sturdy, sleek and modern. They also eliminate the framing which is hard to clean.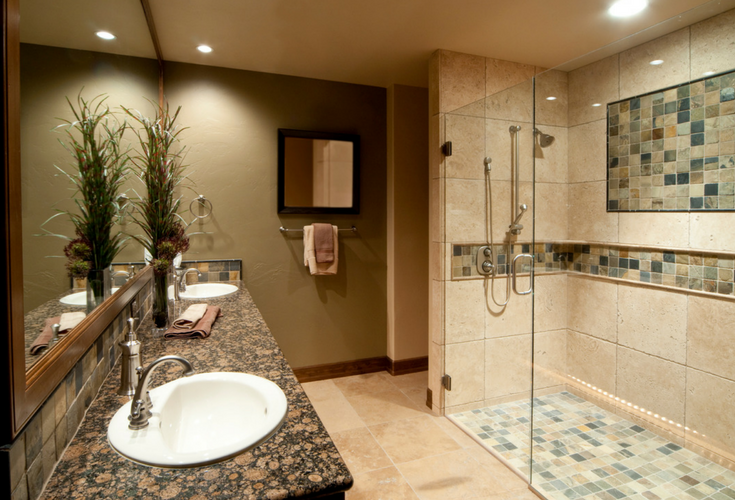 Go doorless – Better yet, install a new walk-in shower. This eliminates the door (and its cost) and is contemporary and stylish.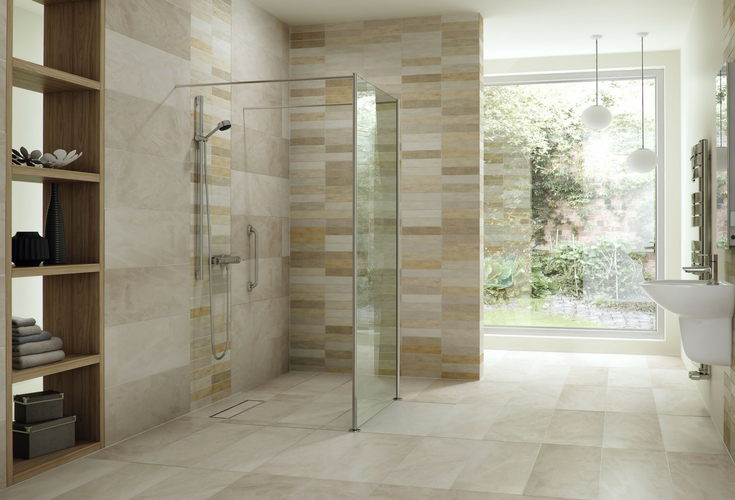 Shower design love tip #2 – Women LOVE their products!
So, guys, what do you have in the shower right now? Maybe a bar of soap and a bottle of shampoo (if you're getting kind of fancy). Well, women need a bunch more stuff in their never-ending quest to look good for us! They've got exfoliating creams (what the heck is that anyway), sponges, loofas, anti-aging creams, conditioners, and the list goes on and on. They need a place to put all these products.
Here's what you need to do. Add as many shower caddies and shampoo niches as you can. If your shower space is small, install recessed niches into the wall to add storage space without the need to add any size to the shower. Don't give her some cheap tacky, plastic shower caddy which hangs over the shower head and drips soap and scum onto the shower floor (which she most likely cleans up). Go stylish and go BIG with more shower storage.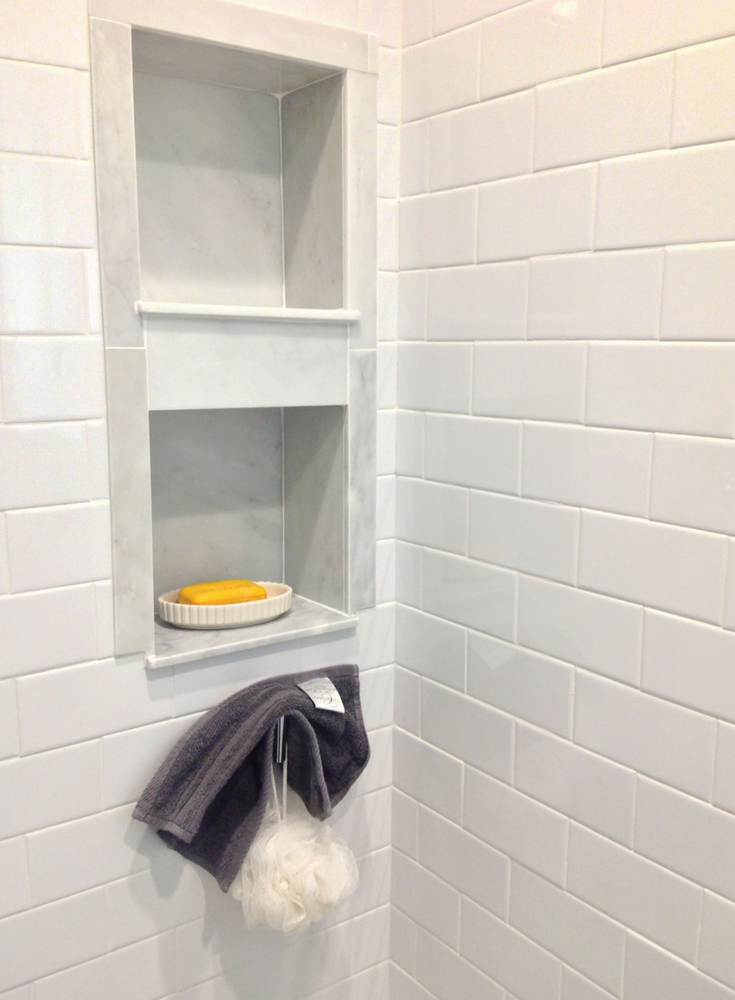 Shower design love tip # 3 – Kill the tile or hire a cleaning lady ('er "person" to be politically correct)
Tile is everywhere and boy does it look nice when it's done. The grout joints are sparkling (with the new "grout" smell – kind of like a new car smell) and the never-been-used "Parade of Homes" look. Then something happens. You and your wife use the shower – every… single… day. The tile grout joints get dirty and the cleaning and scrubbing process begins (and major pain in her butt – most likely).
If you want her to really love you, be determined to kill the tile and grout joints in your next shower.  Do this without using a low-budget boring white fiberglass wall panels you could pick up and slap up from the big-box stores. Take it up a notch and add some style while you're getting rid of maintenance problems. If you're into contemporary design, high gloss wall panels are way slick (but I'll warn you they are pricey). If you want a stylish shower (without busting the budget) laminated wall panels (which look exactly like tile and stone) are a sound choice.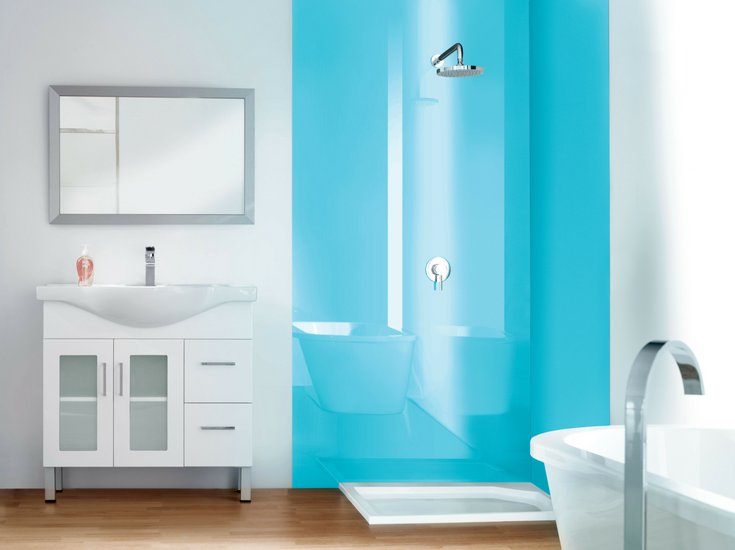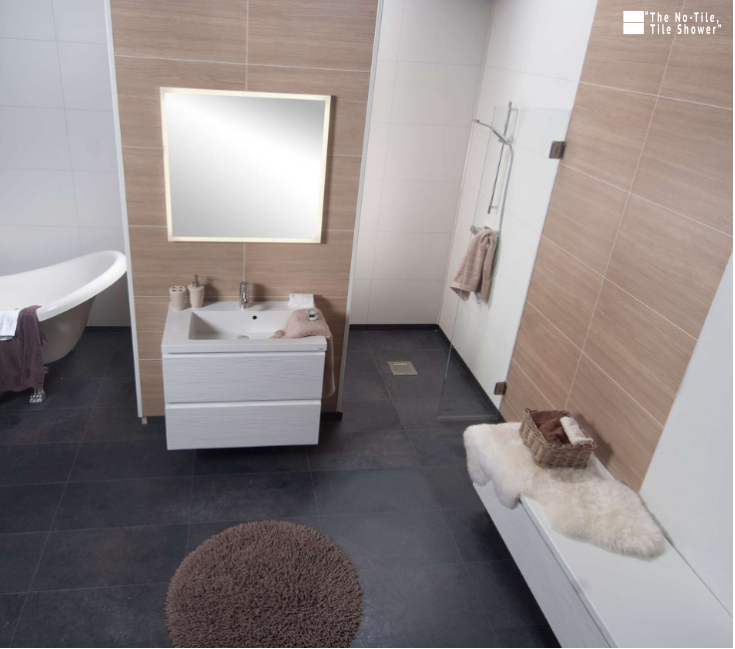 If you want to keep the budget down – but she likes more dramatic style – the faux stone wall panels are an excellent choice.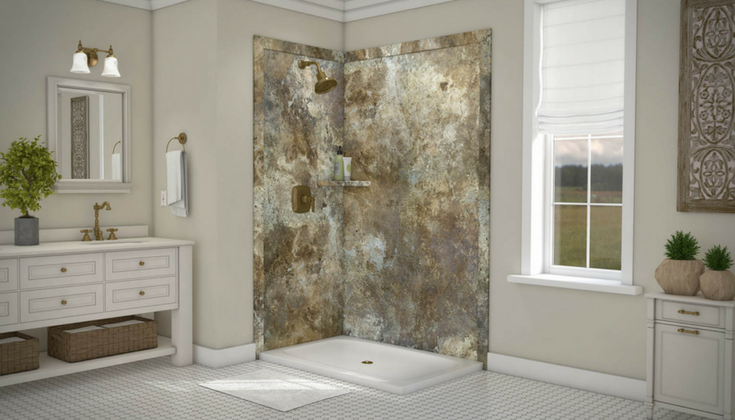 If she's a bit more traditional, cultured marble wall panels with subway tile or stone tile designs may be your ticket to "shower love." The solid surface panels are also nice and are available in both traditional and contemporary looking panels (like these smooth black panels shown below).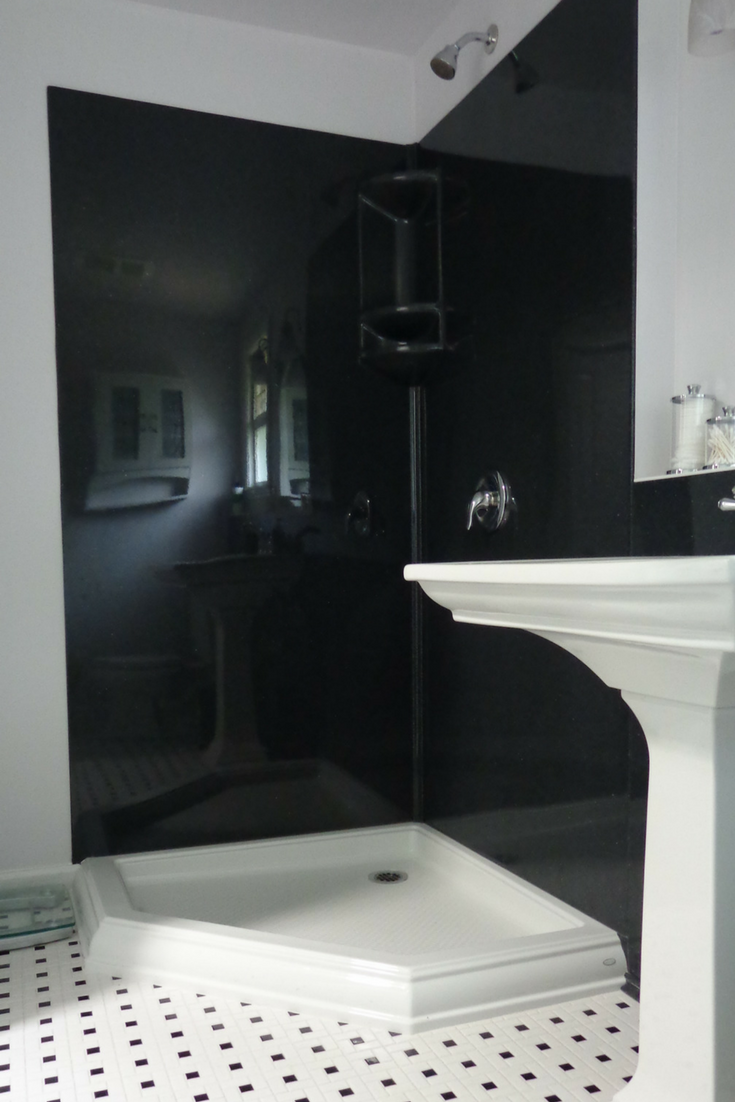 Shower design love tip #4 – Allow her to be smooth and stubble free
You and I are cool being hairy. When it comes to your wife or girlfriend (unless she's into a "Euro" vibe – ala "Mrs. Doubtfire") she probably is challenged to keep her legs hair free. Having the ability to shave her legs in the shower is critical. If you don't have a lot of room add a small leg ledge or shaving shelf in the corner.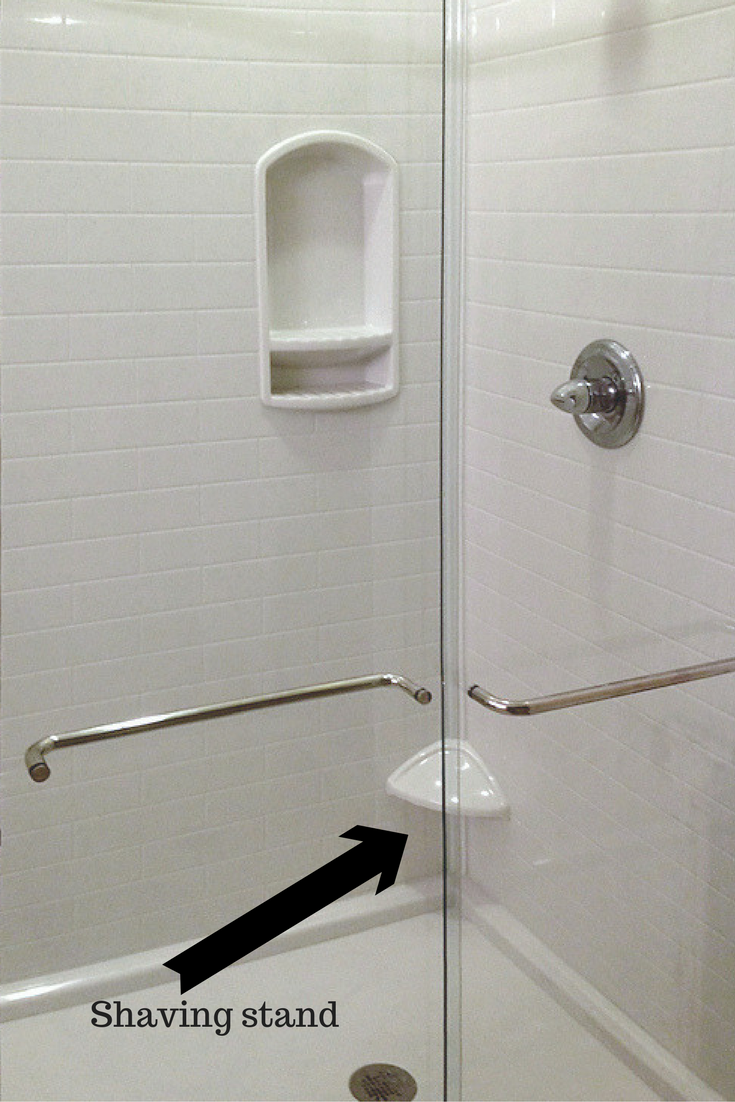 If you have a larger space, a shower bench seat is an excellent place to shave and relax. She will love you for adding a thoughtful place for shaving in your shower – no matter how big or small!
Shower design love tip #5 – Create a "spa," not a shower
You may view the shower as a utilitarian experience. Get washed up, get out the door. While your woman may need to live in this same world 95% of the time (rushing off to work, driving the kids all around creation) she would absolutely adore you if in the other 5% of her life she could have a spa shower to relax and enjoy.
If you have a small stand up shower stall you can make it feel more spa-like by adding a rain head for those days where she just wants to take a longer relaxing shower.
If you've got more space, you have a big-time opportunity to live it up. Maybe you'll want to completely enclose the area and do a steam shower. Another option, add a bunch of jets to give her the feeling of a massage while showering, or even pipe in some LED lights or music through the shower head. Add a long bench seat like the one below for a place to relax. Spa showers today can go WAY beyond just getting her clean.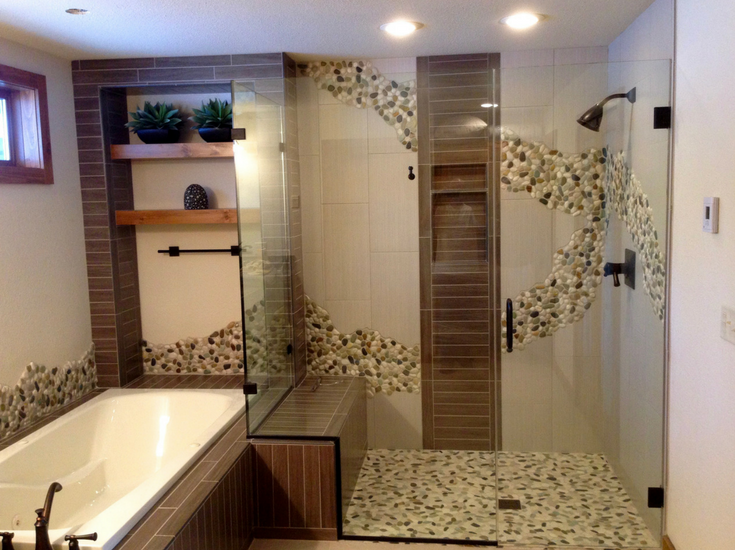 Conclusion
I may feel at times like I'm the "Dr. Phil" of showers but what I think it really comes down to (whether it's shower design or trying to have a better relationship with our woman) is listening to what she doesn't like and working to make her life a bit less stressful. If we can help her spend less time cleaning, and more time enjoying life we'll truly have a shot at "happy wife, happy life!"
If you need information on shower products nationwide call Innovate Building Solutions at 877-668-5888. If you need a shower remodeling project in Northeast Ohio call Cleveland Design and Remodeling at 216-658-1270 or in Columbus The Bath Doctor at 614-252-7294.
If you're a remodeler or builder and want practical advice on remodeling products, industry trends, marketing and sales tips to grow your business (and cut day to day hassles), start reading my newest blog – Innovate Builders Blog. It's packed with ideas you can use now. Click here to Sign Up for the Innovate Builders Blog.
If you're in the building business, click here if you'd like to learn how to become a shower wall panel dealer or call and ask for Mike at 877-668-5888.
---
Mike Foti
President of Innovate Building Solutions a nationwide supplier and regional (Cleveland and Columbus) remodeling contractors. Some of our product lines include glass counters, floors, backsplashes, glass blocks and grout free shower and tub wall panels
---