7 tricks to turn your tub into an amazing walk in shower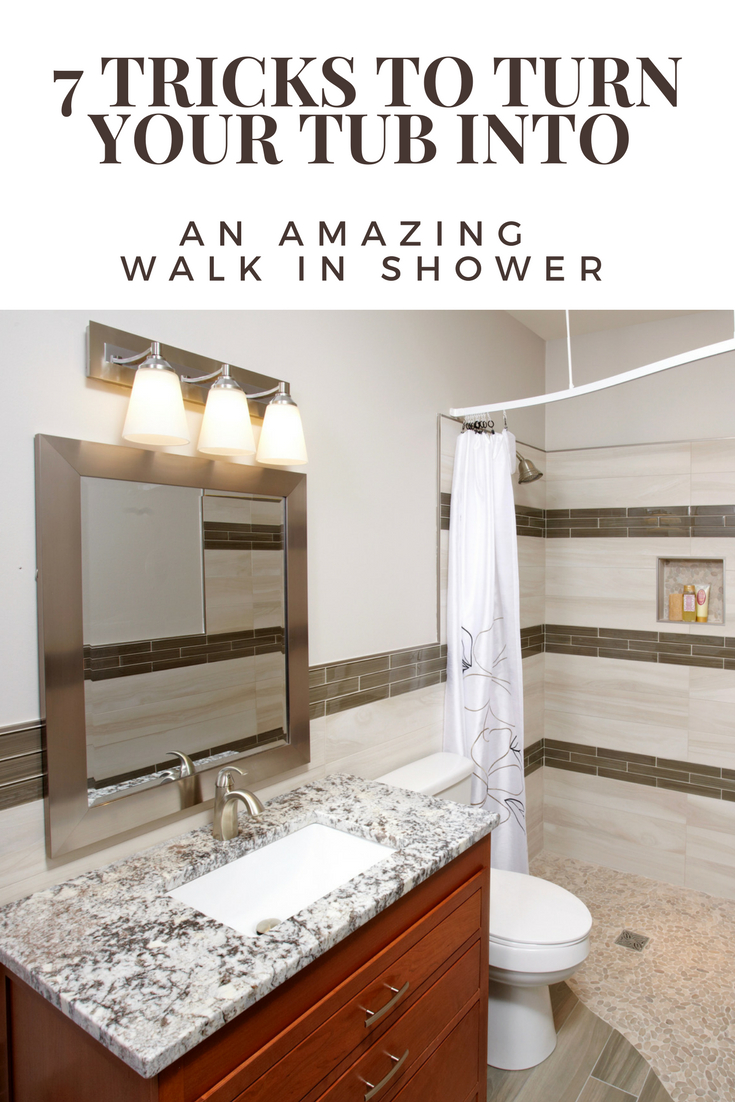 Updated December 26, 2021
Are you afraid when friends ask to use your bathroom? Worried they might peak behind your dated pink shower curtain and see the "gunked up" (not sure that's a word) tile grout and rusted cast iron tub which lurks in this dark spooky alcove space you get to "enjoy" (sarcasm intended) daily?
Your old bathtub is not the sexiest place in your home. You have to climb into this this space to shower every day, and its' not as easy to do as it used to be. Since the tub is stained and nasty you wouldn't dare take a bath in (if you had the time – which you don't anyway). Why are you putting up with this poor functioning tub?
You've checked out the cool walk in showers on Pinterest, Houzz, at your local Parade of Homes and hotel rooms you've stayed in. You've experienced those moments of shower envy. You say, "these showers are really cool – but it's not happening in my small 5' 8' bathroom."
I'm going to tell you it's actually possible to get a slick walk in shower – even if the only space you have for it is the slender 60" wide tub area. You may be thinking – you've got to be a magician to fit a walk-in shower into my space. Check out the 7 tricks below (and don't miss bonus trick #8 at the end either!) and see you how you can convert your bathtub into a walk in shower. Learn how to gain space without breaking down the walls into adjoining rooms.
Trick #1 – The "Beyonce" – using the layout to go deeper or "curvier" to gain space
Most tubs are 30" deep but the wall on the left sides of your tub can be up to 36" deep. What you may not realize – and it doesn't take any advanced math to figure this one out – is if your side walls are 36" deep when you bring your shower out to the end of the wall you've now gained 20% more space for a walk-in shower.
You may say but Mike I don't have 36" on these sides walls. Well – here's another trick. If you use a curved shower pan which bows out in the front (they are 36" in the center and 30" at the side walls) you're still creating more shower space with the same shallow side walls. Now that's a tip Beyonce would resemble!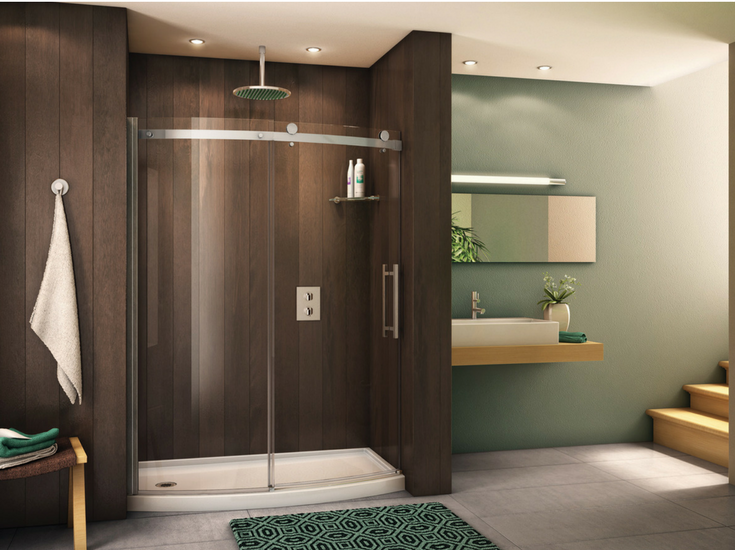 Trick #2 – The shower base – get rid of barriers to entry (the evil shower curb)
Back in my business school days at Carnegie-Mellon (note: I was a mini "Alex P. Keaton" of Family Ties type – a true business school geek) we used to talk in classes about "hot topics" like barriers to entry in markets (I bet this sounds exciting to you as well – ha! ha). For those of you who aren't business geeks, barriers to entry in business are how hard it is to get started in a particular industry.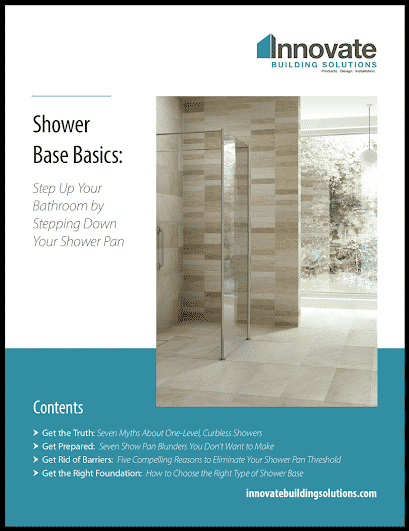 Get Our Ultimate Shower Base Guide!
Step Up Your Bathroom by Stepping Down Your Shower Pan!
In tubs and showers there too can be barriers to entry which prevent you from entering your space as well. This barrier to entry is the shower curb (or threshold as some call it) which "defines" the shower space. This 4" to 6" curb may seem like no big deal to your 18-year-old son, but to you (or your Mom or Dad) climbing over a shower threshold can be a life altering experience (ask anyone who has dealt with a family member with a broken hip). What can be done about this?
It's simple – ditch the curb. There are 2 ways to accomplish this.
1) Use a ramped in barrier free entry. You can use a ready for tile shower pan or a solid surface shower base to create a slightly ramped entrance which makes it simple to get in.
2) Go one level. With a one level bathroom, your shower no longer is a separate unit – but the shower and bathroom floor are continuous. This is a fantastic technique for small bathrooms – and it also has a contemporary sleek feel.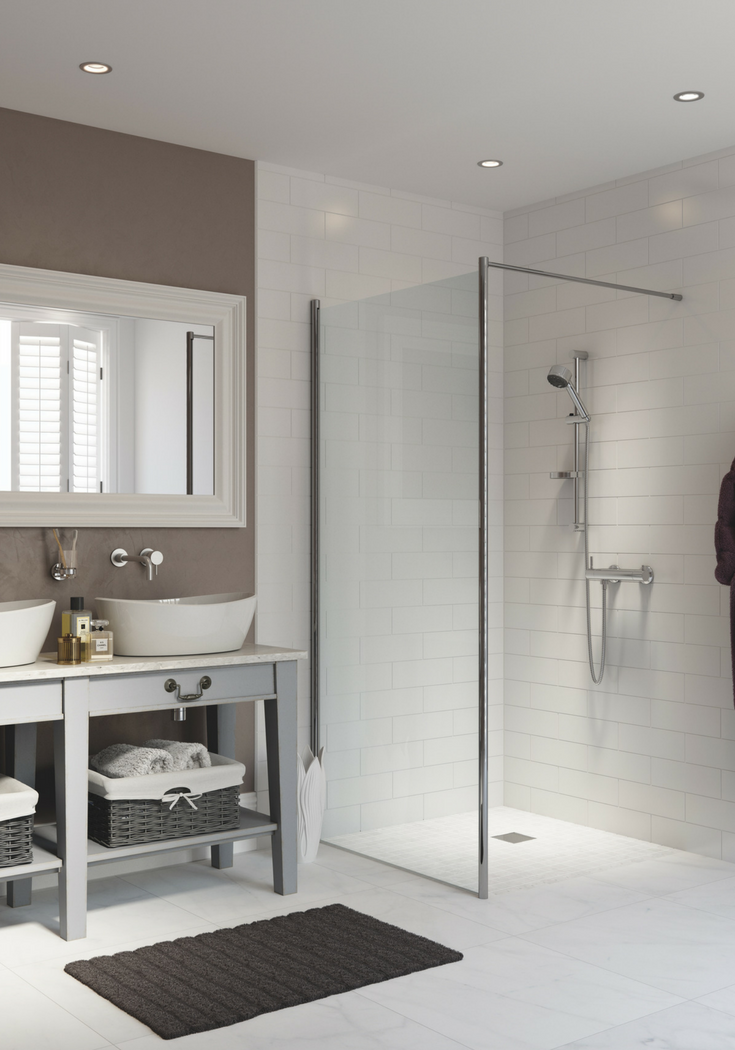 Trick #3 – Remember plumbing can be "your little friend!"
I love the line in Scarface with Al Pacino where he says (as he brings out the shotgun), "so hello to my little friend." When people think of plumbing they think of it as a pain in the a**, not that plumbing can be their "little friend." They think about what can go wrong with plumbing – not how plumbing can make a bathroom cooler and more functional.
When you convert a bathtub into a shower you have to rethink your plumbing by default because you'll need to convert from a 1 ½" pipes to a wider 2" line for the increased water flow of a shower. While you're doing this it's an opportunity to add style to your plumbing. One trick to making your space cooler through plumbing is by using a sleek linear shower drain. They are available with "hidden plates" (so you can't tell a drain is there) and assist in moving water quickly out of the shower so you're not standing in a pool of water when your drain clogs.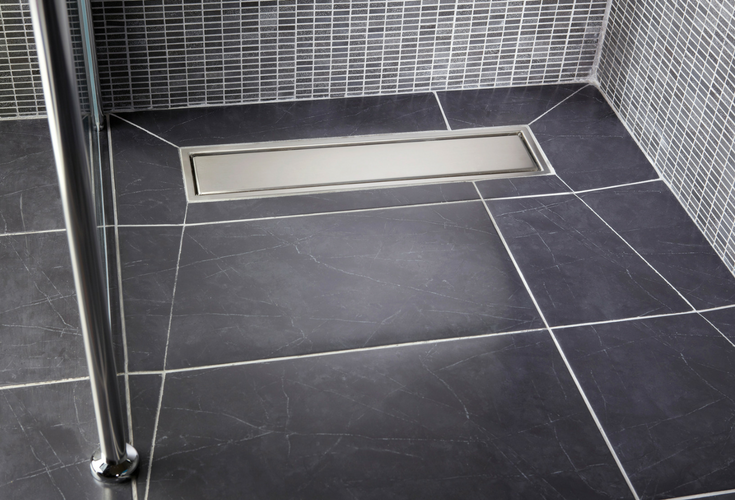 Trick #4 – Using your floor and walls for "hidden comfort"
One negative of a walk-in shower in a tub space (vs. a shower enclosure closed off by a door or curtain) is it's open. While this is a legitimate concern, a luxurious way to counteract this problem is adding an in-floor radiant heating system. This will make a shower super comfortable and give you a spa-like feeling.
Also, if you'd like the ability to sit down while shaving your legs or simply to relax and let water from a rain shower gently fall on you, it's possible to do this in a small walk in shower using a fold down bench seat. Fold it out when you want to relax. Fold it up when you need the space for a quick shower before heading off to work.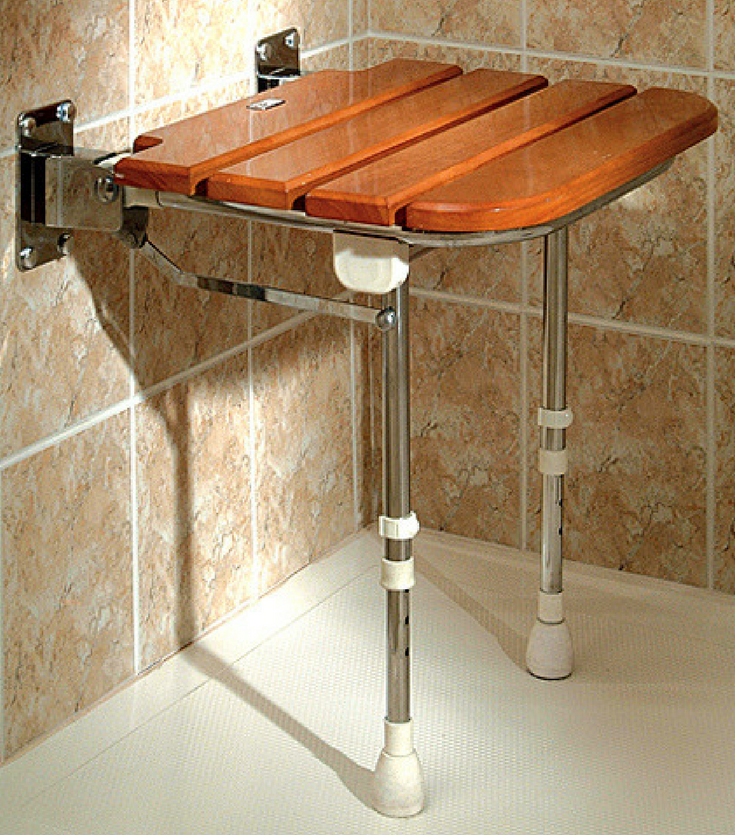 Trick #5 – More "wall magic" – creating "hot pockets" to keep your stuff
The smaller the space – the smarter you have to be with your storage. You need to find those "hot pockets" of storage for soap, shampoo, loofa sponges or lotions and potions which seem to be growing exponentially as you get older. The best way to accomplish this is go "inside vs. outside." Instead of putting your shampoo bottles on the bathroom floor (an accident waiting to happen) or hanging an ugly "shower caddy" over the shower head (tacky – BIG TIME!) build niches into the wall cavities during construction. They are safer, look nicer and don't take up any room inside the shower.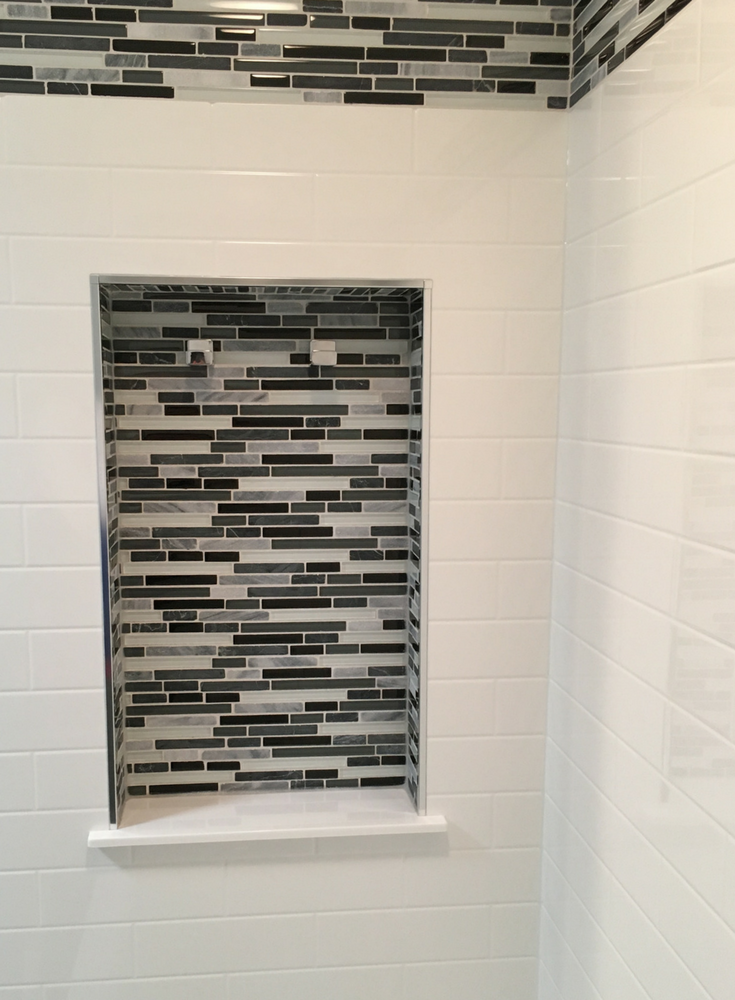 Trick #6 – Eliminate wall cleaning frustration – refuse to be a slave to bathroom tile walls
Do the tile grout joints of your existing tub infuriate you? Are you so tired of continually cleaning these joints you want to scream? If your Mom ever said "I've had it up to here" (note – I'm not sure where "here" ever meant – sorry Mom) you may know this feeling with the tile surrounding your tub. When you're doing a tub to shower conversion this is your chance to stop the madness of maintaining tile grout joints.
Get Free Samples!
Click here to request free samples of our Laminated Waterproof Shower Wall Panels.
The options in slick shower surround panels is exploding. There are laminated wall panels, decorative PVC systems, solid surface units and sleek high gloss contemporary walls. Don't "take the easy way out" and allow your remodeler to force you to install tile walls (because that's the way he always does it). Take back your life. Take back your time. Ditch tile walls for wall panels and eliminate this one nasty task (cleaning tile grout joints) from your life. You can even get waterproof wall panels which feel like tile – but with no grout joint to clean! You can use these shower panels for single family rentals, vacation homes or even as bathtub panels for an apartment renovation.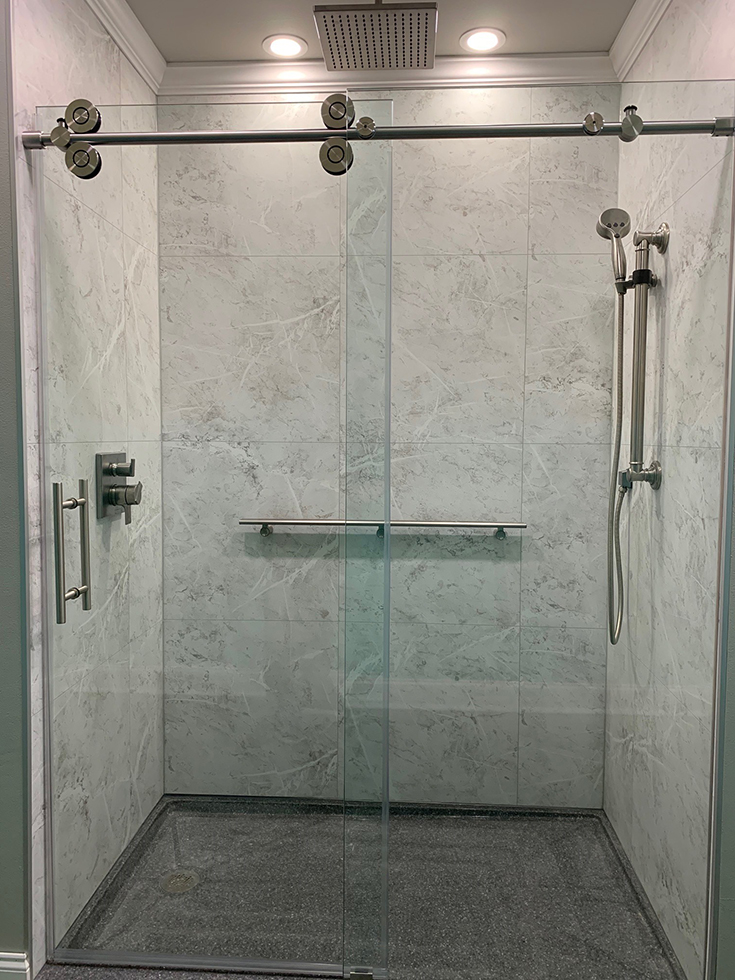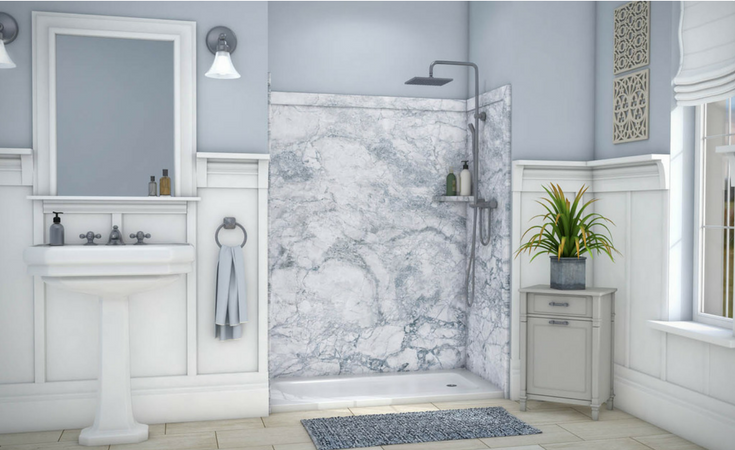 Trick #7 – There's nothing wrong with some shower "bling" – expressing your unique style
When you think of "bling" who thinks of showers…..'er almost no one! But a glass shower wall can be an expression of your individuality and style. Some fun ways to do this are to create a colorful or mosaic design with glass blocks. These building blocks are being reinvented today with designs, colors, patterns and textures which aren't possible with any other building material.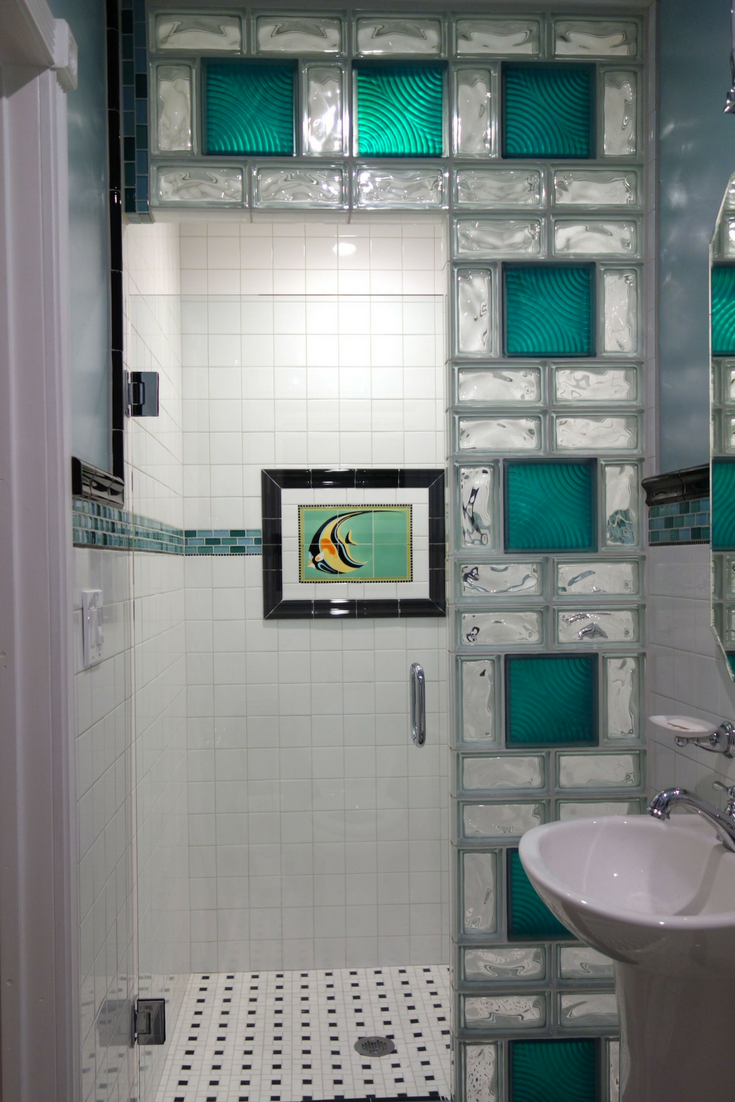 Another option to add some expressive bling is with decorative, colored or etched glass walls. They add distinction and a touch of fun to a bathroom.
Bonus Trick #8 – Pull it all together with an alcove shower kit which includes the base, the wall panels and the shower door
Shopping for all the components to turn a bathtub into a shower can not only be exhausting, but it can be dangerous as well. OK – you might be asking, "Mike, why is doing this research dangerous?" Well – if you buy shower wall panels which don't work with the base, or a glass shower door which doesn't fit into your tub alcove space – you'll have a big problem (and expensive restock fees) on your hands.
You may wonder what you can do to make your purchase process simpler and foolproof – all while getting a high quality tub to shower kit system? Well – simply you need to look for complete shower kits. But not just any old cheap kits. No, look for kits which have sturdy bases which don't bend when you walk in. Look for systems which have sturdy – and thick – grout free shower wall panels which have a lifetime guarantee. And lastly which look for shower glass which won't 'wobble to and fro.' It's make with heavy glass like you see in luxury hotels.
The Ultimate Shower Replacement Kit Guide
Clear advice on bringing your bathroom to the next level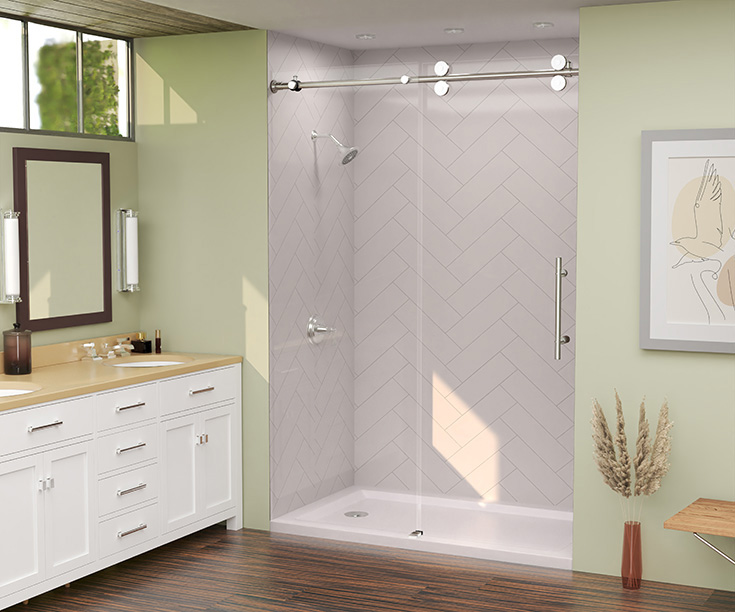 Conclusion
Has your time come to stop dealing with the frustration of an outdated, unsafe and high maintenance tub? I hope these 7 tricks have given you some hope that there is a better way to use your precious tub space and enjoy a walk-in shower.
If you need help or would like a free consultation for a walk in shower design, or need shower panels for a modular home call us at the numbers below or add your comments to this post. We'd love to hear from you!
If you're looking for more information or an estimate on Cleveland bathtub to shower conversion or nationwide material supply for wall panels and shower bases call The Bath Doctor in Cleveland (216-531-6085),  or for wholesale supply The Bath Doctor in Columbus (614-252-7294) or for nationwide supply Innovate Building Solutions (877-668-5888).
If you're a remodeler or builder and want practical advice on remodeling products, industry trends, marketing and sales tips to grow your business (and cut day to day hassles), start reading my newest blog – Innovate Builders Blog. It's packed with ideas you can use now. Click here to Sign Up for the Innovate Builders Blog or if you're interested in being a shower wall panel dealer call 888-467-7488 and ask for Mike.
---
Mike Foti
President of Innovate Building Solutions a nationwide supplier and regional (Cleveland and Columbus) remodeling contractors. Some of our product lines include glass counters, floors, backsplashes, glass blocks and grout free shower and tub wall panels
---