7 incredibly smart (and 3 incredibly stupid) shower designs you can learn from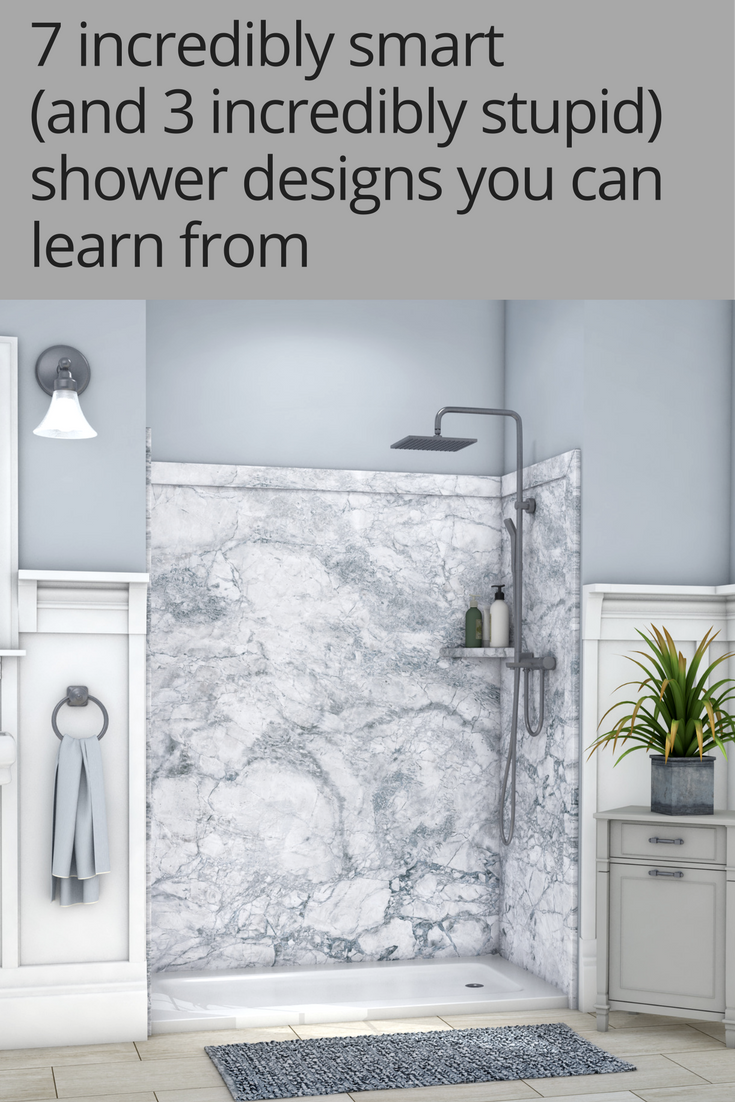 Updated December 25, 2018
The difference between a smart shower design and a not-so-bright one is with a smart design you want to spend time in the space. You'd like to linger and enjoy the relaxing message of the water. You want to sit on the bench seat and unwind after a long day taking in the ambiance of the lighting and décor. Conversely, a poorly designed shower will cause you to spew out a few choice words which got you in detention back in Junior High. A low-quality shower system makes life miserable. Its design makes the shower hard to use, and difficult to clean. It has a style which makes you feel you're living in a throwback episode of The Brady Bunch or Leave it to Beaver (if you don't remember those shows let's just say they go waaaaay back!).
Whether you're drooling over a cool, sleek, contemporary shower design you love in a magazine, Parade of Homes or friend's house– or putting up with an elbow smacking, nightmarish decor, moldy unit you're embarrassed to have anyone see – you can learn from good and bad shower designs to get the new shower of your dreams.
In this article, I'm going to take you on a journey to experience 7 incredibly smart – and 3 incredibly stupid – examples of shower design.  At the end let me know what you liked (and didn't) about these showers. A shower design is not a one-size-fits-all proposition. Get a design which not only works for you (and whomever you're sharing this bathroom with) but also one which gives you pleasure, at a budget you can afford. Let's check out the incredibly smart, and some not so smart, examples below.
Incredibly smart shower design #1 – Dressed up to sell, but affordable to build
Smart shower design doesn't have to be expensive or dripping with maximalist luxury only the elite can afford. This bathroom was remodeled to dress up a family home for sale after Mom and Dad passed away.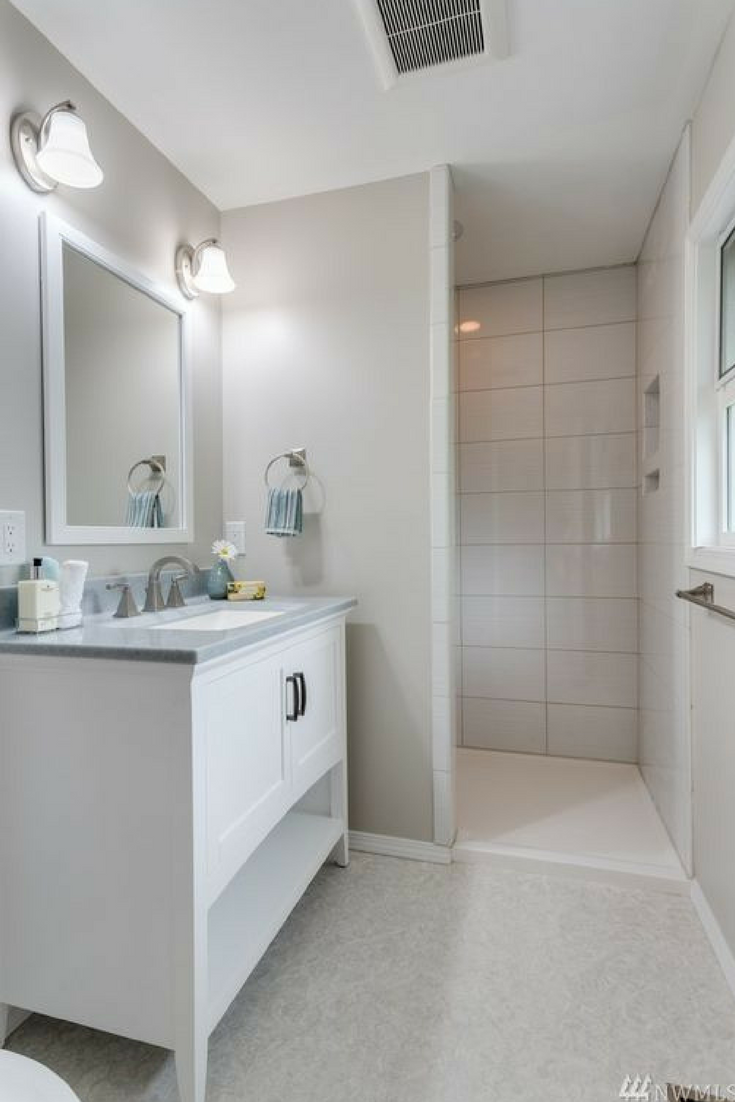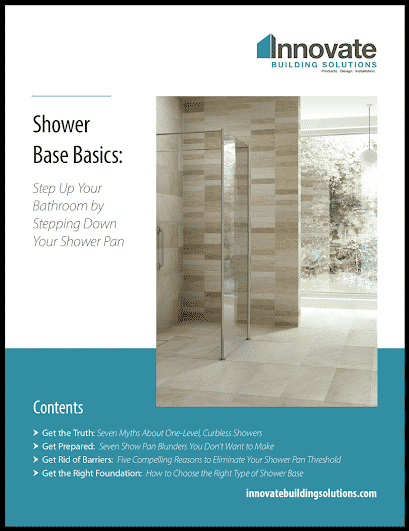 Get Our Ultimate Shower Base Guide!
Step Up Your Bathroom by Stepping Down Your Shower Pan!
Here's some reasons I love this design:
It eliminates the shower door – You hate cleaning the bottom tracks of your shower door. Removing hair and dirt stuck in the metal track is a task no one should have to endure. This walk-in design gets rid of this problem and eliminates the cost of the shower door at the same time. That's a good idea.
Large tiles are hot – Who wants to use a shower with tiny, ugly time-warped tiles. In design today, big tiles cut cleaning time and fit today's designs.
Fashion-forward shaker cabinetry – Shaker cabinets work in either traditional or contemporary designs and a hot choice.
Safe durable shower base and countertop products – A safe design doesn't have to look like grandma lives here. This low profile solid surface shower pan is stylish, easy to step into and durable. The solid surface countertop gives an updated look – and works for a sensible budget.
Incredibly smart shower design #2 – Don't associate a tiny shower with a boring shower  
Let's face it – most small stand up 3' x 3' alcove or corner showers are boring. Your builder or remodeler goes to their handy-dandy big-box store. They pick up the "perfect" (OK – it's the simplest for them because they can grab this bunch of boringness off the shelf) shower to fit your small space. To you this standard fiberglass shower says B-O-R-I-N-G!
Even if you don't have a ton of dough – or a ton of space – you can add excitement to your shower. In this 36" x 36" corner shower these tiny home owners (Kristy and Rafael Bugaski) put in fun, decorative wall panels. They are not only cool to look at – but are simple to clean and won't yellow like ugly fiberglass shower wall surrounds.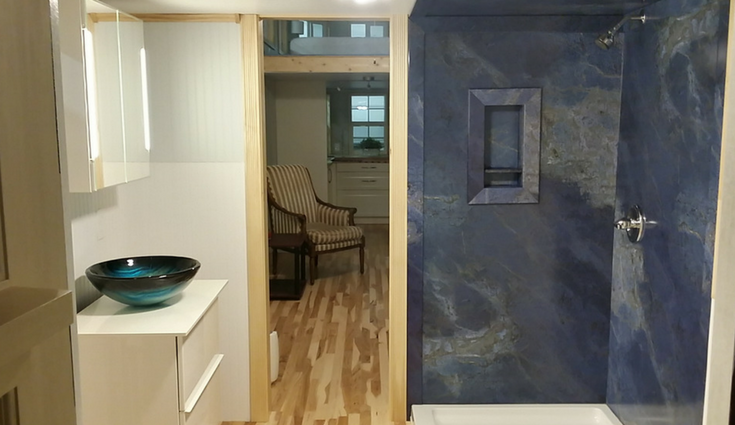 Incredibly smart shower design #3 – See how to magically gain space
Perhaps you have the basic 5' x 8' bathroom and think there's nothing you can do to make your shower larger. Check out this "magic" trick. Even if your alcove shower is only 60" x 30" deep with this premade curved glass shower enclosure you can increase your space. You no longer smack your elbows against the shower enclosure since the new shower is 36" deep in the center. Its contemporary style will add class to your bathroom.
Get Free Samples!
Click here to request free samples of our DIY Shower and Tub Wall Panels.
Incredibly smart shower design #4 – Let there be light – throughout your shower and bathroom   
Go into a room with no windows and only overhead lighting. Next, enter a room with window. Do you feel the difference?
The reason some people don't want a window in a shower is they don't want to give their neighbors a "show" and display their "birthday suit." A shower design with a transom window is the perfect answer. It moves light into the shower (and beyond if you use a glass partition wall) and bathroom without sacrificing privacy or showing off your "Chippendale or Victoria-Secret-esque" physique!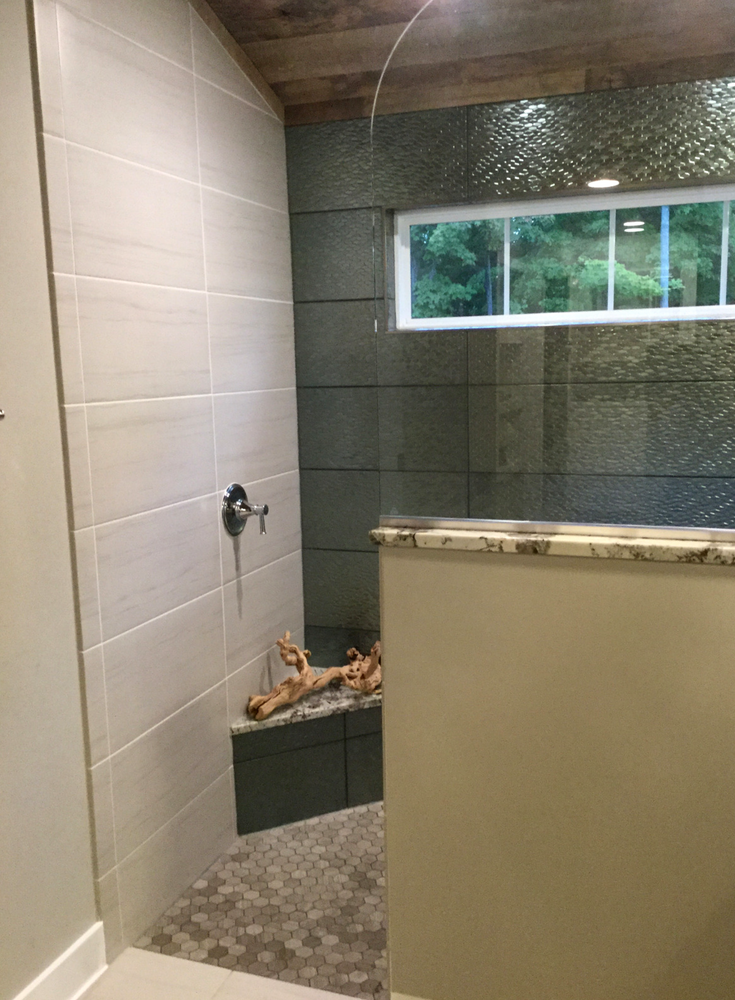 Incredibly smart shower design #5– Zero threshold (or a curbless shower) doesn't have to equal a zero-style grandma-like shower
You (or a family member) may need a shower which is safe. However, no one wants a shower which looks like it was designed around safety. You want a shower which belongs on the cover of Architectural Digest not in the back pages of AARP magazine. Here's a cool-looking smart shower design. The shower base under this finished one level bathroom is safe, yet also sleek and stylish. The use of wall hung bathroom vanity cabinets is minimalist and smart – yet practical for someone in a wheelchair. It doesn't look like Grandma lives here (even if she does – she's now a cool Grandma!).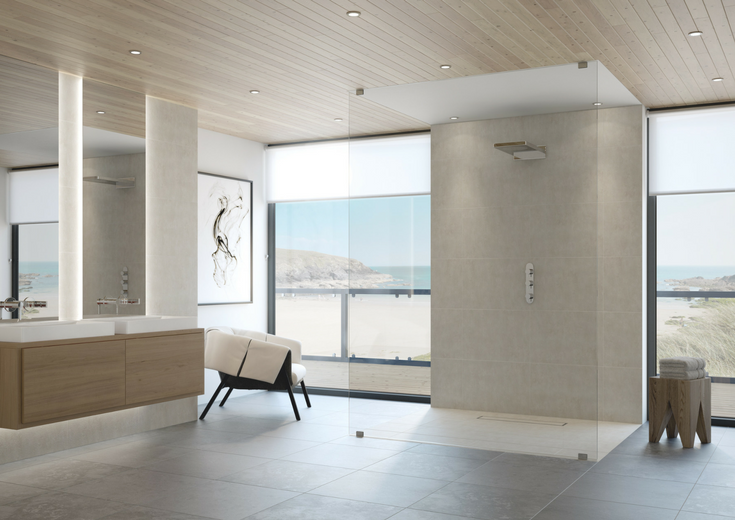 Incredibly smart shower design #6 – Don't be "cornered" into a high maintenance shower design which lacks "personopoly"
When my Dad was alive he loved people with – what he called – "personopoly." These are people with unique personalities. Corner shower designs should have their own personopoly – but most of them are generic and claustrophobic.
This shower turns these usual corner shower stall on its ear. The clear frameless glass allows the space to feel free of barriers (even though you'll be kept warm with the glass enclosure). The subway tile solid surface walls panels and solid surface shower pan are simple to clean. The chandelier and vanities add a feminine, personal touch which says, "this space is mine."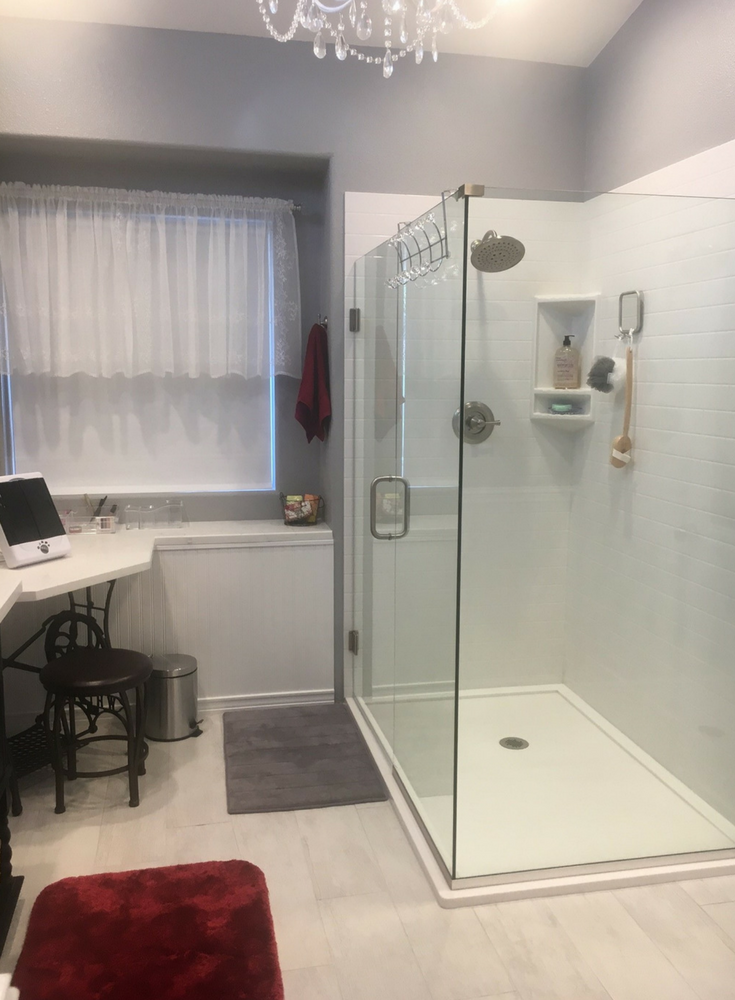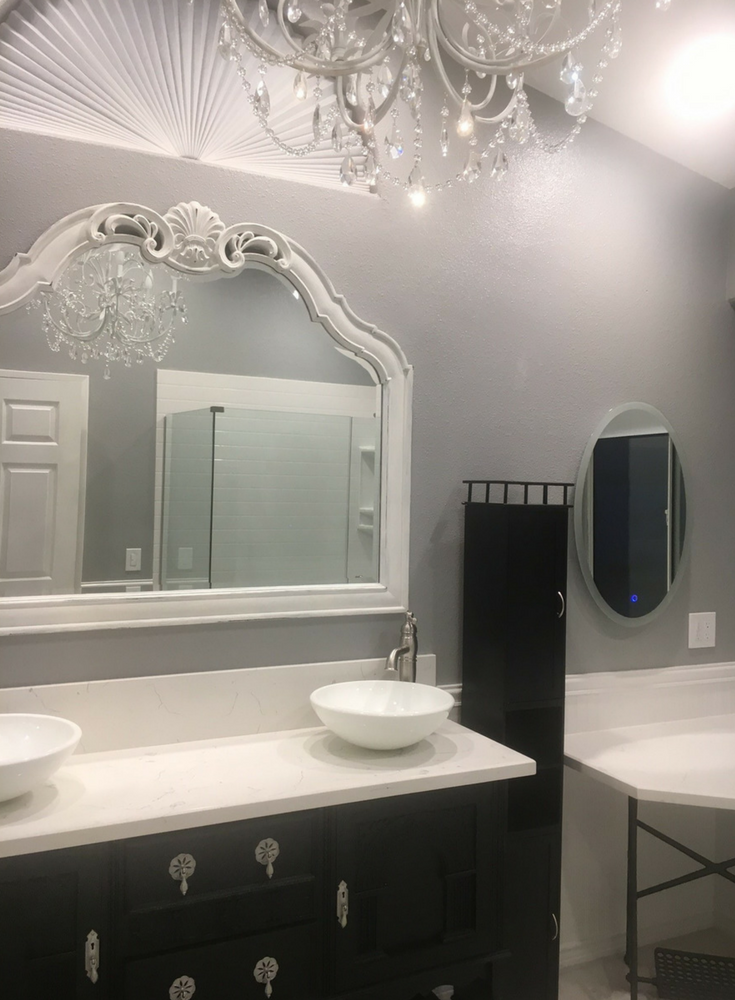 Incredibly smart shower design #7 – A tiny bathroom doesn't have to equal a tiny shower
It seems logical if you have a tiny bathroom you'll also have a tiny shower. This may be true for most people, but if you're an architect with a friend who dreams of a larger shower you think of ways to make it happen. Check out this industrious large shower in a small bathroom floor plan.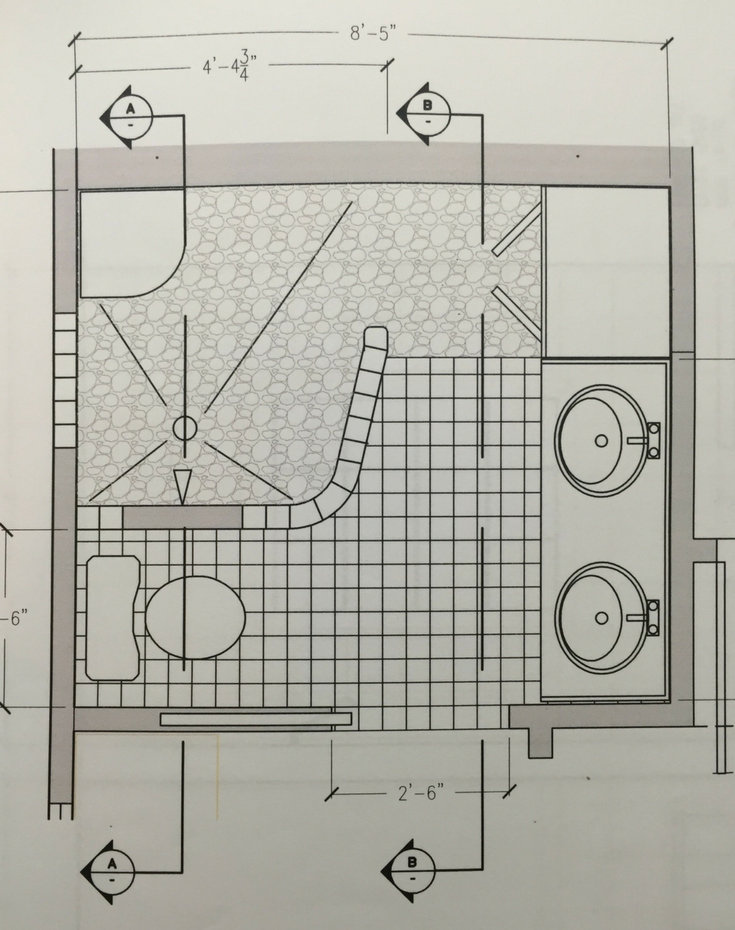 The shower flows seamlessly into the bathroom. The curved glass block wall and operable casement acrylic block window allow light and air to flow through the space. Very cool!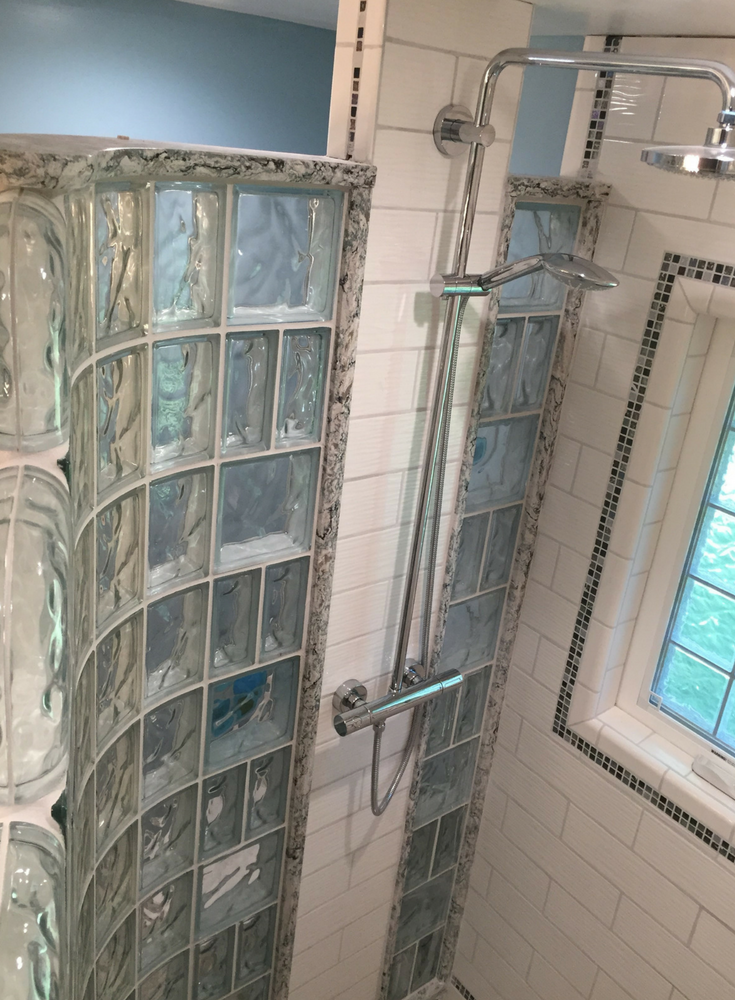 So now that we've looked at the good, let's go through the ugly.
Incredibly stupid shower design #1 – Where are you going to turn on the water?
 Don't you hate when you go to turn on the water and you have to reach over a toilet and strain your body (like this not to hot-looking – OK – it's down right disgusting- shower below) or must walk in completely and get a splash of cold.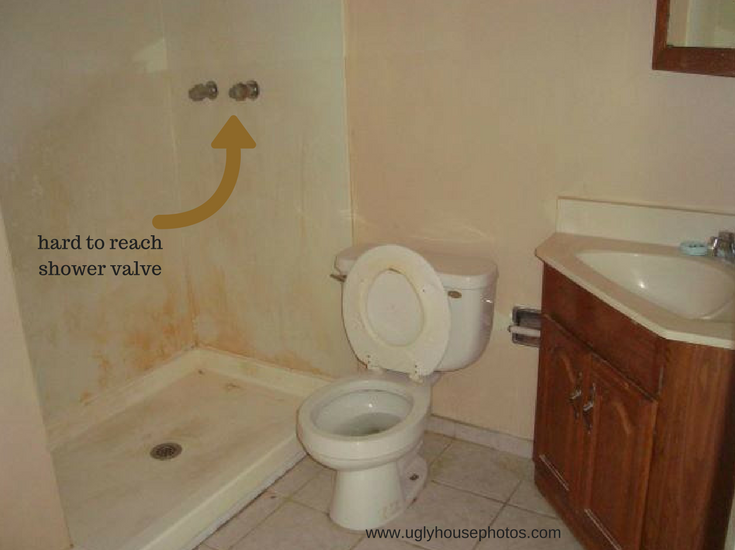 Eliminate this problem by installing the shower valve near the entrance so you can reach in without getting wet.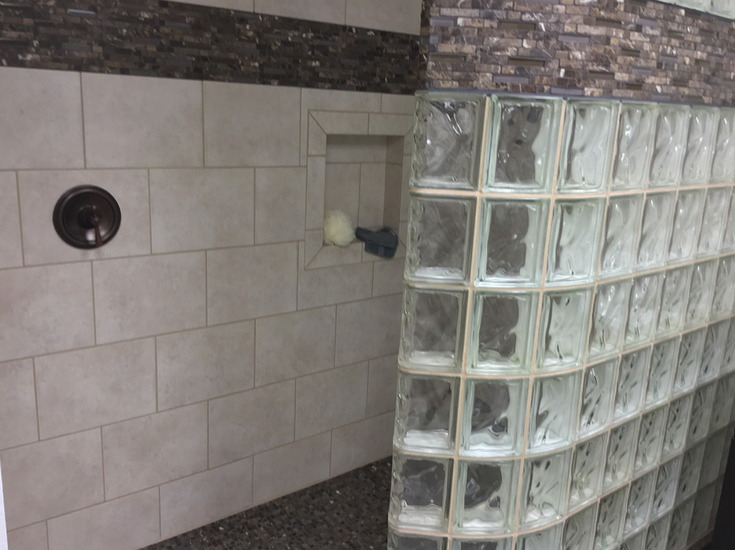 Incredibly stupid shower design #2 – The patchwork ugly tile design done by the previous owners
Tile on the ceiling of a shower can be tough to maintain and just plain ugly. This job screams out really-bad-DIY'er! It's so poorly done it's hard to imagine anyone willing to live with it.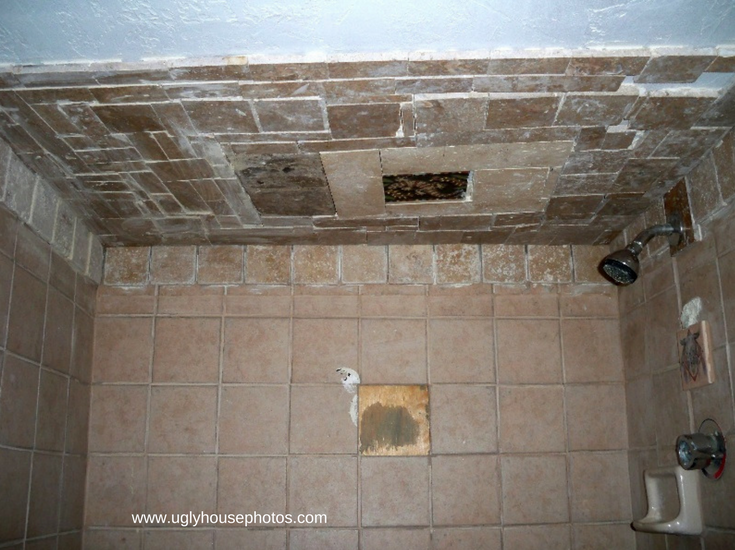 If you want to finish the ceiling with a material without a maintenance hassle, a better option is to use a grout free wall panel system.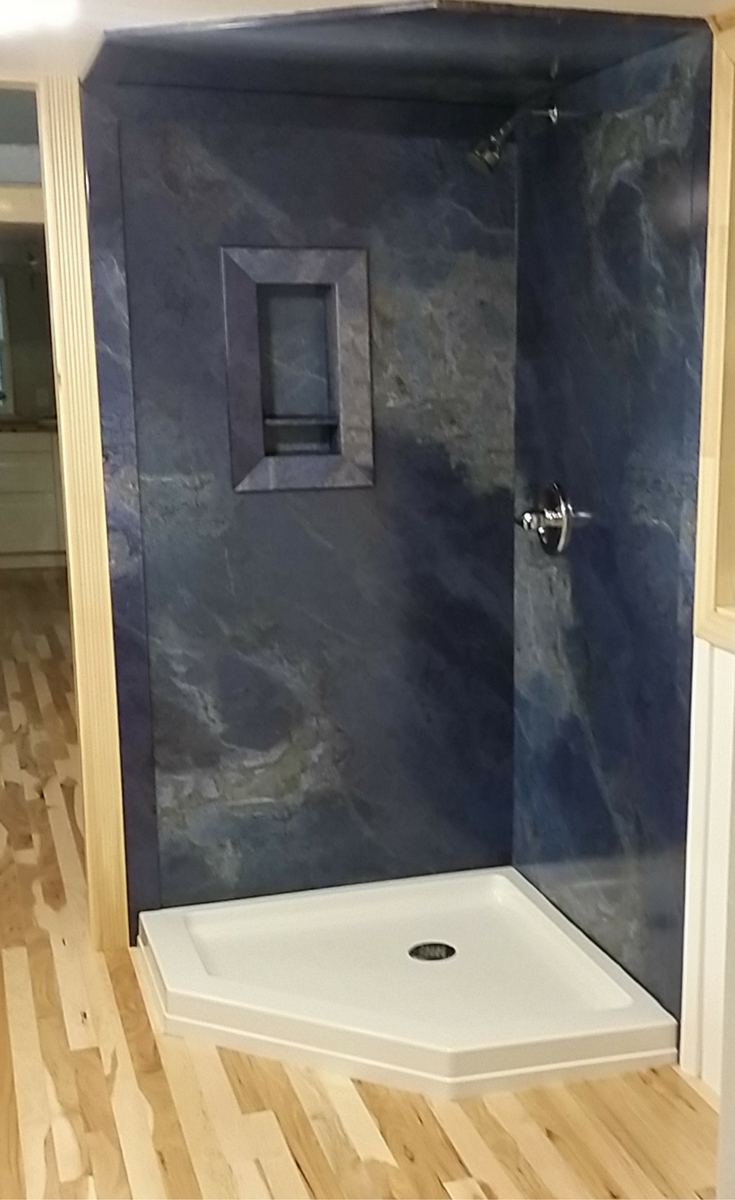 Incredibly stupid shower design #3 – A "bang your elbows" special
The design below (which is from a recent hotel stay I had) doesn't look bad – but it's not a comfortable place to shower (as I found out). Since the wall panels on the side were small, they had to put a trim piece and these soap dishes in the middle of this 30" deep shower. When I was showering I was constantly hitting my elbows on the soap dishes (ouch).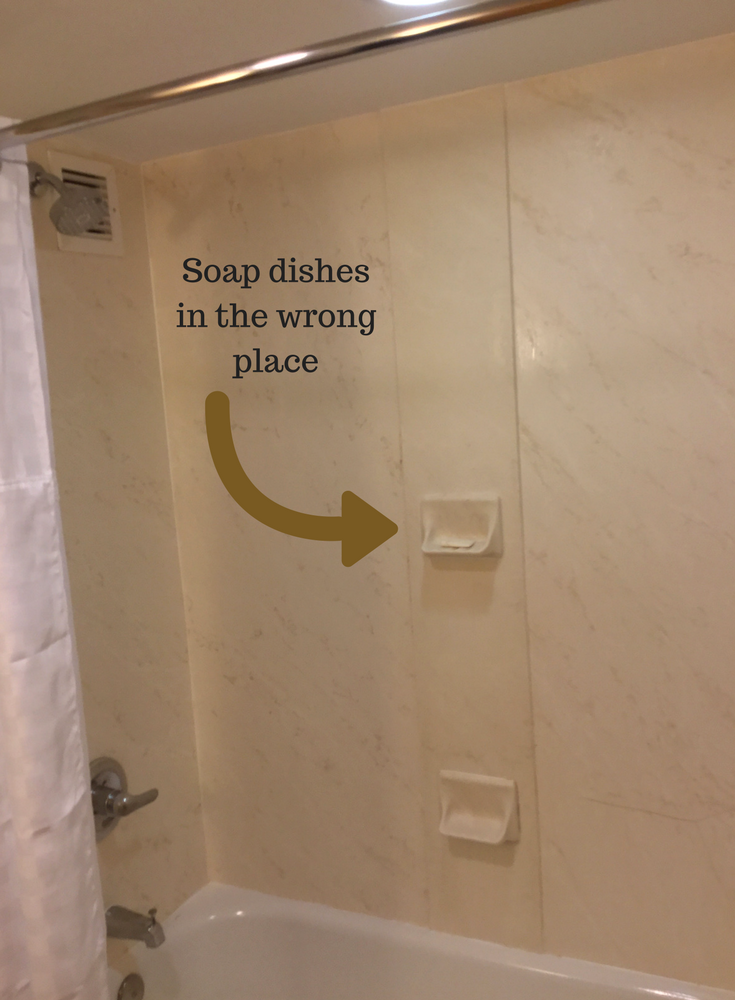 I would stay away from shower panel system which don't have full 60" wide panels or you can recess your soap and shampoo storage into the wall cavity.
Conclusion
It's not hard to have a smart shower design which is luxurious. However, you'll need to do more planning. You'll need to make sure you don't have to settle for the first 'off-the-shelf' shower you or your remodeler can find at the big box store. If you're fighting with your existing design, and aren't sure how to fix it, give us a call or ask your questions in the comments section below.
Can I (or a member of my team) help you?
For assistance with a shower design, or unique shower products supply sold nationwide, call Innovate Building Solutions at 877-668-5888. For a professional shower design and installation contractor in Northeast Ohio call Cleveland Design and Remodeling at 216-658-1270 or The Bath Doctor in Columbus at 614-252-3242.
If you're a remodeler or builder and want practical advice on remodeling products, industry trends, marketing and sales tips to grow your business (and cut day to day hassles), start reading my newest blog – Innovate Builders Blog. It's packed with ideas you can use now. Click here to Sign Up for the Innovate Builders Blog.
If you're in the building business, click here if you'd like to learn how to become a shower wall panel dealer or call and ask for Mike at 877-668-5888.
###
---
Mike Foti
President of Innovate Building Solutions a nationwide supplier and regional (Cleveland and Columbus) remodeling contractors. Some of our product lines include glass counters, floors, backsplashes, glass blocks and grout free shower and tub wall panels
---