How to compare solid surface and cultured stone shower systems
Updated March 3, 2019
Mary called me and said, "Mike, I see you write a lot about solid surface shower systems. My mind is as confused about these systems as it was helping my 15-year-old daughter find a prom dress after looking through 6 stores (and by the way she broke up with the guy 3 weeks later!). I've checked out Onyx, Kohler Choreograph, Corian and Swanstone. I've also visited a cultured marble shop 25 minutes from my home. I wish I could tell you this research has made things clearer. I'm more confused than ever. Can you help?"
I told Mary, "I get it. The more you've learned, the more difficult the decision has become. Here's what I'll do. I'll do is outline for you the most important questions to ask. Then I'll throw my 2 cents in and give you my opinion on how these different manufacturers grade out in relation to these questions. Just remember this is just one guys opinion, so feel free to disagree." Finally, I told Mary, "If I can figure it out solid surface systems, I'm sure you can too. After all you're talking to a guy who took his wife to the movie Dumb and Dumber years ago and drove to the wrong theater (just a bit of irony in that, don't you think)!"
Below you'll find 5 questions to dig deeper and determine which product is best for you. I'll also throw in a few links to other articles for more insight on cultured stone and solid surface showers (and I'll even tell you about a wall panel product (laminate shower panels) I think is better than ALL of these cultured stone and solid surface shower units combined!). At the end, give me your opinions about these products and manufacturers. Chime in with questions you need answers to I did not address. OK, let's dig in.
Question 1) Are solid surface shower pans available to be coordinate with the wall panels?
It would seem like a no-brainer you'd be able to get a solid surface or cultured stone shower pan to get with your wall systems – but not so fast. Unfortunately, with a number of manufacturers it's more complicated than meets the eye.
Corian is the best-known name brand associated with the general term 'solid surface.' These wall panels and bases are sold through a network of distributors and fabricators. In most cases you'll need to find a custom fabricator to assist you to get your shower pan. Also, be prepared to pay big because Corian shower pans are pricey. Very few people end up purchasing Corian shower pans in reality.
To Kohler's credit they have developed (and marketed extensively) a line of matte finish solid surface shower wall panels. However, they only offer standard sized acrylic pans. In my humble opinion, if you're investing in the style, luxury and durability of a stone-based wall panel system, why would you want to 'cheapen' it with an acrylic base? Also – what are you going to do if you need a custom size? Are you then 'settling for a high maintenance tile shower pan with your low maintenance walls? IMHO, this makes no sense. OK – you could get a cultured stone shower pan from another manufacturer (although you'll need to synchronize the colors).
Swanstone does have a limited line of standard shower pans in solid surface, but there is no selection of custom pans. Depending on your size and shape of your shower this product may (or may not) work for you.
Onyx (which is technically a cultured granite product) has an extensive line of standard and custom shower pans. They can build any size and configuration with virtually any choice of drain location or curb design. You can also get your shower pans to match your wall panels. The only drawback to this line, they have 51 color choices. Having this many choices might blow your mind. That's why I would leave this selection to my wife (plus she's not color-blind like me!).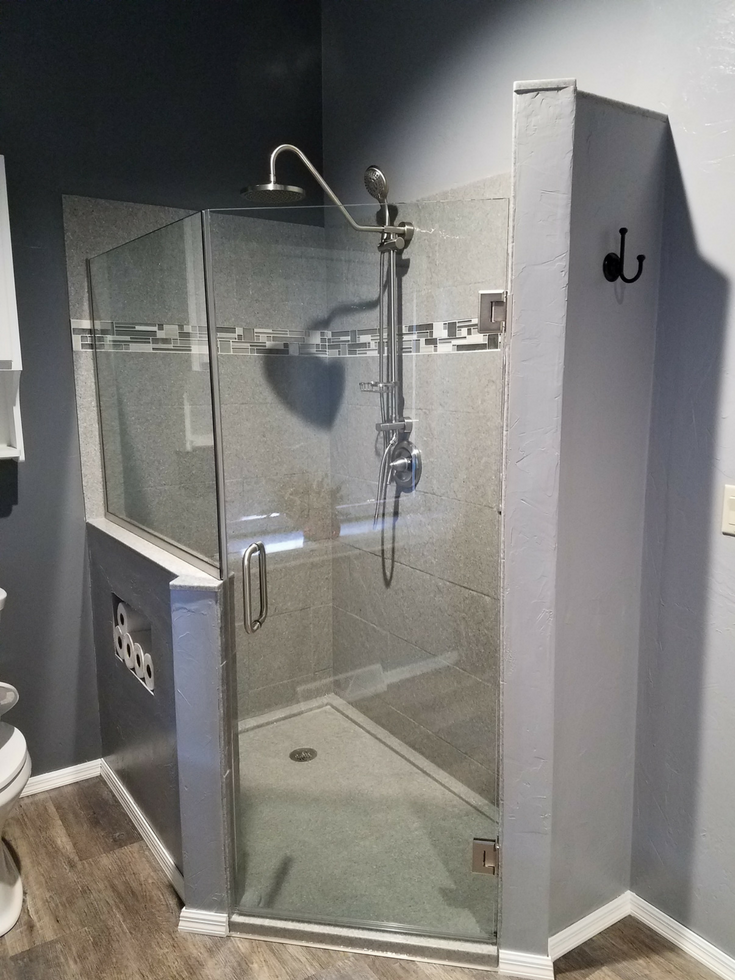 Question #2) Are the solid surface or cultured stone wall panels available in matte and gloss finishes?
I was surprised when a received a call this week and the homeowner said, "I checked out 'Manufacturer X's' wall panels (note – this manufacturer has just rebranded under Manufacturer X because they're under the Solid Surface Manufacturers Witness Protection Program – OK, that's made up). The matte finish panels they offer looks nasty. They reminded of cheap basement paneling. What was weird for me, is I actually like the look of this company's wall panels. It goes to show beauty is in the eye of the beholder. This person wanted a gloss finish which is simpler to clean than matte. A matte finish WASN'T happening in her home.
With that being said it's always nice to have a choice of matte or gloss. When you look at lines like Corian, Kohler Choreograph and Swanstone – you'll see matte finishes. With the Onyx line you can choose either gloss or matte finish.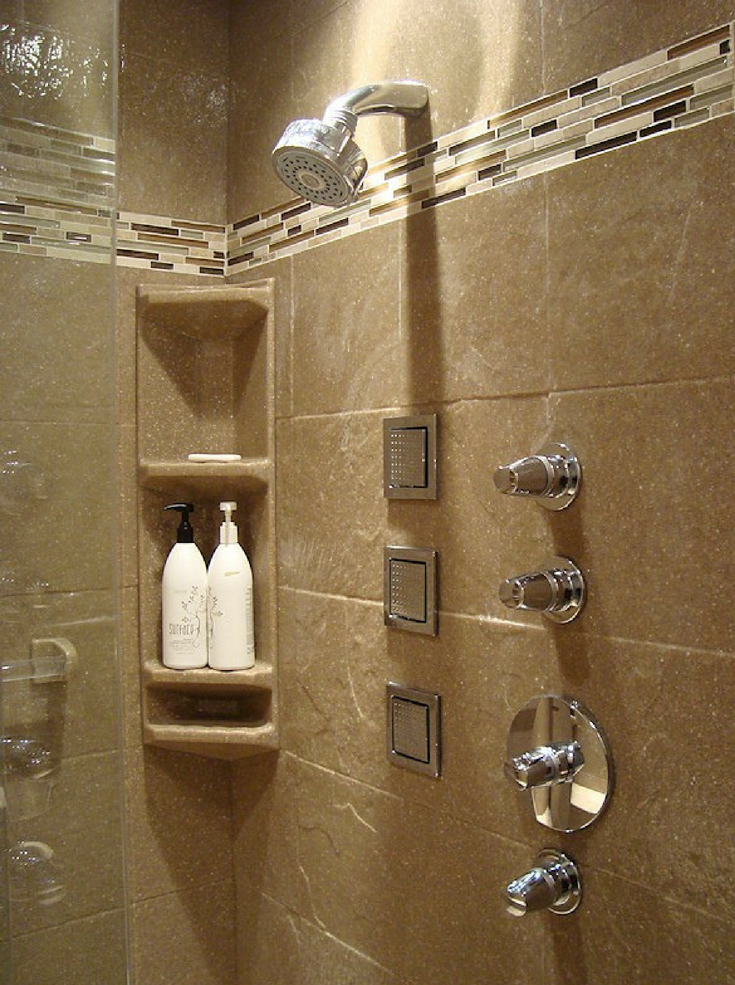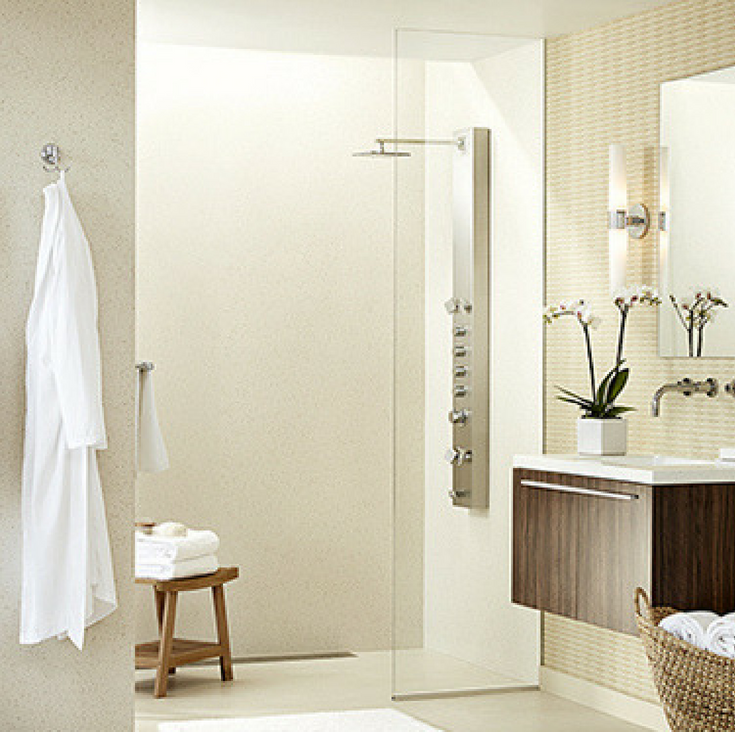 The most important thing is to choose a finish which speaks to you (as a side note – if a wall panel does actually speak to you, you may need professional help).
If you want to learn more about solid surface shower wall panels read, 9 Frequently Asked Questions about Stone Solid Surface Wall Panels.
Question #3) What accessories are offered?
Any woman knows you must have the right accessories to complete the outfit (or at least my wife has me brainwashed to accept this expensive reality). When comparing cultured stone and solid surface wall panels, it's the accessories (or lack of accessories) which make a shower a pleasure or pain to use. A visually beautiful shower is nice, but if you can't shave your legs without straining your back, or slip on the soap on the shower floor because there is no place to put products, it's not an effective design.
The right mix of niches, seating, grab bars, and shelving make the space work (or not). Let's take a look at how these manufacturers deliver when it comes to accessory options.
Corian – The accessories in the Corian line are a hodge-podge (does anyone else use that term anymore?) of corner caddies and shelves made by a mix of fabricators across the country. It's not a well thought out integrated system designed by the manufacturer. You can find accessories for Corian panels, but you'll have to do a lot of research and in the end, they are nothing special.
Kohler choreograph – In my mind the product designers at Kohler had some brilliant designers who added adjustability (and ease of cleaning) into shower shelving (I've never seen this done before). There is a place for your razor or toothbrush in the design. With their shower locker product, the shelves and baskets can be moved up or down, and even taken out for cleaning. Their floating shelves and sleek fold down seat are streamlined and contemporary. Unfortunately, the deliveries of this product (in my experience) have been unreliable. As I'm updating this article, Kohlers lead time on this product is 120 days! That's ridiculous (IMHO). However, the accessory designs are fashion-forward.
Swanstone – Can you  say plain and boring? The Swanstone accessories are limited and pedestrian at best. They have an ultra-small selection of caddies and only one style of a corner shower seat selection. In a word – uninspired.
Onyx – The breath of this line is at the top of the charts (it would be on the Casey Kasem American Top 40 list if he were alive today. OK – showing my age here). Not only is there a broad range of niches, shelves and caddies, you'll find the following inventive products:
A 26" x 18" extended bench seat which gives you more room if you're transferring someone from a walker to a wheelchair, but doesn't want to take up as much room as a full bench seat.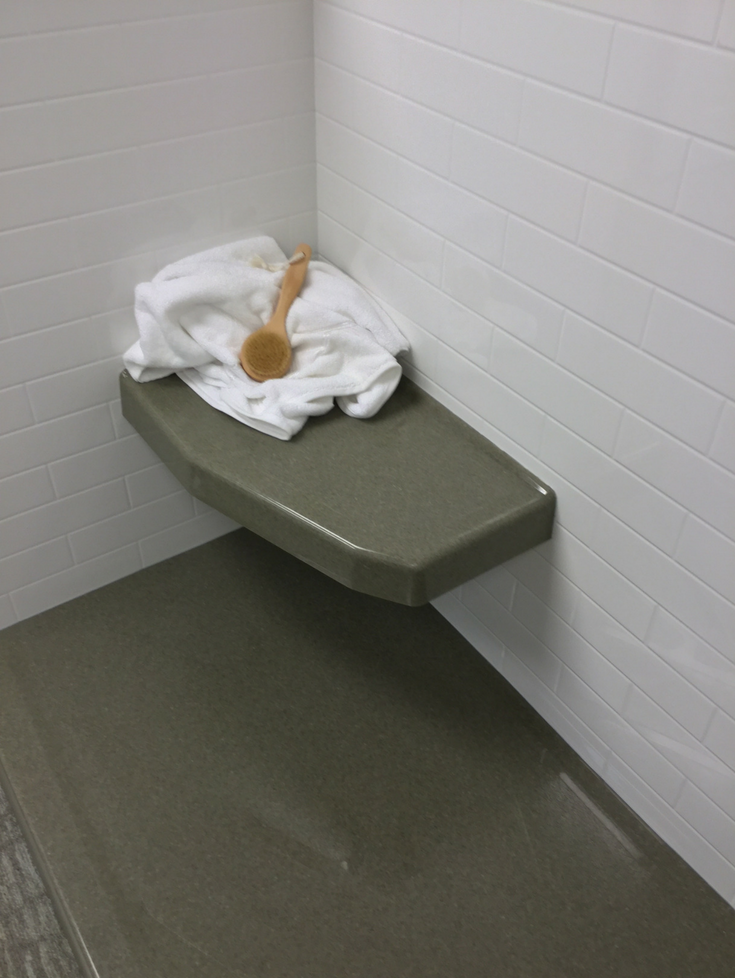 A complete solid surface window trim kit spares you the hassle of figuring out how the heck you're going to trim around a rotted wood trimmed window which is smack dab in the middle of the shower.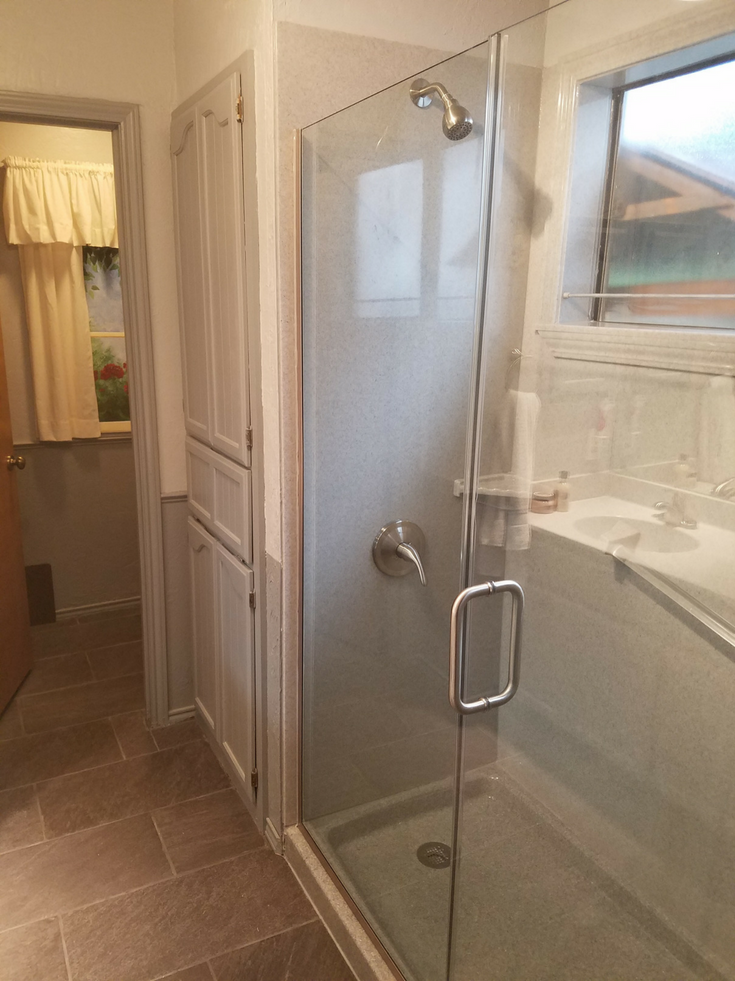 A ramp extension kit which is made of cultured stone and can convert a low-profile shower into a roll in shower if a member of your family needs this.
While there are 3 style series of niches, I would stick with the "Liberty series" which is more contemporary and angular.
If you want more information about solid surface accessories read, How to Choose the Right Accessories for Your Solid Surface Shower.
Question #4) Are stylish (in style) textured panels an option?
Many people LOVE the look and texture of tile and stone for their shower. The only problem? They'd like to SCREAM every time they have to take out a scrub to clean the grout joints. Textured, decorative shower surround walls are cool, grout joints are not.
When fiberglass wall panels came out with the 'tile look' the concept made sense. The problem is they look cheap and 'plasticky.' Not the look you're wanting for a kicked up beautiful bathroom. This is where solid surface textured wall panels come in. The add beauty, style and depth to a shower WITHOUT maintenance (but they need to look in-style and not have bizarre patterns). Let's take a look at what these manufacturers have cooked up. If you even want a cooler look of tile and stone (without the heavy weight associated with cultured stone and solid surface wall panels) check out the laminate 'No Tile, Tile Shower' panels in the last example in this question. It can be the best choice since these 2′ x 8' x 3/8″ panels only weigh 26 lbs. per piece vs. a cultured stone 60 x 96 panel which weights in about 130 lbs.
Corian – While Corian is available in a wide range of colors, they (as a manufacturing company) have not taken advantage of developing a textured wall shower and tub wall panel line. If you choose this brand, you'll have to stick with a smooth surface – unless you got a specialty fabricator and who uses an aftermarket fabrication technique to make the panels textured (check out this cool example below – it's very stylish in my opinion).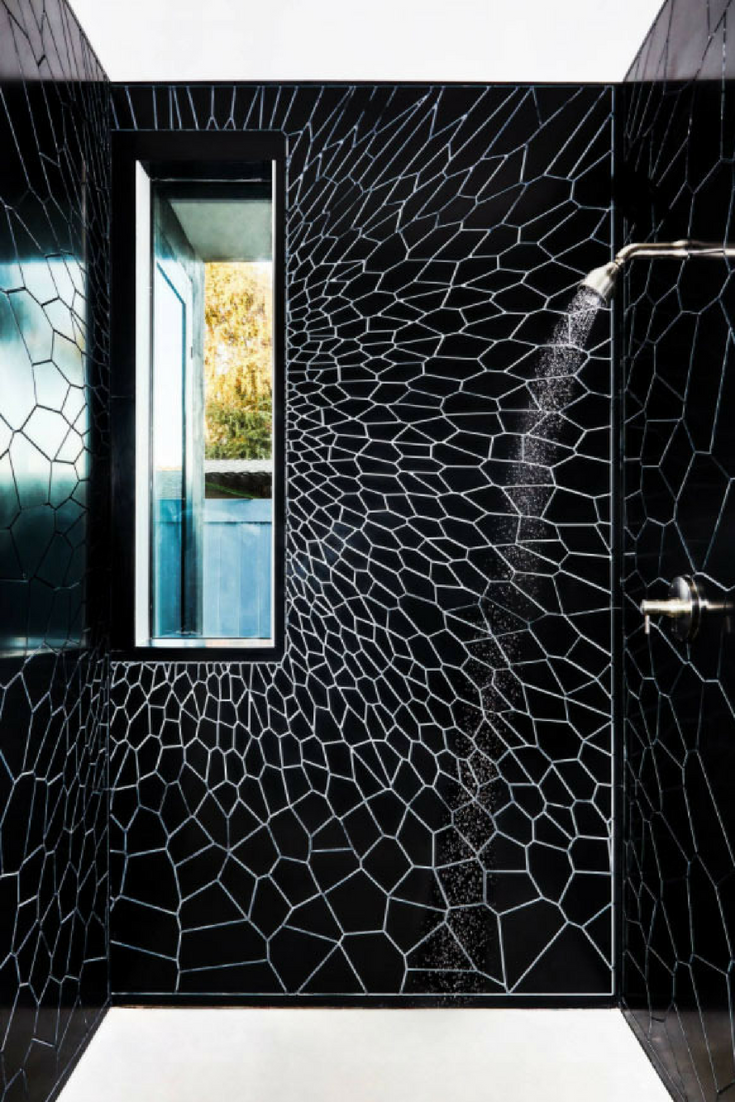 Kohler Choreograph – The 3D textures in this line are different – and I'm not sure I'm completely on line with them yet. The brick texture is an offshoot of a subway tile look, except the 'brick is angular. It's kind of a 'quasi-brick' look. I'm on the fence on this design. The cord design makes long vertical lines – which can be good to add a sense of volume in a phone-booth sized 36" x 36" stand up shower. The 'hex' accent panel is a fun touch. Once again though – while they have interesting patterns – with lead times of 120 days – I'd be choosing another system.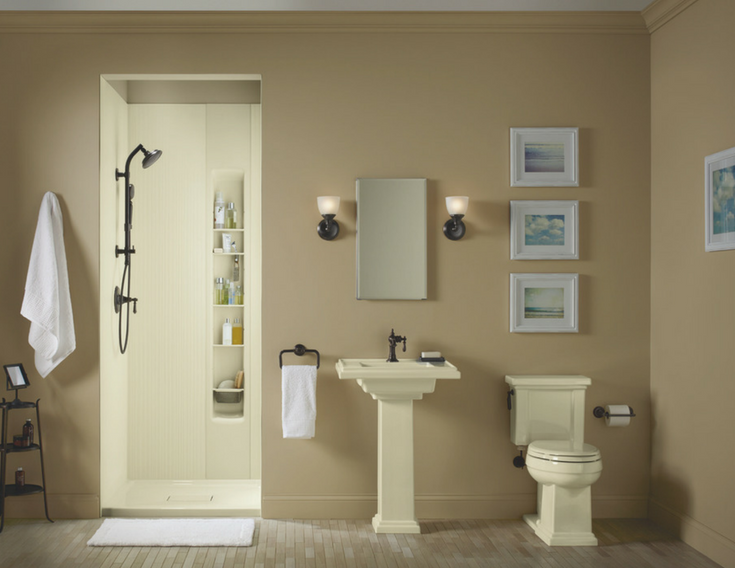 For more information on this line read, 3D Luxury Shower and Tub Wall Panels – Coming to a Bathroom Near You.
Swanstone – The subway tile design is life-look and fits a traditional look, but some of the older decorative panel designs (including Barcelona, Geometric, Pebble and Tangier) I don't see as being popular in this country.
Onyx – My favorite texture in this line is the subway tile – which gives you the look without the hassle of grout. The slate pattern is subtle, but possibly too subtle to make an impact. The 12" x 12" stone tile just doesn't feel realistic to me, because it only comes in a gloss finish and most stone-work is not glossy.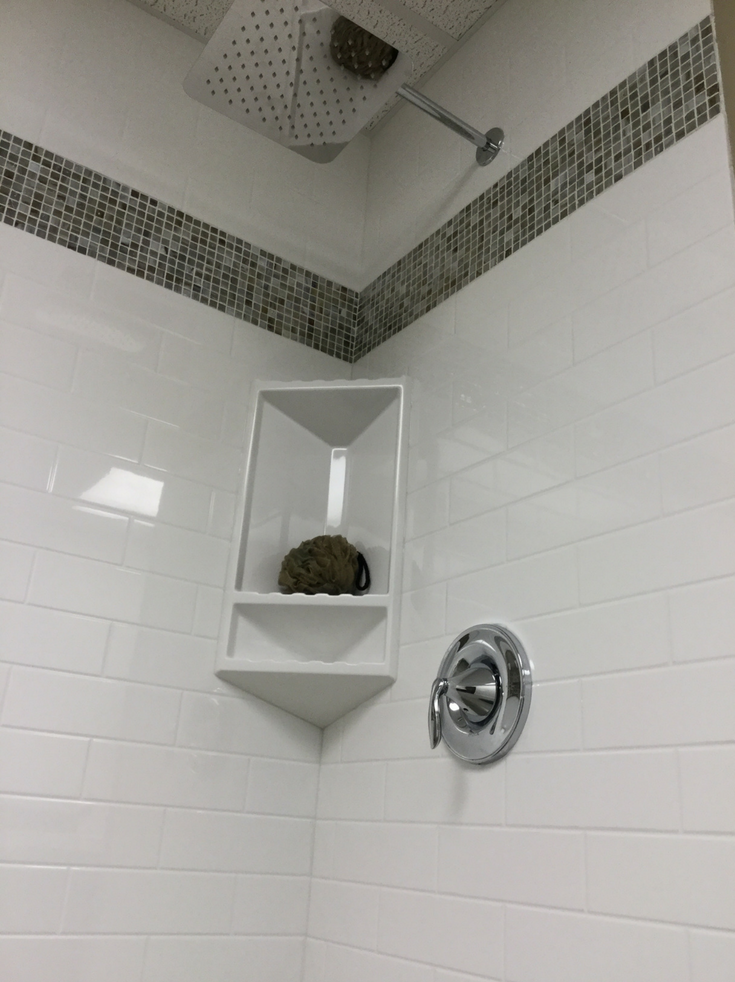 The 'No Tile, Tile' Shower Laminate Panels – Let's face – every one of these cultured stone or solid surface wall panels are heavy (that's why some general contractors will look for cultured stone manufacturers who also install – because moving 5′ x 8′ cultured stone panels weighing 130 lbs. into a 2nd floor of a small bathroom can be a hairy experience. If you want to get the 'textured look' and blow off any concerns of heavy panels these laminated wall panels are a smart idea (and give you a more contemporary look than cultured stone or solid surface – IMHO).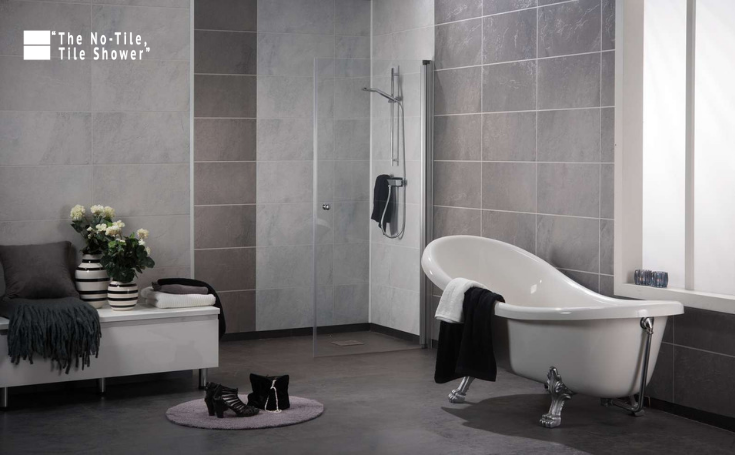 Question #5) Can I get a custom sized shower base and wall panels?
If you're replacing a tile shower you know the problem you've run into. You're excited to get 'er done as Larry the Cable Guy would say. So you rip out the shower. You take a few measurements, run down to  your local big box store and suddenly realize…..oh s*** – they don't have my size!
Many custom showers in older homes were not built into standard 36", 48" and 60" wide spaces. So Houston (or you in this case) you've got a problem when you  look for 'off-the-shelf' solutions to your old custom tile shower. Some manufacturers make it simple offering pre-cut sized shower panels and bases – others you'll have to 'hunt and peck' looking for a fabricator who is willing to special-cut what you want. Still others – it's standard sizes only and either you, your remodeler or handyman will have to figure it out. Here's a look at each manufacturer and how you'll need to tackle converting your custom-sized tile shower into a low maintenance one with solid surface.
Corian – While Corian is a huge brand-name in custom kitchen countertops and in the health care and commercial markets, it's not simple trying to find a fabricator to work with for custom sized shower wall panels for a single residential shower. It's possible to get this accomplished, but it won't be easy.
Kohler choreograph – Since there aren't even any standard solid surface shower pans in this line, you obviously won't find any custom ones. In addition, the wall panels only come in standard sizes – so if you need a larger custom size (say for a 70" x 36" shower) you'll need to buy 2 panels, cut the panels and have them seemed together. You'll either have to make these cuts yourself or hire a bathroom remodeling contractor or handyman to do it for you.  This line is not a custom showers best 'fre (as Tony Montana from the movie Scarface might say).
Swanstone – While Swanstone does make standard sized shower pans, there are no custom bases in this line. Making custom sized shower walls will be a chore also because the panels – like the Kohler line – are only available in standard sizes (they come in 36", 48" and 60" sizes).
Onyx – For an owner remodeling one single custom sized shower – Onyx will come up as an ultra-competent custom solution. Shower pans can be made in crazy big sizes. In the two images below you'll see how a custom curved glass block shower wall was 'pre-fit' to the custom cultured stone shower pan. Also check out the 'after' pic. The only problem with these big shower pans is you've got to have some big boys and girls to get them moved into the bathroom! So you'll need to eat your Wheaties before you install one of these bad-boys!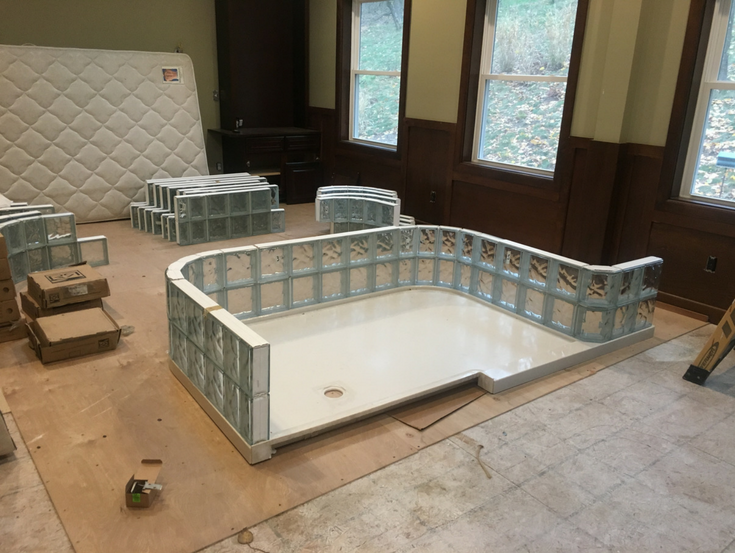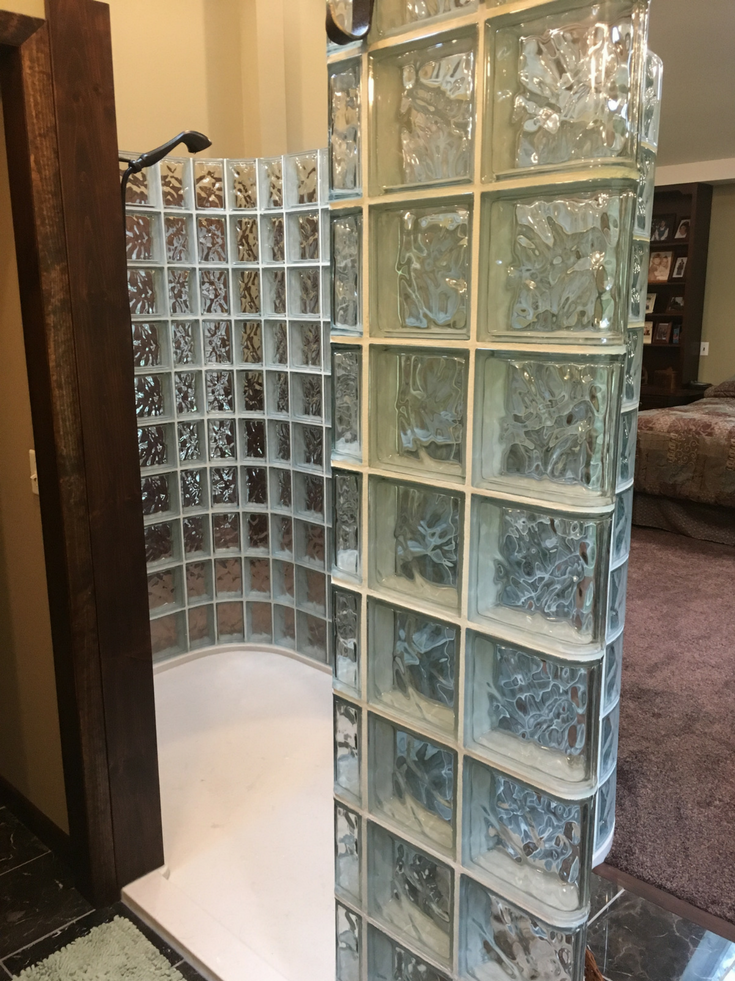 For more information on these custom shower pans read, 7 Facts You Need to Know about Custom Solid Surface Shower Pans.
When it comes to custom shower wall panels they can be made up to 110" x 100" (although you DON'T want to try that size at home – because it won't fit into your front door (unless you live in a converted barn). With this being said if you have the 70" x 36" shower I mentioned above you  can get that 70" panel in one piece. Yeh- no seams!
Conclusion
Investing in a new system to beautify your old yellowed builders-grade fiberglass shower or moldy custom tile unit can be a daunting research process. What's nice to know is ALL of these systems will  be a major upgrade to what you have now, but as you've seen by reading from these comparisons – they are certainly not all created equal.
How can I (or my team) help you?
If you're tired of reading and researching these systems and want to get help with the design, pricing, samples and delivery of a cultured stone or solid surface standard (or custom) system me and my team would love to help. If you're unlucky you might get me on the phone and have to put up with my wacky humor – or if you're lucky you'll get to talk to one of my staff (very nice people IMHO – but not as wacky as me). Call us at 877-668-5888 for nationwide supply or for a beautiful bathroom installed in Cleveland or Columbus call The Bath Doctor (in Cleveland at 216-531-6085 or in Columbus at 614-252-7294).
If you're a remodeler or builder and want practical advice on remodeling products, industry trends, marketing and sales tips to grow your business (and cut day to day hassles), start reading my newest blog – Innovate Builders Blog. It's packed with ideas you can use now. Click here to Sign Up for the Innovate Builders Blog.
If you're in the building business, click here if you'd like to learn how to become a shower wall panel dealer or call and ask for Mike at 877-668-5888.
If you  don't want to talk to me (I get it) – but would like more input on remodeling – follow me on Twitter at @Mike_Foti or my companies @InnovateBuild or @InnovateHomeOrg.
---
Mike Foti
President of Innovate Building Solutions a nationwide supplier and regional (Cleveland and Columbus) remodeling contractors. Some of our product lines include glass counters, floors, backsplashes, glass blocks and grout free shower and tub wall panels
---