9 Frequently Asked Questions about Stone Solid Surface Shower Wall Panels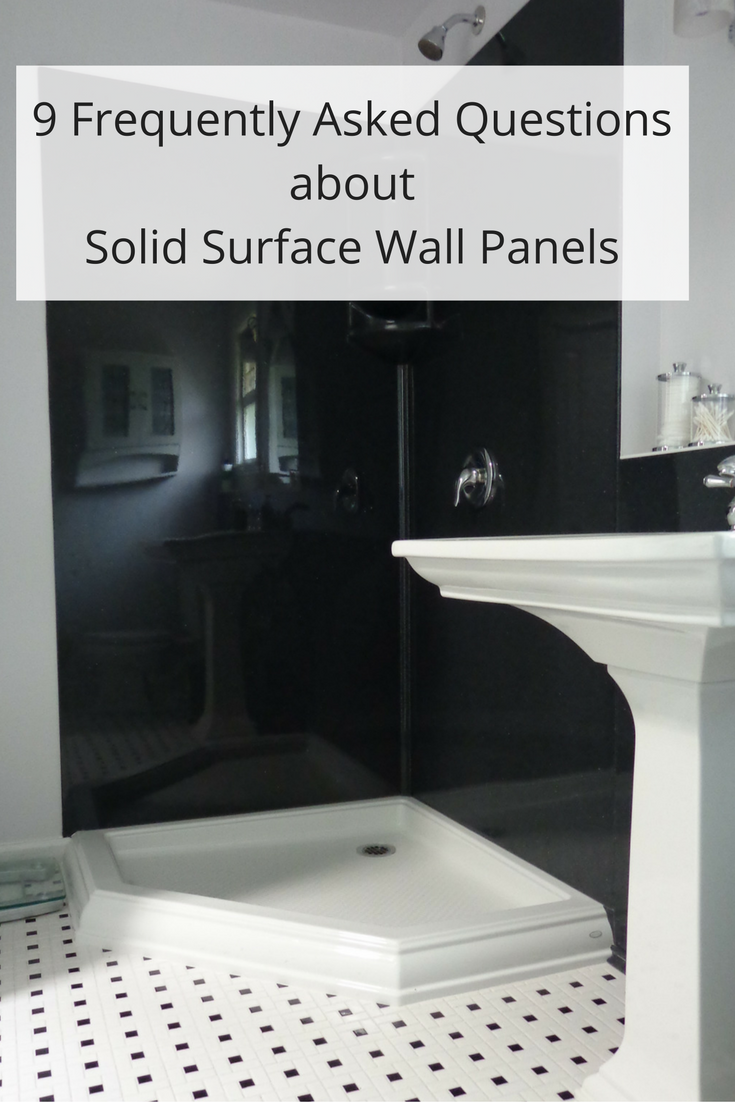 Updated January 26, 2019
"OK – I've just stumbled across your web page on stone solid surface shower wall panels and I'm praying it's the answer to my two nasty bathrooms, Tammy said to me. I hate cleaning the tile shower walls in my master bathroom and the builders grade tub/shower plastic insert in the kid's bathroom is yellowing, cracking and looks disgusting. I'm hoping this product is the answer for a nice looking surround which won't be a pain to clean, Tammy continued. I have to warn you I have a lot of questions about this product!"
The conversation above about stone solid surface wall panels is not unique. Homeowners are looking for better alternatives to what's commonly being used (tile and plastic fiberglass inserts) but aren't too familiar with the options available. Traditional tile showers and one-piece fiberglass tub/shower inserts can look good after they are installed but the maintenance and their looks long term are less than ideal.
With your crazy schedule you may be hoping that there is a better option to get a nice looking shower you won't have to be messing around cleaning all the time (after all you've got kids and parents to take care of and you want to carve out some fun time – imagine that!).
Let's take a look at the 9 questions Tammy peppered me with. These are the most frequently asked questions we get about solid surface shower wall panels from most everyone.
FAQ #1 – What is solid surface and why is it a good choice for shower wall surround panels?  
Solid surface wall panels are thick engineered stone panels which are solid and consistently colored throughout. It is a man-made stone and epoxy aggregate which is durable and dense. This product is used for shower and tub wall panels (and also shower pans) because it is waterproof, nice looking and easy to clean.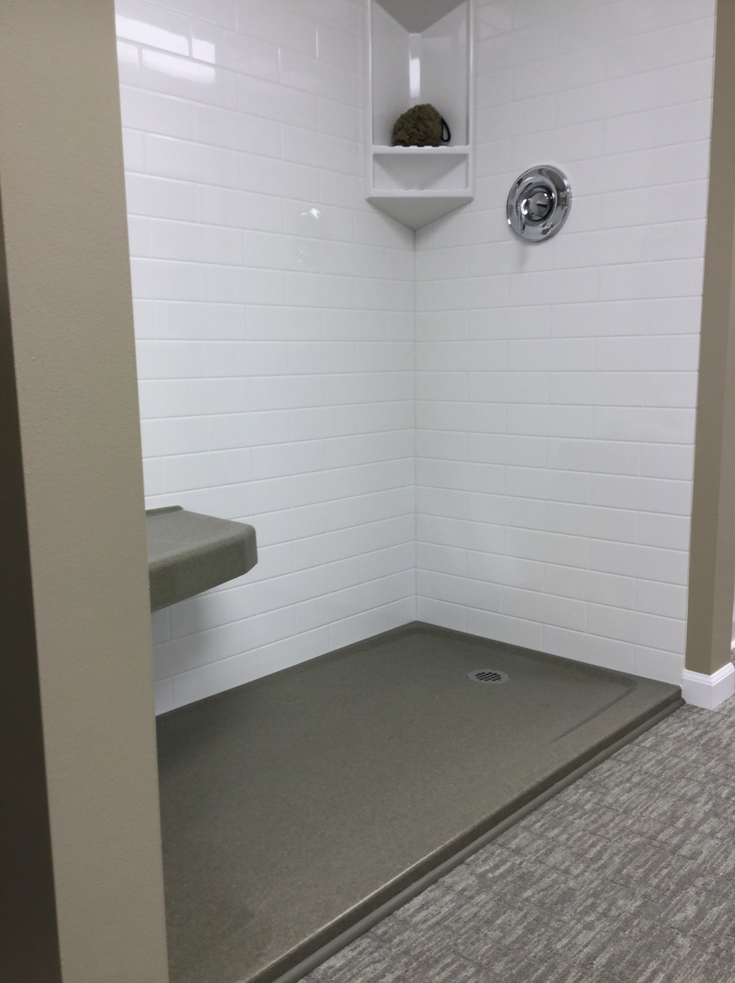 FAQ #2 – How difficult is it to clean solid surface wall panels?   
These panels are offered with gloss and matte finishes. The gloss finish is made with high speed buffers in the manufacturing process and are smooth and easy to wipe off. You can use a cloth, sponge or squeegee along with your favorite non-abrasive cleaner to wipe off the surface of the walls. The gloss finish is easier to clean than the matte finish.
FAQ #3 – How does the thickness of these panels compare to acrylic or fiberglass wall surrounds?
One of the biggest advantages of solid surface shower or tub panels is they are extremely durable and come in a deep 3/8" thickness. You can compare this to decorative PVC (which is 1/4″ thick),  and fiberglass and acrylic which are around 1/8″ thick. So solid surface (or cultured stone) shower panels are 3x thicker than most competitive materials.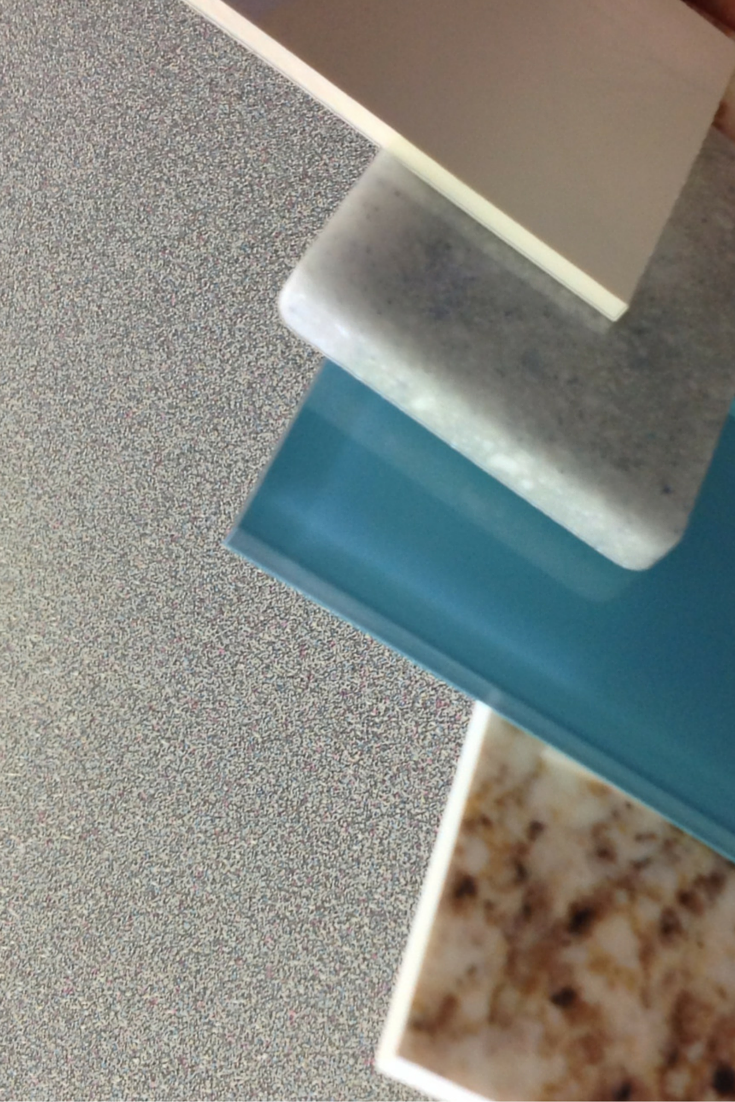 Recently I got a call from a Maintenance Supervisor of a University in Virginia who originally called for pricing on 1/8" thick acrylic wall panels for men's dormitories. Since I've got two boys of my own (ages 21 and 17) I know that TLC (tender loving care) and bathrooms don't go together with guys of this age group. I recommended the thicker solid surface units because they are 3x thicker than acrylic, are colored throughout and are virtually indestructable. These panels also make a good long term solution for rental properties because they are built like a tank to withstand the abuse of even the most difficult tenants.
FAQ #4 – Are solid surface wall panels cheaper than fiberglass inserts? Are they less expensive than ceramic tile?   
It would be excellent if solid surface wall panels were cheaper than fiberglass one piece inserts, but that is not the case if you are comparing the initial purchase price of these products. If you look at the longevity of the materials (see FAQ #5 below) you can be ahead cost-wise with the better product if you are planning to stay in the property for a while. If you're looking to sell your home the less expensive product may be better.
It can be a bit more difficult to compare the costs of ceramic tile to solid surface because tile product costs and installation patterns can vary greatly depending on what you choose. In general, the initial material plus labor costs between tile and solid surface is pretty comparable.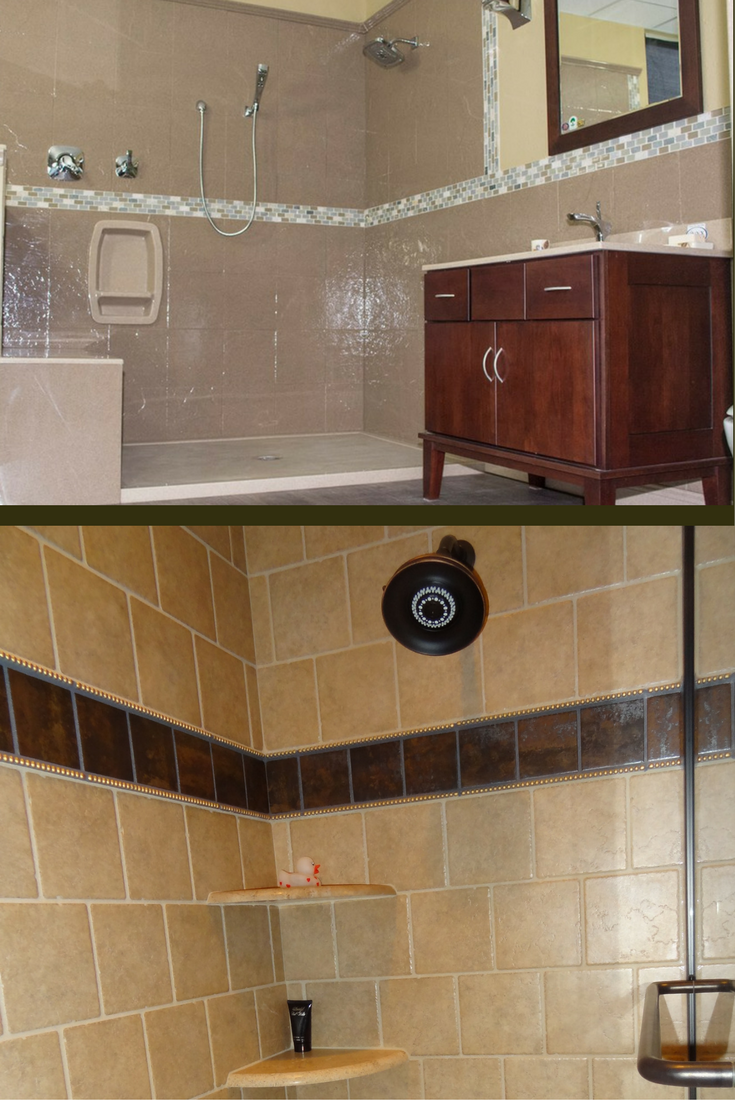 FAQ #5 – What's the guarantee with solid surface shower and tub wall panels? 
 Guarantees on cultured stone wall panels (or solid surface wall panels can vary between manufacturers). The line we install most in the Cleveland and Columbus Ohio markets carries a lifetime guarantee.
FAQ #6 – Can these shower wall panels work for a custom sized tub or shower?
This is a huge benefit to a solid surface system vs. a standard store-bought fiberglass kit. You can not only get individual panels for virtually any sized space – but with sizes up to 100" wide by 100" high you can install these panels without worrying about seams between panels (this can eliminate the chance of water penetrating where panels are joined together).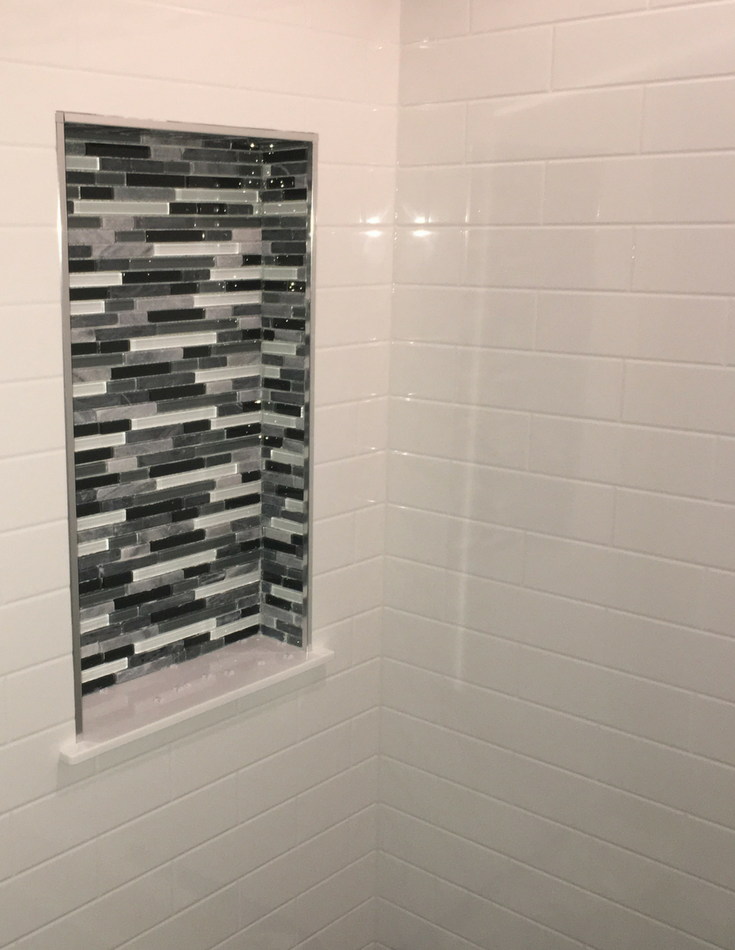 FAQ #7 – Can I use any type of glass enclosure or shower pan system with solid surface panels? 
 Yes – it doesn't matter if you want to use a framed, unframed or frameless glass enclosure or even a glass block shower system. The panels can be installed on any base (acrylic, fiberglass, tile pan). To have a completely consistent system pair up the solid surface panels with a cultured stone shower pan (these bases come in standard sizes and custom shapes).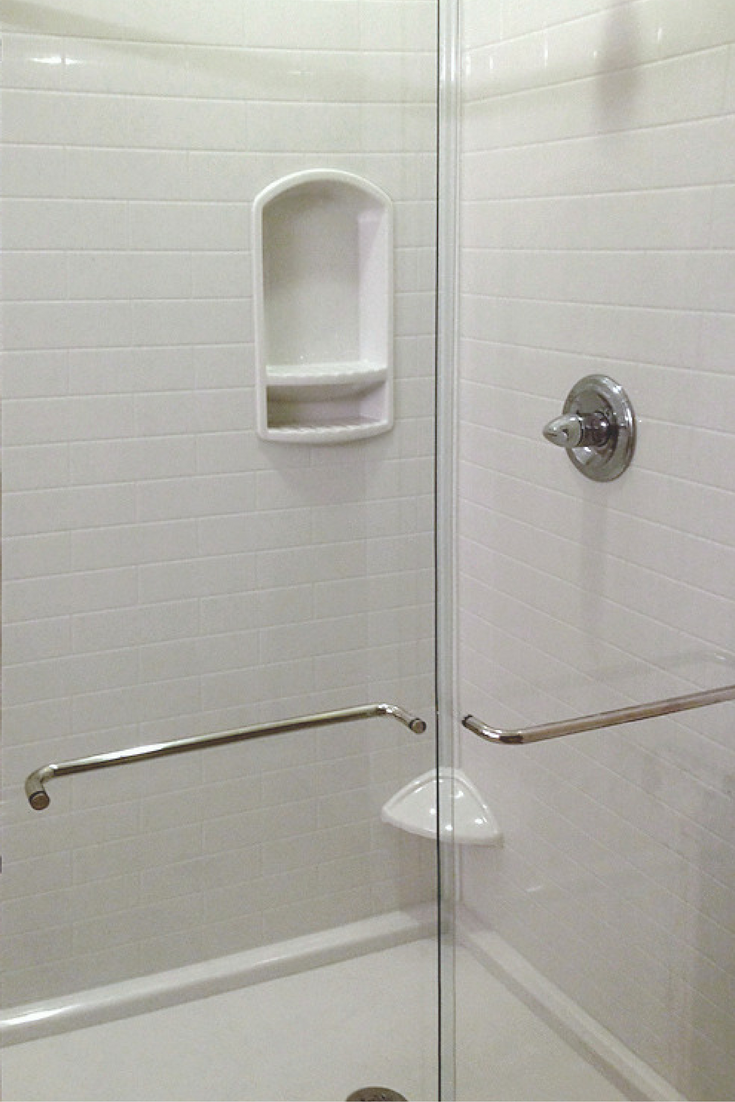 FAQ #8 – Do I need special experience to install solid surface wall panels? Can I DIY this project?
I estimate 50% of the solid surface systems our company sells are purchased by homeowners who are looking to do it themselves. As long as you have standard carpentry saws and drills you will be able to do this job. There are several installation videos available to guide you through the steps of this project.
FAQ #9 – What color and textures are available? Can I get a tile, stone or textured pattern in solid surface panels or do they only come in smooth surfaces?  
With 56 standard colors (in solid and granite options) it will be easy to match your bathroom décor. You can get smooth, slate, stone tile or even subway tile patterns. The range of colors and textures makes these panels a good option in traditional, transitional or contemporary bathroom designs.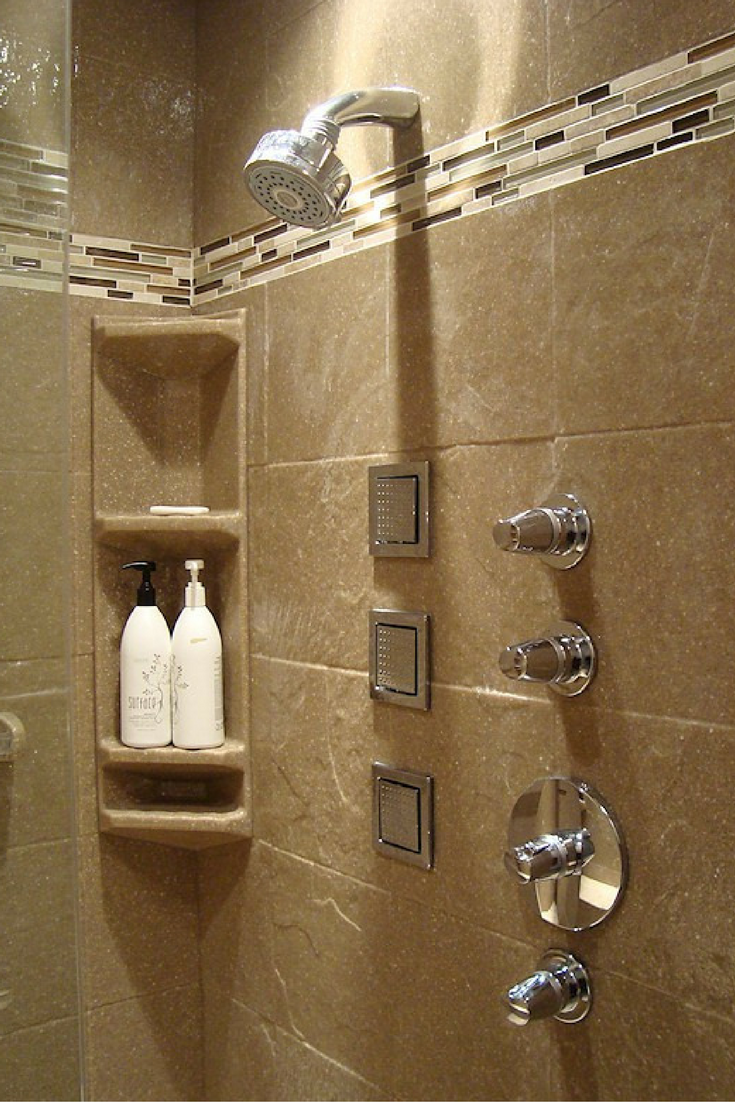 Conclusion
I hope these 9 frequently asked questions about stone solid surface shower wall panels have helped you to get your arms around the options available. If you need more input – we would be glad to help – just comment or call the numbers below.
For more information or an estimate on remodeling a shower, or nationwide material supply for the solid surface wall panels and pans call The Bath Doctor in Cleveland (216-531-6085), Columbus (614-252-7294) or for nationwide supply Innovate Building Solutions (877-668-5888).
If you're a remodeler or builder and want practical advice on remodeling products, industry trends, marketing and sales tips to grow your business (and cut day to day hassles), start reading my newest blog – Innovate Builders Blog. It's packed with ideas you can use now. Click here to Sign Up for the Innovate Builders Blog.
---
Mike Foti
President of Innovate Building Solutions a nationwide supplier and regional (Cleveland and Columbus) remodeling contractors. Some of our product lines include glass counters, floors, backsplashes, glass blocks and grout free shower and tub wall panels
---