7 Bathroom Decor Ideas to Create a Spa-Like Bathroom on a Budget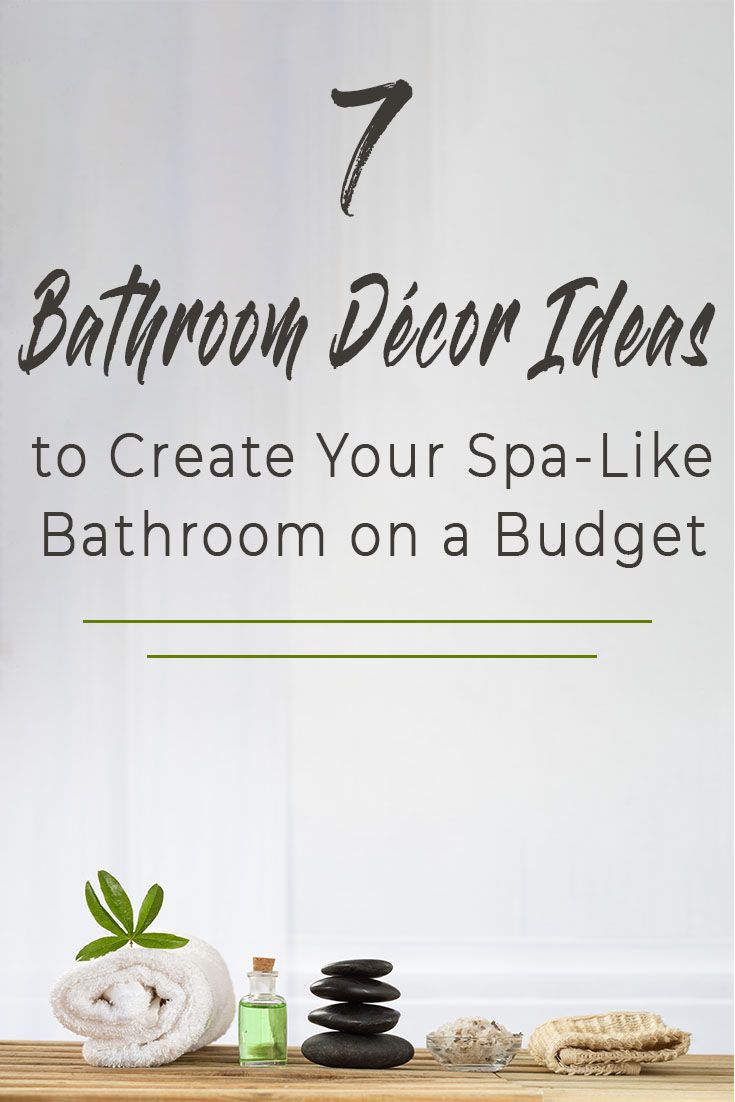 Cluttered. Outdated. Dingy. Dark. Depressing. Cramped.
Are these the words you'd use to describe your bathroom today?
It doesn't take long for a bathroom to get out of hand. Curling irons, blow driers, and a massive array of beauty products littered on your tiny vanity counter. Tile showers with dirty, mold stained grout joints which scream out – GROSS! Pitted chrome fixtures which don't exactly look 'shiny and new' but they do 'boast' (sarcasm intended) constant water spots (which are like nails on a chalkboard to you).
Even though you'd like to create the luxury spa-like bathroom experience like a day at The Ritz, your budget more closely resembles a Hampton or Holiday Inn.
You've wondered….is there a way to breath new life into this tired old bathroom? Can I give it a spa-inspired setting without blowing ALL the kids college fund in the process? The short answer is…yes there is.
In this article, I'll present 7-bathroom décor ideas to create a spa-like bathroom on a budget. Some of these ideas only involve a trip to your local candle shop, Bed Bath and Beyond, or one of your favorite on-line stores. Other ideas are more extensive and would be included in a mid-priced bathroom remodeling project.
So, what have you got to lose? Read these 7 ideas and see which can help catapult your 'ugly duckling' bathroom into the relaxed, spa-like experience you've dreamed about.
Spa-like bathroom décor idea #1 – Swap out your bathroom's 'jewelry' ('er it's knobs, handles and fixtures)
Builders-grade (once) bright chrome faucets and vanity cabinet pulls are not your friend. They make your bathroom feel like it's in a 1980's-built time warp. In addition, they retain their water spots better than your neighbors Dalmatian.
Here's a simple bathroom décor idea to kick your space up a notch. Replace your tired polished chrome and brass pulls and faucet handles with contemporary brushed nickel, matte black or fashionable rose gold replacements.
Then you'll no longer deserve to be reported to the Bathroom Fashion Police. And with these new finishes you'll cut your cleaning battle with spotted chrome and brass bathroom and shower products which never look good.
Spa-like bathroom décor idea #2 – Eliminate dingy, dirty, moldy grout joints in the shower. Use decorative shower and bathtub wall panels
It doesn't matter how nice your fluffy towels are or how wonderful your reed diffuser smells or how your romantic candles set the mood, if you wake up in the morning to a moldy tile shower wall (or yellowed shower surround), all the bathroom décor ideas are nothing more than putting 'lipstick on a pig' (as the saying goes).
To put it bluntly, for a spa-like bathroom you have to eliminate DISGUSTING!
Sure, you can try (as you have in the past) to scrub and bleach away mold spots. However, you know they'll come back again (and you still don't know what problems and bacteria is lurking behind the wall).
You're thinking there must be a sharper way to add style and blow up grout joints (beyond the cheap plasticky wall surrounds you see at your local big-box store). And there is.

A way to enhance your spa-like bathroom décor and eliminate disgusting grout joints is to use laminate wall panels. These 2' x 8' x 3/8" thick units click, lock and seal together (note – you can even install them as a DIY'er). What's even cooler is you can get a spa-like look and use textured finishes like this rough wood shower panel design (which is made of a 100% waterproof laminate) below.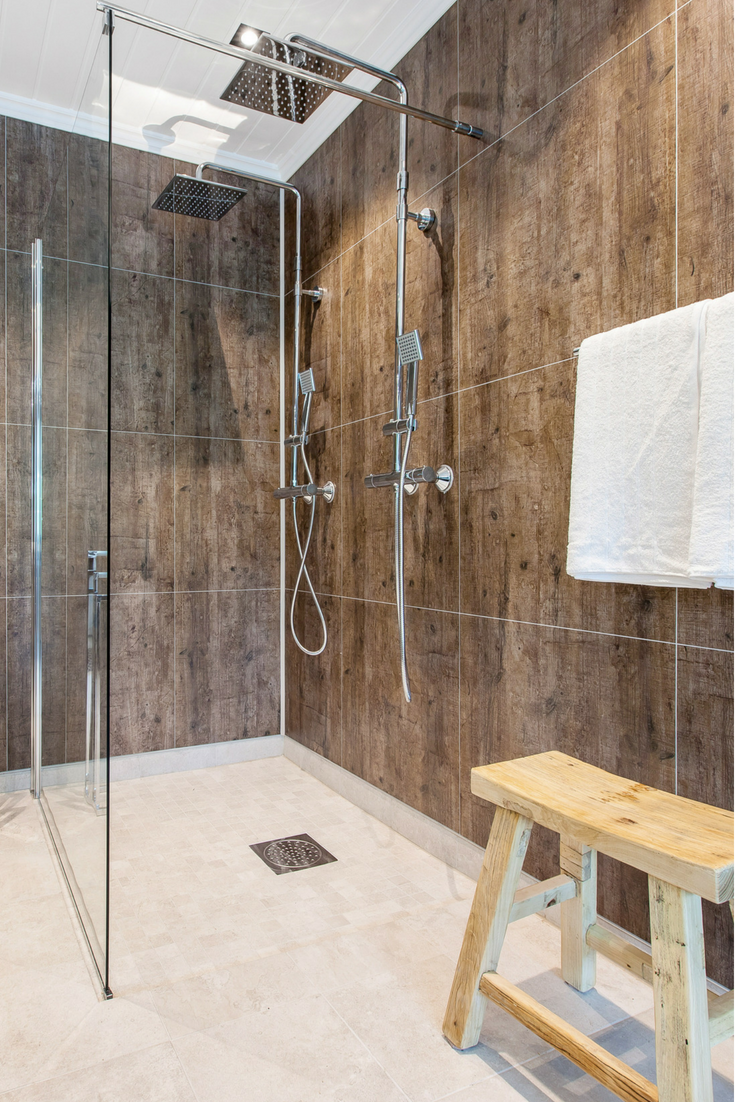 Spa-like bathroom décor idea #3 – It's all in the packaging (even in your bathroom)
Have you ever asked your husband (or worse yet, your son) to wrap up a gift? If so, how did it come out?
If you said lousy, as a guy I would say 'I've resembled this remark before!"
Whether you're wrapping a special gift or looking to enjoy a day at the spa with the girls, you want to combine them with beauty. You want your gift or spa experience to be special.
A spa-like bathroom is caring enough to create this special environment (even if you must fight, or you can call it 'gently influence,' your spouse or significant other to keep it that way daily). Just keeping it real here!
You need to 'package' your bathroom for it to look neat, relaxing and uncluttered.
A smart (yet, ultra-inexpensive) way to do this is through consistent packaging. Don't have 10 different sizes and types of shampoo, hair care and skin products. Go to Bed, Bath and Beyond and get consistent containers to put products in. You can even go as far as invest in a label maker to create your one-of-a-kind personal packaging.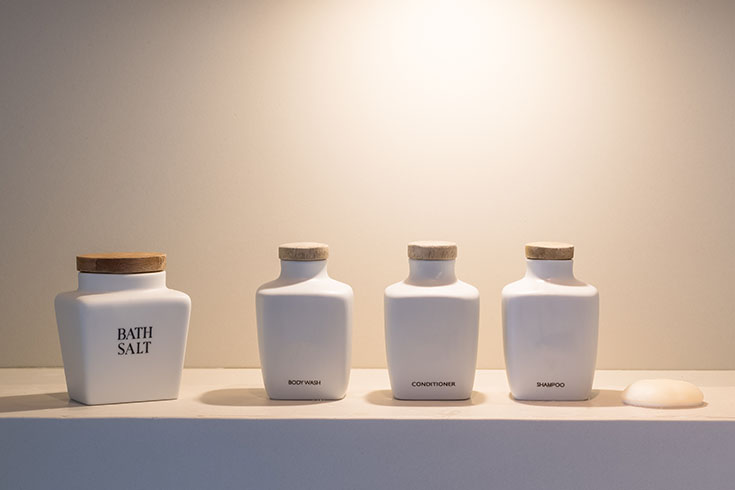 A neat and uncluttered space is essential to enjoy your home-version of a spa bathroom.
Spa-like bathroom décor idea #4 – Use colors or textures which relax or inspire you  
When you enjoy a day at the spa (or at your favorite resort) what colors and textures inspire you? Are there bright whites and nautical blues which brighten your mood? Are you drawn to relaxing wood textures and the smell of cedar?
Bring colors and textures into your space which inspire (and relax) you.  For a spa-like bathroom you want to create a vacation experience in your own home.

To get this spa bathroom look you can paint your room using bright white (or soft beige) walls. Then add splashes of color with a fun area rug (note – don't use an ugly bath matte you found at the dollar store) or interesting prints on the walls.
If want a serene setting, or create the Joanna-Gaines modern farmhouse motif, use weathered shower and bathroom wall panels and/or even add fun storage elements like a ladder for towel rack storage.
Your bathroom can be (and should be) all about expressing you (but in a simplified, uncluttered way like your favorite spa or resort hotel).
Spa-like bathroom décor idea #5 – Find ways to create a relaxing shower without major plumbing or remodeling investments
It's fun to think about massive walk in showers with shower heads and body sprays EVERYWHERE which beat your body into relaxation. While this idea sounds like fun, it's not happening in your 2,200 square foot 2-story suburban home you share with 1 spouse, 2 kids and 3 cats (unless you eliminate your master bedroom – OK, that's probably not a good idea). And oh, did I mention your waaaay-too-small 5' x 8' bathroom?
There is a simple way to enjoy your shower more without needing a bigger bathroom. This simple idea is to install a rain head. I know you may be thinking, "Don't those rain heads do a lousy job getting soap out of your hair?" Well – they used to, but not any more with the invention of air-infused units.
New-generation rain heads don't cost an arm and a leg, but they can add 'take-me-away' moments when you click and lock the door (at least for 10 brief minutes alone) without your kids making another demand on your time.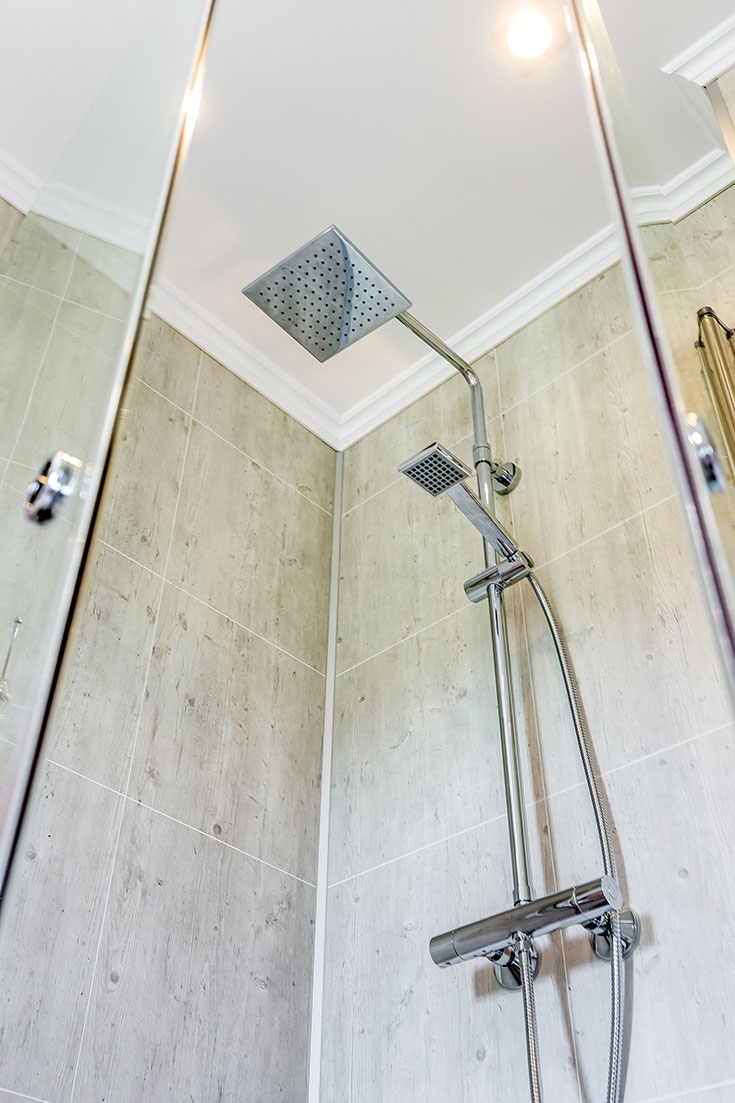 Spa-like bathroom décor idea #6 – Recognize the impact of lighting on your mood (and the function of the bathroom)  
Dark spaces are depressing.
Dark bathrooms are dangerous.
Lighting not only impacts the safe functioning of a bathroom, it also can positively (or negatively) impact your mood, and the feel of the space.
Effective bathroom lighting is multi-faceted.

To create a spa-like experience first explore ideas to improve natural lighting. Some ways to do this are to add a transom window, skylight or a solar light tube.
If creating an opening for natural light is too expensive you can add impact with wall sconces, pendants or even an LED mirrored medicine cabinet. This will not only improve your look but will make it simpler to get ready in the morning.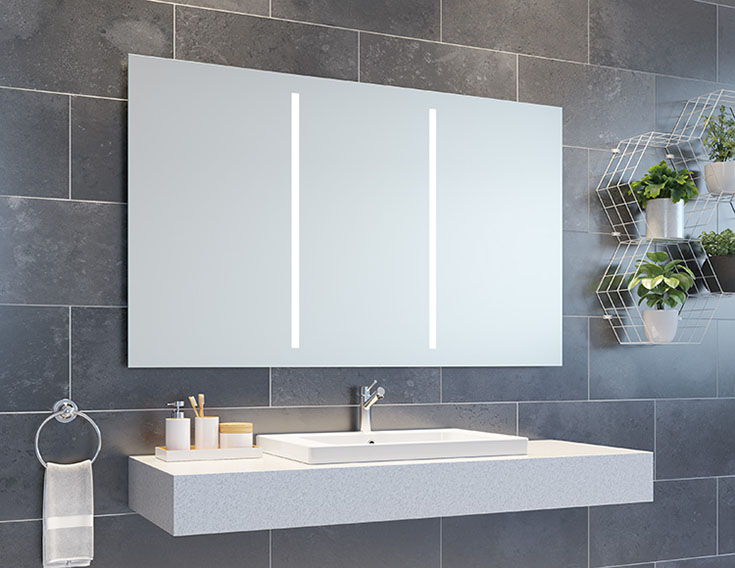 The lowest cost way to add illumination (and pick up your mood) is to arrange (and light) various sized candles in the room.
Spa-like bathroom décor idea #7 – Wake up your senses
Spa's are wonderful because they create an experience all your senses can enjoy. Your bathroom can (and should) be the same. And what's nice about the following ideas is you can do them without spending a lot of money.
First, kick up your sense of touch and invest in extra-fluffy towels.
Next, bring energy and visual impact with life-enhancing plants like Aloe Vera, bamboo, bromeliads, spider and snake plants (they're not as creepy as they sound!) or orchids.
Finally, add pleasant scents (and – if I have to mention it – get rid of the bad ones in your bathroom) with a reed diffuser.
You can enjoy your life (and your bathroom) far more as you enhance all your senses.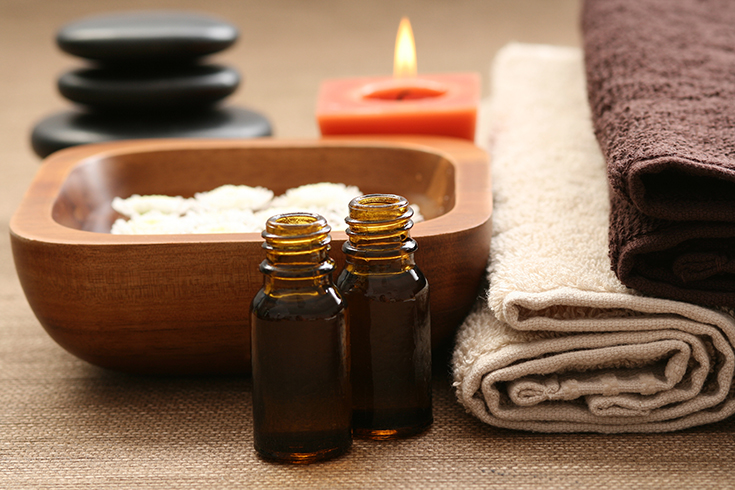 Conclusion
A spa-like bathroom is not only the domain of the rich and famous. You can create this experience without a huge budget.
Simply buy some fluffy pillows, candles, a reed diffuser, consistent containers, plants or spruce up with a new coat of paint. Or create a more complete bathroom solution by remodeling and getting rid of time-consuming tile shower walls and replacing them with easy-to-maintain and stylish wall panels.
There's no reason to put up with a dark, depressing, smelly and cluttered bathroom (you use at least 2 times a day) anymore.
Act on one of these ideas – or a few of them. Add enjoyment to your bathroom and your life!
As a company who helps customers with bathroom design every day (and also supplies products like spa-inspired grout free shower wall panels and contemporary acrylic bases), I and my team (which includes Terry, Diane, Georgia, Dylan, Jeff, Ryan, Chelsea, Michelle and Stacy) would be honored to help you.
Call us. Text us. Email us. We're here to help.
Mike
How can I (or a member of my team) help you?
Call us at 877-668-5888 for nationwide wholesale supply of laminated wall panels or contemporary acrylic shower pans. For a local project call 216-658-1280 in Cleveland or 614-252-3242 in Columbus.
If you're looking to create a spa bathroom for your hotel shower, luxury apartments or a vacation home rental bathroom we'd also be glad to help.
If you're a remodeler or builder and want practical advice on remodeling products, industry trends, marketing and sales tips to grow your business (and cut day to day hassles), start reading my newest blog – Innovate Builders Blog. It's packed with ideas you can use now. Click here to Sign Up for the Innovate Builders Blog.
If you're in the building business, click here if you'd like to learn how to become a shower wall panel dealer or call and ask for Mike at 877-668-5888.
---
Mike Foti
President of Innovate Building Solutions a nationwide supplier and regional (Cleveland and Columbus) remodeling contractors. Some of our product lines include glass counters, floors, backsplashes, glass blocks and grout free shower and tub wall panels
---