5 Smart Design Bathroom Design Trends from the 2020 Kitchen & Bath Industry Show to Rejuvenate Your Tired Space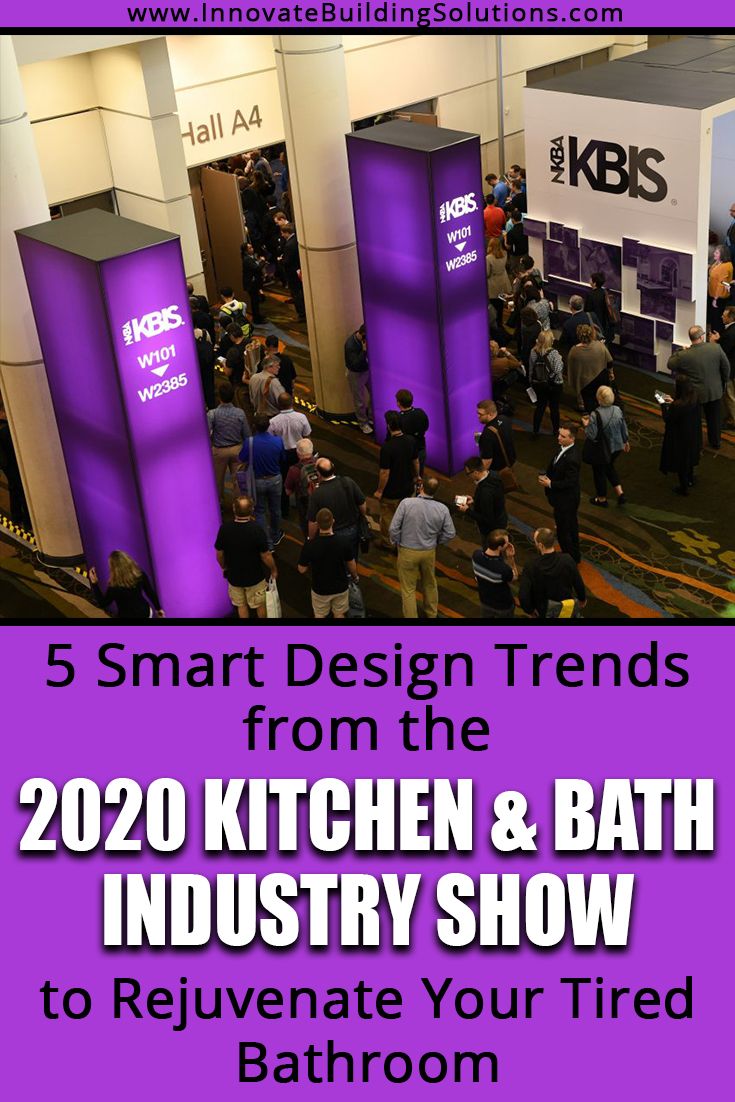 So, here's a question for you. Where can you go and hang out with 100,000 of your 'best friends' in the building and remodeling industry? And where can you go to see, touch, feel and hear about the hottest trends and products in bathrooms? Bottom line – there's only one place.
It's the Kitchen and Bath Industry Show (AKA – KBIS) and the International Builders Show (IBS).
This year I took two long flights to Las Vegas Nevada (and BTW, why does it always seem my gate is the last one in the concourse? Can you feel my pain?) Yes – I was 'doing Vegas baby' even though I don't gamble, drink or own multiple gold chains (right now you're probably wondering if I've completely lost my 'Italian contractor and building material supplier card!).
As a self-professed 'Bathroom Remodeling Geek' (B.R.G.) I can't think of a place I'd rather be. I love seeing what's hot, what's not (IMHO) and what manufacturers are 'cooking up' for the future (there were several showing 'concepts' of new products not even 'on the street' yet).
And this year's show did not disappoint. It was mind-blowing. It was an 'insole-crushing' experience of walking not one, not two, but 3 massive exhibit halls (and I only saw about 50% of the show).
So, I'm delighted to 'take you on a journey' to see cool products and 5 smart bathroom design trends I think are hot from my 2020 KBIS show experience. At the end I'd love to know what you think (please comment or call us with your thoughts). After all – you're the customer and in the end the ONLY one who really matters!
Trend #1– Euro designs inspire American bathrooms.     
I remember back in 1974 (yes, I'm dating myself here) the Chrysler commercials narrated by the rich Spanish-sounding voice of Ricardo Montalban. Ricardo got you excited about the new luxurious 'fine Corinthian leather' seats in these cars (and to throw some humor on this blast-from-the-past commercial, Corinthian leather wasn't a fine Southern European leather at all, it was a term made up by a Marketing company and manufactured in New Jersey!). For a bit of nostalgia, I've included a clip from this iconic TV commercial.
It was this Euro-inspired lure which made you feel you were driving in the 'Corinthian' lap of luxury.
What's nice to know today is you don't have to buy inauthentic-pitch-man-inspired Euro products. There are real European bath selections which are clean, minimalist and will create an 'Interior-design-magazine-esque' look even if you don't have 'boat-loads' of money. I'll highlight 2 such products here:
Product #1 – Sleek, Spanish shower bases – Once again at this years' show I saw a Spanish shower pan company (Duplach) looking to carve out their turf in the United States market with a high-design look at a 'everyday-Joe (or Josephine) price.' This low-profile resin-based pan with a gel coat top surface comes in fun colors like chocolate, grey, sand, mocha and black (and white of course). This manufacturer is working on getting approvals to sell in the United States. Their designs scream out – WOW (and are a product we're looking to bring to this country). We'd love to know what you think!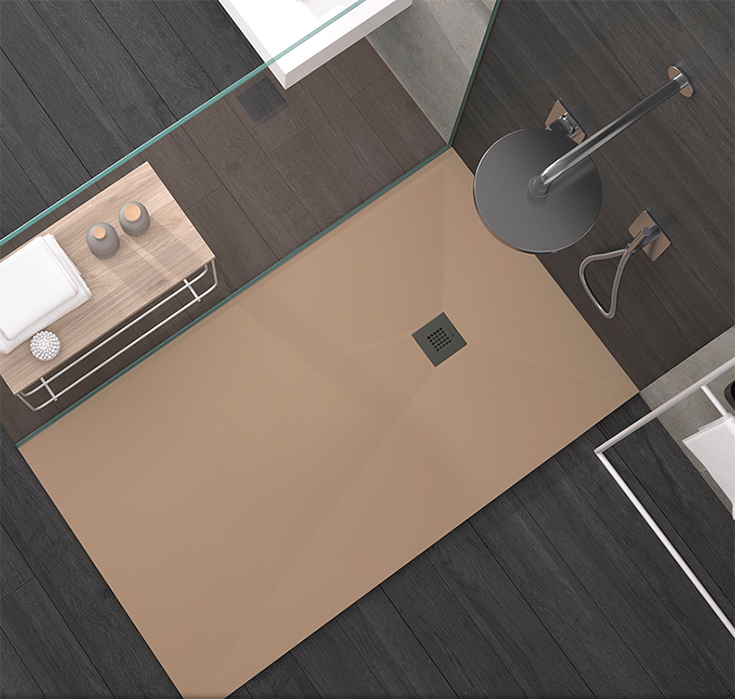 Product #2 – Norwegian 'wood' for a waterproof United States bathroom – When you think of wood, waterproof is not exactly the word which comes to mind. However, when you understand the concept and origins behind laminate shower wall panels from Fibo (which have a marine-grade plywood backing), you'll see a 40-year old proven system which blows away the boring white fiberglass shower you want out of your house SO BAD! Listen to this video with Kevin Haegeland (Marketing Manager of Fibo) to learn the Fibo story and excitement this product has already gained in the US market.

Trend #2– A K.I.S.S. (Keep It Simple Stupid) installation system is the future to product success      
Back in my Dad's day there was no shortage of craftsman (and it would have been near-impossible to find a 'craftswoman' either!) to do even the most complex projects. As you've likely discovered if you're building or remodeling today, a true craftsman is a needle in a haystack. People aren't guiding their sons and daughters to go into 'the trades.' This problem is making it harder (and more expensive) to get jobs done.
Manufacturers are not oblivious to this challenge (after all it's causing them to lose sales also). They've gone to the 'design drawing board' in search of answers to cut the labor problem down to size.

The answers are starting to come. One technology being embraced across multiple product types is the 'click/lock' system.
First you saw it in laminate (or wood-like) flooring.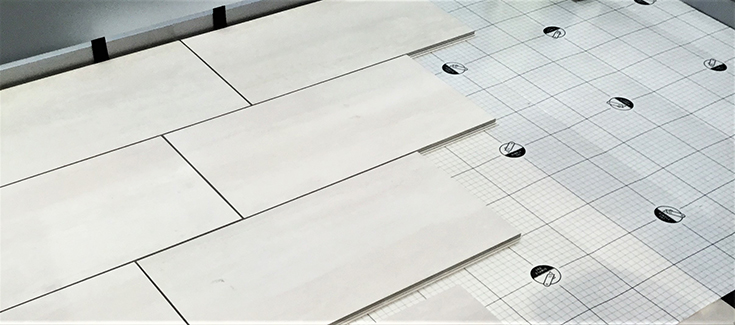 This year I saw the 'click and lock' technology being embraced by tile leader – Dal Tile. Their Revo-Tile eliminates thin set mortar, cuts down joint sizes and slashes installation time and cost. With styles available in 6" x 24" wood looks, 12" x 24" stone looks and even a Carrara white marble there are styles to fit most any room. Sounds smart to me. What do you think?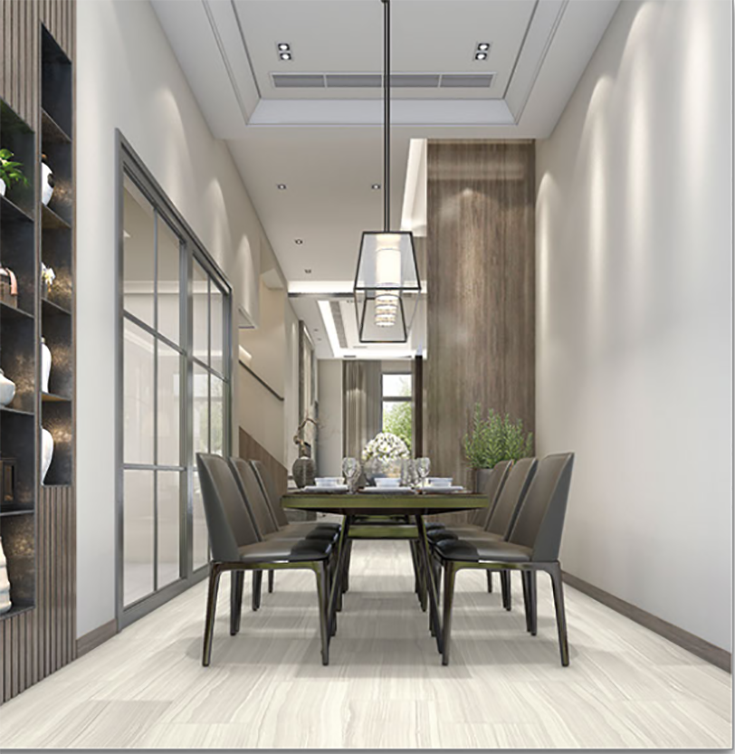 In addition, in the grout free shower wall and kitchen backsplash market, the click and lock system is combined with Aqualock sealant technology to make waterproof shower panels. Learn about this product – and it's 40-year European history in an interview with the International Sales Director Per Jåtog from Fibo Systems.
Trend #3– Inspire your Sexy Bathroom with 50 Shades of Grey, White and Black
Do you struggle with color selections for EVERY home improvement or new home building project you've done? What's hot? What's not? What color will be pleasing to my eye, not only today but hopefully for many tomorrows?
Choosing countertop, floor and wall colors can be a 'nails on a chalkboard' experience. If you're not an interior designer, you don't want to make a mistake you'll have to 'redo' if you need to sell your home a few years down the road.
So, the question is what's 'on-point' design which won't be too trendy? The answer based on what I've seen at the show (and selection presentations I attended) are greys, whites and matte blacks. There's lot of choices to give you the Transitionalist and Minimalist bathrooms which will take your space to a new level.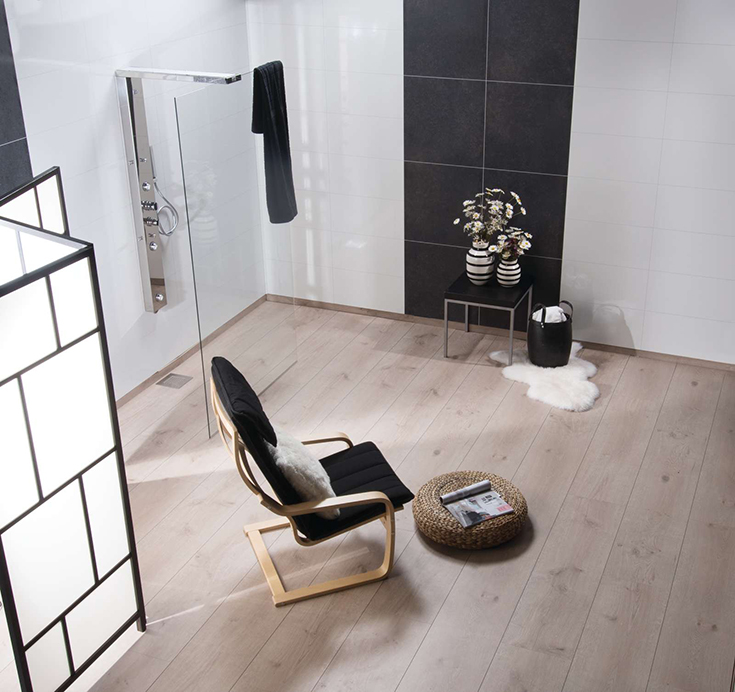 Trend #4– Safety may not sell, but it does matter
While the colors we talked about in trend 3 are sexy, safety, on the other hand, isn't what gets you and I jazzed about a new bathroom project. However, if we're being real (and not 'delusionally-optomistic') none of us are getting any younger. And neither are our parents.
Poorly designed bathrooms with cheap shower glass, step over tubs and bad lighting are expensive accidents (and unwanted hospital stays) waiting to happen. There's nothing which makes us more vulnerable than being wet and 'buck naked' in our birthday suit!
So, while safety isn't sexy, you'll ignore it at your own risk.
Manufacturers have gotten the memo that while design is 'fun,' safety is 'function' which shouldn't be ignored.
In Fleurco's booth (a Canadian shower glass and base manufacturer) I saw their movement toward shatterproof glass. I've heard stories from more than one person who has been injured by bathroom glass which shattered – WHILE THEY WERE IN THE SHOWER! In addition, this company continues to pump out contemporary low profile shower pans which are as safe as they are beautiful.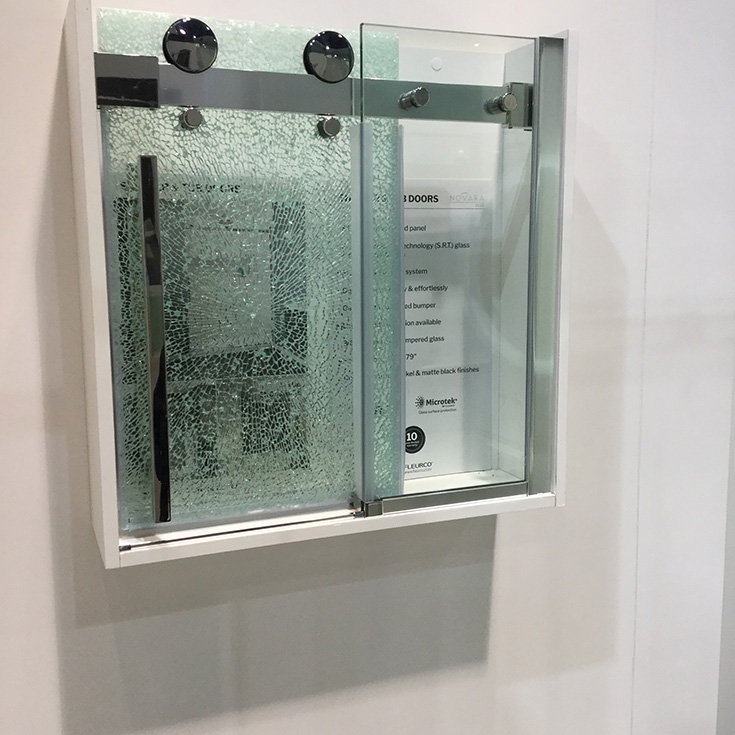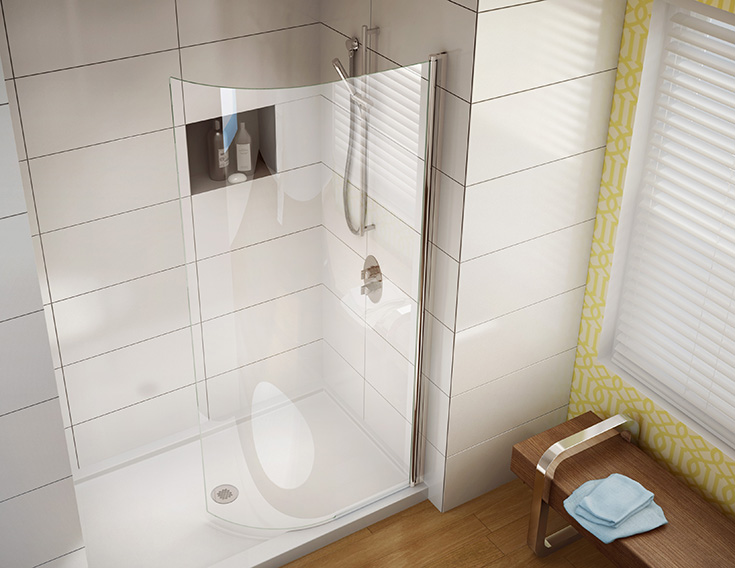 In Evekare's booth I learn about sound activated LED grab bars. This small feature keeps Mom or Dad safe during their late-night bathroom bio-breaks.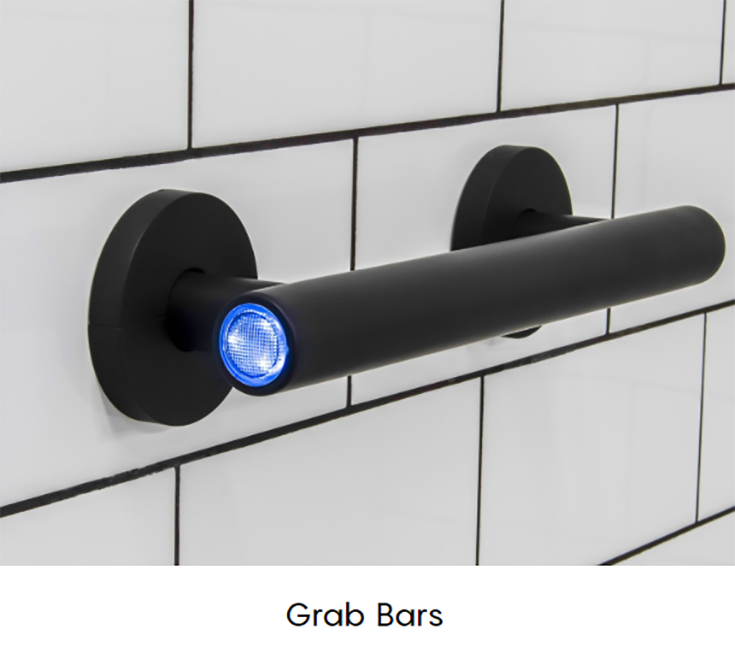 Sure – safety isn't sexy. However, since we're living longer, smart manufacturers are designing safer products to keep us firmly on our feet in the bathroom.
Trend #5– It's high-time to properly accessorize your shower  
Dirty tile shower niches are disgusting.
Plastic shower caddies are hideous.
Cultured stone corner shelves designed by an old guy who still wears leisure suits and brags about his mullet are something you can do without.
Let's face facts. Shower accessories have been the afterthought of the bathroom. They've been the 'red-haired stepchild' of your shower (no offense to red-haired stepchildren) and made it hard to store what you need.

The need to properly accessorize has been noticed by building material manufacturers. For example, in Samuel Mueller's booth decorative stainless-steel niches fit snugly go over grout free wall panels.
Fleurco (mentioned earlier) created a wonderful masculine shower accessory with this matte black shower shaving mirror.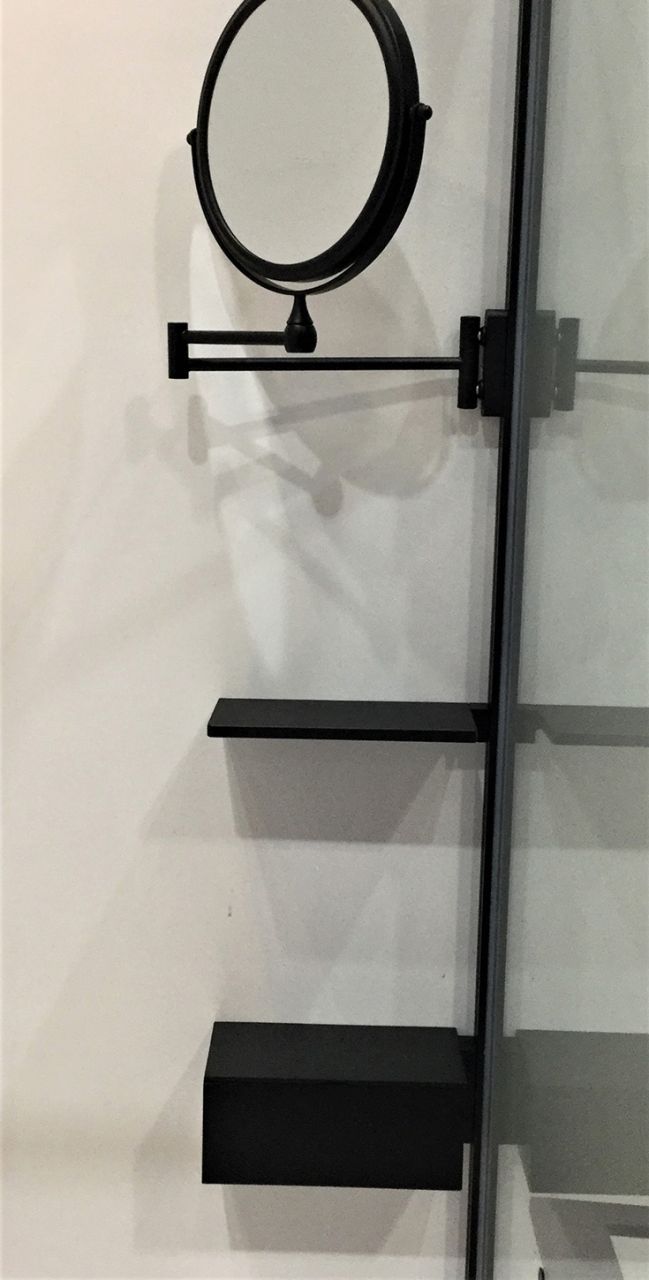 Smart shower accessories don't need to be the ugly duckling of your design.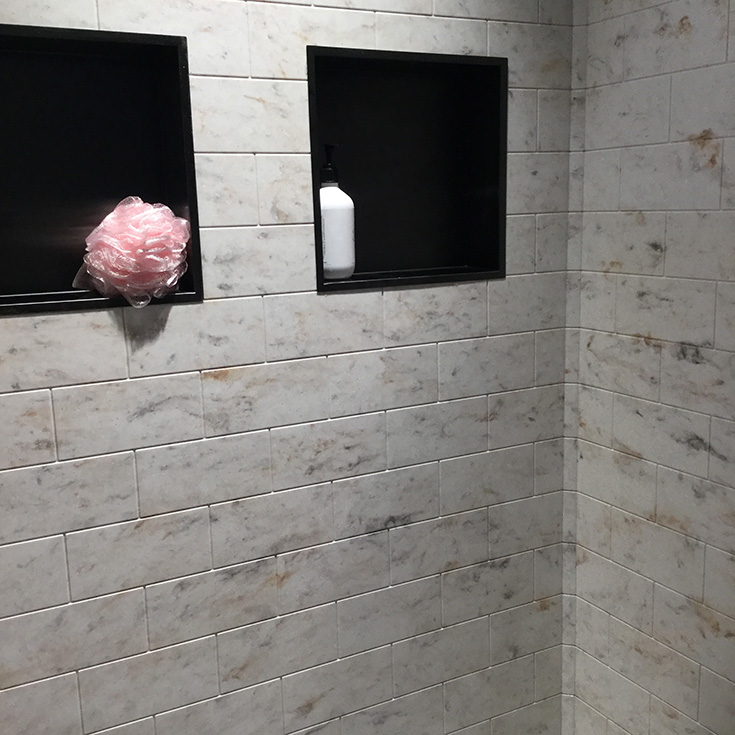 Conclusion
So, if you didn't have the opportunity to attend the 2020 Kitchen and Bath Industry Show (KBIS) I'd love to hear your opinions on the trends and products above. Which do you love? Are there any you think are butt-ugly?
It's been said 'the only thing constant is change.' The 2020 KBIS show proves these words are true once again.
Think about the products, installation systems and trends above. Would your bathroom be better by embracing these ideas? Is your project being held back by 'same-old-same-old' approaches which will leave you with a bathroom which is not very stylish, safe or cost-effective?
I know bathroom design can be daunting and this is where we'd love to help. Call me (or one of our team) at 877-668-5888 to talk not only about what's cool and hot in bathroom designs – but also practical products to save money and time on your next job.
How can I (or a member of my team) help you?
If you'd like to save with nationwide factory direct supply of grout free wall panels (like the "no-tile, tile shower), a one level wet room systems or contemporary shower accessories contact Innovate Building Solutions at 877-668-5888.
If you need assistance with a bathroom design and installation, contact The Bath Doctor in Cleveland at 216-658-1270 or for product supply in Columbus call 614-252-7294.
---
Mike Foti
President of Innovate Building Solutions a nationwide supplier and regional (Cleveland and Columbus) remodeling contractors. Some of our product lines include glass counters, floors, backsplashes, glass blocks and grout free shower and tub wall panels
---