How to Design a Home with Your Empty Nester Years in Mind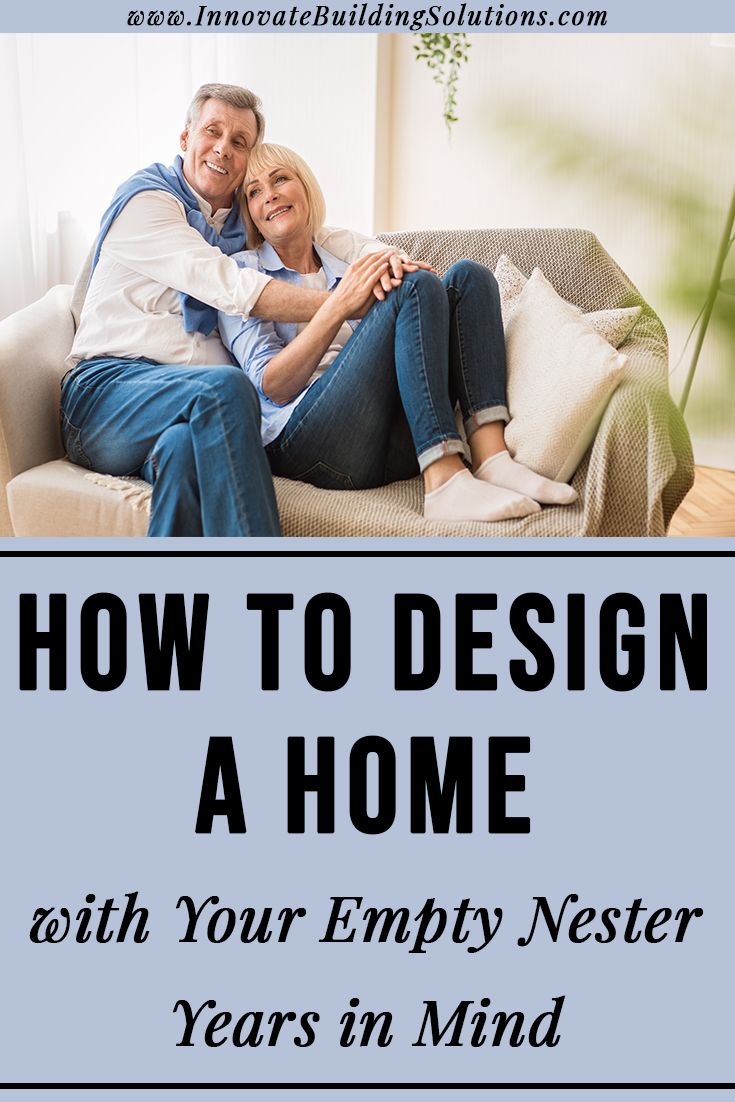 Before I knew it, I was 60 years old.
Before I knew it one son ('er young adult) was out of the house, another son has the money to leave at any time and my 17-year-old 'little girl' is thinking about life after high school.
Before I knew it the 2-story suburban home Rose and I had built for us 25 years ago was no longer new and fresh and doesn't serve our needs like it used to.
The bedrooms are all upstairs.
Between the tile shower and tub surrounds and waaaaaay too many landscape beds the maintenance is a pain we can do without.
Steps and shower curbs are an accident waiting to happen. We've experienced how aging has affected our parent's mobility. Our traditional 'family home' leaves much to be desired as more gray hairs pop up.
Some rooms are largely wasted (can you say the living room and dining room), while there are other places we long for (can you say a place for exercising and hobbies).
A suburban 'growing family' home is wonderful for a growing family – but our harsh reality is (like it or not) we're evolving into a new stage of life. 'Empty-nester-ship' (if there is such a word) has crept up on us faster than we could say #YouSaidOurTeenagerDidWhat?
Yes, we survived the teenage years. And yes, we're coming out the other side (largely unscathed) but our home isn't coming with us. Our needs have changed. Rose and I have also become more 'discerning' (AKA – this might be a fancy word for 'pain in the neck' to a potential builder) customers. Although we don't need a big house, we do want one which is sharp, easy to maintain and designed to work for the next 25-year chapter of our lives.
The question becomes how can we (and you) design a home which fits our needs as an empty nester without breaking the bank? How can you and I have an empty nester home with style? How can we have one which is easy to maintain and will work even when our mind tells us we're still an agile 20 year old college student, but our body acts like a 60 year old with ever-so-slightly graying hair (if we even have hair!).
In the article below I'll present 6 practical (yet stylish) ideas to design a new (or remodeled) home with your empty nester years in mind. In addition, you can also watch this video and see 4 live samples demonstrating these products and ideas from a recent home show in Columbus Ohio.
Empty nester home design tip #1– Stop maintenance before it stops you… from having fun       
You've worked your rear off with a work schedule which extends well beyond the 9 to 5. You've (mostly) raised the kids (yes – this job is NEVER done). You've maintained tile showers and floors, landscape beds and spread mulch every year. Now is the time to get off this treadmill. Now is the time to cut home maintenance down to size and free your life for more fun.
This process begins with a simple to maintain home.
For your next home choose the small lot over the big one.
For your next home choose products like stylish grout free shower wall panels which look like tile over the 'real McCoy' which is a real PIA for YOU.

For your next home choose luxury vinyl planks over tile so you can press the 'Easy Button' when it comes to upkeep.
Take back your time!
Empty nester home design tip #2– Think like the A.V. guy back in middle school – you need a 'multi-purpose' room  
Remember the old 'multi-purpose' room in Junior High? It was the 'catch-all' space for showing movies, eating meals and exercising. And there was nothing quite like eating meals in the same place you exercise (sarcasm intended).
Whether you liked the multipurpose room, or the geeky guy (I'm being sexist here, but it was usually a guy) who ran the projector back in the day – you've got to admit it's smart to have rooms (in a home or school) which are aren't mausoleums nobody wants to go into. I can remember as a kid 'peeking into' living rooms of our Italian relatives which had 'plastic-covered chairs.' It was a room kids weren't welcomed. Can you relate?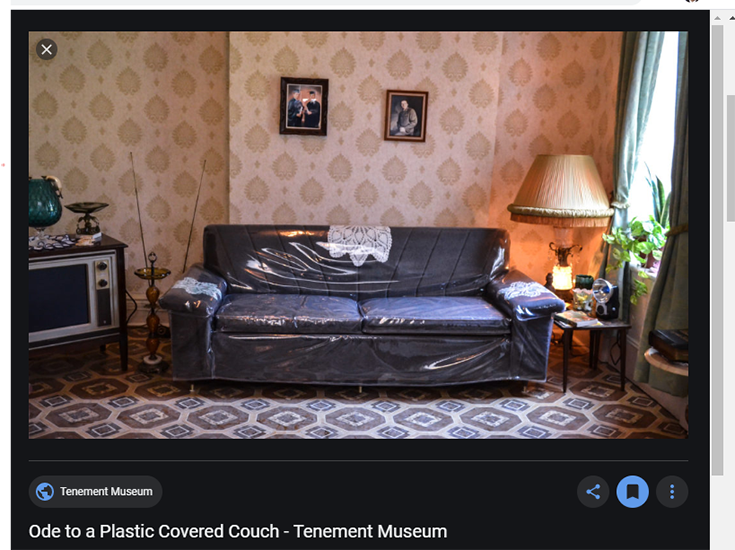 Wasted spaces have NO PLACE for smartly designed empty nester homes. However, with the desire to entertain occasional house guests (can you say grandkids or friends from the good 'ol days) you need a guest bedroom which isn't a place gathering dust most of the year.
You need a 'multipurpose room' you can use for your hobbies (maybe a craft room) or a home office which can be ready at the drop of a hat for guests. The question becomes how to make this happen?
One smart idea for an empty nester home is to use a 'technology' invented over 100 years ago. This technology is a….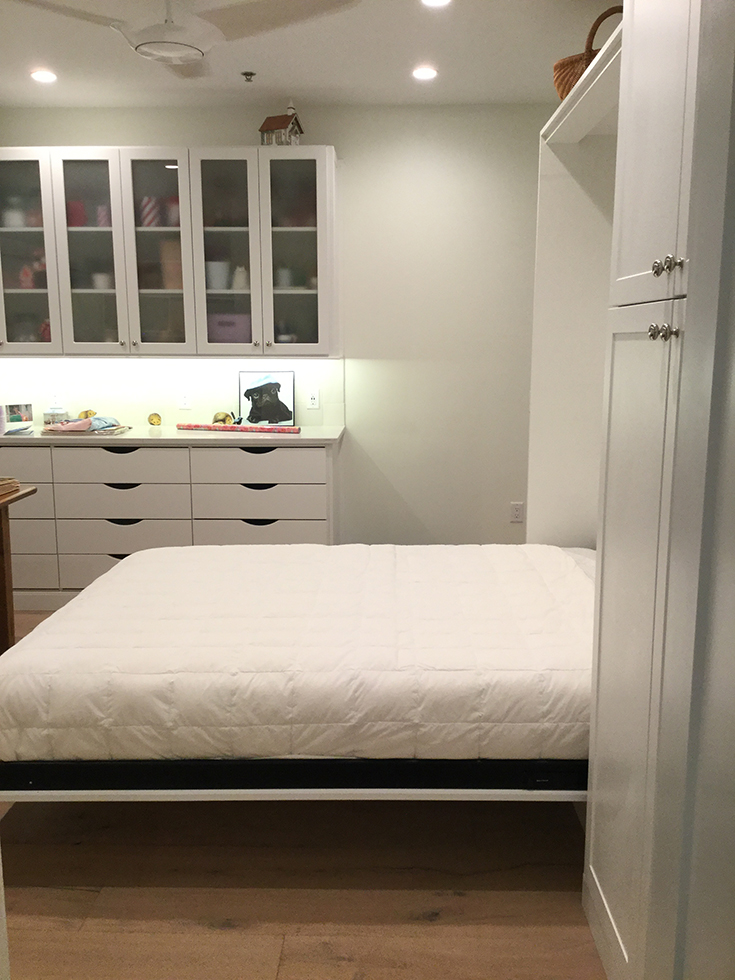 You see Murphy beds – which have a full 10" or 11" mattress – not only provide a comfortable nights sleep for old neighbors, the grandkids or your kids – but they allow your spare room to also be used for a home office, exercise or hobby room.
DON'T ALLOW wasted space in your empty nester home!
Empty nester home design tip #3– A 'modified' lesson from The Who – being mobile!
Back in the early 1970's if you're like me (and my cousin Frank,) you were inspired by The Who and dreamed of 'goin' mobile. You dreamed of getting out from under your 'parent's rule.' You dreamed of the freedom to do what you wanted, not be held back (or dependent) on anyone or anything (relive those Goin Mobile 'bell-bottom' days with this video by The Who).

And even if you never experienced Woodstock, lived in a commune or listened to The Who, your goal is still to enjoy your independence (both inside and outside your home) for as long as possible. And this independence is extended WHEN you design your home the right way. You need to design your home for…
Being mobile!
Great places to start (in newly built home where it's inexpensive to do) are to widen doorways to 36", to move light switches down, and move electrical outlets up. It's also to design your shower with a curbless entry – which is sleek and safe.
Being mobile begins with being smart about home design.   
Empty nester home design tip #4– Going from 'Gabriella Go-Getter' to 'Lazy Lee' isn't always a bad idea
OK – I'll admit when it comes to being a 'go-getter' and 'working hard for the money' (as Donna Summer's said), is a lesson seared deep inside my head (I'm sure my Dad who passed away at 59 years old is nodding his head right now).
While working hard (being a go-getter) and contributing is critical to make us feel valued, HAVING to work hard to get things in your home (and straining yourself and your body) isn't smart. And this another area where smart empty nester home design comes in.
You see with an empty home it's smarter to be a 'Lazy Lee' and have things come to you – for simplicity and ergonomic reasons. However, most homes don't give enough thought to your ever-so-slightly-older reality. The question becomes how can you make simplicity (and ease of access) work in your new home? I would argue you do this by using 2 simple concepts. And they are
Pull downs and pull outs
In your closet add pull down upper rods so you can reach your clothes even if you're V.C. (no not a venture capitalist, but vertically challenged or mobility challenged).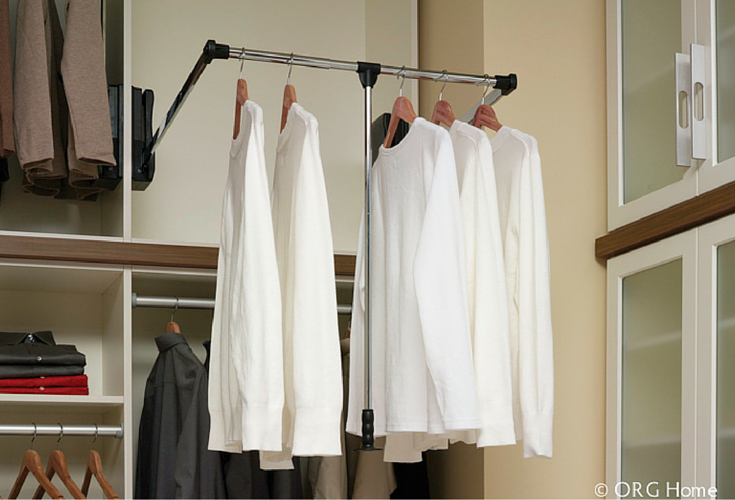 In your pantry use pull out drawers so those canned goods in the back don't go bad before you can use them.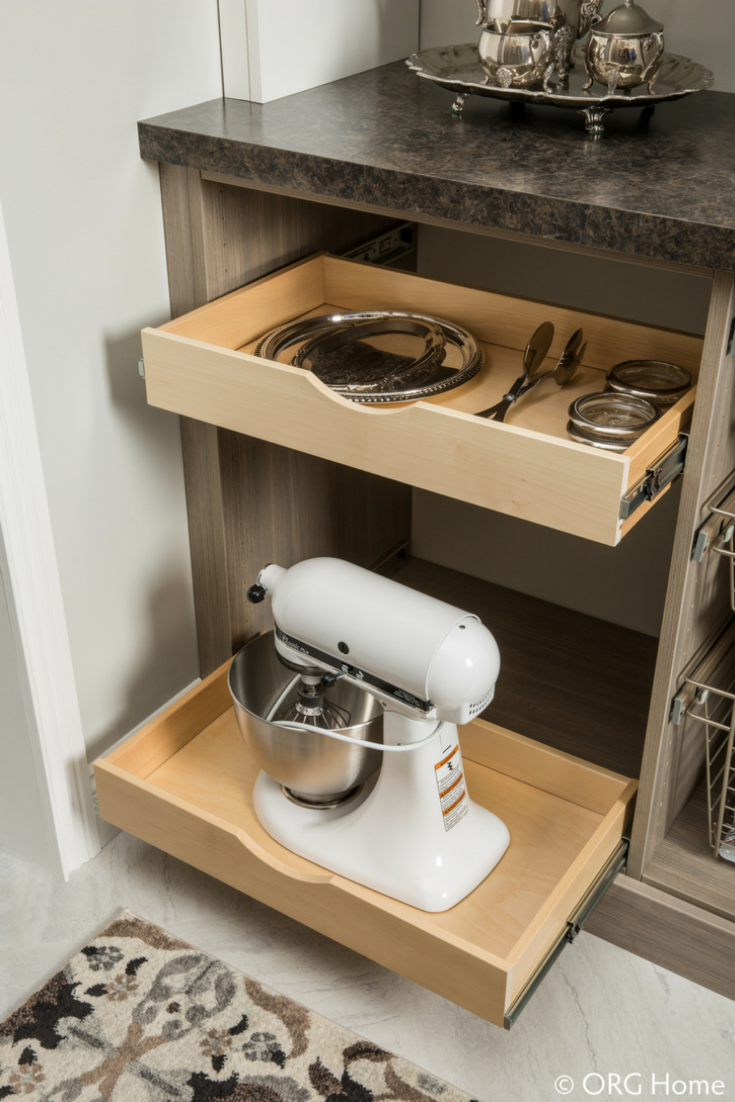 In your master bathroom add a pull-out drawer for your blow driers and curling irons.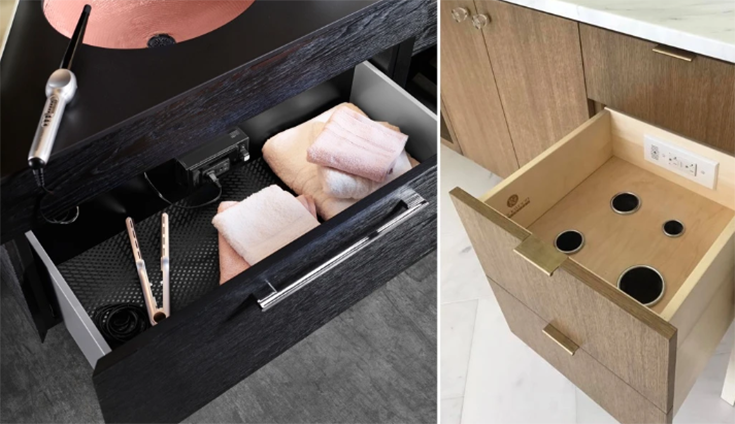 Simply put, smart empty nester designs 'come to you.'
Empty nester home design tip #5– Your day should be 'brightened' up by more than the hope of grandchildren
It's weird for me to even say the 'g-word' ('er grandchildren) because I feel so far away from it (and if there is a God in heaven my 3 kids are IN NO WAY ready for this responsibility right now!).
However, for many empty nesters a 'brightened' home is centered around grandkids. And why shouldn't it be. I'm sure when I get to that stage (hopefully not soon!) I'll spoil the living daylights out of my grandkids.
What I would contend however is an empty nester home should also be brightened by something even more practical (and likely less costly than grandkids) and that would be….
Daylighting (or adding light into your home)
To put it in plain English our eyesight ain't what it used to be. We need light – and lots of it – even if we live in a smaller home or on a tighter lot in a '55+' community where everyone has gray hair or no hair. So how can you add more light to your life (and homes). Here's a few ideas:
Add a transom window inside the shower. It will make shaving your legs much simpler and razor cuts will be far fewer.
Use a walk-in glass shower vs. a framed tile shower. You can move natural light from a bathroom window into your shower for a safer – and brighter –experience.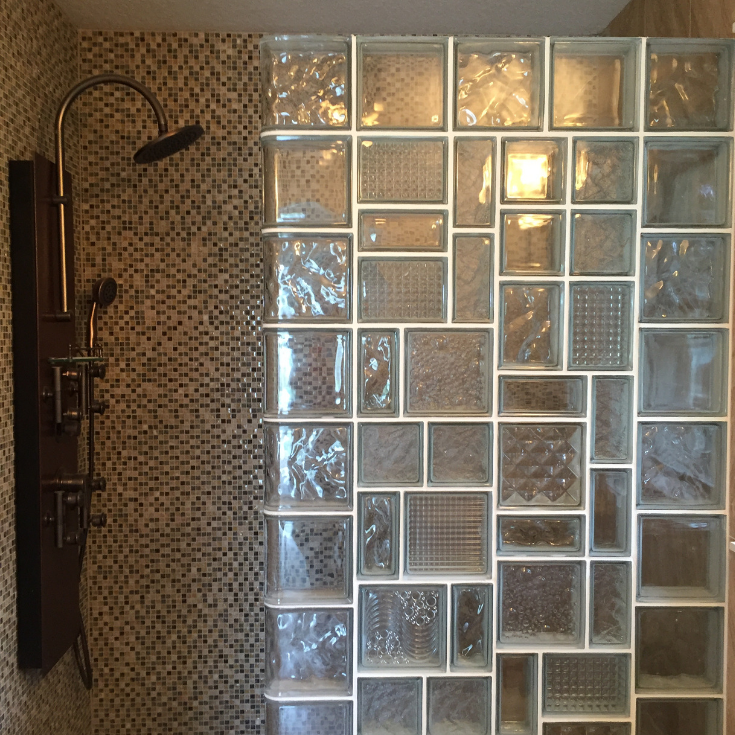 Add a transom window in your walk-in pantry. It's so much nicer seeing what's lurking in the corners with natural light vs. a dimly light bulb 9' above your head (which is also a pain to replace)
Empty nester home design tip #6– Don't 'wing it,' but do 'Design it' with a wing which has YOU in mind
Back in the day Mom or Dad taught you about efficiency, saving steps and proper planning -whether this was in cooking or fixing the lawnmower. They taught you to do it right the first time.
The challenge I've seen is many empty nester home plan designs fall short of this goal. The laundry is on the other side of the house from the master closet. There is no mud room to get the dog cleaned before they track dirt everyone and get you on your hands in knees in a cleaning routine which is a 'nails on a chalkboard experience.'
It's for this reason you'll want a plan design which 'brings it all together.' Which provides a 'continuous flow' to your 'owners wing' (this title makes your place sound pretty stately doesn't it?).
Look for designs which put all your 'big functions' in one section of the home (from sleeping, to showering, to storage and laundry).' The design below (from Maple Craft Custom Homes in Columbus) is one I love and think about to this day.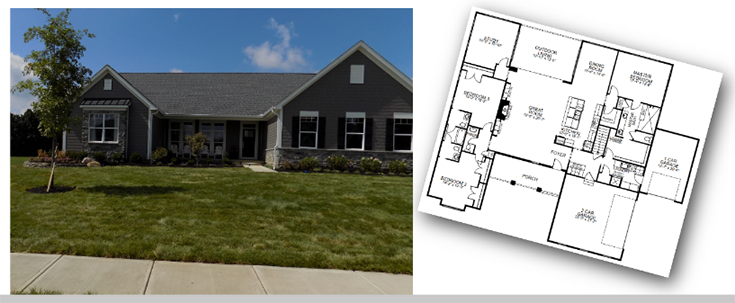 Here's the bottom line.
Save steps. Be efficient. A 'simply smart' design is convenient for you.
Conclusion
So, I if you look at your home today how well is it designed to work in your (dare I say it) 'golden years?' If you're like most (or like Rose and I), the single-family home you raised the kids in doesn't cut it.
Whether you're looking to build new or remodel you're no longer a 'spring chicken' and you haven't 'fallen off the turnip truck' (and BTW have you ever seen a turnip truck?) yesterday. You have the gray hairs to prove it.
While it's not simple to get the empty nester homes of your dreams, it's also not the impossible dream if you're smart about what it can (and should) look like.
How can I (or a member of my team) help you?
If you need help with products (like grout free shower panels, barrier free showers or empty nester home organization systems) call Innovate Building Solutions at 877-668-5888 or Innovate Home Org (in Columbus) at 614-565-5888. We'd be honored to help your journey. In addition, I can share with you my evolution to find the empty nester place for our dreams as well.
For bathroom design or remodeling project call The Bath Doctor in Cleveland at 216-658-1270 or for product supply in Columbus call 614-252-7294.
Mike
---
Mike Foti
President of Innovate Building Solutions a nationwide supplier and regional (Cleveland and Columbus) remodeling contractors. Some of our product lines include glass counters, floors, backsplashes, glass blocks and grout free shower and tub wall panels
---