How to Compare PVC Wall Panels to a Laminate Shower Surround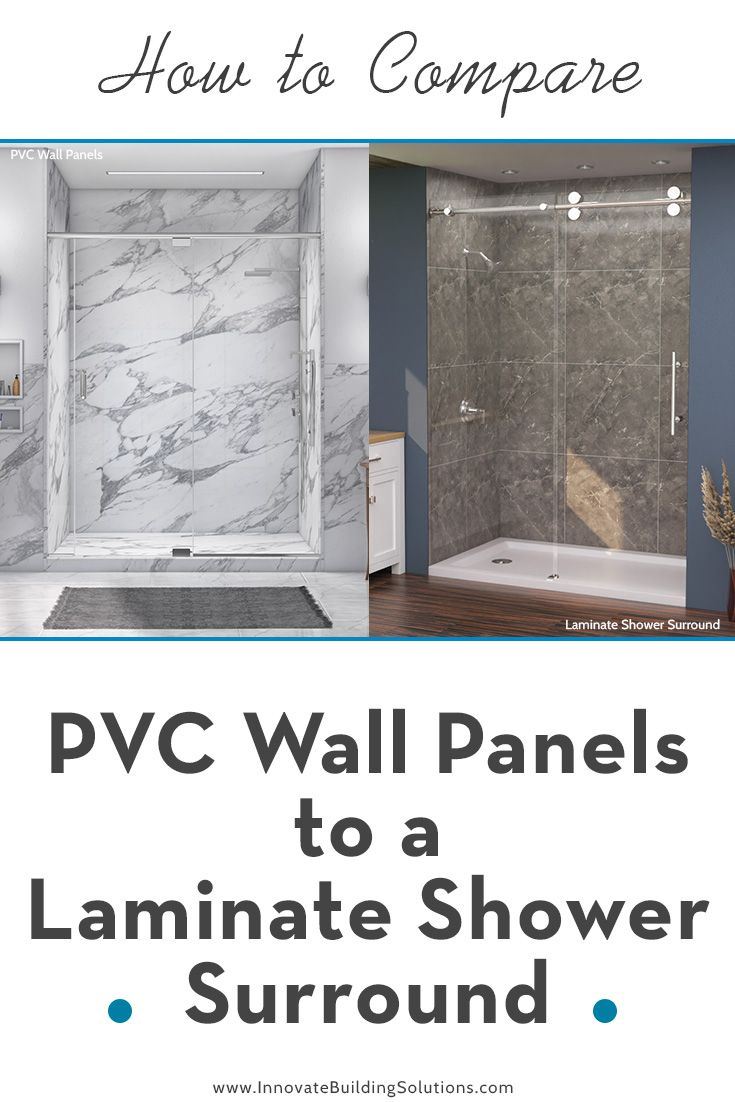 I wish there were one perfect shower and tub surround system.
If there was a perfect system, it would have these 11 qualities
Low cost (and if it wasn't the lowest-cost product it would at least provide the best 'bang for your buck')
Simple to install
It would be thick and durable.
It would be available in 3-dimensional textures.
And available in marble patterns you'd think are actual slabs taken from the quarry.
And available in realistic tile-look patterns WITHOUT infuriating grout joints.
You'd be able to get matching standard (or custom-sized) shower pans with the panels (and it wouldn't take 12 weeks to get one of these pans either!).
There would be matte, gloss and semi-gloss finishes.
You could find a wide range of accessories including niches, bench seats and corner shelves for your family's ever E-X-P-A-N-D-I-N-G shampoo, conditioner, and personal care needs.
Interior design styles would span from Modern Farmhouse to Contemporary to Modern Minimalist to Traditional (and everything in between).
The panels would have a guarantee you wouldn't worry about….no matter how long you planned to live in the home.
However, as a guy who fashions himself as a shower wall panel geek (and has led a business installing and supplying shower wall panels since practically Moses was a boy. And I have the gray hairs to prove it), I'll tell you the following….
There's no such thing as a perfect shower and tub surround system.
And while I know this statement is depressing, there are systems in the shower and tub wall panel universe which (IMHO) are far better than the others.
In this article I'm going to compare 2 of the better systems which are….
And the reasons they're at the top of my list is they score pretty doggone high on the 11 qualities mentioned above (and they won't cost you an arm and leg to buy them either!).
So, in this article I'll give you the 'straight scoop', so you don't have to dig and dig and dig to try to figure out the advantages and disadvantages of PVC and laminate wall panel systems. At the end I'll ask you one simple question. Which one is best for your project?
OK – let's start with the all-important quality #1 – which is price. Yikes – none of us likes to talk about price…unless it's Free…but here we go.
Quality #1 – Which system gives you a low-cost shower or tub surround and the biggest bang for your buck? …….and the winner is (mostly) laminate
I won't beat around the bush. Neither the PVC nor the laminate shower wall panel systems are the cheapest options on the market. If you're looking for cheap, cheap, cheap – check out fiberglass, acrylic or FRP (fiberglass reinforced plastic). They're the 'bottom-feeders' when it comes to price AND quality.
However, if you're looking for a stylish shower and tub panel system which gives an excellent bang for your buck, both PVC and laminate wall panels score high. But I'm sure you're wondering, "Mike, get to the bottom line. Tell me about the costs. I'm not made of money dude!"
And I get it. So, let's look at each system (in standard and custom sizes) with an eye on your pocketbook and see which 'stacks' up the best.
Standard sized showers (it's a draw) – If you have a common 48 x 36 x 96 shower or a 60 x 32 x 96 alcove shower the PVC composite and laminate shower panels are priced in a virtual dead heat. You can expect to pay between $1,250 to $1,400 (for the 48 x 36 x size where the PVC is slightly less) and $1,640 and $1,780 (for the 60 x 32 x 96" size where the laminate is slightly less).
Get Free Samples!
Click here to request free samples of our Laminated Waterproof Shower Wall Panels.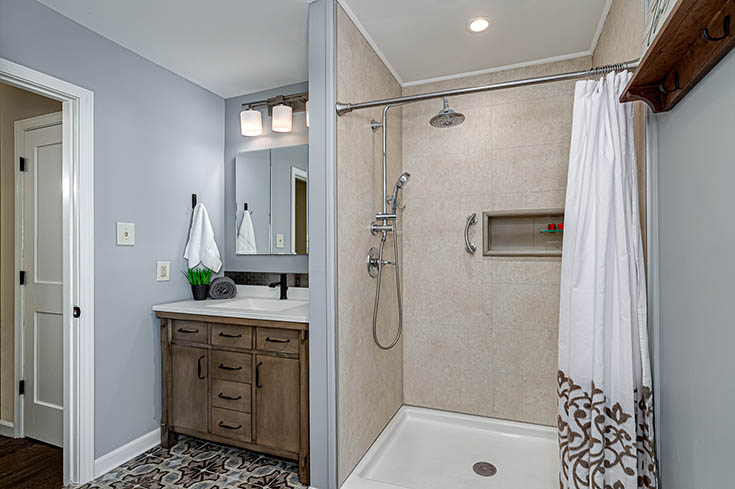 Standard sized tubs (PVC composite is lowest) – If you don't want to 'go to the ceiling' with a tub surround – the PVC system will be the lowest priced because you can get a 60 x 32 x 60" (high) tub kit for only $1,160. Since the laminate wall panels only come in 94.4" high – you'll pay more because you're getting 94" of material when you feel 60" in height is enough.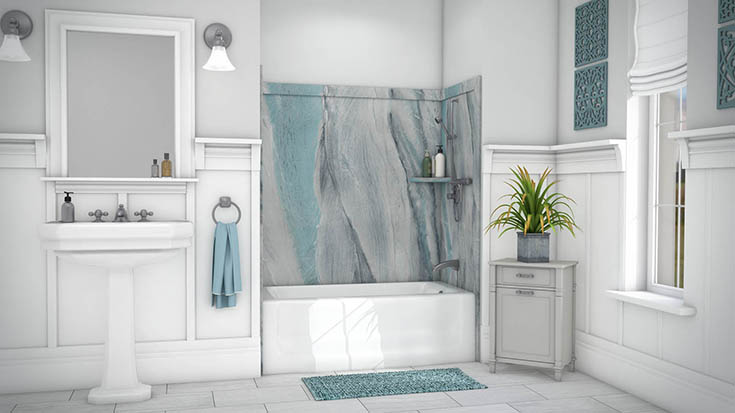 Custom sized showers (Laminate is lowest) – Since you have a small amount of waste with 23.6" wide laminate panels, you'll find they're approximately 15% to 25% less than PVC in custom sizes. For example, if you're building a 74" x 40" x 96" shower you'd need an 8-panel laminate kit (with a price tag of $1,990). However, for an 'a la carte' PVC wall panel and trim system the price would be $2,625.
Quality #2– Which system is simplest to install? …….and the winner is PVC composite
The PVC composite wall panels may be the simplest panels to install on the market. They have edge trim pieces which are 3" wide (where you can hide a REALLY BAD CUT which resulted from you or your partner drinking one too many beers during the installation process). In addition, they can be cut with a tool as simple as a carpenter's knife.
Both PVC and laminate systems are a straightforward installation and can be put up with standard carpentry tools. However, what makes the PVC even simpler is the material is thinner (it's only ¼" thick vs. the laminate which is 3/8" thick). It bends easily. It'll 'conform' to the waviness and wackiness which ARE your existing walls.
Get Free Samples!
Click here to request free samples of our Solid Surface Shower Wall Panels.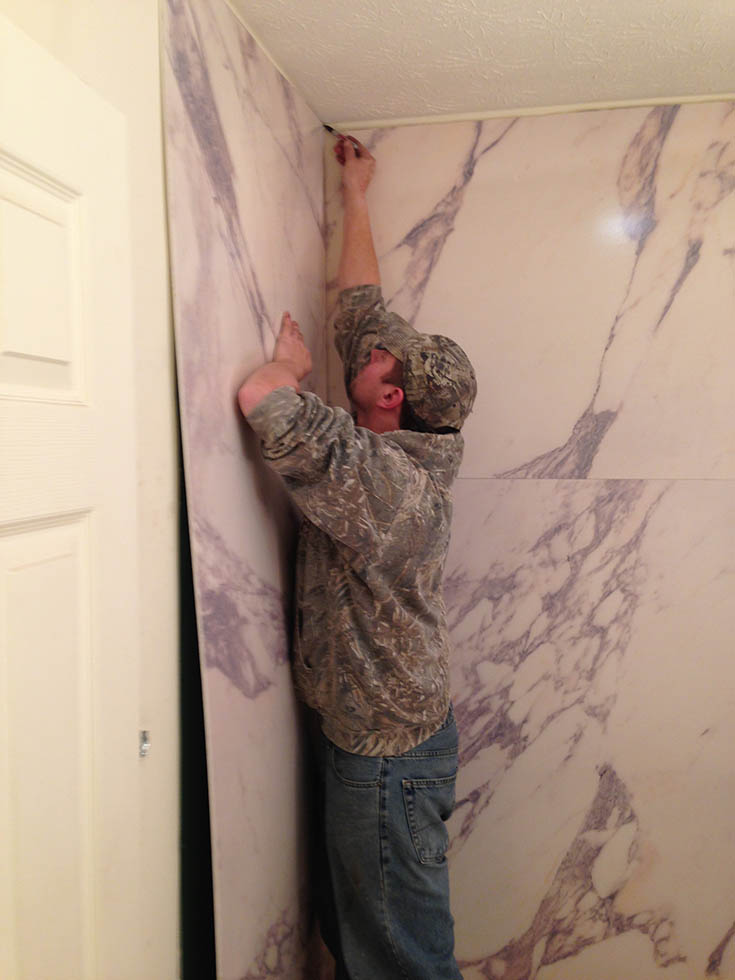 Quality #3– Which system is thick, durable, and has the longest 'track record?' …….and the winner is Laminate
Both wall panels are high quality. And I would have ZERO qualms about installing in my Aunt Anita's house (and my Aunt is the type if she DIDN'T like what you put in – the stuff is CERTAINLY going to be pulled out). However, when I look at top quality my 'vote' would hands-down be the more rigid laminate wall panels. And here's why.
They're 50% thicker – and thicker is a good thing when it comes to durability.
They have a lifetime warranty irrespective of who is installing them vs. a 10-year guarantee (more about this in quality #11 below).
Laminate panels were invented 40 years ago in Norway. They aren't a 'new-fangled' idea you'll regret choosing years later.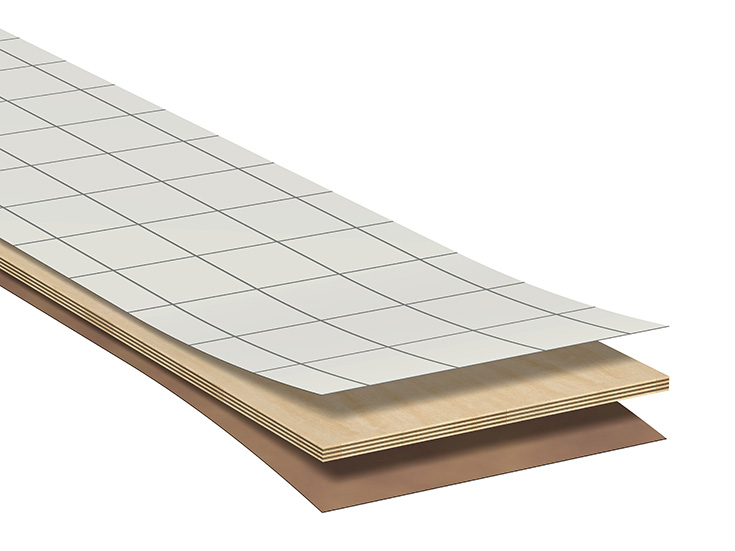 Quality #4– The wall panel system is available in 'textures' for a 3-dimensional feel.…….and the winner is Laminate
What many 'cheaper' molded shower wall panels (AKA fiberglass and acrylic) are lacking is a realistic look. They try to create a realistic tile or stone design by pouring their product in a mold. However, in the end their panels look like a product poured in a mold. Fake and pathetic (OK – that's my opinion)!
Well – with 'textured laminates' – which you'll also see in high end kitchens and fancy custom closets) you'll swear (shhhh…. don't let your Mom hear you) they're the real thing.
With laminate wall panels you can get the realism of an 'older, yet modern' look with textured 'Antique gray' wall panels. They fit perfectly in a Modern Farmhouse motif.
Get Free Samples!
Click here to request free samples of our Laminated Waterproof Shower Wall Panels.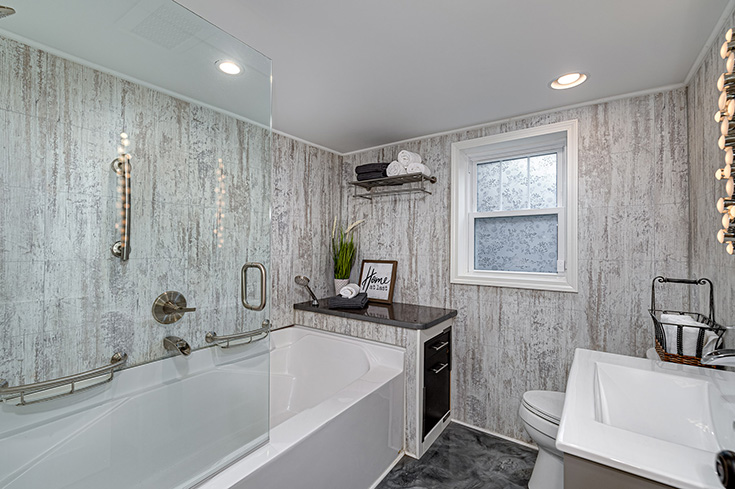 Or if you want the feel of real slate (WITHOUT THE EXHORBITANT PRICING) – 3D textured slate wall panels are super-slick.
If you love adding interest with texture in your bathroom design, laminate is superior to PVC panels which are all flat (and untextured).
Quality #5– The wall panel system is available in a wide range of classic marble designs with the look of actual marble slabs. …….and the winner is PVC composite
If you love, love, love the look of real marble, but it's waaaay out of your budget, take a close look at the PVC shower wall panels. These panels are (literally) digital replicas of actual marble slabs. And since they come in sheets as large as 60" x 96," you'll get a one-piece-slab look.
Get Free Samples!
Click here to request free samples of our Solid Surface Shower Wall Panels.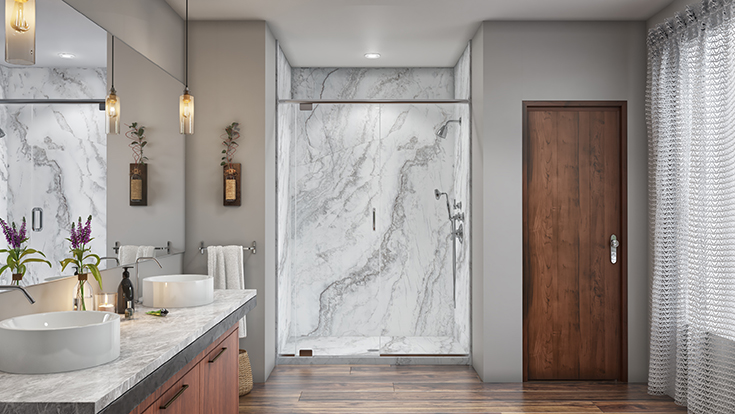 And while you can get marble looks in the laminate wall panels – you can't get the continuous 60" wide slab design (although I think the 24" x 24" white marble tile look below is pretty cool also. What do you think?).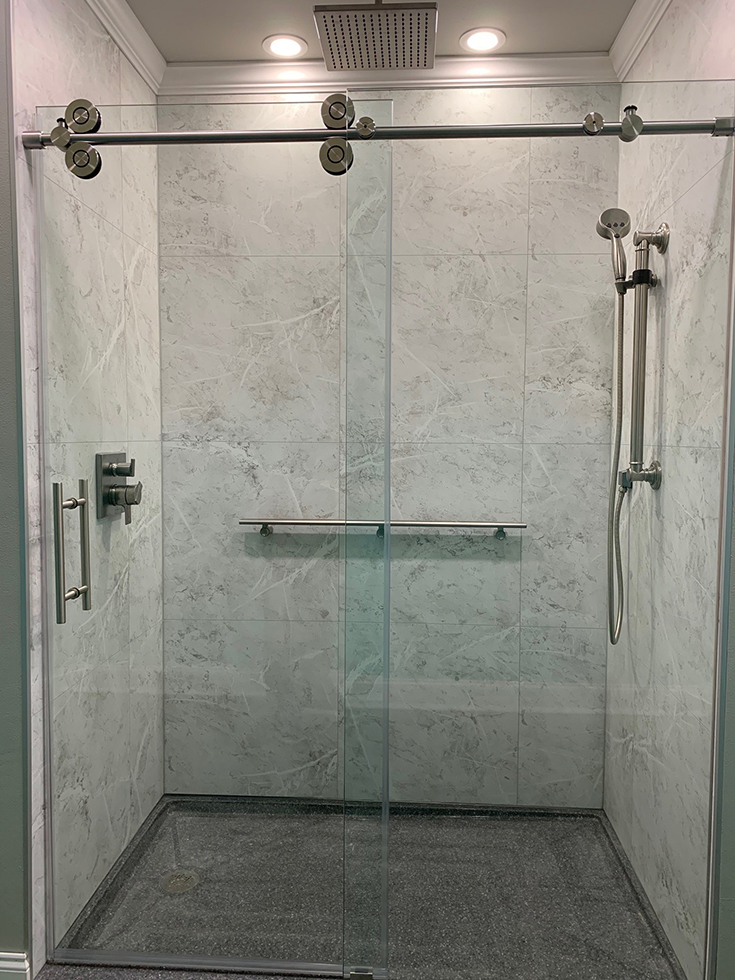 Quality #6– The wall panel system is available in tile patterns with the actual look and feel of real tile (without the nasty grout)' …….and the winner is Laminate
The problem with most shower wall panels which have a 'so-called' tile look is they're either a cheap and molded sheet – or have a 'printed-on' tile design you KNOW ISN'T REAL when you get 'up close and personal.' You see there's no indentation like real tile with these lower-priced 'sheet goods.'
Well – what's super-cool about laminate wall panels is you'll swear they're the real thing when you are right on top of them. You see with laminate shower panel the 'faux joint' is milled into the panels. They even have a different colored grout joint. This proprietary process is what makes tile pattern laminate shower wall panels the most realistic tile-like wall panel on the market (IMHO).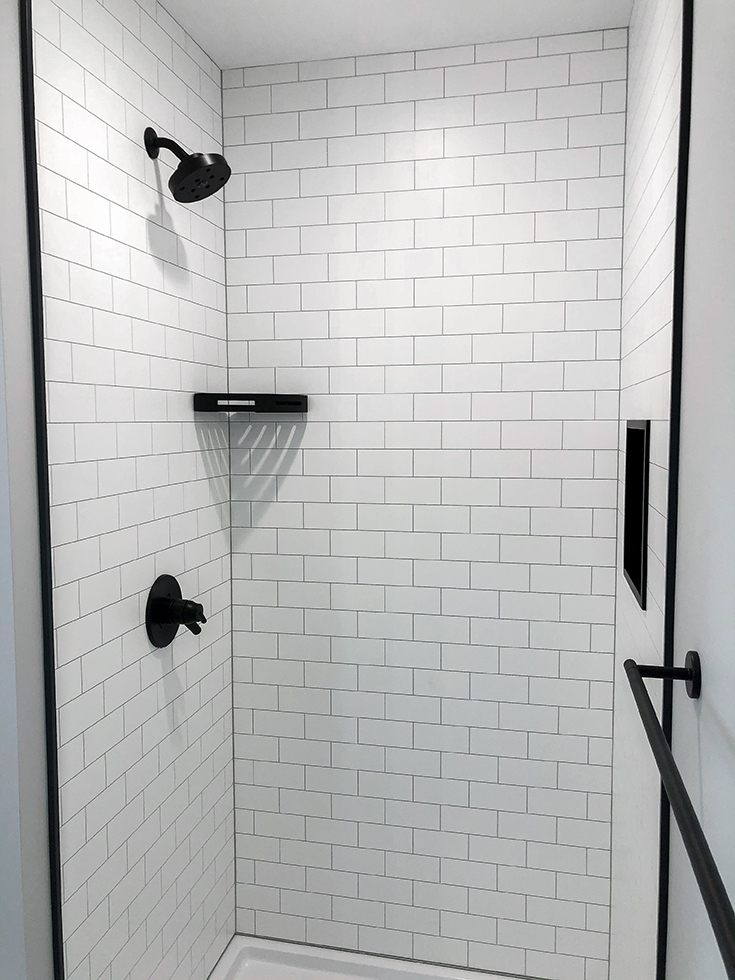 And this product has become so trendsetting, you'll even be able to get them in this 'complex-looking' herringbone pattern later in 2021.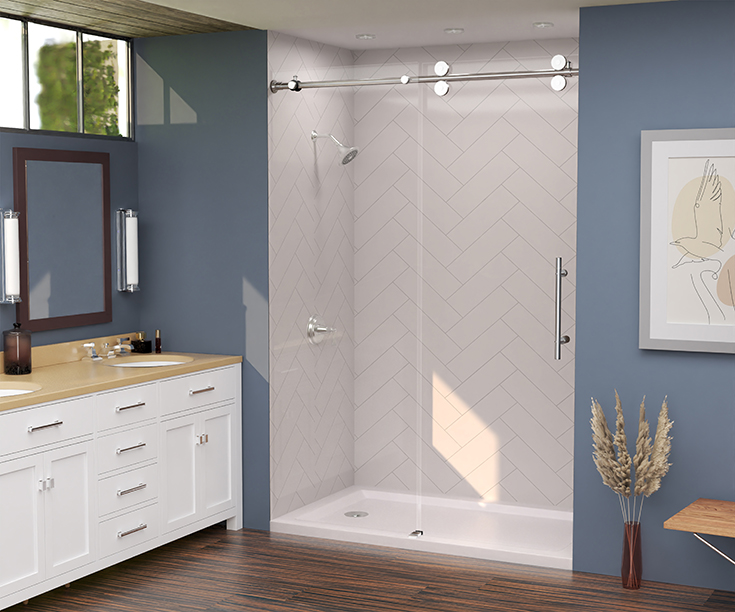 Quality #7– Matching shower pans can be paired with the wall panels …….and the winner is PVC composite
If you're someone who hates making color choices and have absolutely no 'interior design skills,' raise your hand? Choosing the right color and texture of a countertop to go with your vanity was a pain. Making sure the toilet was the 'right color white' (as if there was more than one white) – wasn't the slam-dunk easy-peasy selection you thought it would be.
Then, when you tried matching the shower walls to the shower pan to your bathroom floor, the matching job started to blow your mind!
Well – one way to make selections simpler is with the PVC composite system. You see you can not only get standard sized shower bases to match your wall panels – but you can get matching custom shower pans as well.
Get Free Samples!
Click here to request free samples of our Solid Surface Shower Wall Panels.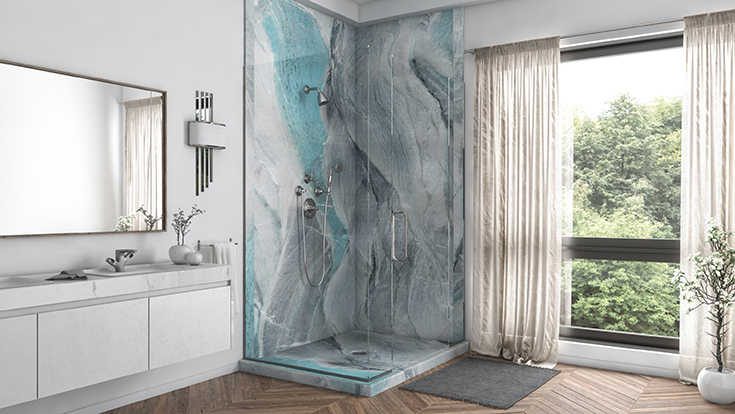 Since there aren't any laminate bases to go with the laminate wall panels – you'll need to color-coordinate 2 different manufactured products together. This certainly isn't impossible to do, but you may need guidance if design 'ain't your thang!'
Quality #8– There would be matte, gloss and semi-gloss finishes for your wall panel of choice…….and the winner is Laminate
Choosing the best finish for your wall panels can be confusing (and if choosing a finish is as painful as poking your eye with a fork -ouch!, read 7 Critical Questions You'll Want to Know Choosing Between Gloss and Matte Finish for Your Bathroom or Shower).
However, it's always nice to have options. And a wide range of finish options is exactly what you'll get with the laminate wall panels. If you like the relaxed spa-feel of a matte finish, patterns like 'rough wood' are wonderful.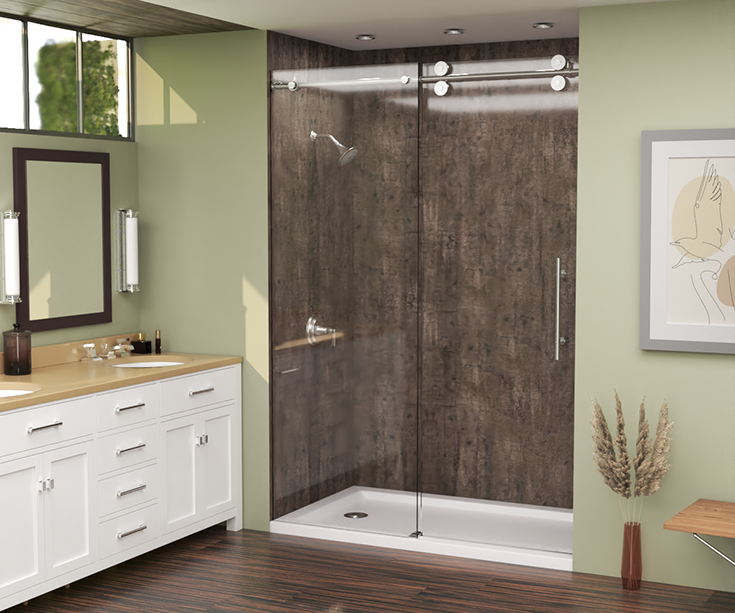 If a 'semi-gloss,' (middle of the road approach) works for you, the ever-popular 'cracked cement' pattern can be the ticket. And if you want to brighten up a small bathroom – the white high gloss 24 x 12 is uber-popular. And the large-format tile pattern makes the room, feel bigger.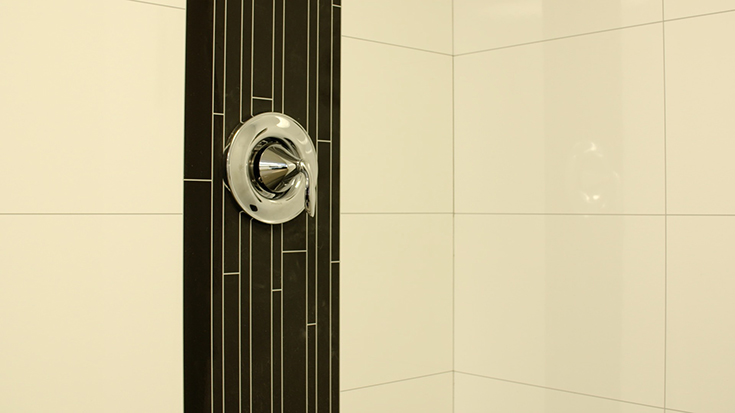 The PVC composite panels are only available in one finish – which is semi-gloss. This 'middle of the road option' is good, but sometimes you want the 'pop' of gloss or the 'calm' of a matte finish.
Quality #9– A wide range of shower and tub accessories …….and the winner is PVC composite
While both lines have a nice array of accessories, the product with more matching accessories is the PVC. You can not only get color-coordinated shampoo niches and corner shelves, but also window trim and a corner bench seat.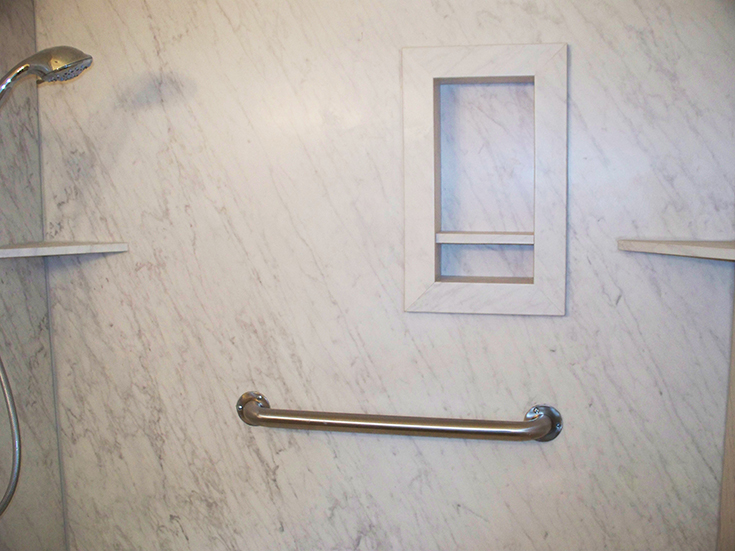 The laminate line has stylish accessories – but they aren't color-coordinated with the wall panels.
Quality #10– Interior design styles which range from Modern Farmhouse to Contemporary to Modern Minimalist to Traditional …….and the winner is Laminate
In the drive to mass produce cars in the early 1900's Henry Ford (the owner of Ford Motor Company said it best), "You can have any color you like – as long as it's black!"
Well – over 100 years later we've progressed far beyond the mass-production world of Henry Ford.
Today – you want options. And as Colonel Nathan R. Jessup in one of my favorite movies A Few Good Men would say, "Today, you need options."
Just because you want low-maintenance shower and tub wall panels – instead of tile – doesn't mean you don't want them to work with (and add to) the interior design theme of your newly remodeled bathroom. However, many of the existing wall panels on the market today – like acrylic or fiberglass – won't exactly wow you with their beauty.
Well – if you want wall panels which 'add to,' (not take away from) your design, you've got to check out the laminate panels. Perhaps you want a relaxed matte finish for a spa-like bathroom, or the rustic feel of modern farmhouse or the modern minimalist look of a downtown urban hotel (even though you live in the 'burbs.). All these looks ARE possible with laminate wall panels. The PVC panels – while stylish – are a better fit for traditional-looking bathrooms with their smooth marbleized look.
Get Free Samples!
Click here to request free samples of our Laminated Waterproof Shower Wall Panels.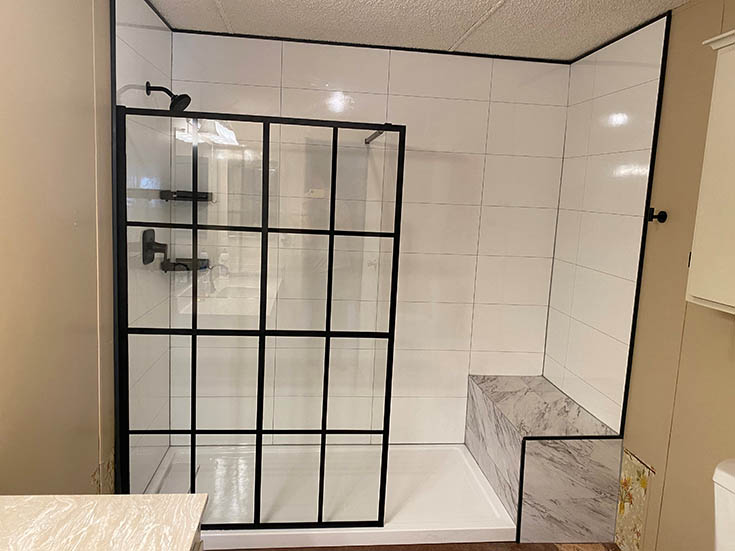 Quality #11– A guarantee you don't have to worry about …….and the winner is Laminate
You'll want to be assured – even if you're trying to save a few bucks by DIY'ing your tub or shower surround – the manufacturer will have your back with a long warranty. This is especially true if you're planning to stay in this home until they have to 'wheel you out.' And since laminate wall panels have a lifetime guarantee, you'll have the peace of mind the guarantee will be there for you.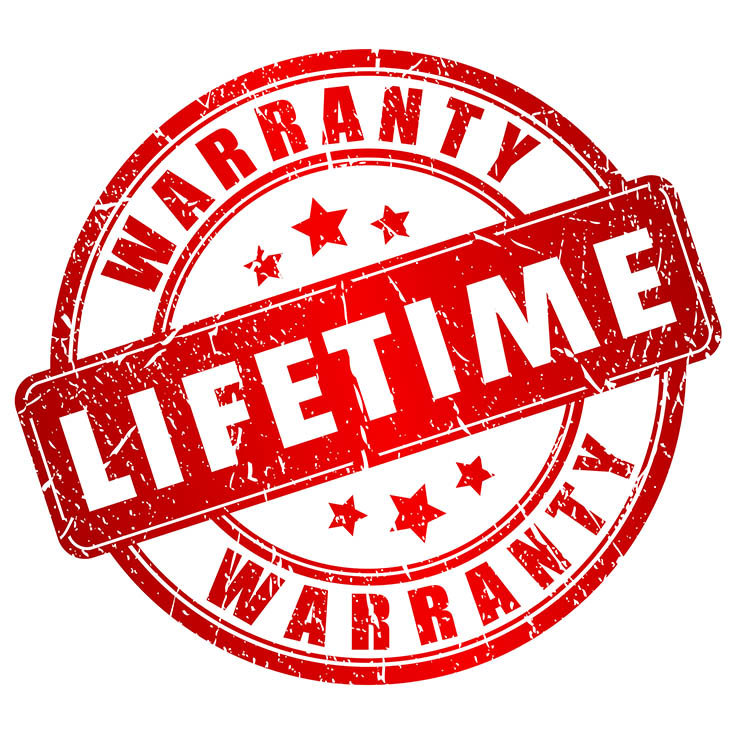 The PVC wall panels also have a lifetime guarantee if they're installed by a factory-approved contractor. Otherwise, the guarantee is 10 years. This is still a good warranty (but obviously a lifetime is better).
So – now that the 'grades' are in based on these 11 qualities, which system is best for you? And most importantly, how can I – or a member of my team help you next?
OK – so I told you in the beginning I was going to ask which system you prefer. So, now's the time.
Would you choose the PVC, or the laminate wall panels for your next bathroom remodel? Please comment below.
I know choices for bathroom wall panels, shower bases and glass doors can be overwhelming. However, here's where me and my team would love to help. Call 877-668-5888 or click for a Free Shower or Tub Wall Consultation. We'll dig into your project. We'll help you find the best solution for your budget and style. And if you're a contractor looking for a sharp line of wall panels to grow your remodeling business learn more about becoming a shower wall panel dealer by calling 888-467-7488 and asking for Mike.
Thanks for reading.
Mike
How else can I help you?
If you want to connect with me and/or learn more about remodeling, but don't want to put up with my wacky humor… I get it. Follow me on LinkedIn @Mike Foti for the more 'buttoned up' business guy version of me.
---
Mike Foti
President of Innovate Building Solutions a nationwide supplier and regional (Cleveland and Columbus) remodeling contractors. Some of our product lines include glass counters, floors, backsplashes, glass blocks and grout free shower and tub wall panels
---