11 Deadly Mistakes to Avoid Remodeling a Small Bathroom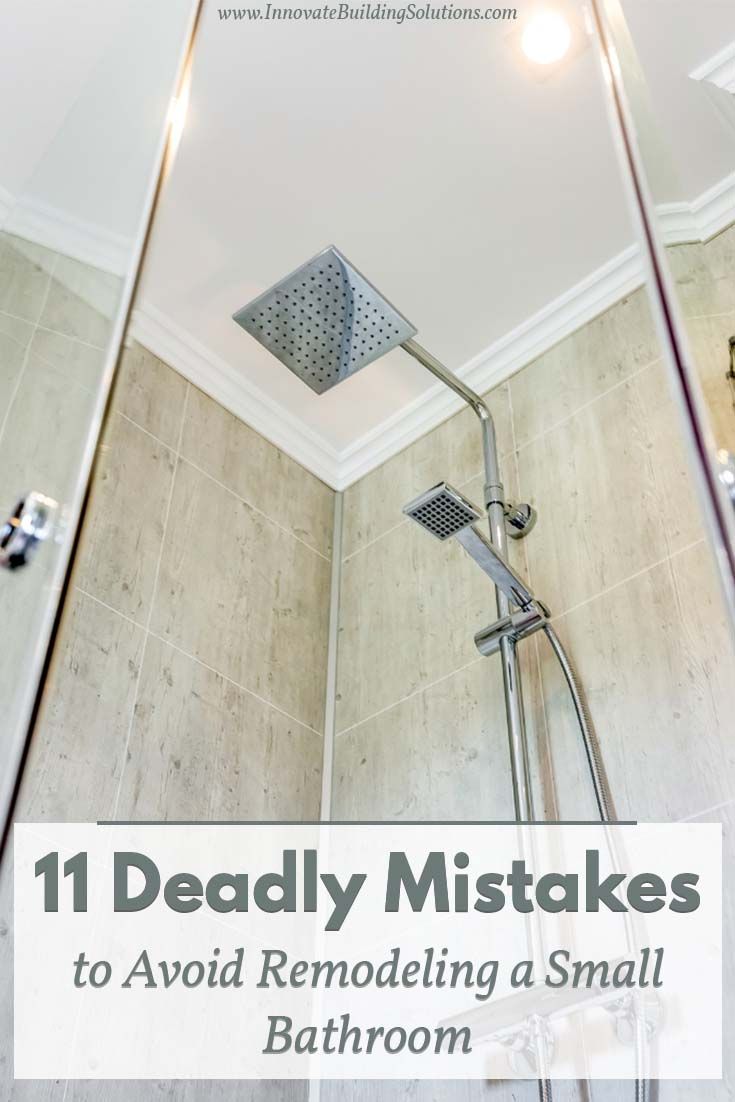 Living with your small bathroom (and developing a plan to remodel it) can be a real chore! And this 'AMAZING REVELATION' is even coming from a guy who leads a Cleveland bathroom remodeling and nationwide bathroom products wholesale business too!
Here's just a few reasons a small bathroom can be a pain in the neck.
Your space is so small you're constantly banging into your doors, drawers and vanity.
Your lack of storage has made clutter synonymous with your bathroom.
The space is too dark; it feels like your tiny walls are closing in on you.
A lack of counter space has you constantly bending over to pick up your blow drier, curling iron and lotions and potions from the floor after falling off the counter. You just want to scream.
And finally, you practically need to be a gymnast to get in your tub or shower or turn on the water to get it warm before entering.
And I realize identifying what makes you want to S-C-R-E-A-M about your small bathroom is simple. However, coming up with a plan to make it better is where the pedal hits the metal. And this is exactly what this article is about.
I'm going to lay out a plan to help you avoid 11 deadly mistakes people make remodeling a small bathroom. You see I've had an 'inside track' to these bloopers ('er small bath remodeling mistakes). I've talked to so many upset homeowners who've lived with ugly and hard to use bathrooms and have FINALLY had it up to here (as I can remember my mom saying to my brother and sister and I when she was mad). They want a small bathroom they'll actually want to use.
So, let's take a look at 11 deadly small bath remodeling mistakes with practical ideas you can use to make sure they don't happen to you.
Mistake #1 – If you fail to plan, you're planning to fail (as the saying goes)
There's no easier way to waste money on remodeling a small bathroom than by buying products, then demoing the bathroom and THEN figuring out you have the wrong size items… which can't be taken back.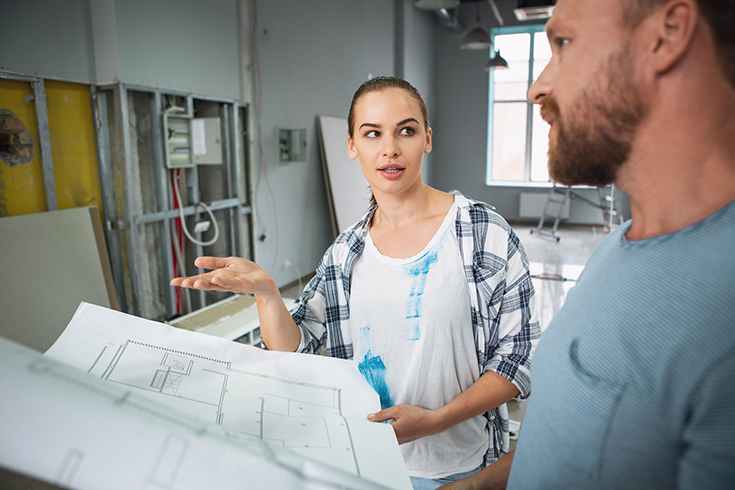 Small bathrooms give you (literally and figuratively) little 'room' for error. You need exact measurements. You need to know if the products you've chosen – which look great on the Internet – will eat up your room or make it impractical to move around.
I recommend developing a scale drawing first. Then research the size of all products, their costs and lead times (more about this in mistake #2) before buying anything. Don't assume anything. Don't get forced into throwing out products you're never able to use.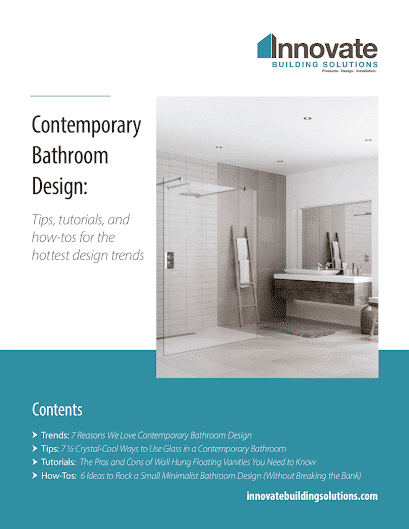 Get Our Contemporary Bathroom Guide!
Tips, tutorials, and how-tos for the hottest design trends
Mistakes #2 – Not figuring out lead times early in the process
If you're like me, you're likely sick and tired of hearing about 'supply chain' problems ever since the pandemic became our cruel reality. It's hard to know if people are 'yanking your supply chain (and yes, I know that's a bad pun),' but in today's environment you can no longer 'assume' what you want, or need will be 'on the shelf' waiting for you to pick it up. As a matter of fact, in today's environment you should assume just the opposite.
I know for one custom shower base line we use lead times are at historically long levels (greater than 3 months as I'm writing this).
So, here's what you need to do. In your planning don't strictly focus on what you want and what it costs, also ask what the current lead time is …AND if there's reason to assume the time to get it will get better or worse when you actually need it.
Mistake #3 – Assuming you know the size you need based on your own measurements.
I can't tell you the number of times I've had someone call and say they have an existing old tub (which 99% of the time are 60" wide once they're pulled out) and want to convert the bathtub to a shower. And they think (because they're measuring with the old walls still in place) they need a custom 58" wide shower pan.
Or they assume they'll need to buy custom-sized 58" wide shower wall panels because this is the size they're measuring with the old materials still in place.
And what I'm reasonably confident of in this (sight-unseen) example, is they need a 60" wall panels and shower pan.
When you're pricing products – and giving your suppliers measurements – make sure to tell them how (and specifically where) you measured. DO NOT assume your measurements are correct before ordering. Go to the experts and explain your measuring process first. Send them pictures of the space with your tape measure in it.
Don't get stuck with a custom-made shower pan or wall panels because you were too proud to ask an expert if you were measuring properly.
Mistake #4 – You fail to use the 'volume' in your small bathroom
Small bathrooms do have opportunities to 'live larger' but often they're not seen. Where are these hidden opportunities you may be asking? Well, here's 2 ideas you'll want to know.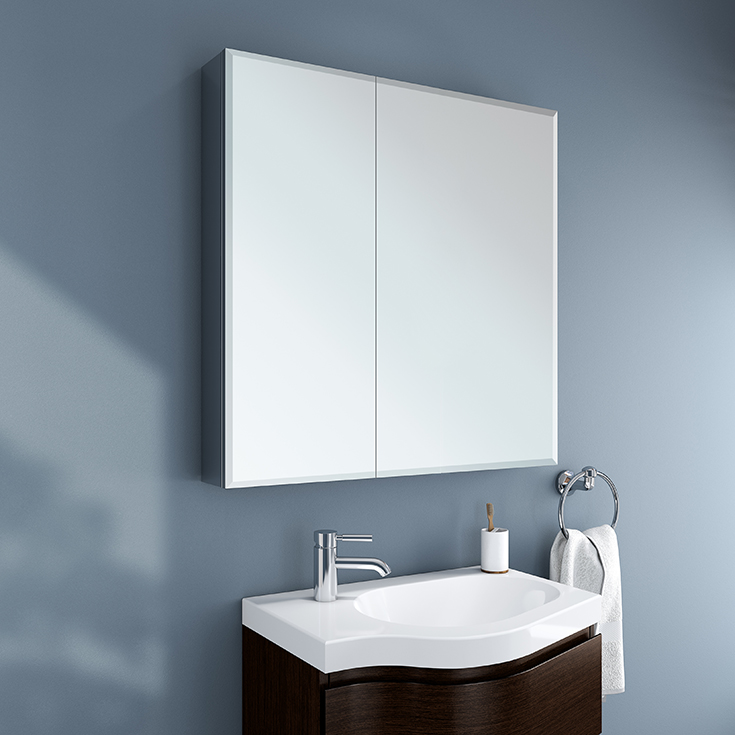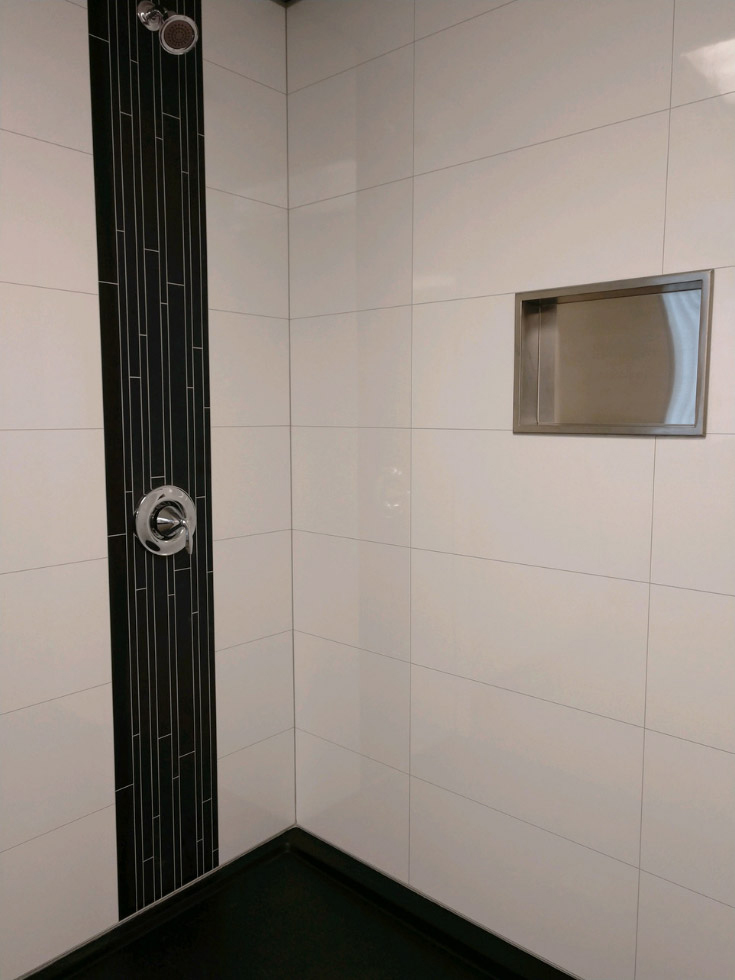 Idea #2 – Use the 'volume' on your walls – Storage above the toilet is one smart – and simple place to gain space which often isn't effectively used today. Or you can add a 'ladder' which serves as a towel rack.
Mistake #5 – Not fixing doors which swing into YOU!   
In-swing doors are the 'evil stepsister' of small bathroom remodels. You already lack space and to make matters worse you're having to play 'keep away' with doors which bang into you! Changing how door operates can be a huge improvement for how your bathroom will live. Here's some tips to stop battling your doors.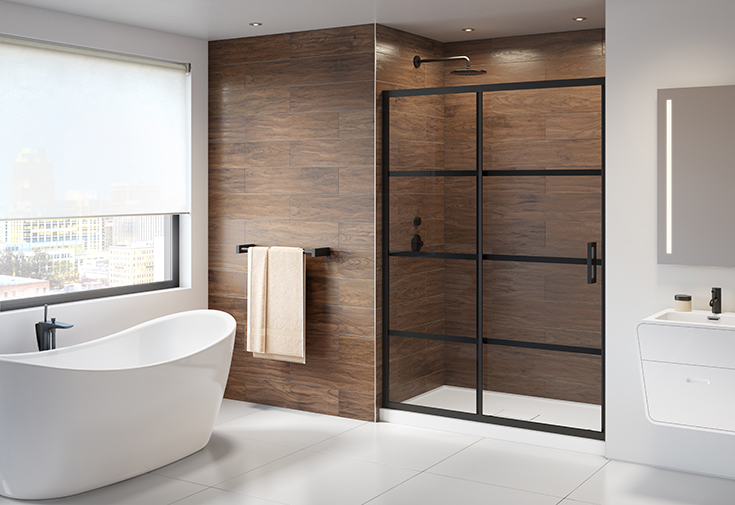 Tip #2 – Change how your entry door works. Consider a pocket door or the ever-so-popular sliding barn door.
Mistake #6 – Forgetting somebody has to maintain this doggone bathroom (especially if that 'special someone' is YOU!)
Its so fun looking at the pretty pictures on the Internet of fancy tile bathrooms and showers. However, what many people forget is even if you choose to use decorative mosaic tiles or a fancy-schmancy herringbone design, somebody has to clean the grout joints or remove mold if your bathroom isn't well ventilated.
And if cleaning tile walls or shower floor pans is something you love to hate (and you're the unlucky one who has to do this nasty job), now (when you're remodeling) is the time to fix these hassles. Replace high-maintenance tile with decorative wall panels. You can get durable shower panels in herringbone, hexagon or even subway tile patterns, and you'll save time and money in the installation process.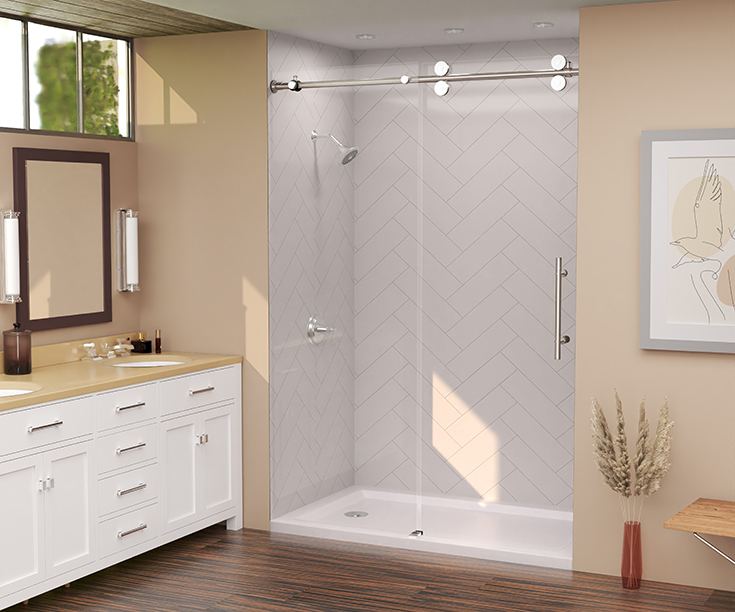 And why stop your battle with grout joints at the walls? While you're at it blow up the hard-to-maintain mosaic tile shower floor pan and replace it with a cultured stone shower base or contemporary reinforced acrylic shower pan. They're stylish and a breeze to maintain.
STOP BEING A SLAVE TO YOUR BATHROOM! MAKE YOUR MAINTENANCE SIMPLER.
Get Free Samples!
Click here to request free samples of our Laminated Waterproof Shower Wall Panels.
Mistake #7 – Do not become a 'victim' to 'cold-shock-therapy' (otherwise known as failure to plan how you'll get the water warm for your shower)
If you have to be a contortionist to 'try' to turn on your shower to get it warm without getting drenches in cold water, this cruel and unusual punishment is something you've got to eliminate in your newly remodeled small bathroom.
And the key to doing this is to be thorough and thoughtful BEFORE you buy your glass shower door and figure out where you shower handle ('er valve) will be. You see since there's many cases where there's a toilet in front of your shower head and valve wall. You need to be strategic where you'll locate the valve. Maybe you can move the valve to the opening side so you can turn on the water WITHOUT being under the shower head. Or buy a bypass or sliding glass shower door which you can open (WITHOUT GETTING IN) and turn on the water without getting wet.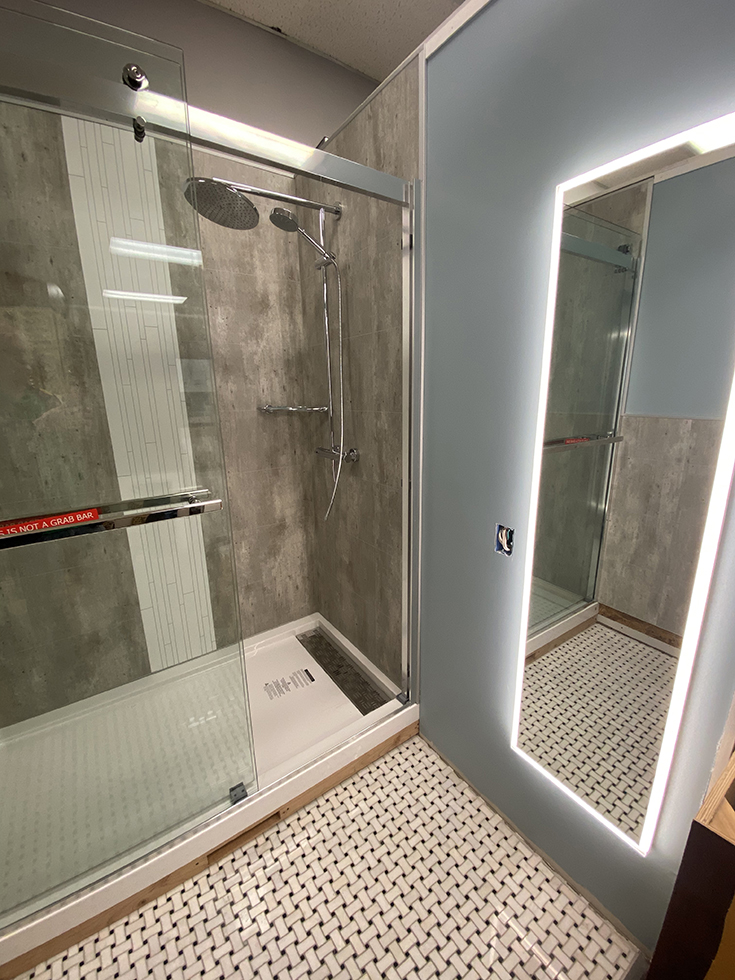 You'll be happy to enter a warm shower AND NOT be the victim of cold-shock-therapy. Make sure your shower glass and shower handle (also called the valve) are thoughtfully located to get the water warm WITHOUT being doused in color water.
Mistake #8 – Allowing your small bathroom to be dark and feel closed in
Nothing makes a small space feel even smaller than when its also a small and dark space. You need to visually open things up. Here's how:
Add natural light – Add a small horizontal transom window over the tub or shower. You'll still have privacy – yet enjoy the benefits of natural light. And if you're still worried about the privacy of a window, consider a solar wall tube.
Use brighter,  lighter and glossier colors – Light, bright and glossy walls have a reflective quality. They'll make the space feel open and airy. With lighter colors the walls appear to be further back – giving you a sense of space.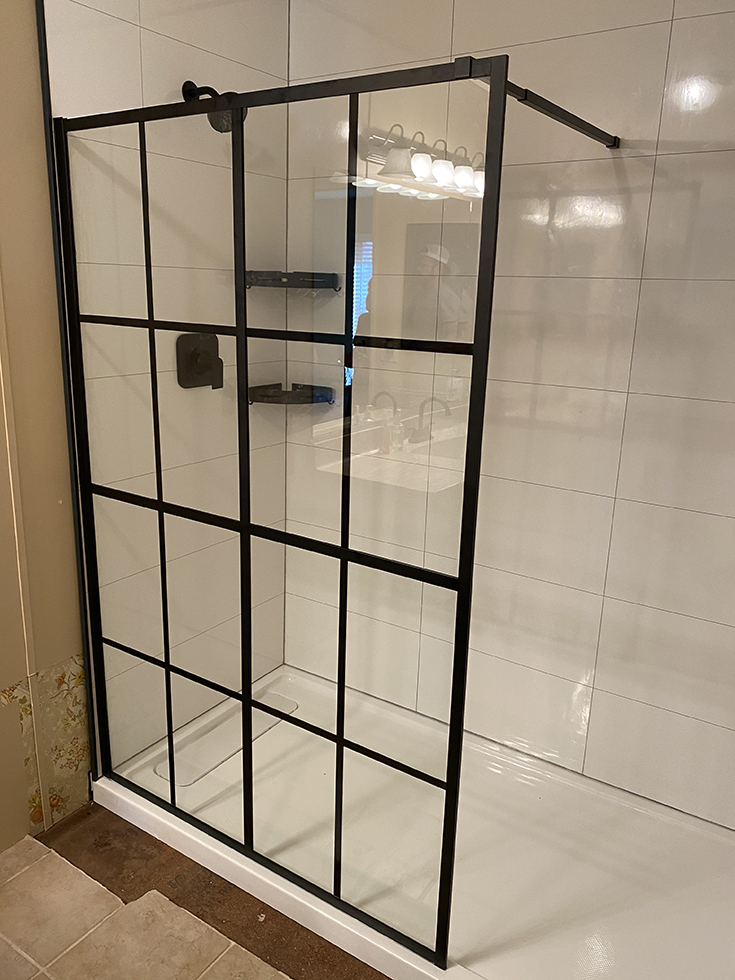 Mistake #9 – Stop compartmentalizing your bathroom because … that's how everybody else does it
Most United States bathrooms have a 'shower enclosure' with a shower pan and glass shower doors which separate the shower from bathroom. And if you have a large bathroom, this works out fine. However, in a small bathroom this 'walls off' your shower and makes it live even smaller.
What Europeans and Asians have known (because they live with smaller bathrooms than we do in the US) is small bathrooms can 'live bigger' when you eliminate this 'separation of church and state' (or this separation of shower and bathroom).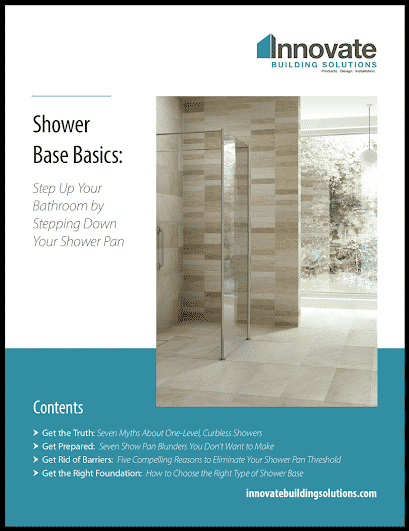 Get Our Ultimate Shower Base Guide!
Step Up Your Bathroom by Stepping Down Your Shower Pan!
Create a one level wet room. When you create a one level walk-in shower where the entire floor is waterproofed, you'll eliminate visual barriers. Your small bathroom will live larger.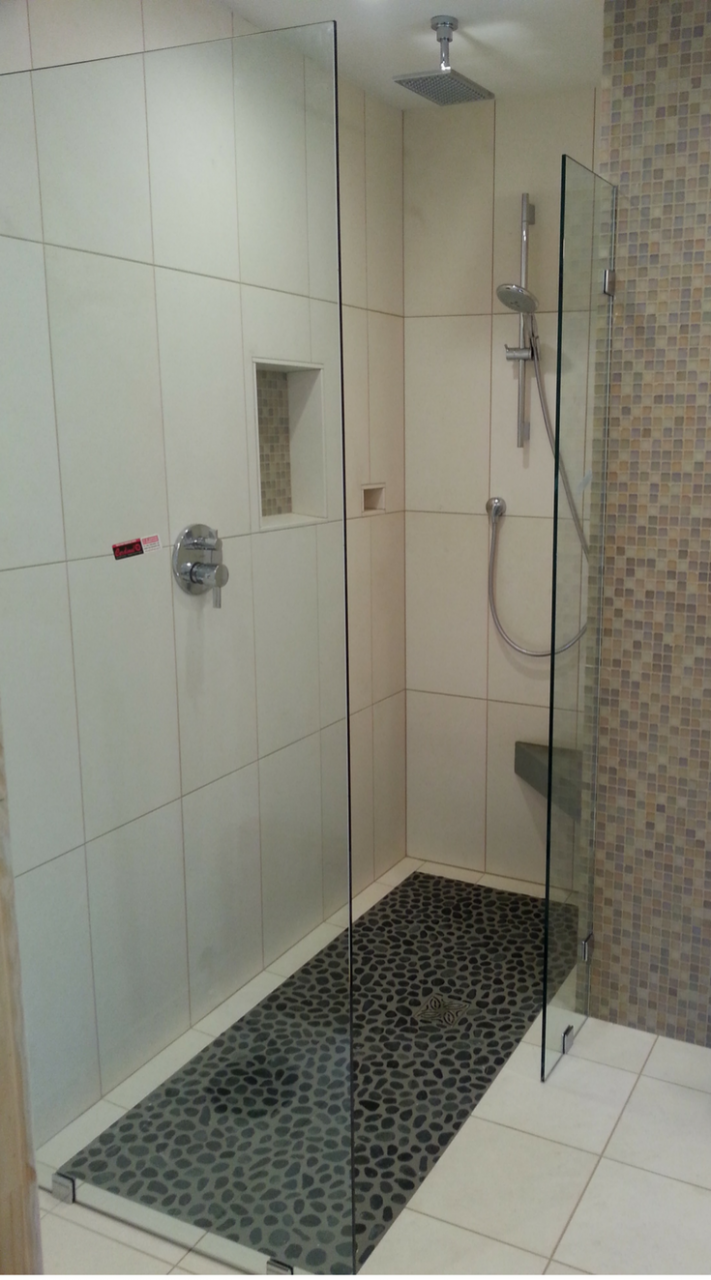 Mistake #10 – Not 'thinking big' – or at least with your tile or shower wall panel patterns
Small tile patterns – which are common in tile shower floors and walls, make a tiny space look tinier. And when it comes to 'tile patterns' (or faux tile shower surround walls), you'll do your small bathroom justice when you open it up visually with a large format look. And if you don't want the additional installation cost (and time) of installing large tiles, use large format faux tile shower wall panels like you'll see below.
Get Free Samples!
Click here to request free samples of our Laminated Waterproof Shower Wall Panels.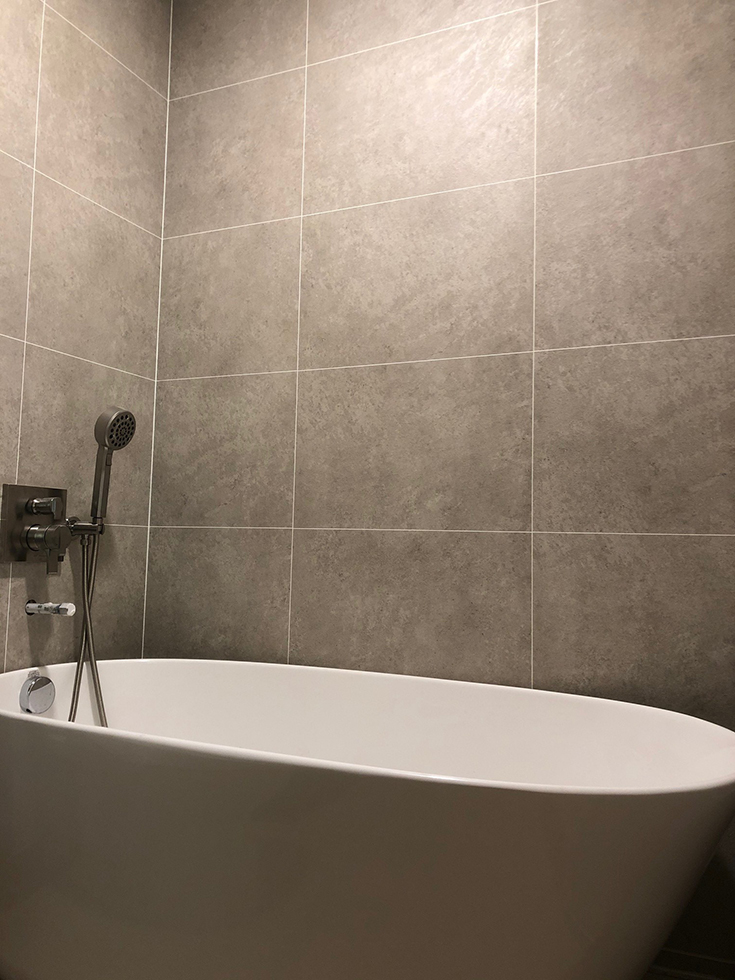 Mistake #11 – Not getting the most from your vanity
Does your existing vanity (or pedestal sink) have little to no storage or countertop to house your bevy of beauty products and 'tools of the trade' ('er your curling iron, blow drier etc.)? Or is the storage inside the vanity one jumbled mess? If so, you're living through the usual hassle associated with small bathroom vanities. The question becomes, how can you make it better?
One option is to use a wall hung vanity (which is also an important if you're considering the wet room mentioned in mistake #9) with pull out drawers. These vanities make your space live larger. And with a pull-out drawer – you'll actually be able to see what's in the back. Imagine that!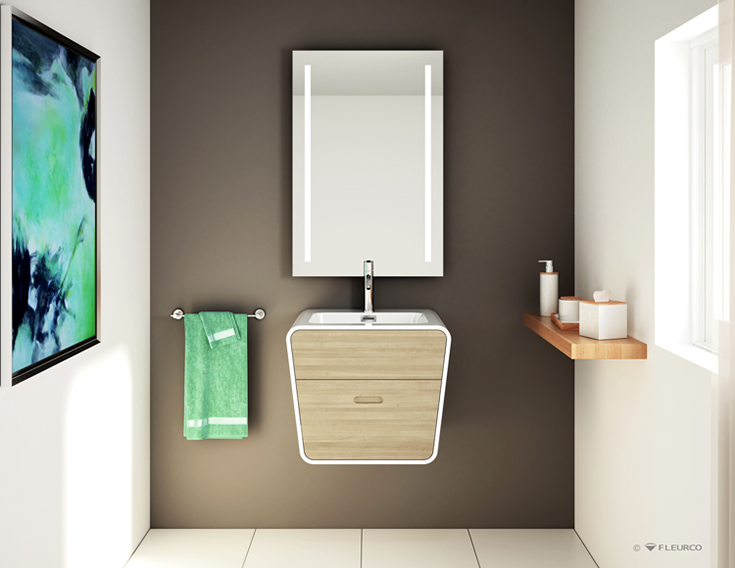 So, now that you've read the 11 small bathroom mistakes you DO NOT want to make, do you need help to pull these small bathroom ideas together?
Even though you have a small bathroom, this doesn't mean it's not a B-I-G project to find the right people, products and processes for a successful finished project which won't drain ALL YOUR KID'S COLLEGE FUNDS!
And if you struggle to figure this project out, we'd love to help.
If you're looking for advice and wholesale product supply (anywhere in the country) for grout free shower wall panels, shower bases, glass shower doors and bathroom accessories – call 877-668-5888 or click for a Free Design Consultation.
In addition, if you need a small bathroom contractor in Cleveland Ohio, let our Bath Doctor division help you. Call 216-658-1270 for a Free Design Consultation or advice.
And if you're a remodeler or builder and want advice on remodeling products, industry trends, marketing and sales tips to grow your business (and cut day to day hassles), read my newest blog – Innovate Builders Blog. It's packed with ideas you can use now to make money in your business. Click here to Sign Up for the Innovate Builders Blog.
If you're in the building business, click here if you'd like to learn how to become a shower wall panel dealer or call and ask for Mike at 888-467-7488.
To connect on LinkedIn, go to @MikeFotiLinkedIn.
Thanks for reading,
Mike
---
Mike Foti
President of Innovate Building Solutions a nationwide supplier and regional (Cleveland and Columbus) remodeling contractors. Some of our product lines include glass counters, floors, backsplashes, glass blocks and grout free shower and tub wall panels
---