How to Design a Custom Shower Base for a Glass Block Shower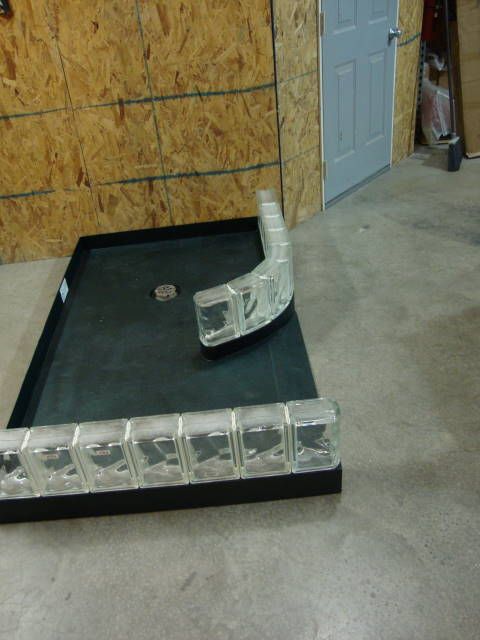 A well built glass block shower project begins with designing and choosing the right custom shower base. Follow these steps to make the right selection the first time.
Determine if you're looking for a water resistant or waterproof pan solution – In the past most custom showers were built using mortared mud set pan bases. While these systems are cost effective they take a long time to install and the finished quality is totally dependent on the experience of the installation contractor and their ability to pre-slope the base and use the right water resistant materials. If you want a waterproof shower base you can choose from a solid surface Swanstone or Corian base or for a more cost effective solution consider an expanded polystyrene base.
Identify any special needs – The ability to create a roll in shower or a no threshold wet room shower has never been easier. Shower pan designs allow for ramps of different lengths or you can consider a no-threshold design as well. The expanded and extruded polystyrene materials can be used as a high quality approach for a special needs shower.
Begin with the end in mind for your glass block design – The shower pan (and the curb on this pan) will need to follow the contour of the glass block walls. Before building or purchasing a base develop a rough sketch of what you want the walls to look like. Determine if you want a walk in shower (a great way to do this is to use a curved glass block wall) that will guide the water back towards the drain. From your base supplier see if their systems can accommodate just straight walls or if they have curb options for radius walls as well.
Pre-plan for the type and location of the drain – The challenge with most standard bases is there is no flexibility in the type and location of the shower drain. This lack of flexibility can cost extra money and add frustration having to move the plumbing for your custom shower.  Consider systems like the one piece expanded polystyrene ready for tile shower base where you can choose any drain location. Also to minimize cutting of tiles around a round shower drain consider using a square or trough drain. Plan first to save time and money later.
Know what you know and don't know – A successful shower installation usually involved knowledge of plumbing, tile setting, and rough carpentry skills. Do those parts of the project where you have the skills and contract out the tougher portions of the job. If you do decide to hire a contractor consider going to sites like Angie's List and the Better Business Bureau to check out consumer generated reviews of your desired contractor's work.
Let's face it shower remodeling involves a good amount of skill. To get it right the first time search for sound advice from your family, friends or a qualified remodeling contractor. Taking more time to plan can save significant dollars down the road.
Are you looking to purchase a custom shower base either with or without glass blocks? Do you have any thoughts, tips or questions about your project?
If you need any help with the design of a custom shower base or want a quotation contact Columbus Glass Block (614-252-5888), Cleveland Glass Block (216-531-6363), or Mid America Glass Block (513-742-5900) of Dayton and Cincinnati.
Related Articles
---
Mike Foti
President of Innovate Building Solutions a nationwide supplier and regional (Cleveland and Columbus) remodeling contractors. Some of our product lines include glass counters, floors, backsplashes, glass blocks and grout free shower and tub wall panels
---