How to Use a Kitchen Garden Greenhouse Window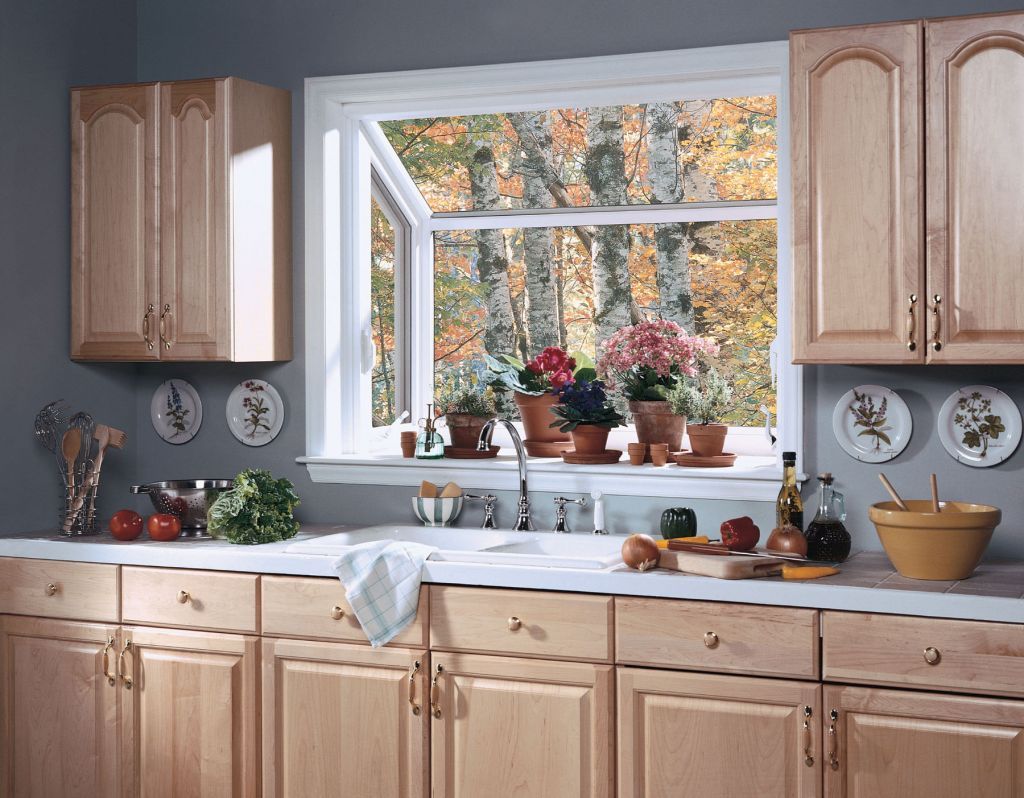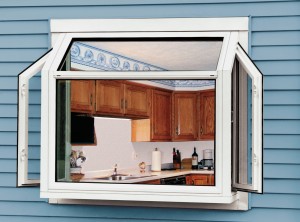 Perhaps you'd like to take advantage of an herb garden for cooking year round – or maybe you'd like to keep some of your potted plants alive during harsh winters….. if so a kitchen garden window may be just the choice. In this article you'll learn the definition, advantages and disadvantages, options and places to use garden window.
Definition – A garden window is a 4 glass sided window that comes out from the house to increase light and provide views and fresh air from multiple sides. This window is most commonly used above a kitchen sink for growing plants (and for that reason is sometimes called a greenhouse window).
Advantages of a Garden Kitchen Window   
Maximizes the views– Since these windows protrude out for the home you get a wider view of a backyard, side yard, or front yard.
Provide a place for plants to grow or for knick knacks – With glass on 4 sides this plant window (as it's sometimes called) can provide a greenhouse environment which improves the growth of plants – year round.
Add more light– With glass on the top, 2 sides and the middle more light will flow into a kitchen or master bathroom area.
Offers improve ventilation – With 2 side casement windows (i.e. crank out windows) the garden window can provide cross ventilation. Since this window is often placed above a sink it can help to remove cooking smells after a meal as well.
Provides heat gain during the winter – Picture windows let the sunlight shine in to warm the home on a sunny winter day.
Window box will make the room look bigger – The 4 sided construction will add depth to a room.
Disadvantages of Garden Kitchen Windows   
Solar heat gain – You may want to use an insulated glass package to minimize heat gain.
Can be a more expensive window– Given their multi-sided construction garden windows are more expensive than the standard double hung, casement or slider windows they often replace.
Will need to be cleaned from the outside– Since the top and middle windows are fixed they will need to be cleaned from outside.
Popular Options
Add more style with these options:
Where to use a Garden Greenhouse Windows  
These windows are most often found in kitchens and occasionally in master bathrooms as well.  
Do you have any questions or advice about how to use a garden window? Please comment below.
To learn more about garden windows or to get free consultation contact Cleveland Window Company (216-531-6363) or Clear Choice Window & Door in Columbus (614-252-5888) or in Cincinnati (513-742-5900)
Related Articles
---
Mike Foti
President of Innovate Building Solutions a nationwide supplier and regional (Cleveland and Columbus) remodeling contractors. Some of our product lines include glass counters, floors, backsplashes, glass blocks and grout free shower and tub wall panels
---