How to Select a Steel Entry Door for the Front, Back or Sides of a Home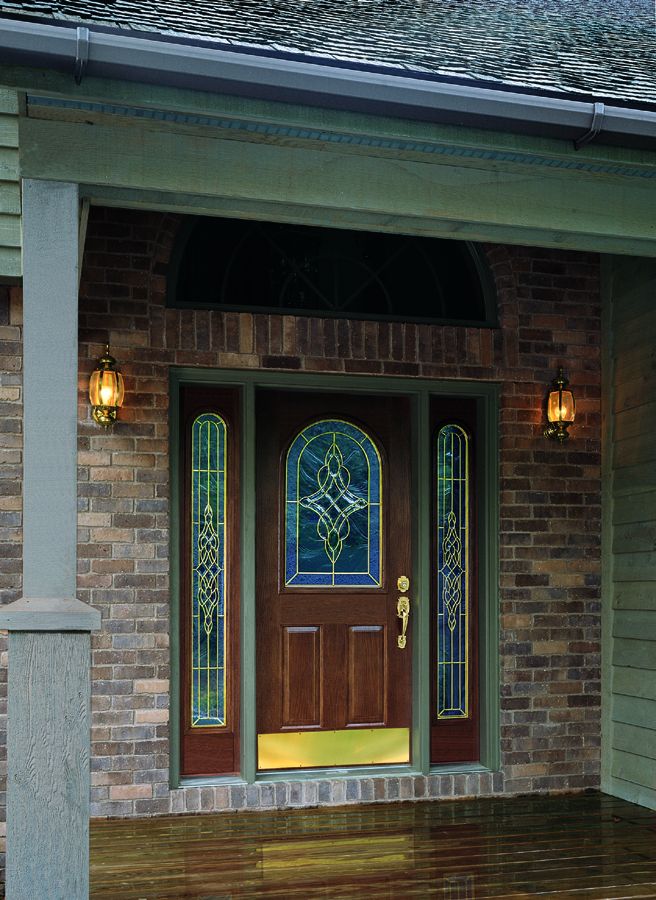 The best investments according to the 2012 Remodeling Cost to Value survey that can be made in a home is to upgrade the front entry door. A nice looking door will not only improve the curb appeal of the home but it has the dual benefit of saving energy costs as well. In this article you'll learn the definition, advantages and disadvantages, and options in various steel door styles to help you in your door selection process.
Definition – A steel entry door combines a 2 piece construction thick steel skin and a polyurethane foam core inside to provide a durable door that can be painted or stained to improve the energy efficiency, performance and curb appeal of a home.
Advantages of a Steel Entry Door
More cost effective than a fiberglass or wood door
Added curb appeal – A new painted or stained steel front, side or back door can add style and architectural interest to the home.
Door and glass panels to fit many architectural styles – With the use of different designs these doors will fit well into many home designs – including cottage, arts & crafts, classic, colonial, contemporary, country to name just a few.
Cut energy costs– Old doors often have a poor seal against outside air – driving up heating and cooling costs. Using a 2 ½" polyurethane foam core and a 2 piece thermal break construction the steel door can drive energy costs down.
Steel won't rot or splinter like a wood door – This door has galvanized metal sheets so it won't have the negative effects often associated with a wood door.
Improved security – Deadbolts and electronic keypads can be added for additional security from intruders.
Disadvantages of a Steel Front Door
Doesn't have the character associated with a wood door– With a wood door you can feel the wood graining inside the door. A stained steel door can simulate this look – but it's not as authentic as the real thing.
Easier to dent and ding– The steel door will be easier to dent than a fiberglass door.
Popular Options on Fiberglass Doors
Add more style, security and function with these more popular options:
Decorative glass and caming – Different glass styles can make a home look architecturally correct and can also provide different levels of obscurity and privacy.
Multiple paint and stain colors – Match or compliment the looks of the inside and outside of the home with over 20 different paint and stain colors.
Interior window mini blinds – these provide the option to not have to install blinds on the inside of the door that need to be dusted off.
Handlesets, locksets, leversets and deadbolts – Front doors need to provide security and style. The right handleset and deadbolt can increase family safety.
Transom windows – add light above the door by adding a transom (usually a long horizontal window) above it.
Do you have any questions or advice about steel entry doors? If so please comment below.
To learn more about steel doors or to get free consultation contact Cleveland Window Company (216-531-4118) or Clear Choice Window & Door in Columbus (614-545-6886) or in Cincinnati (513-744-2184) (divisions of Innovate Building Solutions).
Related Articles
---
Mike Foti
President of Innovate Building Solutions a nationwide supplier and regional (Cleveland and Columbus) remodeling contractors. Some of our product lines include glass counters, floors, backsplashes, glass blocks and grout free shower and tub wall panels
---